The new guard of action heroes and their watches, from Hobbs & Shaw to John Wick to Triple Frontier
Luke Benedictus
It's a hard life being the watch of an action hero. For starters, you're forced to put up with all the endless gunfights, speedboat chases and henchmen annihilation. Worse still, you're always getting overlooked. The viewer's eye rarely gets to appreciate the majesty of your Swiss-made dial, because it's invariably yanked towards whatever kung-fu carnage or helicopter hijacking that your square-jawed owner is currently involved in. Yet these cinematic timepieces deserve their moment in the spotlight. That's why we've decided to take a closer look at the watches on the end of the stunts.
Hobbs & Shaw – Rolex and Panerai
Dubbed "a fervently brainless delight" by The Guardian, Dwayne Johnson and Jason Statham battle against Idris Elba's bad-ass cyborg in this spin-off of The Fast and the Furious franchise.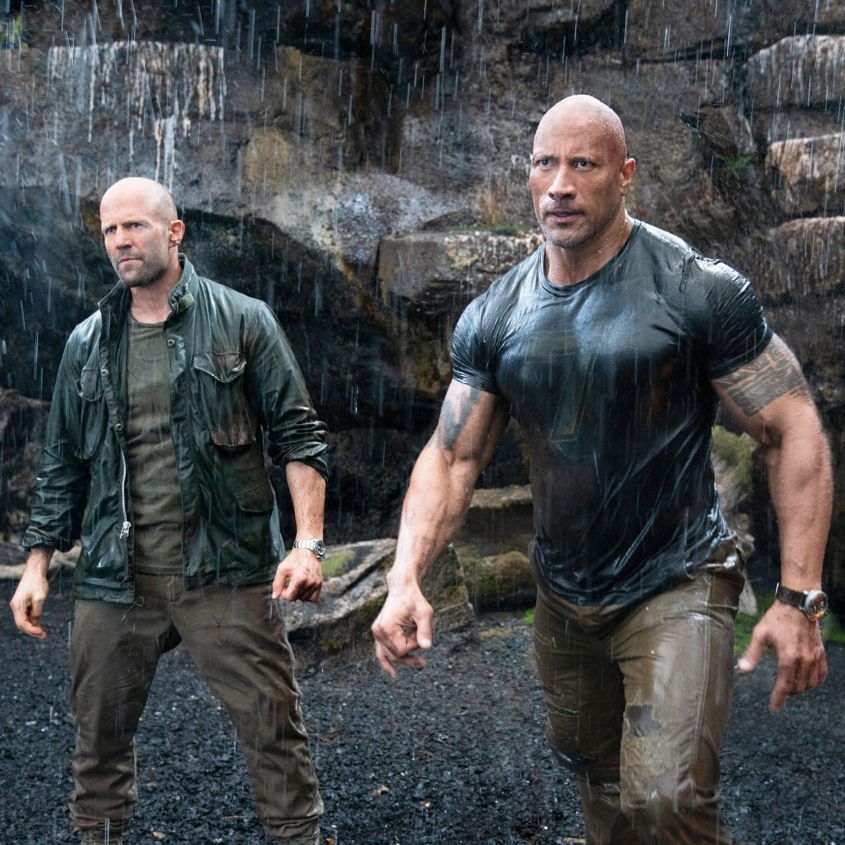 The Rock, playing a tough federal agent who likes reading Nietzsche, wears a Panerai Luminor Submersible that looks positively dainty on a wrist the size of a redwood tree trunk. But this leaves his co-star in something of a horological quandary.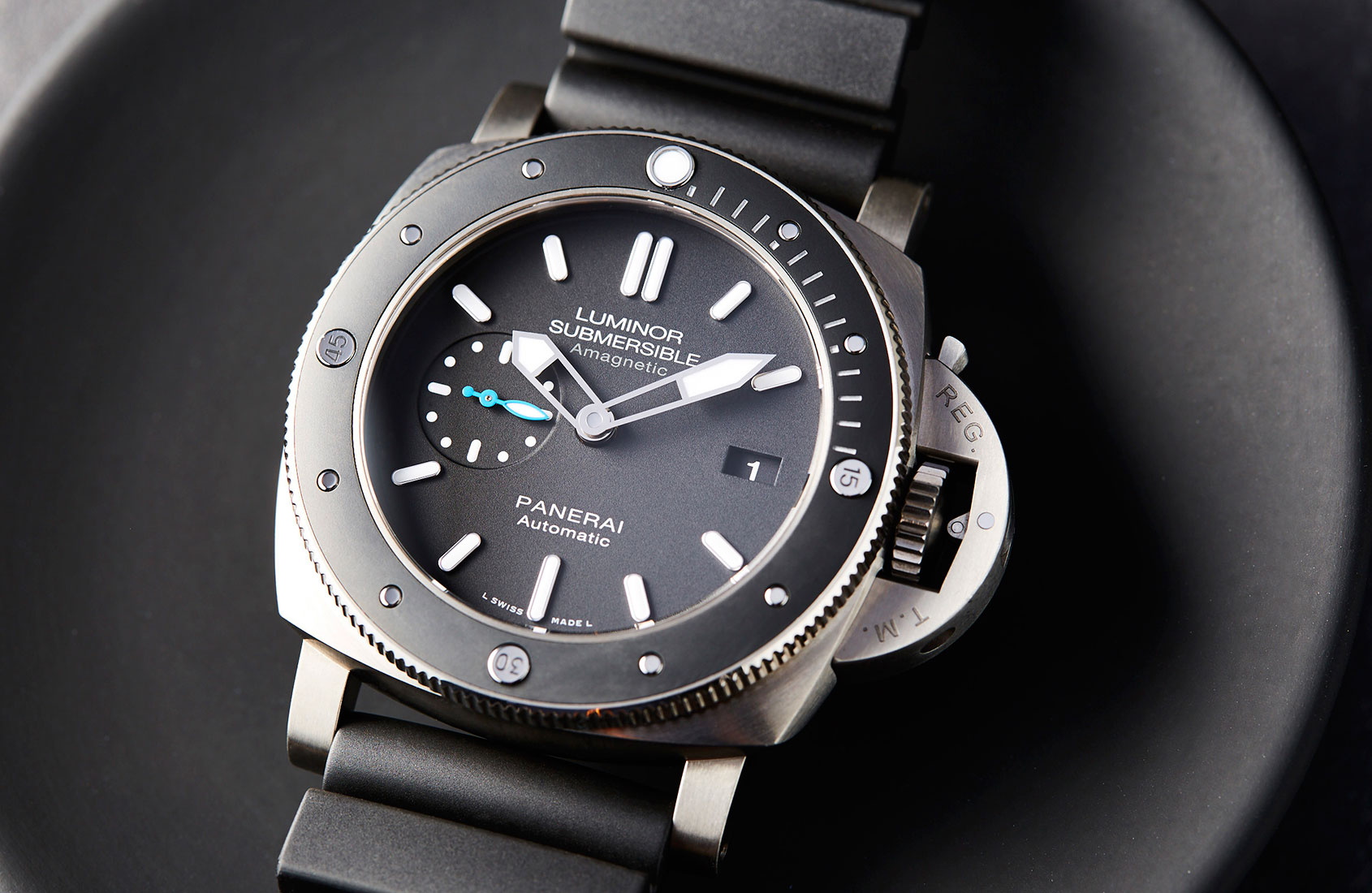 Statham, as mentioned later on, is a big Panerai man. Now he was forced to change things up – but to what? Thankfully our resident watch spotter Nick Gould clocked the trademark knurled bezel of a Rolex and eventually figured out that it was a vintage Rolex Submariner 5513. As action-man watches go, its heritage is spot on – this reference was also worn by a certain Steve McQueen.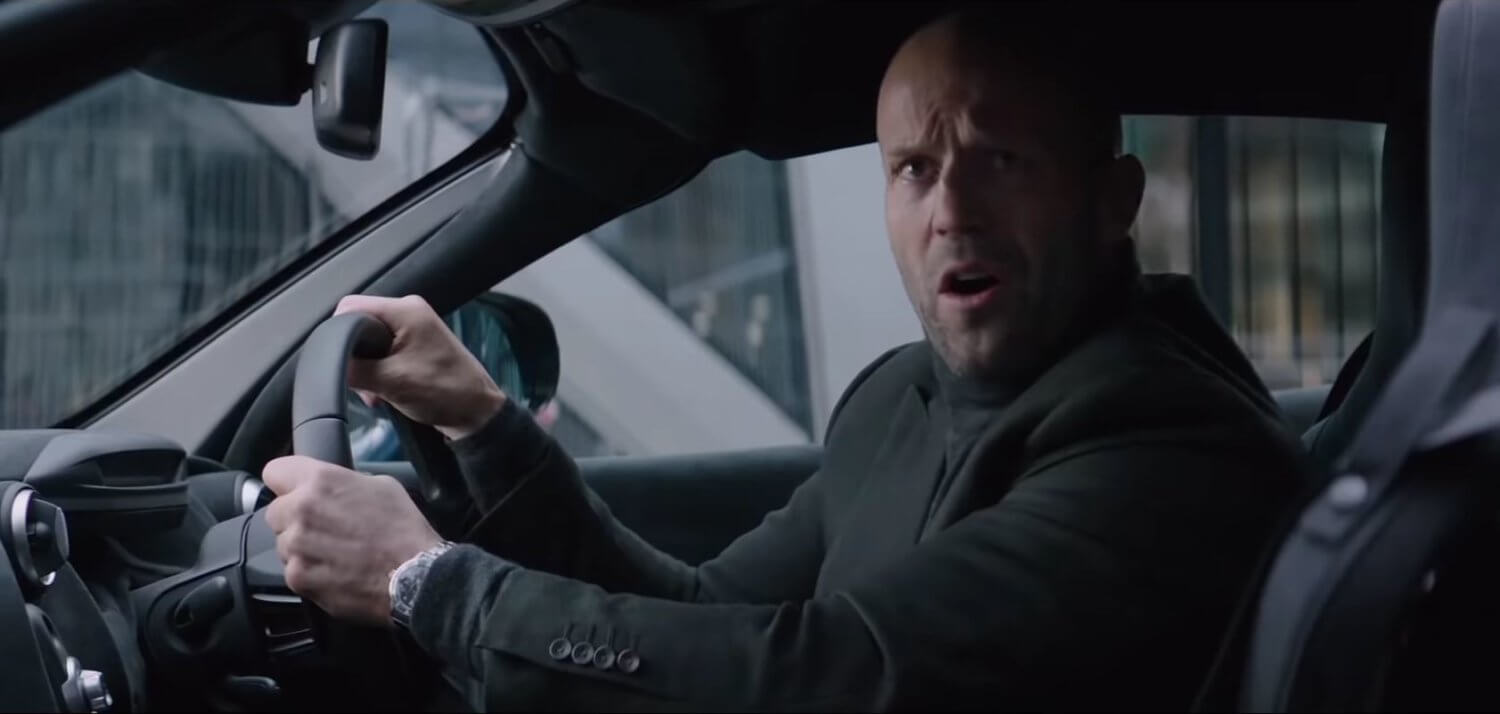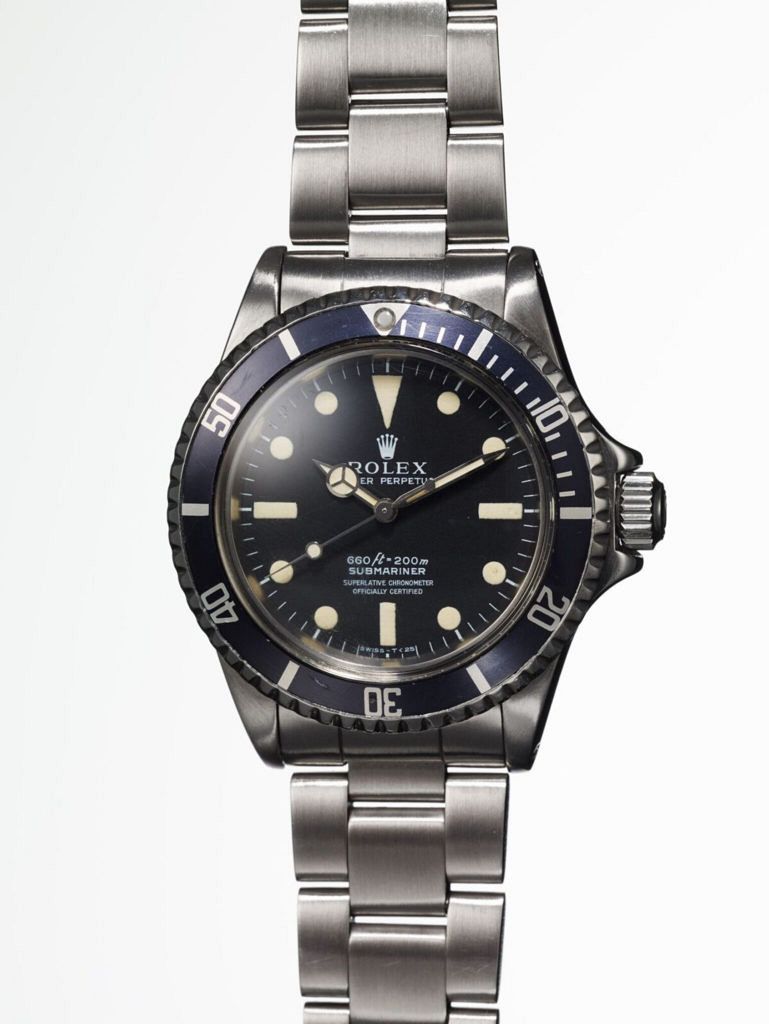 John Wick – Carl F. Bucherer
For an actor who never gets much critical respect, Keanu Reeves has starred in a shed-load of wildly enjoyable movies. From Bill & Ted's Excellent Adventure to Point Break and Speed to The Matrix, the list goes on and on. You should probably add John Wick to that line-up, too.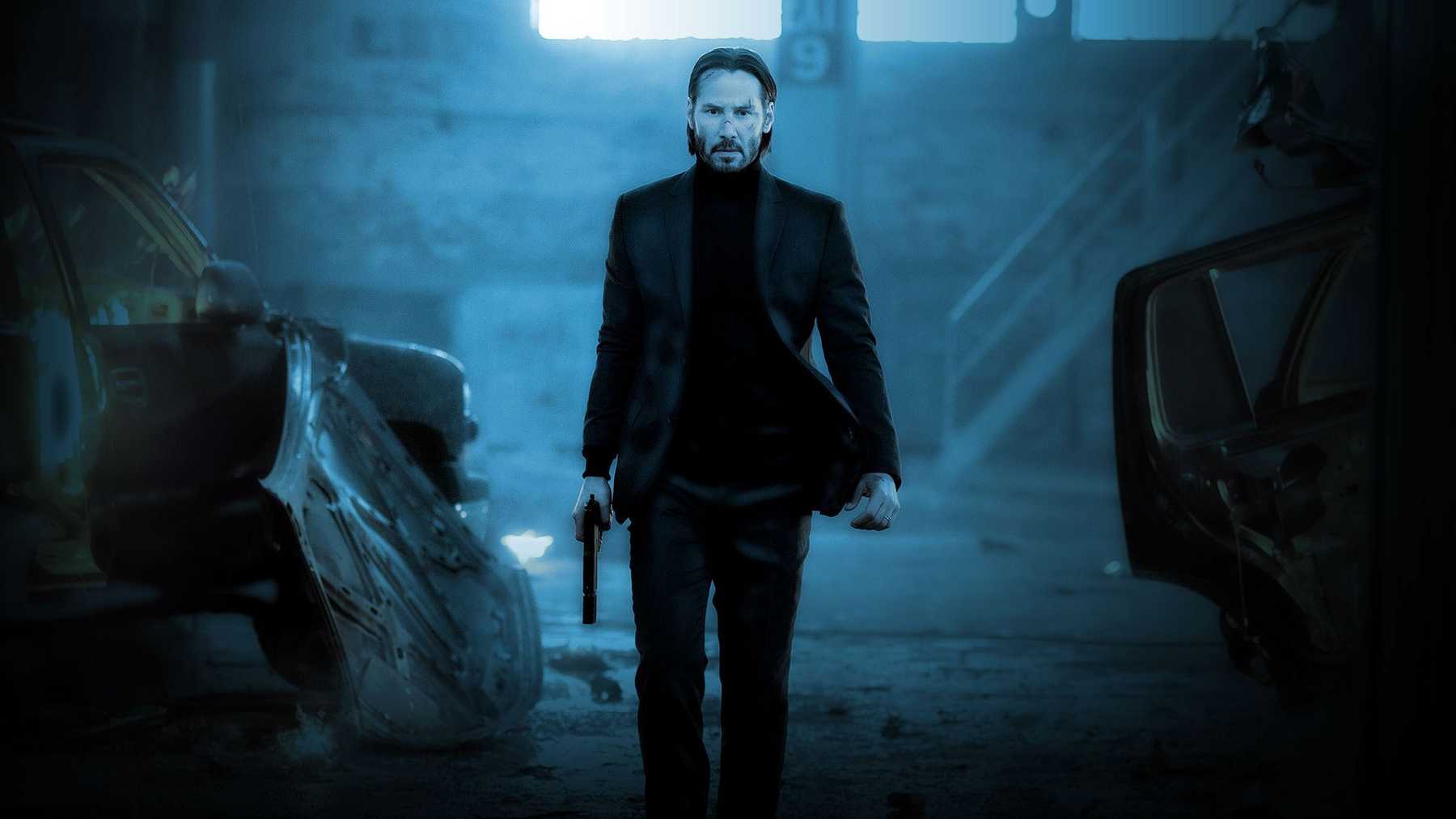 The film is a preposterous shoot-em-up in which Reeves plays the titular hero who becomes a relentless vengeance machine after some Russian gangsters kill his puppy. Compensating somewhat for this canine loss, in all three John Wick films, our hero wears a Carl F. Bucherer Manero AutoDate (RRP $US 2600).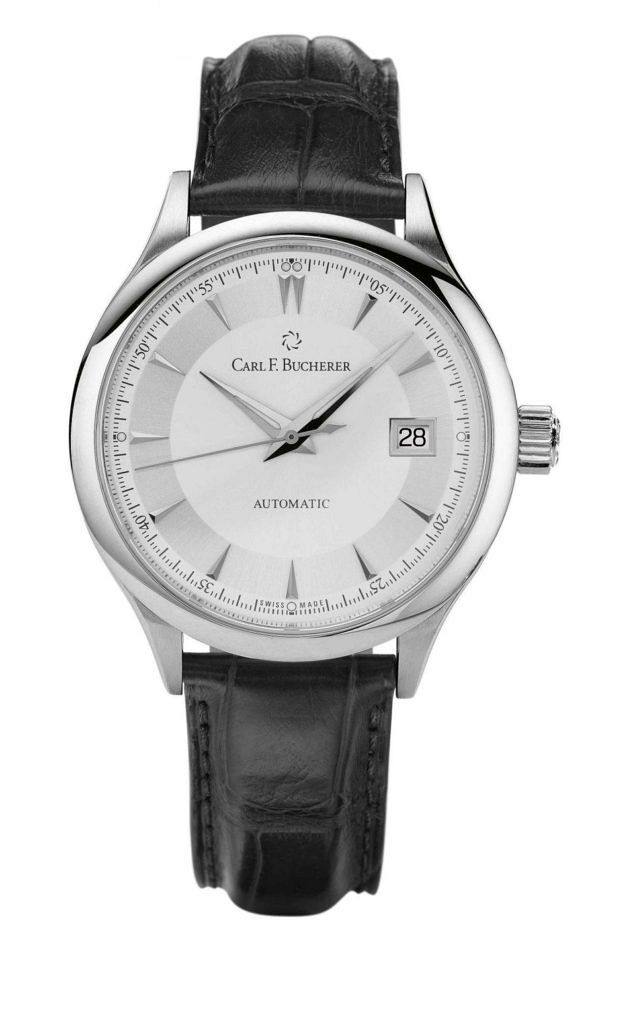 In the context of all the hyperbolic violence and balls-to-the-wall action, this is an admirably restrained choice. Carl F. Bucherer is a true Swiss manufacturer whose classically designed craftsmanship extends right up to tourbillion complications.
But it's also a pretty left-field selection. That is until you discover that the film's director, Chad Stahelski, is a long-time Carl F. Bucherer ambassador. As a result, a closer perusal of the trilogy reveals the watch brand popping up all over the place. In John Wick: Chapter 3, Ian McShane wears a Carl F. Bucherer Manero AutoDate while Halle Berry wears a diamond-encrusted Carl F. Bucherer Manero Peripheral. (Note to watch brands: when it comes to ambassadors, here's proof that movie directors can offer real bang for your buck.)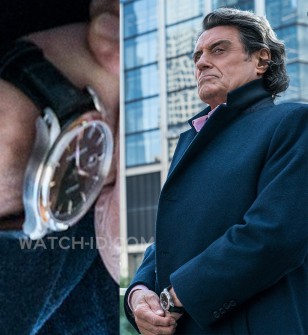 Triple Frontier – Timex and Suunto
Question: What's the best watch to wear while robbing a cartel boss in a high-stakes jungle heist? Answer: Doesn't really matter as long as it's got the functionality of a 24-blade Swiss Army penknife and comes in under-the-radar black.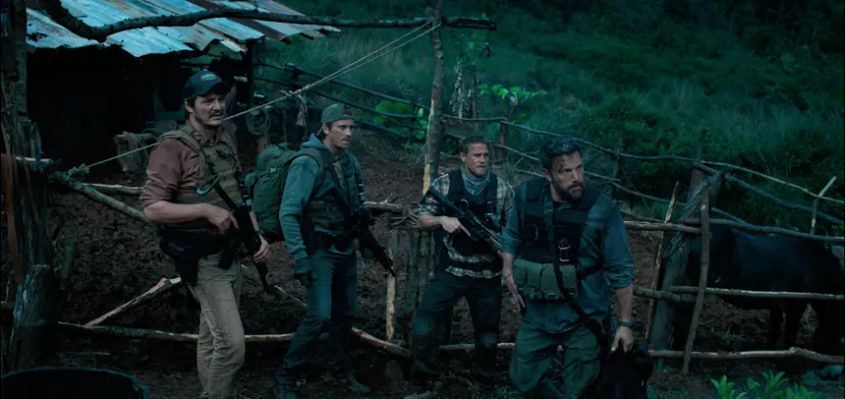 That's the main take-home from Triple Frontier in which Oscar Isaac plays a special forces operative who discovers a cocaine kingpin keeps $75 million in cash at his South American lair. In a bid to steal it, he gets his old gang of Navy Seals back together in the shape of a solid ensemble cast that includes Ben Affleck and Charlie Hunnam.
As former elite soldiers, the wristwear here is strictly no frills. Isaac wears a Suunto Core All Black SS014279010, Affleck wears a Timex Expedition T499759J WR 100m while Hunnam wears a Timex T49896 Expedition Rugged Shock Digital CAT. Not the most refined timepieces perhaps but, as Hunnam's character admits, "That's the price of being a warrior."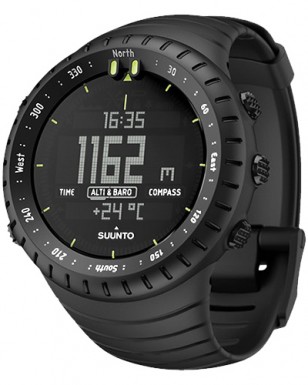 Men in Black International – Hamilton 
Ever since making a scene-stealing cameo on Elvis' wrist in Blue Hawaii, the Hamilton Ventura has enjoyed a succession of big-screen appearances. Frankly, you could hardly miss it due to the Ventura's distinctive asymmetrical looks.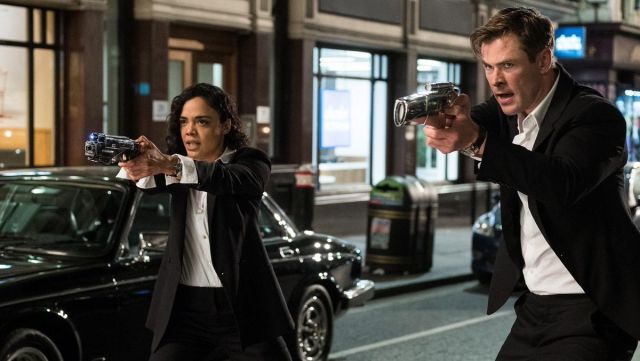 Along with black suits and sunglasses, it's also been part of the Men in Black uniform ever since the original film came out in 1997. So when Chris Hemsworth starred in last year's Men in Black: International he was forced to resist cracking under pressure, and get with the look.
While his co-star Tessa Thompson wore the traditional Hamilton Ventura for her alien-battling role, the Aussie actor wore the Hamilton Ventura Automatic, with an open-worked dial revealing the automatic movement, and finished with a brown leather strap.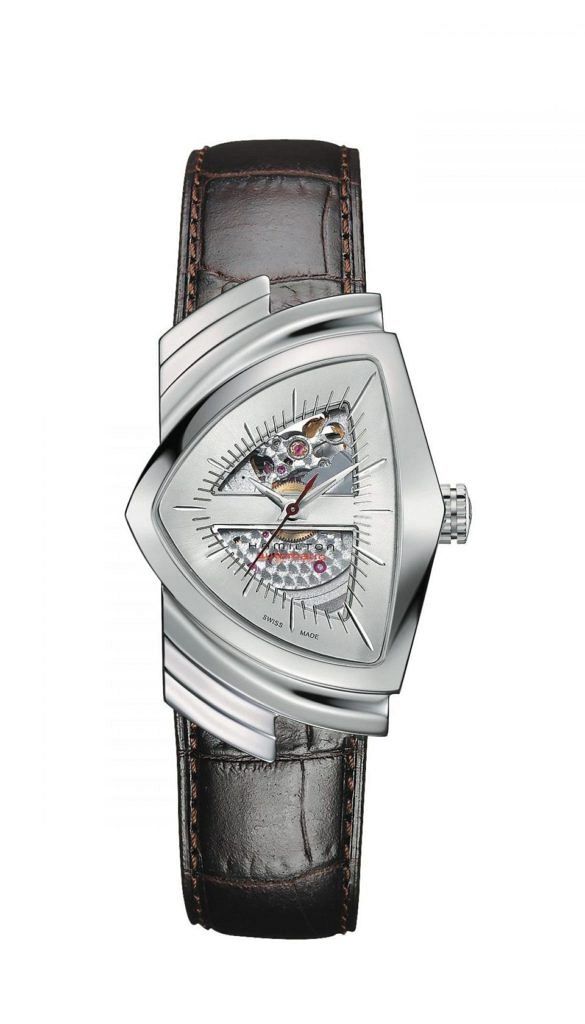 The Bourne Identity – TAG Heuer 
Imagine you're an amnesiac CIA operative who wakes up and can't remember your own name. The first thought that runs through your frantic mind? I really hope that I don't wear some crappy watch. Thankfully for Jason Bourne when he opens his safety deposit box in a Zurich bank, he discovers a handgun, stacks of hard cash, passports and, most importantly, a TAG Heuer Link Chronograph.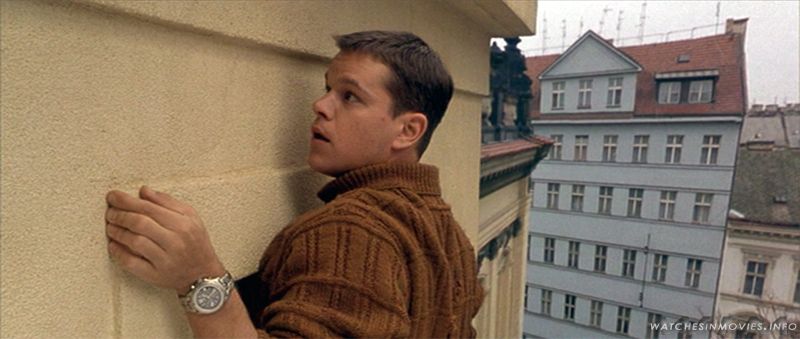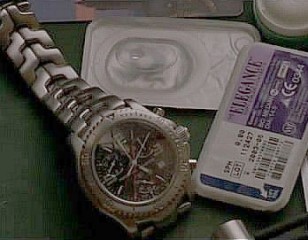 This is a solid choice for any self-respecting secret agent. The quartz movement ensures it'll still be ticking despite sitting dormant for some time, the chronograph functions will prove useful for endless all-action activities, plus it's waterproof to 200m (handy for a character who starts the film half-conscious and riddled with bullet-holes floating in the Mediterranean Sea). Better still, while this is a thoroughly respectable watch, it's not flashy enough to be conspicuous when you're on the run from ruthless assassins.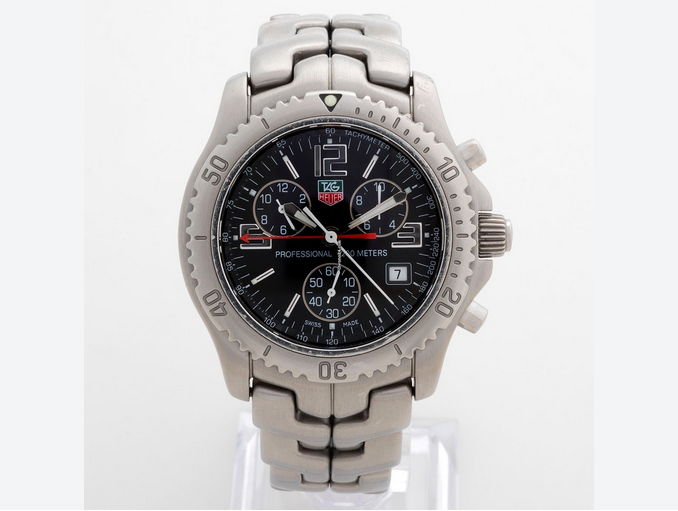 Kingsman – Bremont and TAG Heuer 
This ultra dapper British spy romp took product placement to radical new levels. In tandem with the film, director Matthew Vaughn developed an entire menswear label with Mr Porter, enabling viewers to literally shop the characters' looks. The subsequent capsule collection of clothing and accessories taken directly from the film included ties by Drake's, hats by Lock & Co and eyewear by Cutler and Gross.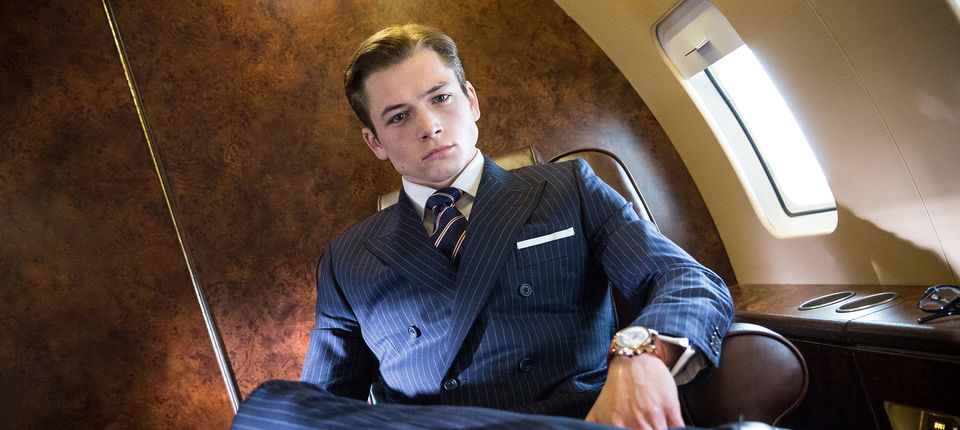 Yes, yes, but what about the watches, you ask. Well, in the first one, Kingsman: The Secret Service, Bremont had three watches specially commissioned for Colin Firth and Taron Egerton. Culturally, the UK brand was pitch-perfect with founder Nick English even making a sneaky cameo in the film.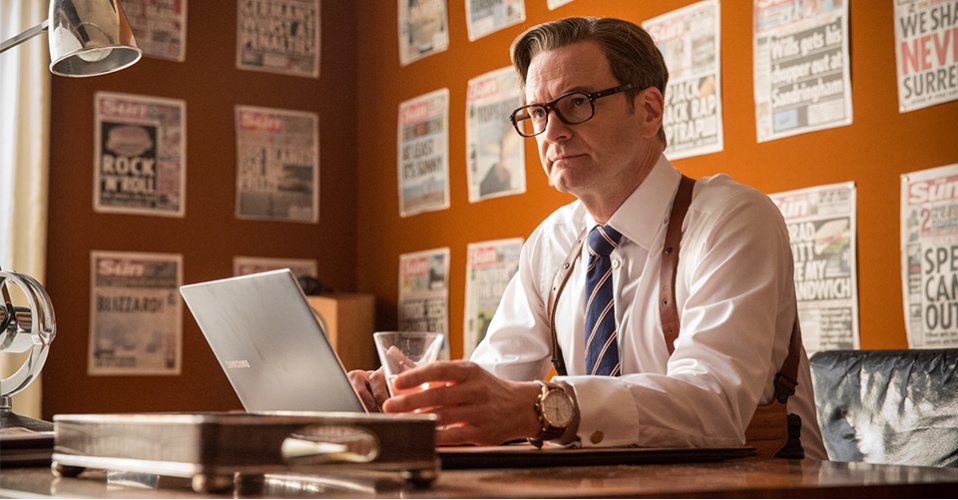 "Kingsman is first and foremost British, which made Bremont watches the perfect fit," said Vaughn on the horological collaboration. "Their links to special forces around the world make them ideal for the modern spy."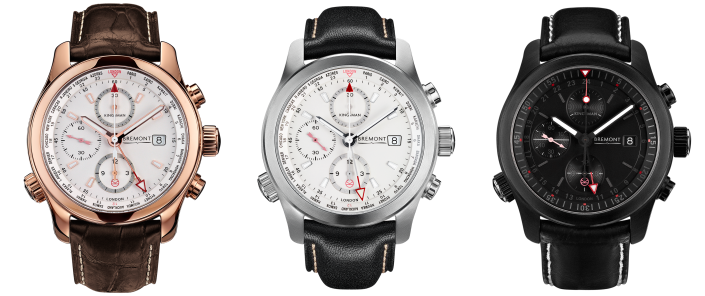 Artistic integrity, however, is a notoriously fickle business and Vaughn apparently had a sudden change of heart before the follow-up movie, Kingsman: The Golden Circle. This may have had something to do with Bremont being comprehensively outbid by TAG Heuer, who pounced on the sequel as the ideal backdrop to showcase their Connected Modular 45.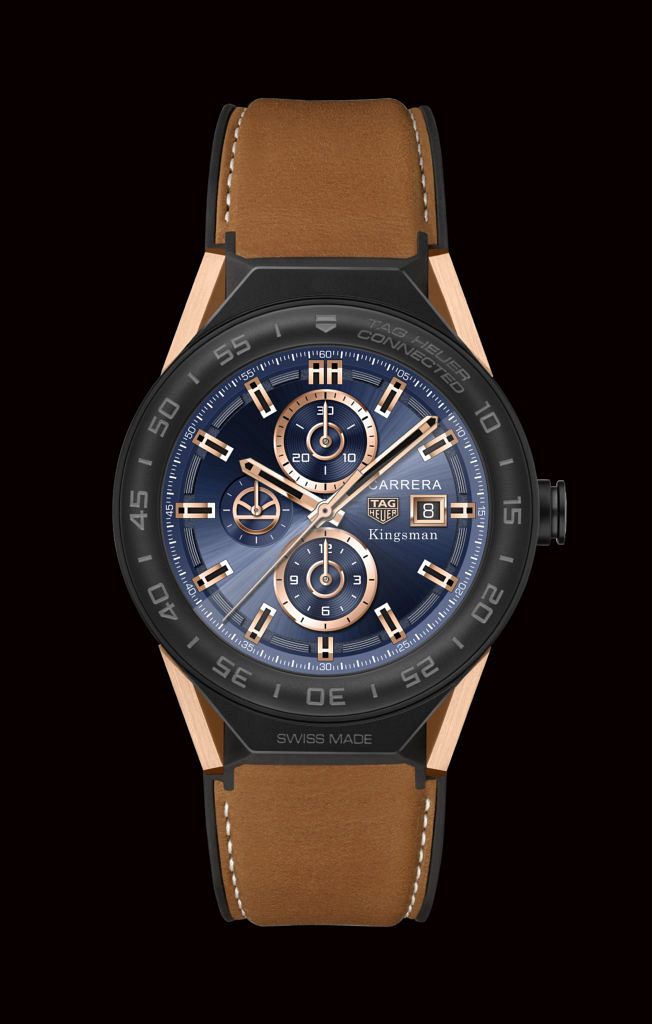 The technical chops of TAG's smartwatch probably do make more sense on the wrist of a gadget-savvy spy. Yet somehow it didn't fit quite so well with the impeccably pinstriped aesthetic of the film.
Tomb Raider – Tissot 
Gazing at the wondrously pneumatic figure of Lara Croft, aka Angelina Jolie in Tomb Raider, your eyes are magnetically drawn to one thing.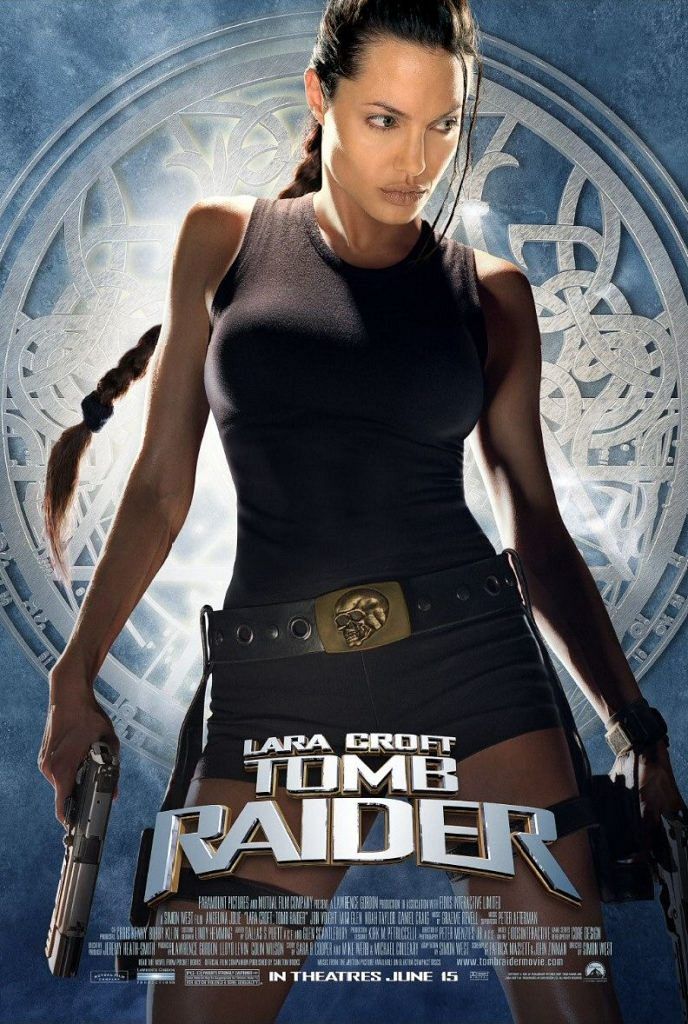 We are, of course, talking about the watch that's clearly seen almost an hour into the movie when our intrepid cyberbabe activates the compass mode of the touch screen.
Croft's watch in the film was a first-generation Tissot T-Touch mounted on a brown leather strap. One of the original 'smart' watches, this solar-powered timepiece was jam-packed with survivalist functionality, including a barometer, altimeter, thermometer and alarm. Significantly, it also used touch-screen technology long before the likes of Apple cottoned on.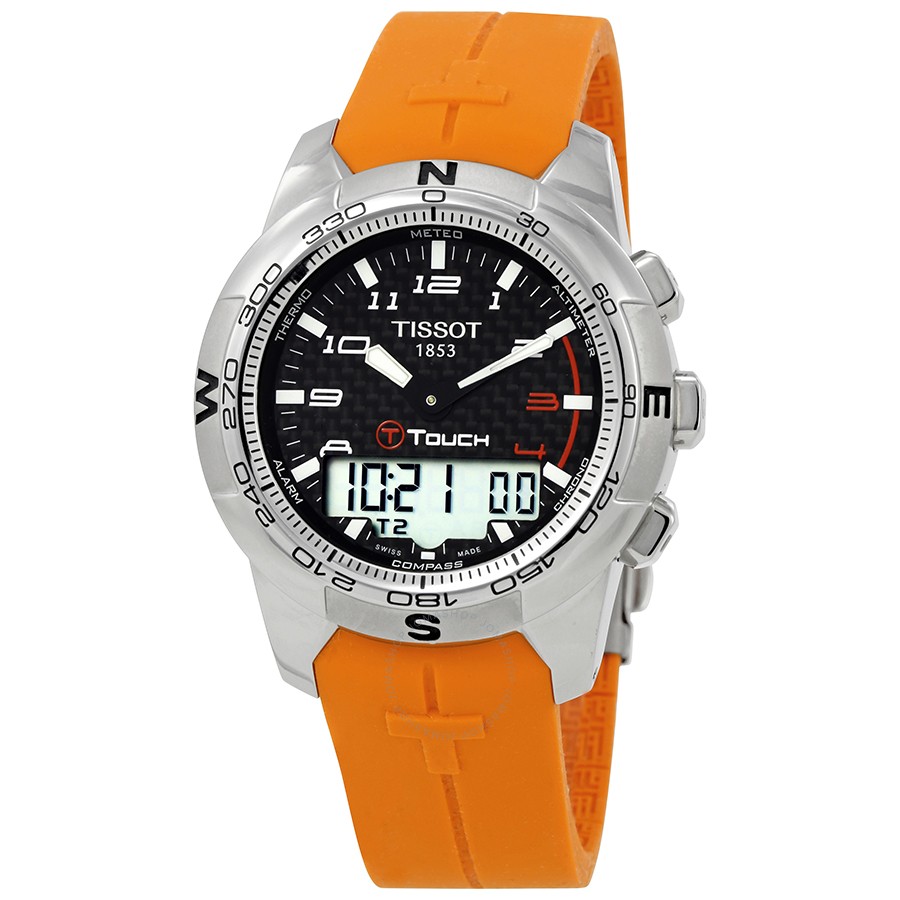 Tough but deceptively lightweight, it's a fitting watch for any kick-ass heroine. In fact, Angelina was sufficiently smitten with its high-tech allure that she also wore a T-Touch for her next high-octane role in Mr & Mrs Smith.
The Transporter – Panerai
Out of all the aforementioned action heroes, Jason Statham is the closest thing to the real deal. Not only did he represent the British high-board diving team in the 1990 Commonwealth Games, he's since boned up on his martial arts, too, learning Wing Chun Kung Fu, karate and kickboxing.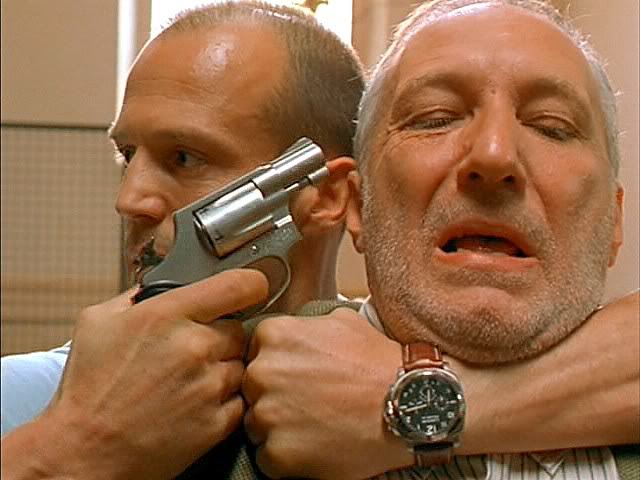 "The Stath" was therefore in his element to play a strong but silent getaway driver in The Transporter, a role requiring him to hit people a lot while assuming a half-baked American accent.
Performing all his own stunts, Statham's wristwear in the film is a Panerai Luminor Chronograph PAM074. As Khalil Ghorbani – the founder of the Panerai Central website – told us a while back, Panerai has become the go-to watch for any aspiring action hero. It all started when Sylvester Stallone discovered the Panerai Luminor in a Rome jewellery shop in 1995. Wowed by its alpha-male size and brazen wrist presence, Stallone wound up buying several of the watches, one of which he gave to Arnold Schwarzenegger.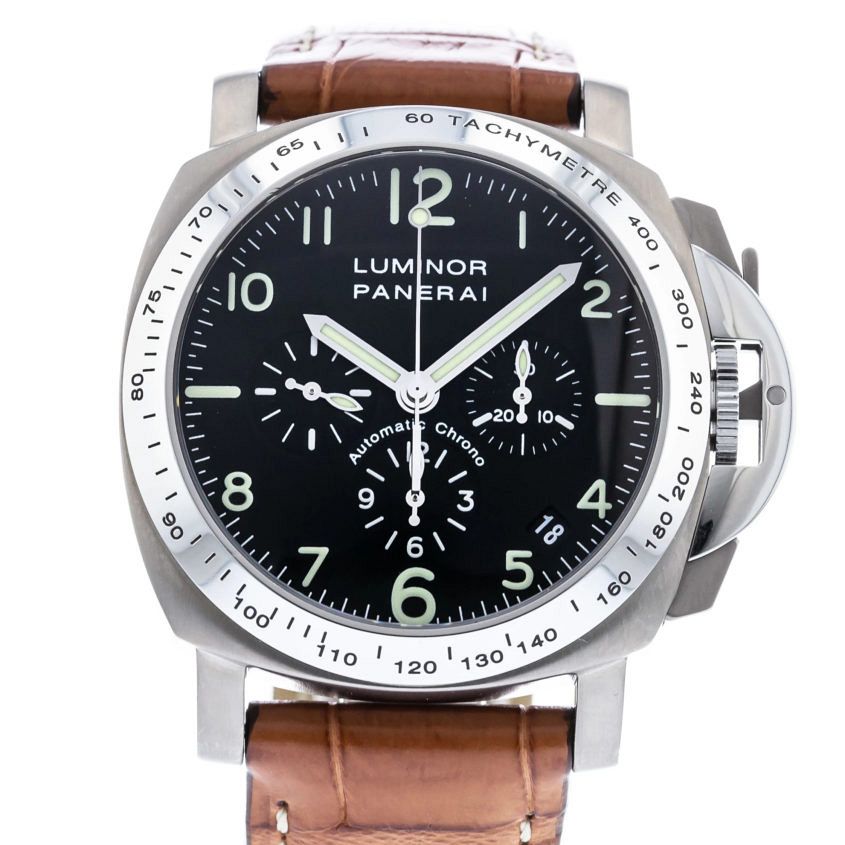 "Jason Statham is perhaps the leader of a new generation of well-muscled actors with whom you wouldn't want to mess," Ghorbani explained. "It's only appropriate that he took his horological style cues from the elder statesmen of muscle when he took on the iconic role of The Transporter. Clearly he went with the Luminor Chronograph so he could conveniently track how long he had to deliver a package."
You can read the whole interview here.