The watches James Brittain-McVey of The Vamps took on the band's European tour
Kylie Lloyd-Wyatt
James Brittain-McVey of The Vamps fame is a true rock-star in every sense of the word, bar one. Instead of sex, drugs and rock and roll, he's seriously addicted to watches.  For those not in the know, James is the lead guitarist for the UK band who are currently in Europe finishing their World Tour. Here, he tells T+T's Kylie Lloyd-Wyatt why he brought these watches on the The Vamp's European tour.
"I always thought trying to decide which clothes to bring on tour would be the hardest part of packing. I was wrong; it's which watches to bring. I hope the T+T audience don't think I'm as insane as my wife and most of my mates do when I say I can't just bring one watch. I could take a "one watch collection" piece, but that would be boring.  So these are the watches I've taken on the European leg of our tour.
Grand Seiko SBGA413 'Cherry Blossom'
Without a doubt, this is the best watch I've ever spent time with. In my ignorant earlier years of collecting, I was one of those who was sceptical of titanium and anything non-Swiss. I was a cretin! I don't care what my little Dutch mate says about Grand Seiko, for me they're unbeatable. Spring Drive movement, insane case finishing, dials that make you question religion and watches you can actually get your hands on without buying three other pieces you don't want. What's not to like? I know the power reserve is a point of contention for some and arguably yes, who wouldn't want more dial? But, I'm splitting hairs. It's perfect in my eyes. I catch myself staring into the dial in a way I simply don't do with any of my other watches. It's hard to convey through pictures, but the spectrum of colour you get from this dial, light dependent, genuinely makes you feel like you have a new watch every day. For your money, I can't think of anything that beats the "Cherry Blossom".
Rolex Explorer II ref 226570
The Explorer II line has always been my favourite from Rolex. For me, it screams what a watch should be: no nonsense, no bullshit. It says "you don't need to take me off, let's go explore". I don't want to look at a baguette gem-set bezel, or have my arm cut off for it. I want to put a watch on, be able to trust said watch, then forget about it and live my life. The Explorer II does that for me. My all-time "grail" is the original Explorer II, the 1655. Even though he never wore it, the "Steve McQueen" link hits me where it hurts. By with the current grey market prices nudging £30,000, my 2022 "Polar dial" scratches the itch just enough and at a fraction of the price.
Vintage Seikomatic Self Dater
I always try to bring at least one leather option on tour, and this Seikomatic is the perfect shout. But off the bat, I don't actually know much about this watch. I believe it's a 1963, but I'd love to learn more if any of the T+T audience can comment. But, if a watch could talk, I really feel like this one is communicating its 60 years through the patina… and that's real patina. I love how it's from the super early Grand Seiko era when they were probably still teething. There's history there and I've learnt that with all of my watches, my wrist is just part of the story for each piece. This Seikomatic has leaves me pondering the past with intrigue; isn't that what it's all about?
Vintage Tank Must De Cartier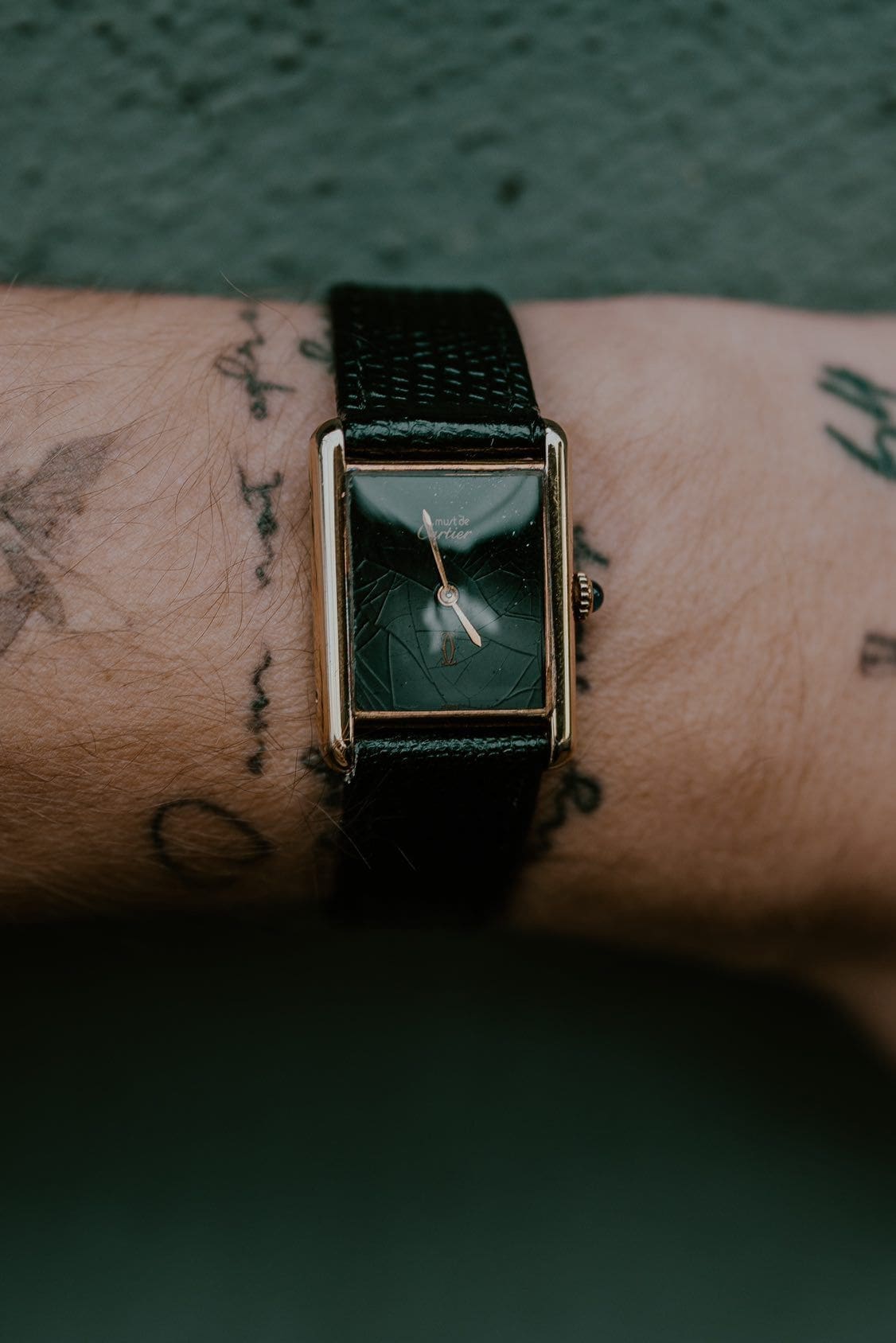 I absolutely love the "spider dial" on this watch. I would be grateful if somebody could tell me whether this is a fault in the lacquer deteriorating over time, or whether it's just how it was designed. I've heard both. I appreciate this watch isn't going to be to everyone's taste, hell, it wasn't mine at the start, however I find it appearing in the rotation more often than not. But, the story of how I came to get this watch is part of why I love it so much. For me, seeing my wife fall in love with the Must de Cartier is how I'd imagine a father watching their child ride their bike for the first time might feel. She actually took a while to like watches. I've texted her images of salmon dial grand complications, only to be met with "it's ugly". Then there's the hours spent in ADs without a glimpse of enthusiasm. The Black Bay Pro launch… nothing. But with this sub £1000 '80s manually-wound Cartier, Kirstie's penny dropped and I can see why. It's small, thin, easy. She saw it and liked it and that's what it should always boil down to. I think for me, starting my watch journey with Rolex and Tudor divers, it took a while to recognise the beauty of simple design. But without sounding odd, the innocence of her truly unbiased opinion without being influenced by politics, history and hype is amazing to me.