THE UNSUNG: Unearthing bargain treasures in vintage stopwatches
D.C. Hannay
We don't talk about vintage a lot at Time + Tide, unless it's a Very Big Deal, such as a record-breaking auction result. But what about the vintage watches that fly under the radar? Bargains are out there if you're willing to put in the effort. To wit: vintage stopwatches are a fun, cool piece of watch history in sport, and have yet to be priced into the stratosphere (mostly). I've been lucky enough to have found a few gems hiding in the dustbin of history, and the hunt is at least half the fun.
Among vintage collectors, I'm pretty low-key. I'm not the one forking over gobs of cash to secure the finest examples of highly sought-after references. You won't find any Red Subs, Pre-Moon Speedys, or Newman Daytonas in my watch box (although you never know when you might find that one-in-a-million garage sale). Vintage collectors tend to fetishize even the most mundane of objects (hello, Rolex service pouch), and with the rise of online watch journalism, and the resulting ability to easily glean information on historical references, it can be tough sledding. So my vintage hunting tends to focus on the unsung, the overlooked, and the forgotten. And every once in a while, I get lucky.
A huge part of horological history resides in sports timing. Big names like Omega, Rolex, Breitling, Heuer, and Longines all have deep roots in timing world-famous auto races, record-setting ski runs, and the entire spectrum of Olympic events. The genesis of the stopwatch goes all the way back to the 19th century, and today, high-tech timing devices can measure down to a millionth-of-a-second increments. But there's a good century's worth of history in mechanical stopwatches, so, if you're a car buff obsessed with F1 legends, or just appreciate the mechanical know-how that went into these ticking relics of yesteryear, I'm here to tell you that you can grab a piece of racing's past at shockingly low prices.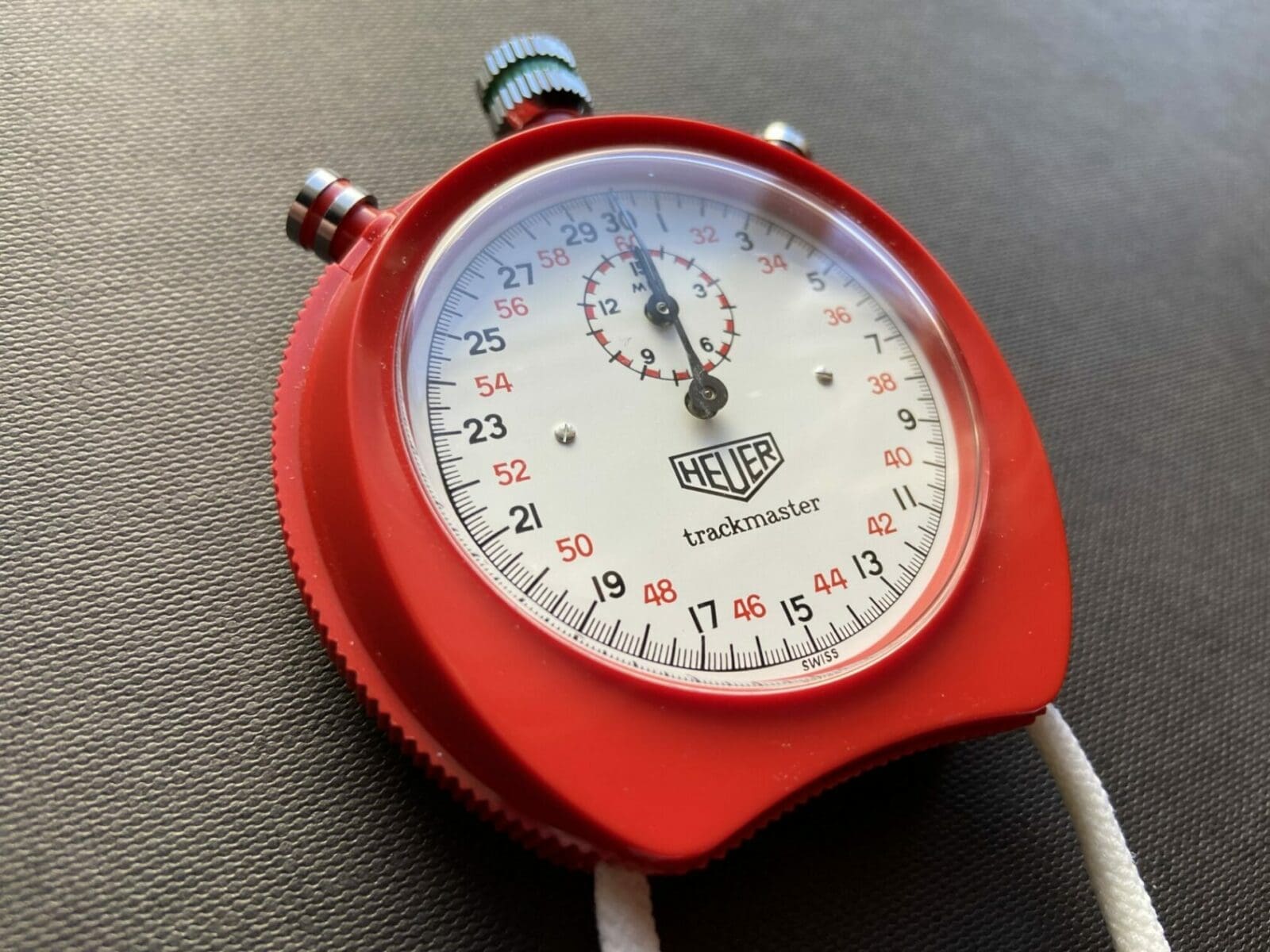 TAG Heuer's place in auto racing history needs no introduction. Their past is strewn with legendary names like Monaco, Silverstone, Carrera, and Monza, and today, they remain strong as ever in their partnerships with the Red Bull F1 team and Porsche. Of course, they have a long history in race timing, from the simple stopwatches worn on a lanyard by your high school track coach, to the high-end dash-mounted timers obsessed over by vintage car enthusiasts. My plunge down the rabbit hole began with an alarmingly great piece of luck. I stumbled upon some Heuer stopwatch listings on eBay, finding some cool-looking pieces along the way, ranging in price from a few bucks to upward of four figures. Most of the bargains I encountered seemed pretty suspect, but I found a listing for a bright red Trackmaster model that seemed promising. The photos were crap, but I didn't see any signs of overt abuse, and the original box was shown in the listing, so I rolled the dice and threw in a last-minute $25 lowball offer. To my surprise, the seller took it.
When the stopwatch showed up in my mailbox, I couldn't believe my luck. This 40-plus-year-old relic was in mint condition, with nary a crack in its plastic case, nor a scratch on its acrylic crystal. This thing looked like it was bought and shoved in a drawer shortly thereafter, and wonder of wonders, the damn thing worked like a Swiss watch (which it is). Make no mistake, you'll pay dearly for pristine examples of high-end Heuers, but this is a great point of entry, considering my cost was nearly the same as the list price when it was new. While it's not a dashmounted Super Autavia, it's basically an untouched relic in working order, complete with box and papers. The Trackmaster features a bare-bones 1-jewell pin lever movement, but it was just too cool to pass up at the price.
Bonus fun fact: even if a boldfaced name like Heuer is out of reach, you can often find something from another brand that happens to be the exact same piece under the dial. The Trackmaster was also marketed under the Leonidas and Sears brand names, with cases in black, white, red or blue plastic (and even a seldom-seen chrome-plated model), and yes, they're the exact same model. Heuer sold more than 100,000 of these a year back in the '70s, so although they're not rare, they're a true blast from the past from an iconic name, and not often found in near-new nick. Consider me hooked.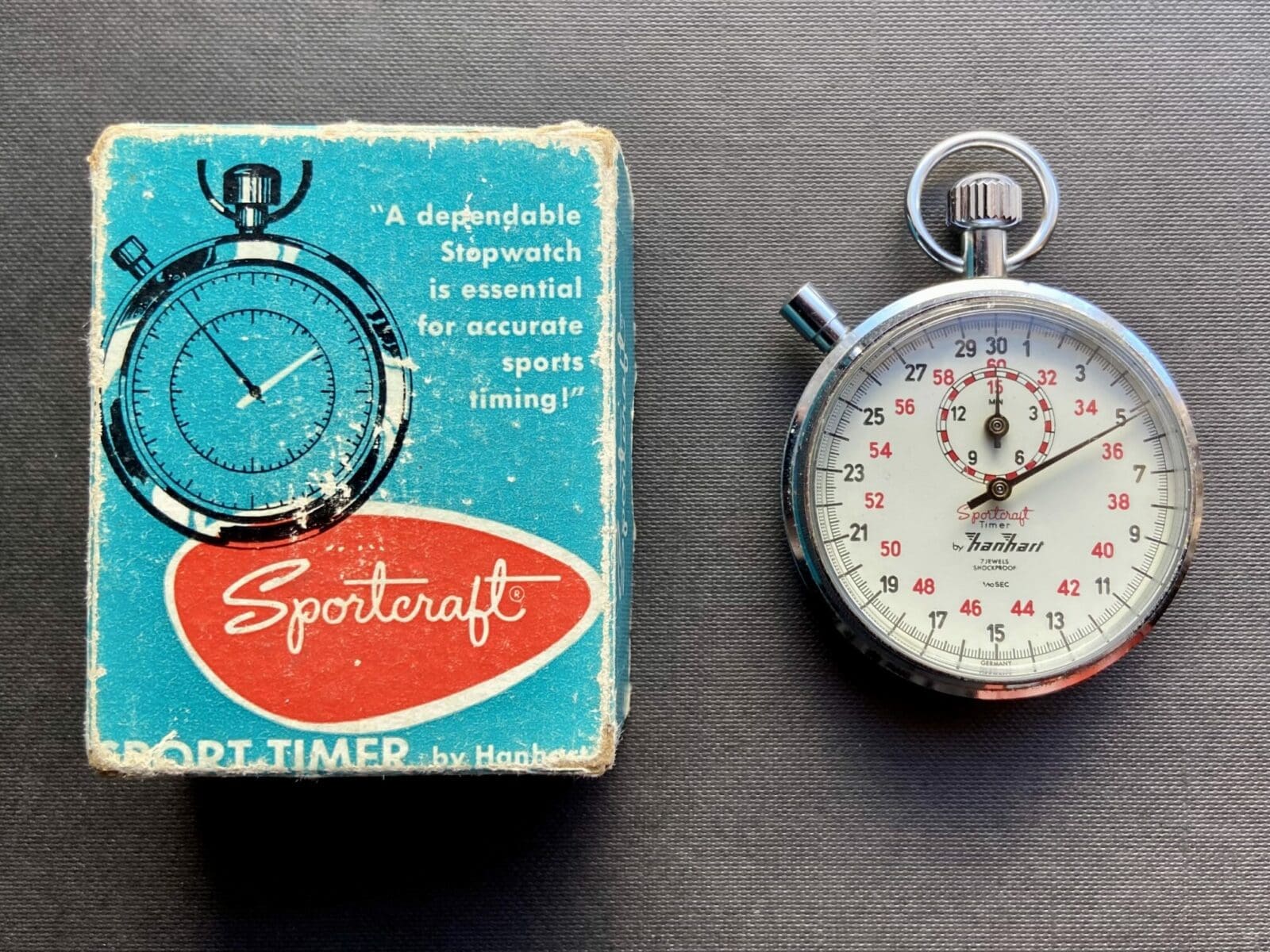 My next treasure find was considerably more upmarket as far as quality goes: a 7-jewel German Hanhart/Sportcraft model with the original box, in great working condition. I spotted this one at a big upstate New York flea market on a summer Saturday with my family and my good friend James, who is a serious watch buff. This one is definitely a step up, with a heavy chromed brass case, a 7-jewel lever movement with flyback function, and some cool history tucked at the bottom of the box.
Under the German/English warranty card and a quaintly worded instruction sheet, I found the original receipt from 1965. The timer was sold in West New York, New Jersey, to the Westwood Swim Club (now the Pascack Valley Swim Club) for the tidy sum of $17.50. These days, vintage dealers tack on big premiums for that kind of provenance. I'm confident that despite its nearly 60-year age, it's never taken a dunk in the pool, and it appears to work flawlessly. Another cool tidbit: Hanhart still makes mechanical stopwatches, and currently offer a model very similar to this one, retailing at around $300. Total investment by yours truly? Under $20.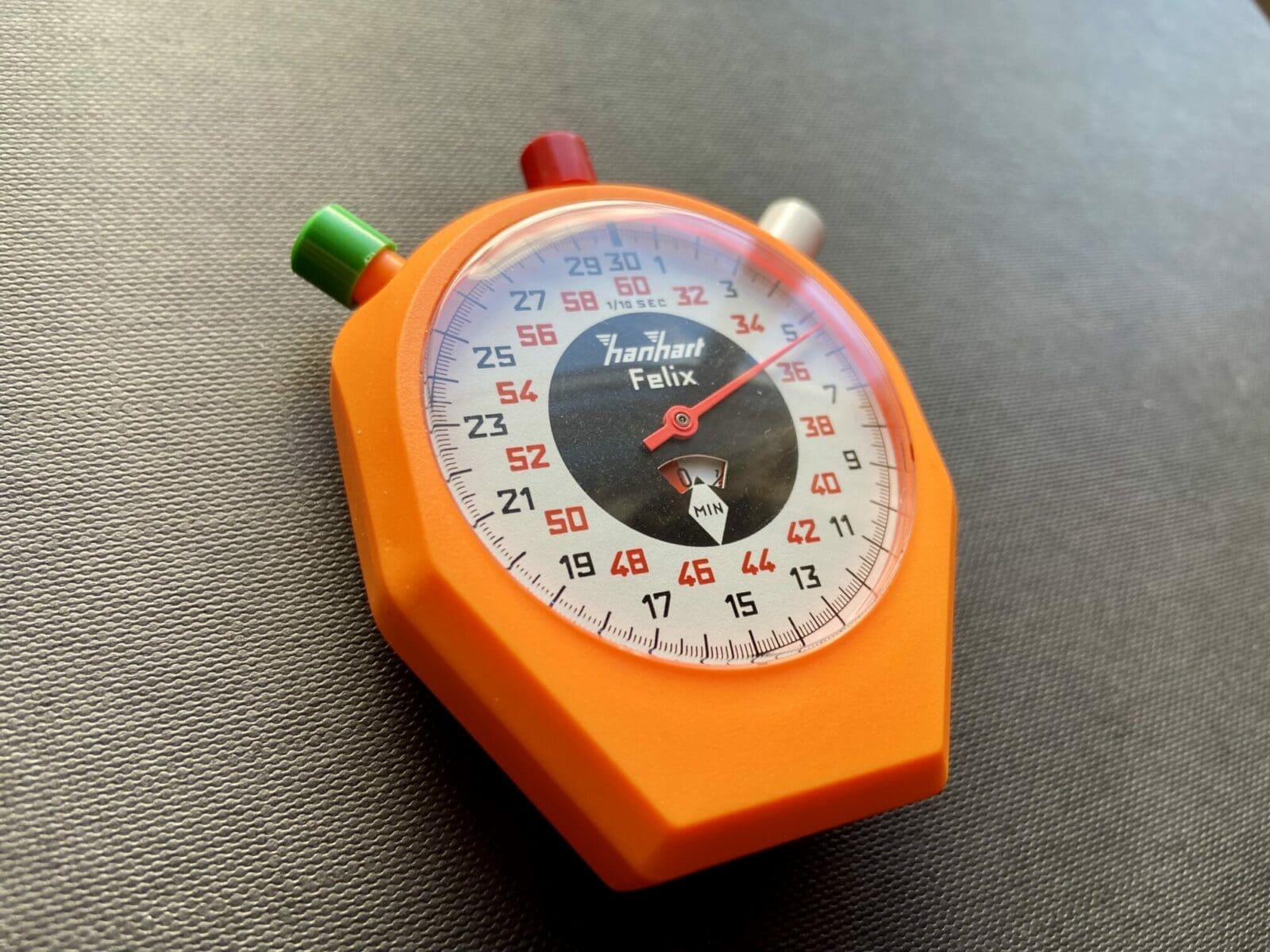 My most recent pickup also comes from Hanhart, a charming, brightly coloured Felix model snagged on The Bay for a mere $14 bucks. Not only does it work, but it's in NOS condition, still enshrined in its retail plastic clamshell. It's a simple, non-jewelled piece, but totally rad with its fluorescent orange case, minute counter window, coloured pushers, and even the original lanyard. And talk about German engineering. It keeps remarkable time for something that hasn't been used since it left the factory. And given its "West Germany" printing on the packaging, it's been at least 33 years, since Germany was reunified all the way back in 1990.
So there you have it: the beginnings of a cool vintage collection for well under US$100. The bargains are out there. You just need the patience to wait for the right ones. Vintage watch collecting can be a real minefield, but if you know how to look, you can avoid the pitfalls and uncover some real gems hiding among all those overturned stones.