EDITOR'S PICK: The ultimate dad-watch is the Full Metal G-Shock GMW-B5000V
Time+Tide
Editor's note: Having kids make you think about watches differently. Not so much in the manner of potential heirloom appraisal. More that durability and scratch-resistance quickly become more urgent priorities when you're trying to avoid copping one in the knackers from an excitable three-year who's whirling a toy lightsaber with deadly intent. Luckily, Andrew has found the solution…
Full disclosure. This G-Shock was a gift from the brand to show their support for a passion project I've launched called The Father Hood. Thank you Phil. The 'Hood's all about supporting isolated and new dads and inspiring future dads. If you're new to fatherhood, it may come in handy. It's also brutally real about #dadlife. Which is why the G-Shock is really the perfect watch gift for this stage of life. No drop from a bench while attached to a soft toy (the kids like to do that for some reason), or hurl across a room at a sibling, or rinsing in a bath-time dip is too much for this watch.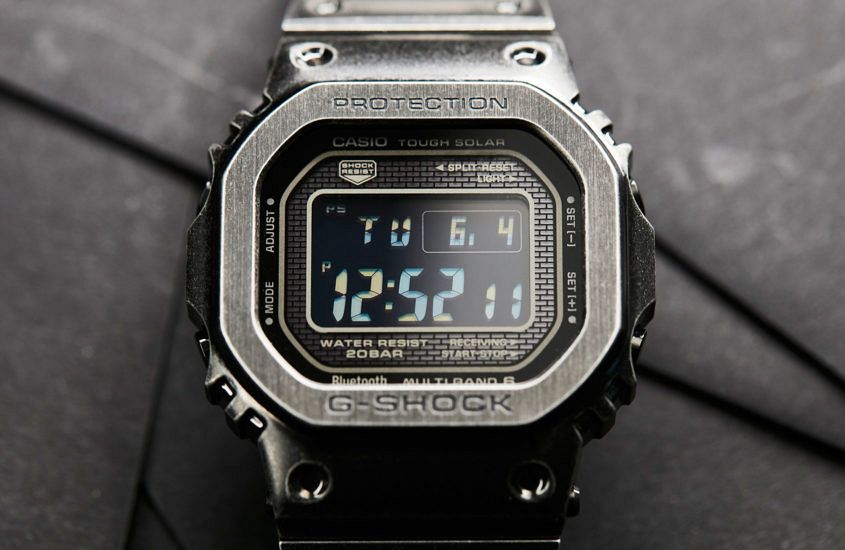 The reason Phil chose this full-metal model, the post-apocalyptic GMW-B5000V, probably has something to do with a post I made on my personal Instagram account when it came out, fawning over the fact that it could be my first G-Shock in way over 20 years. I saw it at Basel. I was in. Holy smokes. It actually looked like it was smoking, from some war it had just emerged from, still ticking. Intense desire.
I know that many of you are into G-Shock and have kept the love alive since you were teenagers, or younger. I have not. My last model was some kind of lurid colour, and made of resin. It had some wicked graphic displays that at the time were cutting-edge, man. It was one of my favourite things. But then I grew up. I 'graduated' to a two-tone titanium Citizen Eco-Drive (lol) for my 21st. So, even though I've left this era of digital watches happily behind since, there was a pang of nostalgia to see the shape of this model. And there was the aforementioned excitement about its aesthetic.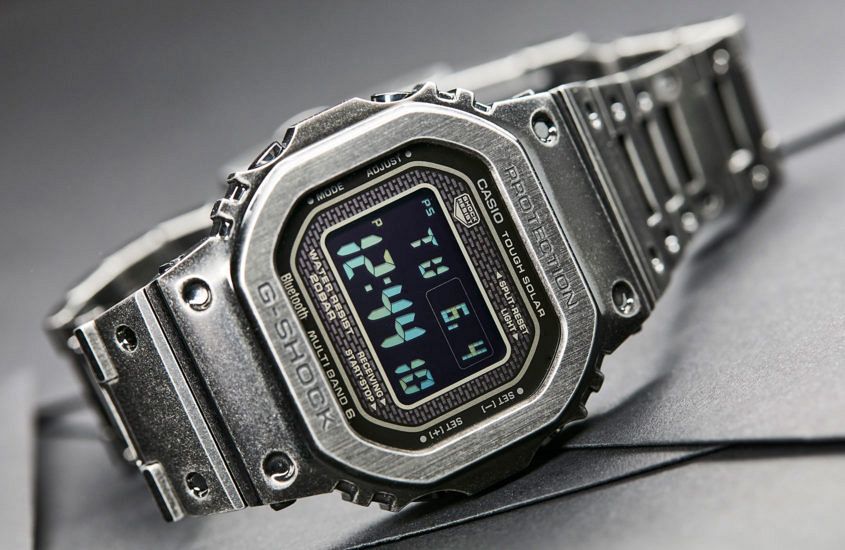 Once I put it on I felt … Pretty freaked out. This unit is solid. It's totally counterintuitive to wear a heavy G-Shock. All the muscle memory of the past is useless. Wearing this G-Shock as opposed to resin models is like going from a balsa wood plane to an A380. I also felt that
Looks-wise … It's a classic. That big old rectangular box with the ears on each side protecting the pushers. The rivets on the cushiony lugs and the technical look to the screen. Stone-cold classic. The original DW500 has only recently started to get the respect it deserves in the pantheon of classic watch designs. It is big though, and it rides right up, on account of those only slightly tapered lugs. Anyone who's become accustomed to integrated steel bracelets will feel this bad boy riding up, and when you look down, you see the away side of the bracelet tiering down only at a slight tilt. Hey, it's a G-Shock, what are you gonna do?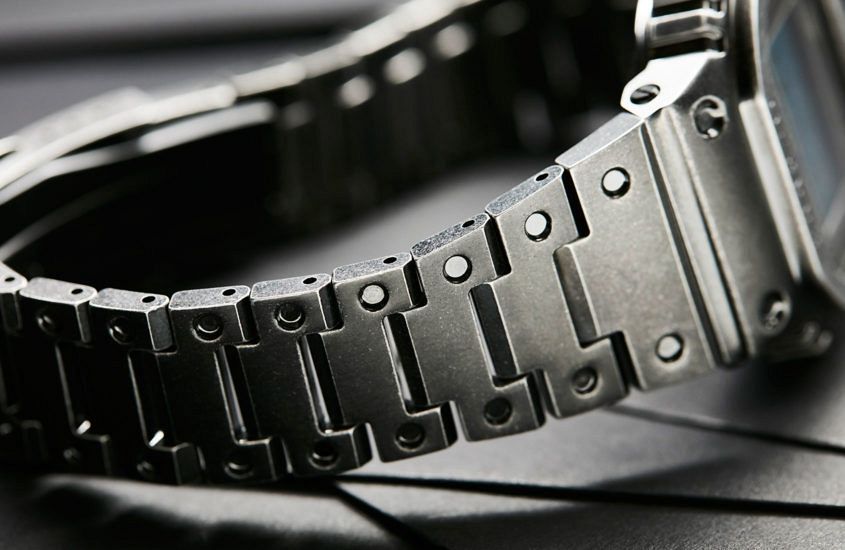 What stood out to me … The patinated/distressed look of the bracelet and case really is the shit. So genuinely worn-looking and also even, which is also somehow pleasing. I expected it to be the best thing about the watch. It delivered.
I'd wear this with … OK, here's the salty bit. For me, it is not versatile in terms of what you can wear this watch with. When it works, and we'll get to that, it smashes it. It's amazing, a total outfit completer. But when it doesn't – with most day-to-day work outfits I own – it really doesn't. So, here's my take. This watch simply cannot, I repeat CANNOT, be worn with smart casual. Disagree? Come @ me. Tag me in a shot and I'll see if you can shift me here: @andrew_mcutchen … And anything north of smart casual? A suit? Bruhhhhhh. Just no. (And that means you too, golden boy, @Nick.Kenyon). Even less so.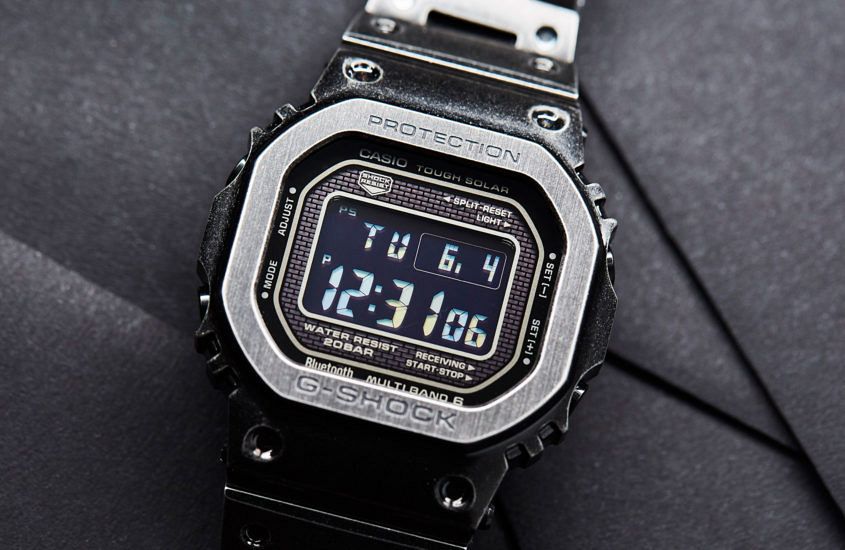 On a day-to-day basis, I like to wear R.M. Williams boots. I have a variety. None of them works with this G-Shock – your look suddenly goes from 0-dad in the fastest double push of the chronograph (which is three hits of the bottom left pusher btw). However, you pair this with a T, the right jeans and the right runners (avoid NB, even though they're cool now) and you're golden. My favourite pairing was with bomber jacket, T, khaki pants (avoid oversized pockets) and kicks. You know the drill here, dressed down but still trying. I also wore it at the gym once, with an army green T-shirt and a weight vest. Tick, tick, boom.
What I'd change … This is not a cop-out. For what it is, this watch is perfect. It's a G-Shock. It's heavy. It looks tougher than you. It looks like it would have wild stories if it could talk.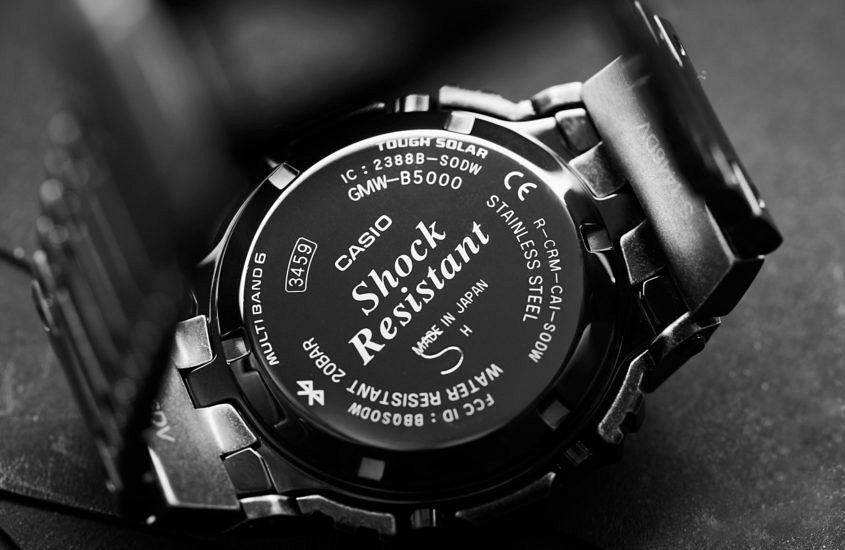 Casio G-Shock GMW-B5000V price and availability
Casio G-Shock GMW-B5000V, $1499 AUD