From G-Shock to Rolex: the Time+Tide team reveals the watch they wore the most in 2021
Time+Tide
One of the greatest horological tragedies is a beautiful watch that languishes unworn in a safety deposit box for years on end. That's because watches are made to be worn, loved and even (whisper it quietly) used to tell the time. That's why today we wanted to celebrate the everyday heroes, those trusty timepieces that accompanied our team of writers with the greatest regularity during the course of an absolute bastard of year. Are they the sexiest, most glamorous watches of their collections? Generally not. But the fact that they garnered the most wrist time is a truly valuable accolade in itself. From G-Shock to Rolex: the Time+Tide team reveals the watch they wore the most in 2021.
D.C Hannay: Citizen Eco-Drive Promaster diver
2021, am I right? Just when you thought things couldn't go more sideways… It's incredible how these all-bets-are-off times have threatened to bring humanity to its knees, via a cold, emotionless something that can't even be seen. And in these periods of isolation brought on by necessity, we take our comforts where we can. I'm aware that the majority of the world's other wrists could not give a damn about wearing a watch, but call me old-fashioned…I feel naked without one. But which one in this Groundhog Day of a time loop?
I never felt safer than while strapped with the Citizen Eco-Drive Promaster diver, a self-sufficient horological Terminator T-1000, perfectly suited for any and all threats, invisible or otherwise. Solar-powered? Check. 200 metres of resistance to water, hand sanitiser, and all manner of viral attacks? Roger that. Reliability akin to a 90s Toyota with a quarter-million miles on the odometer? We're just getting warmed up, baby. And mine was attached to a bullet-proof vulcanized rubber strap in an optimistic shade of yellow, that smells of freshly baked sugar cookies. While living in the most interesting of times, a wrist couldn't ask for more.
Zach Blass: Grand Seiko SBGA413 "Shunbun"
Last year, the Grand Seiko SBGA211 "Snowflake" was among my three most worn watches in 2020. So, it should be no surprise that my latest Grand Seiko acquisition, right before the beginning of 2021 in December, was my most worn watch this year. I always try to wear a different watch each day, at the very least not the same watch two days in a row. With my Grand Seiko SBGA413, however, there was a long honeymoon period where it was all I wanted on my wrist. The subtle cherry blossom pink of the dial was a marvel to stare at each day, and the hassle-free nature of Spring Drive meant I never had to resynchronize the time throughout the initial month it dominated my wrist. The lightweight titanium feels amazing on the wrist, and looks absolutely stunning thanks to their Zaratsu polishings that scream: "Hey Rolex, step your game up."
Fergus Nash: Casio Full Metal G-SHOCK "Tron"
When we did this segment last year, I was adamant that my 2008 Omega Planet Ocean would be the watch I wore most for the third year in a row. It really is the pretty much perfect watch for me, for a myriad of reasons both personal and practical. You can read that previous article if you want to know more, but it turns out that my prediction was wrong. While the Planet Ocean did get a good amount of wrist time, 2021 threw some curveballs that changed my watch habits a little bit.
When the 2020 lockdowns had me working from home exclusively, I got into the habit of wearing my watches during the day regardless of whether or not I even got out of my pyjamas. It helped me feel a bit more active, and gave me something to look at that wasn't my bedroom walls. The 2021 lockdowns were a bit different, as I was given a working permit for my audio work to go into an office once or twice a week. Generally, because I was a bit whiplashed between working from home and going into the office, I usually reached for my G-SHOCK Full Metal 'Tron' to throw on before jumping in my car and going in. It was just the easiest option, and I didn't need to think about setting it against the clock I was usually racing.
The G-SHOCK 'Tron' is a watch that I just couldn't quit. In fact, I'd originally sold mine in early 2021 when I saw the prices going up, only to miss it too much and buying it again when the prices had unfortunately (for me) kept rising. I considered getting another square G-SHOCK to scratch the itch, even thinking about modifying one with an online metal case kit, but there was nothing that had the same visual impact as the laser-etched IP coating on the 'Tron' as well as the supremely convenient Bluetooth connectivity.
Jason Marsden: Rolex Oyster Perpetual 41
The one I wore the most was my yellow dial Rolex OP.  Jeez, I just love this watch – it's such bright simple fun. It makes me smile even just thinking about it as I sit here writing whilst wearing my Omega NTTD. Can't wait until it bubbles up through the rotation again soon. On second thoughts, I think it would be just the perfect festive watch to wear over Christmas…
It's funny how the reality of the watches you wear most regularly often aren't what you'd imagine. The watch I should have worn more often but did not was my Bulgari Octo Finissimo. It's a very cool watch and I love the monochrome look, the great finishing, the design and materials. But I have learnt I prefer a slightly more dimensionally substantial watch. Who would have thought a watch could be too thin? Have I attributed some undeserved subconscious fragility to it?
Ricardo Sime: Grand Seiko SBGM247
What a year 2021 has been. So much has happened in the course of twelve months. By June, I could already see that there was no way my collection would look the same as it was on January 1. But as we bring this year to a close, one watch dominated the end of my year.
And if you know me, you'll probably know what has become my most worn watch of 2021. It has dominated my wrist since early November. Shoot, I'm wearing it right now. That is my Grand Seiko SBGM247. It's an amazing GMT and my only (LOL, first) Grand Seiko. Since I picked it up from my AD, there hasn't been a second of regret and as a collector, that's saying something.
Henry Zwartz: Tudor Black Bay 58 in blue
2021 was a year of upheaval for me. I moved from the top of Australia back to the familiar and beautiful climes of Sydney. I started a new job and reconnected with a city I grew up in but hadn't properly lived in for the last six years. Having moved back a few weeks before a major lockdown only added to the general sense of being a passenger on a ship weathering a large storm. But there've been lots of fantastic memories in 2021, in spite of all the chaos.
Perhaps because of the topsy-turvy year in the news, which is what I report on most days, between covering coups in South-East Asia to COVID overwhelming India, sometimes I just wanted to say: 2021 please calm the fuck down.  So I gravitated towards wearing just one watch, to help eke out a little consistency in the madness.
For my 30th I bought myself a Tudor Black Bay 58 in blue. I love the colour blue, it reminds me of the ocean (another love of mine). And the brand has a real connection with the colour given the collaboration with the Marine Nationale in the 1970s with the Tudor Submariners of that era. I have also always loved Tudor as a statement. To me it seems like a working man's Rolex. I love how vintage Tudors have ETA movements, making them comparatively easy to service compared to their Rolex counterparts.
I also love how the BB58 wears on my smaller wrists compared to a modern Sub.  I pretty much wore it from February to now most days.
Jared Belson: Rolex Milgauss
I'll admit, I didn't wear a watch much during the early months of 2021. I spent the majority of my time at home with family and my day job didn't help keep the 7s26 in my Seiko SKX wound. I sometimes threw on an Apple Watch SE I'd bought with the intention of focusing on health, but I really never bonded with it. Keeping the battery topped up was a chore, and I simply didn't enjoy having to stare at another screen. As return to office grew nearer and graduation came and went, I decided it was finally time to re-enter the fray. In my mind, there was only one watch that stood out as the clear choice – the Rolex Milgauss.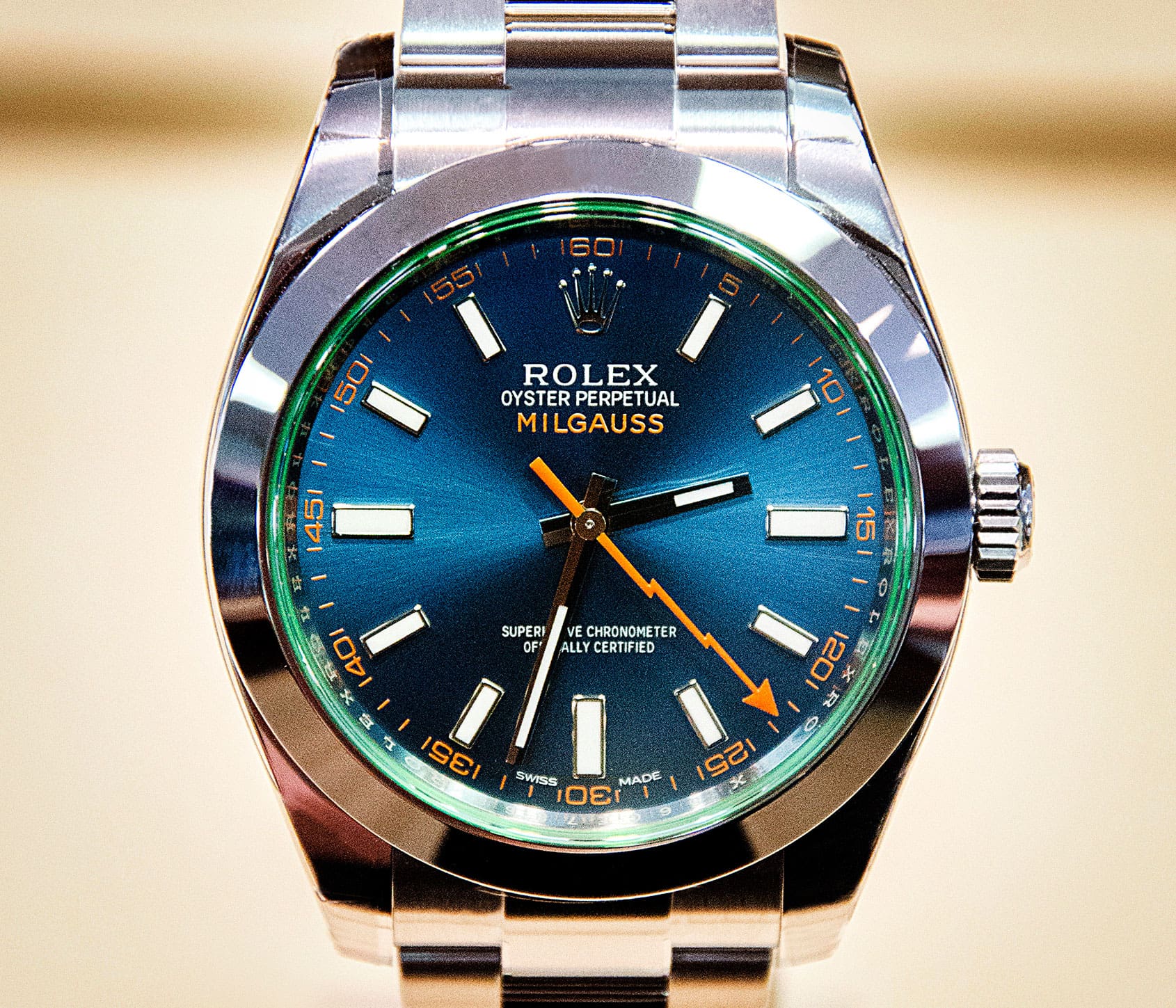 I'd owned one prior to the great selloff and loved every minute of it. After all, the Milgauss was the watch that drew me into this hobby years seven years ago. I fell for it hard back then: shimmering blue dial, orange lightning bolt second hand, and green crystal coming together to make one of the most uniquely brilliant packages I'd ever seen.
I won't get too detailed with my story of trying to track one down, as I think we're all familiar with the current Rolex shortage. The important part is that I found one. Yes, I was able to complete that mythical horological quest of getting a Rolex sports watch at retail. I was extremely fortunate to find it: as it turns out, a Rolex salesman lives around the corner from my parents and was able to give me a hand. Simply, put it's been my companion ever since.
At the expense of sounding sappy, I really missed it. I truly can't think of a watch that better exemplifies me as a person, and the assorted friends and family I polled while deciding whether to embark on the quest agreed. Without a doubt, the Milgauss is a forever watch for me. It's the one I could wear every day and still be thrilled with, my "one watch" if I ever had to choose.