California dreaming: The tale behind the "anonymous" Panerai California
Jason Marsden
Whilst I'm definitely not a Paneristi , there are some models of Panerai that I do like very much, especially their Submersible range. The brand's consistent vision, style and delivery has won them a loyal
fanbase with Panerai claiming 30,000 official Paneristi across the world.
Panerai have coped some flak over recent years, with comments on the use of ETA-based movements in some of their offerings. Things came to a head with the "Brooklyn Bridge", PAM318, that contained an undecorated Unitas 6497 movement. This caused an uproar for customers who expected a highly finished movement in such a limited edition of 150 pieces, even though it had a closed caseback. Panerai quickly offered to swap the movements out for their more finished ETA 6497-1 based, OP II, but for many the damage was done. Personally, I think the uniform grey, industrial-looking and unfinished movement perfectly ties in with the bridge theme.
Panerai's cool crown protector/lock and awesome sandwich dials are a big win in my books, but like many luxury watches, there is also a deep history to delve into providing a further appreciation of this Italian brand.
First released in 2018, the PAM00779, houses the P5000 calibre hand wound, eight day power reserve movement. This huge reserve is achieved via two barrels. The addition of Panerai's iconic crown lock, provides a very solid 300m water resistance.
One of the most obvious features of this model is the cuff strap, or bund, as some would refer to it. This adds to the vintage military feel. For those who prefer to wear the watch without it, either for looks or to minimise the already big wrist presence of the 44mm case, you will need to remove the buckle-side strap to slip it off as it will not fit over the loop retainers.
The main impact and visual appeal of this watch is the dial. This deserves a standing ovation for Panerai, to forgo their logo and other text to stay true to the historic roots of this watch. Panerai had the well-placed confidence to recognise that the watch already says "Panerai", despite the lack of overt brand
placement.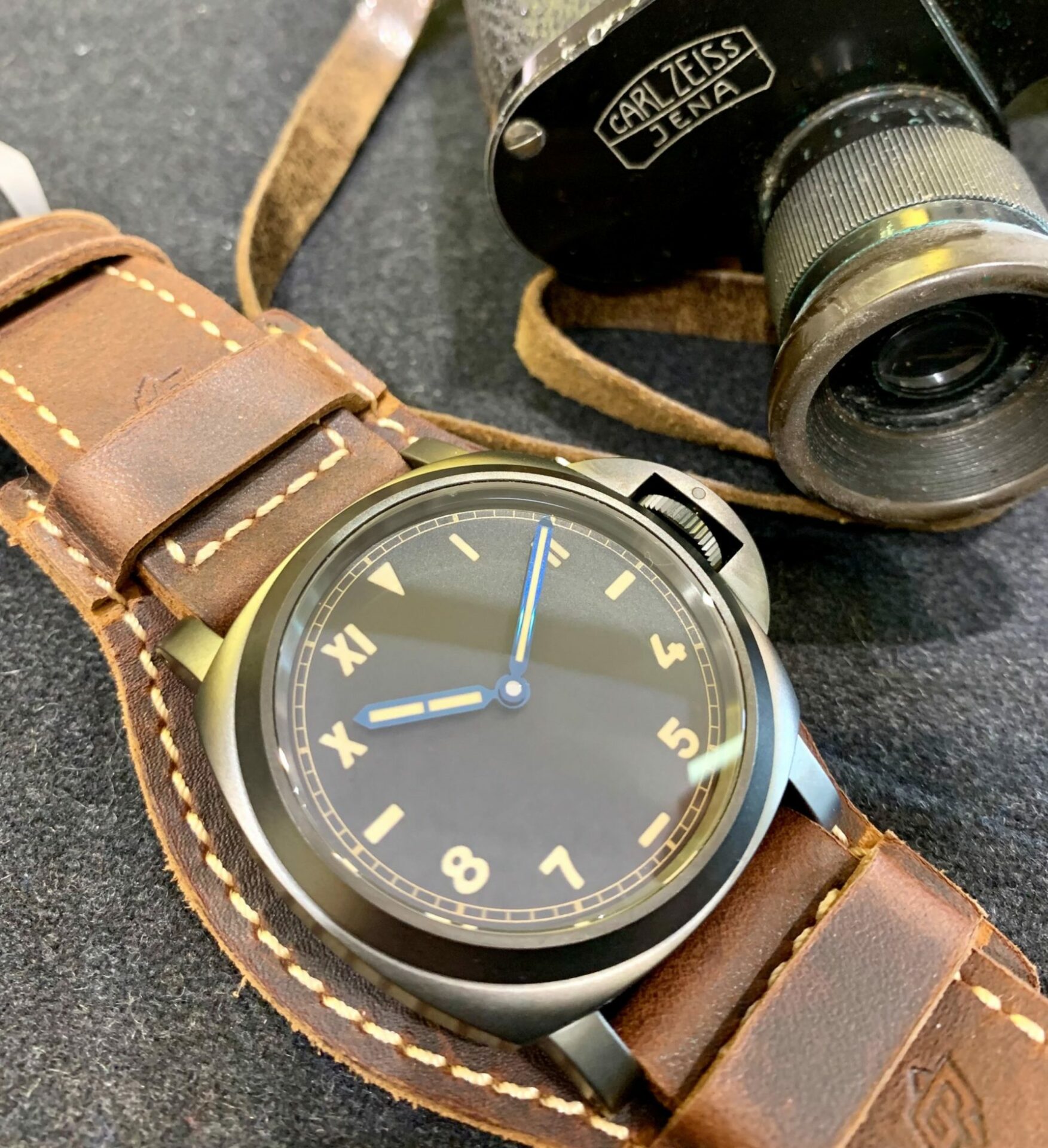 Whilst the crown protector and black DLC titanium case are more modern additions there is a great
story behind the anonymous dial and its simple blued hands.
The dial design was a product of the 1930s Art Deco movement. Rolex filed a patent for what was much later referred to as "the California dial" in 1941, although the design first appeared on their watches in 1934. The design provided the advantage of being easily able to be painted with radium paint, on what were relatively small watch faces by today's standards. This resulted in an easily read dial, simplified even further by the 12, 3, 6 and 9 positions occupied by just simple stick markers with an inverted triangle at 12. The term California dial arose much later in the 1970s following the refurbishment of many vintage watches by California based dial refinisher, Kirk Rich. These featured this half and half design and became very popular with collectors who sought out Rich for dial restoration and replacement, thus gaining the name California dial.
In 1936 the Italian Navy requested that Officine Panerai create a dive watch for their top combat divers, the Decima MAS. This was a bit of a problem for Panerai who, despite a history of watch repairs and sales, up to then only produced diving gauges and combat sights along with other equipment. It was not surprising that they reached out to Rolex who were leading the way in waterproof watches. A very large 47mm case was fitted with a Rolex calibre 618 movement. The California dial provided great visibility both at night and under water due to its use of Panerai's own radium based, Radiomir, dial paint.
In 1944, faced with occupying German forces, the Decima MAS based in Valdagno, Italy, was forced
to train German combat swimmers, known as Kampf Schwimmer. Having already had one watch order commandeered by the Germans, Panerai were instructed to produce another batch at great speed. With the Allies closing in, the Germans needed to rush out partially trained divers. Panerai knew they would not be paid, and not wanting their name to be associated with the Germans, the completed watches were left unbranded.
The PAM00779 mixes a strong sense of brand history with modern materials and Panerai's signature
design in a simple time-only form that I find very appealing these days. If however you want an even
closer reproduction of the original 1936 watch, Panerai released a special edition (PAM00249) in
2006 featuring the exposed crown, stainless steel case, and screw fixed wire lugs.