The Sequent Smart-Ass is bound to excite your inner couch potato
Borna Bošnjak
Smart watches are among the more divisive topics in horological circles. Some call for them to be lynched as they threaten the pure, mechanical souls of their 18th century technology. Others, however tolerate their presence or even claim them to be the future. Whichever camp you fall into, simply calling the Sequent Smart-Ass a smart watch would be doing it a great disservice, as it brings interest on the fronts of design and technology. Thanks to some spice from French custom modifiers Seconde/Seconde  – who are renowned for taking vintage watches and swapping the hands for emoji-like icons – I've become strangely intrigued by the Smart-Ass.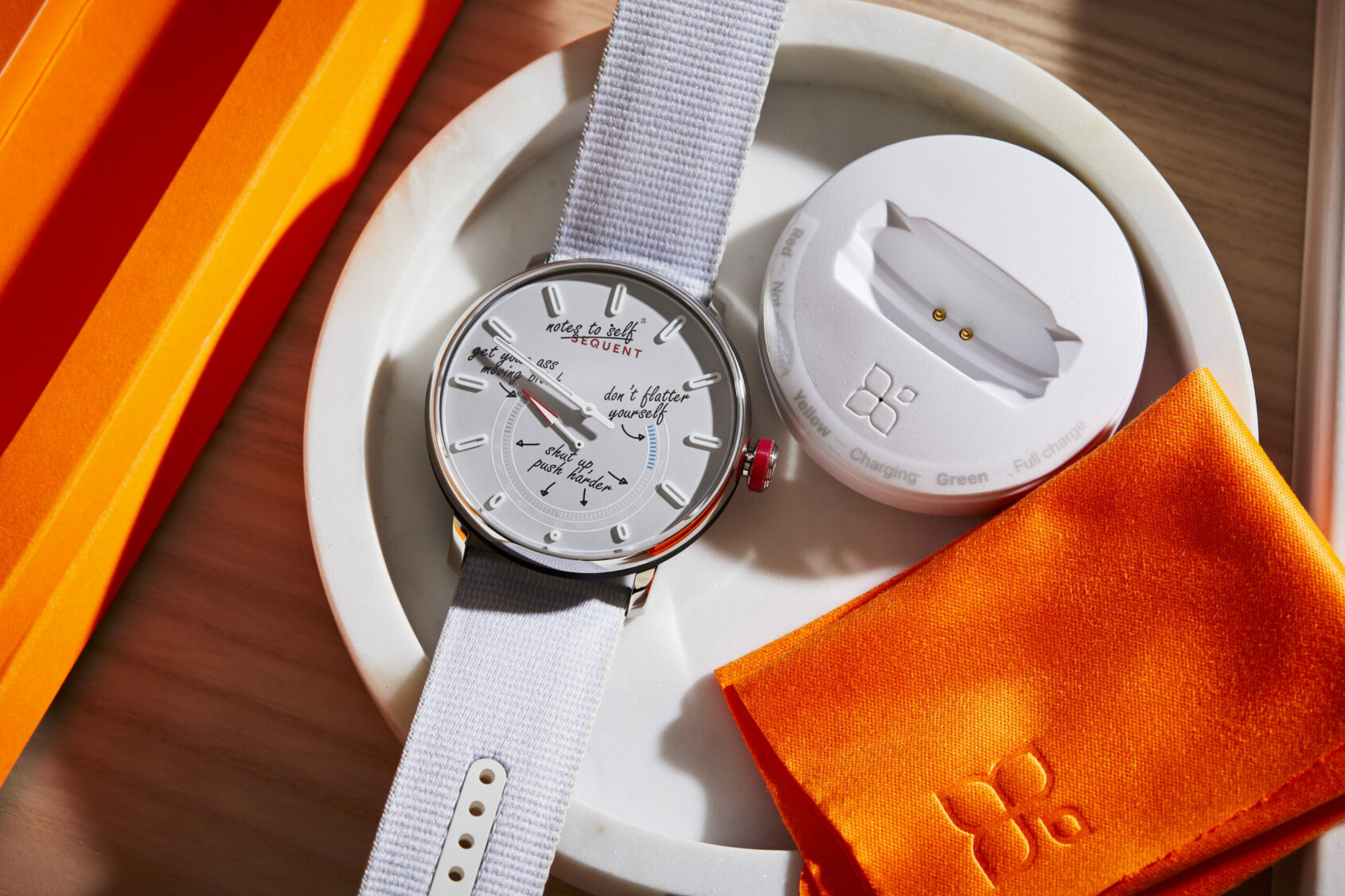 You'll spend most of the time looking at the sterile dial, with its white-on-white-on-white colour scheme. While this is certain to tarnish legibility in some capacity, the Smart-Ass makes up for it with flashes of brilliance from Seconde/Seconde/. Helping this legibility somewhat are the oval indices that float atop the rest of the dial, with a healthy dose of SuperLuminova.
The markings circumventing the large sub-dial can be used as either an activity indicator or a heart-rate indicator, but it's the hand-scribbled notes that indicate the involvement of Seconde/Seconde/founder Romaric André. Serving as a not-so-gentle self-motivator, they're meant to get you out of a rut by putting a smile on your face, while making sure you're not getting too cosy on the couch.
The case finishing is rather simple, with the stainless-steel elements executed in a highly polished manner, the two halves of the case bisected by a black-anodised aluminium ring and a large crown outlined in red. With a diameter of 42.1mm, height of 14.2mm and a lug-to-lug distance of 45.4mm, it's safe to assume that it'll wear fairly compact, if somewhat thick on the average wrist. Fifty metres of water resistance is suitable for a watch of this nature, and in line with many other smart watches.
Equipped with the SC 2.2 movement, the Smart-Ass takes kinetic energy and converts it to electricity – much like a rotor on a mechanical watch winds the mainspring. The SC 2.2, however, has only eight moving parts, and completely lacks any gears or screws, requiring no maintenance whatsoever. Claimed as a first in the smart watch industry, it features a stand-by time of more than two years, while maintaining precision within 0.3 seconds per day.
It's not just the tech specs that are impressive, as it actually has some visual interest by virtue of its open caseback. A skeletonised rotor swirls around a central piece containing devices for blood oxygen and heart rate monitoring, along with connected capabilities that expand its utility via the Oxygo app.
Sequent Smart-Ass pricing and availability: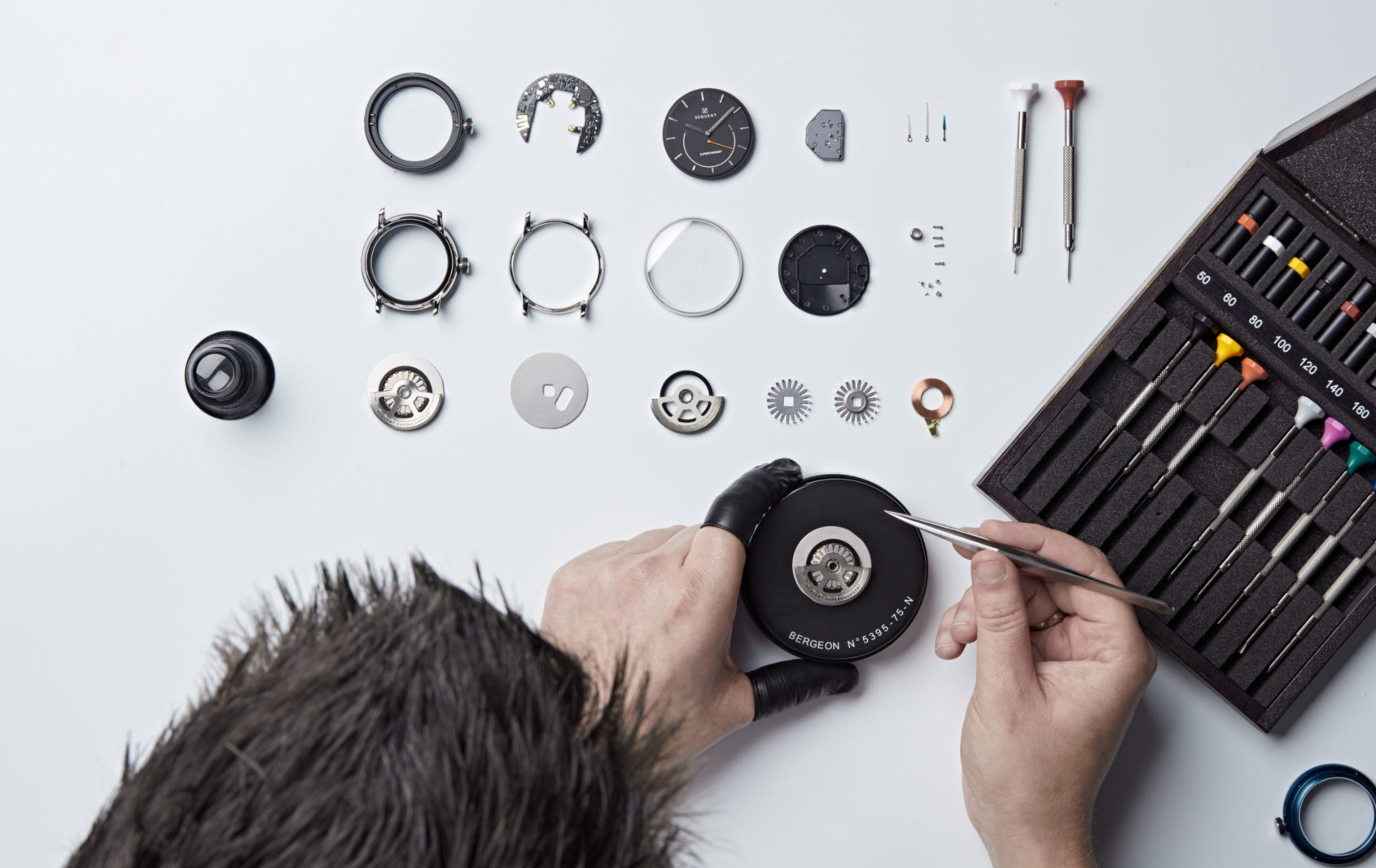 The Sequent Smart-Ass is available from Sequent. Price: CHF 549.