EDITOR'S PICK: The rules of "stealth bling" and what they mean for your watch
Luke Benedictus
EDITOR'S NOTE: Amid all the global turmoil and financial gloom this isn't the moment for displays of conspicuous consumption. Bling feels particularly tone-deaf right now with understatement the correct mindset for these straitened times. Luke wrote this article over a year ago, but sadly as COVID drags on, it  feels more relevant that ever.

"To be truly elegant one should not be noticed." So said Beau Brummell, who despite ultimately dying as a syphilitic loon, is still regarded as the biggest single influence on contemporary men's style. This recognition stems, in part, from Brummell creating the forerunner to the modern suit. But equally significant was his insistence that dressing well meant flying under the radar. "If people turn to look at you on the street," he said, "you are not well dressed, but either too stiff, too tight, or too fashionable."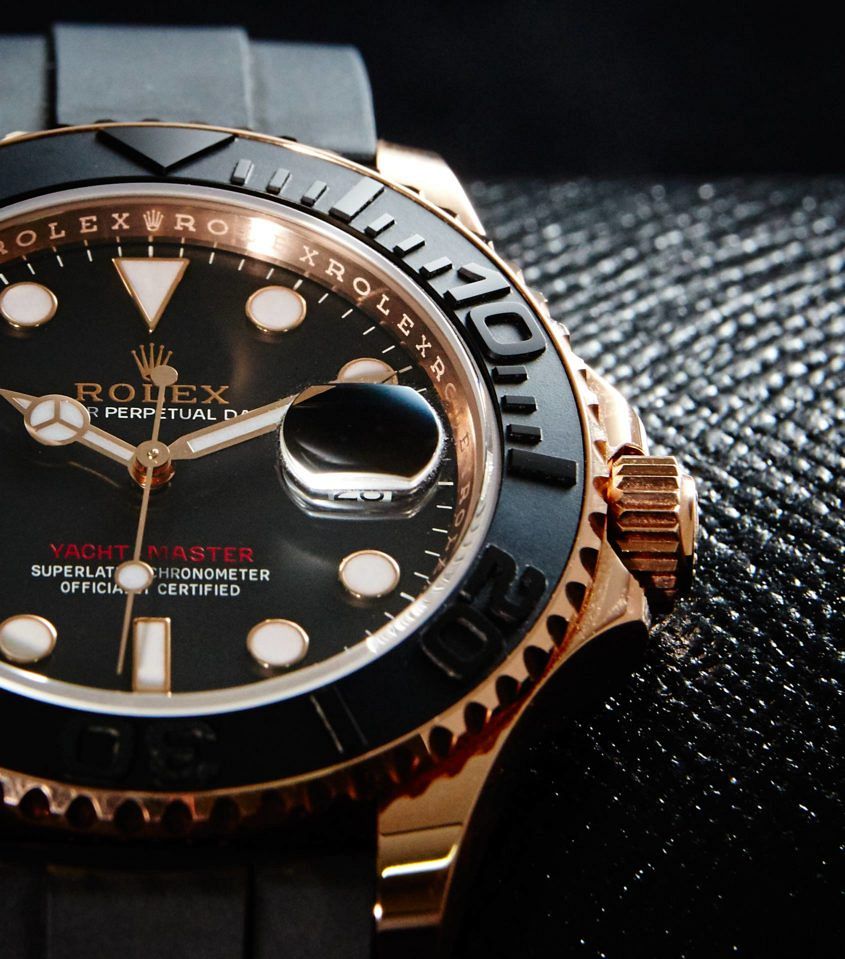 The context for this was that Brummell grew up in the late 18th century when men's fashion was heavily influenced by the pageantry of the French royalty. The prevailing style was flamboyant and fussy — think lace cravats, powdered white wigs and an excess of silk, satin and velvet. What Brummell proposed was a more considered approach founded on structure and understatement. At the heart of it was a clear-eyed rejection of extravagance.
Peek down at what you're wearing right now — the neutral shades, the conspicuous absence of peacock feathers — and you'll see how Brummell's sensibility continues to shape the male wardrobe. Yet this less-is-more approach feels particularly relevant right now. The popularity of "stealth bling" or "stealth wealth" has been consistent as an underlying trend. But as the COVID pandemic ravages the global economy, loads of people are doing it tough. At such a juncture, displays of profligacy feel tactless at best.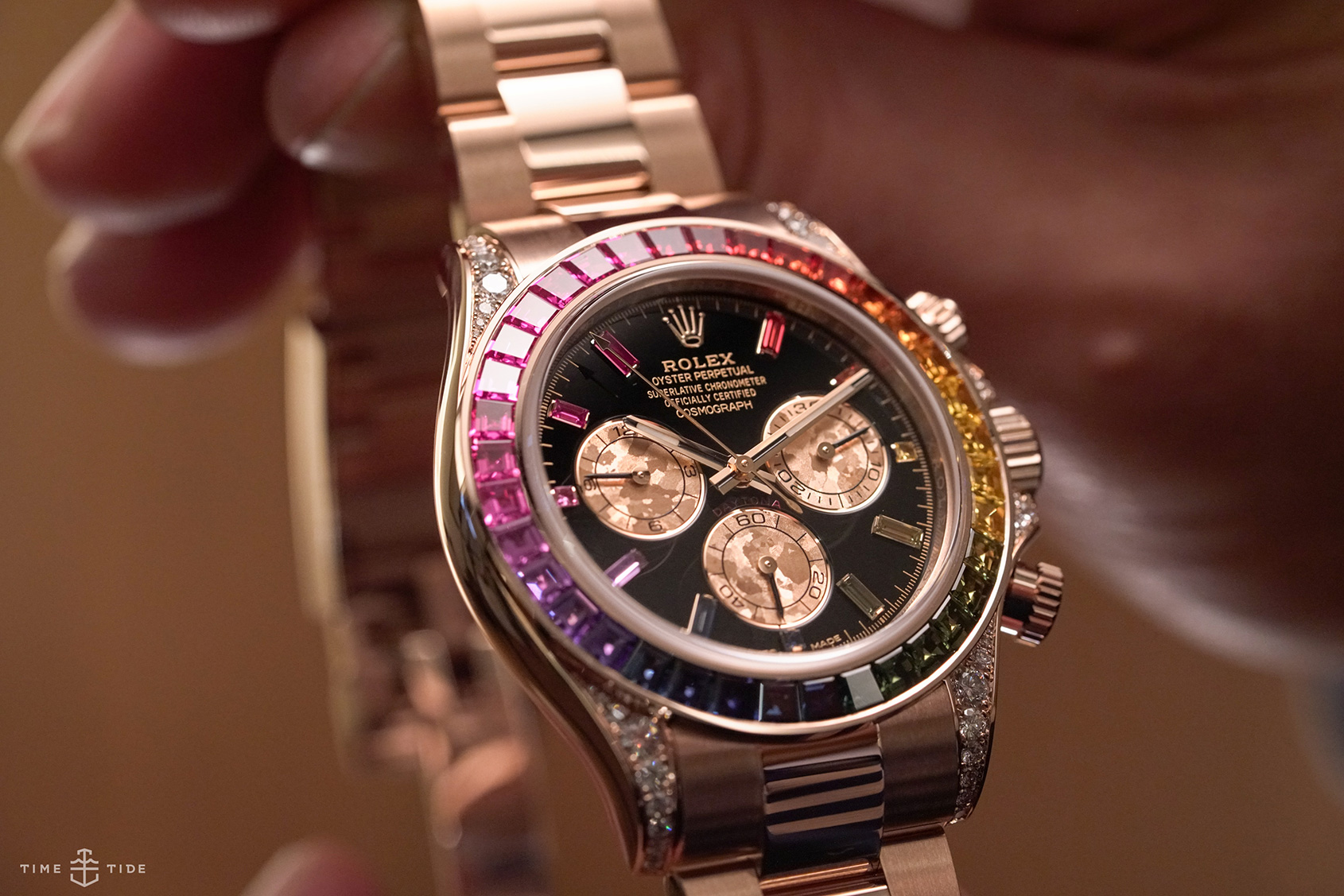 But what does this more calibrated approach mean for your watch? We're not, of course, suggesting that you stop wearing a superlative timepiece. Just that this might be the time for one that doesn't bellow how expensive it is, but whispers its value in more nuanced terms. We're calling it "stealth bling" — an oxymoron, yes, it's true — but one that echoes Brummell's belief that every man should aim for "the maximum of luxury in the service of minimal ostentation".
1. Rubber straps
It's often overlooked that your watch strap takes up significantly more surface area than the timepiece itself. As a result, the difference it can make to the overall impact of a watch is huge. Shiny bracelets catch the light and demand attention. Rubber straps slink into the background.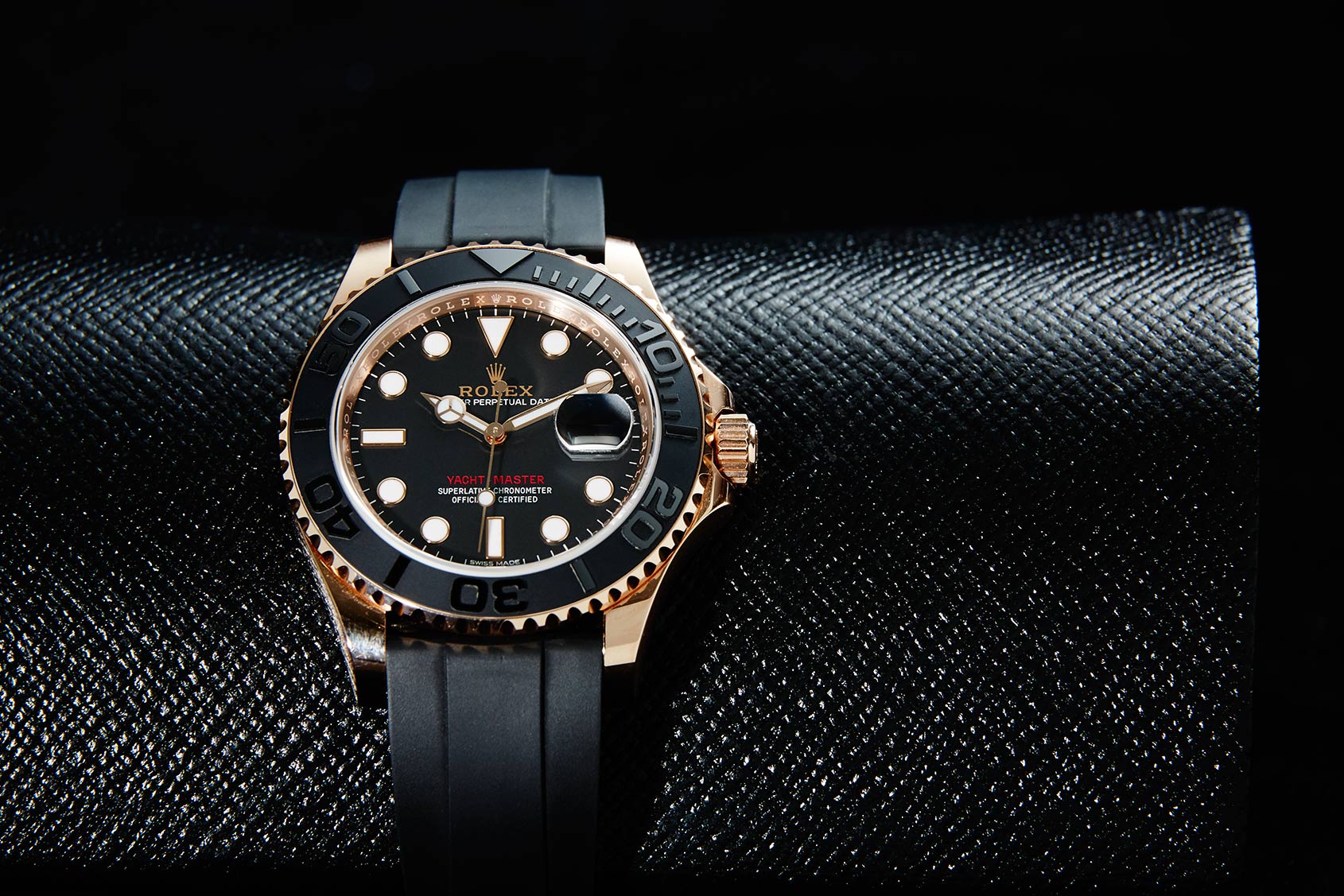 Consider, for example, the Rolex Yacht-Master 116655. Made from 18k Everose gold and bearing the watch world's most famous marque, this is a luxury proposition in every sense. But it wears this status so lightly that it also works as a casual weekender.
Aside from the matte ceramic bezel (more on that later), the main reason for this relative subtlety lies in the strap. Made from Oysterflex, Rolex's famously comfortable take on rubber, it serves as a counterpoint to the opulence of the gold. Picture this watch on a gold bracelet and the effect would be far more brazen.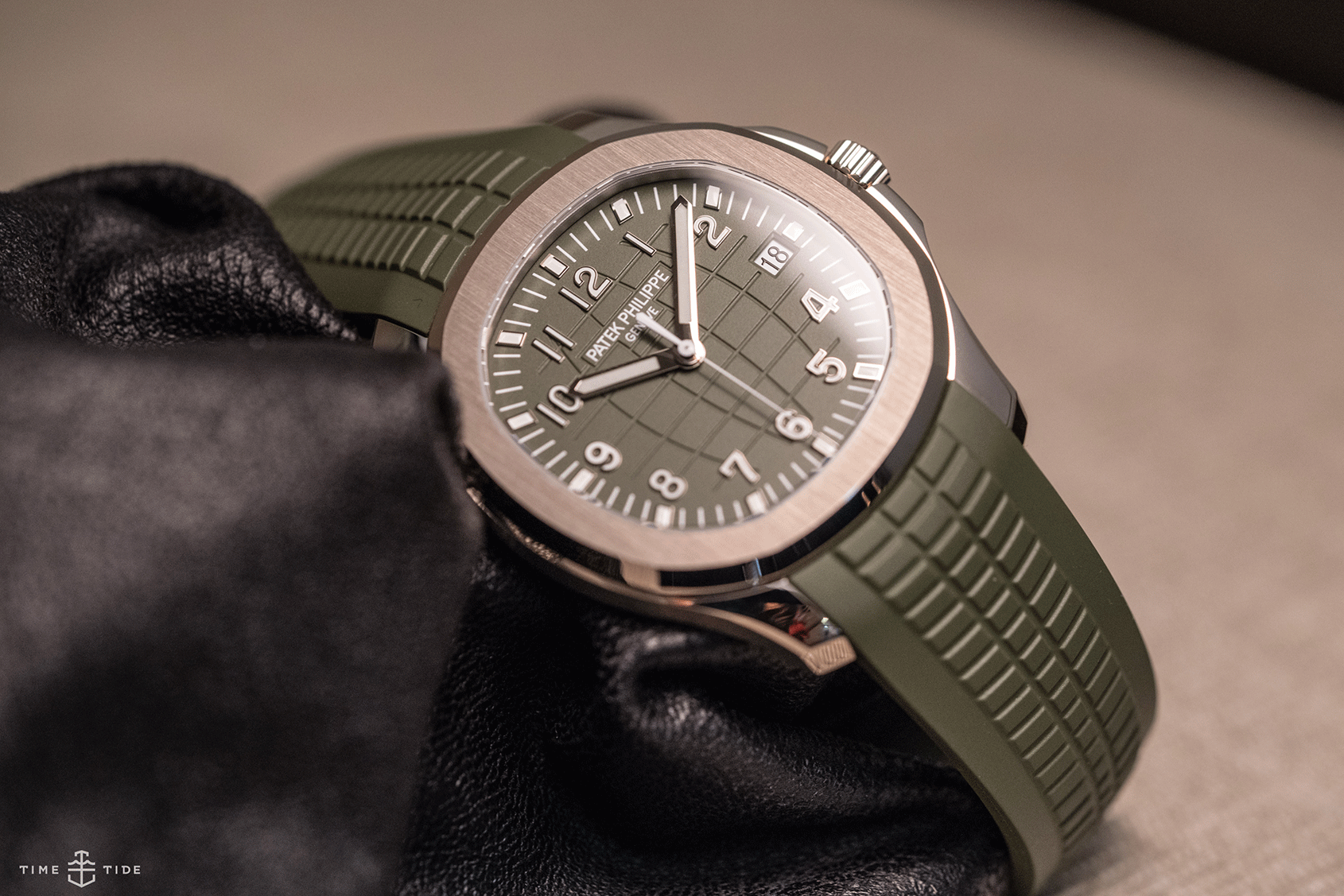 The same is true of another luxury sports watch, the Patek Philippe Aquanaut 5168G. Here the 18k white-gold case is again neutered of its swank factor by the rubber strap, this time in a khaki green more traditionally associated with hard-knock functionality. Note also the brushed finishing of the bezel-top, with surreptitious high-polishing of the lugs and case, adding a utilitarian touch. Few other watches that cost more than $50,000 are anywhere near as wearable.
2. White Gold
With the aforementioned Aquanaut, the material is also significant. Blame it on King Midas or Scrooge McDuck, but gold is still inextricably linked to wealth. Consequently, a gold watch remains the ultimate status symbol for flaunting the size of your wallet. That's assuming that it's yellow gold, of course. White gold — a mixture of pure yellow gold and other metals like nickel, silver and palladium — is far more unassuming, yet still offers a pointed upgrade on stainless steel.
When the A. Lange & Söhne Odysseus recently came out with a white-gold case, for example, it was a subtle but telling flex. "Yes, we are deigning to dabble in the more accessible realm of the steel sports watch," the brand seemed to be saying. "But despite this tokenistic gesture, we really still occupy a far loftier orbit."
3. Platinum
Alternatively, if you've got deep enough pockets, consider platinum, a material known for its reassuring heft and eye-watering price tag. "It is a metal for connoisseurs," Omega CEO Raynald Aeschlimann told The Financial Times recently. "It has the discretion of white metal, but when you wear it you immediately feel the weight and the substance."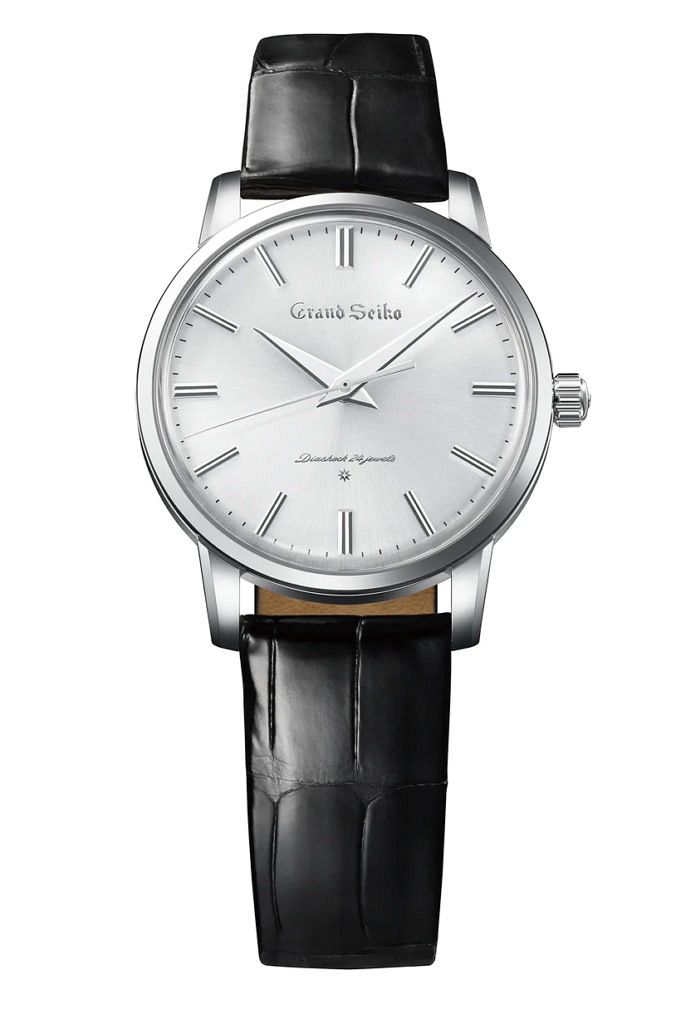 The Grand Seiko SBGW257 in platinum is the purest expression of discreet luxury. At first (or even second) glance, most people would assume it's steel. But on the wrist, its weighty presence and soft lustre convey its opulent value (the retail price: $57,000).   It's a watch so confident in its own magnificence that self-promotion is simply unnecessary.
4. Go matte

The Lockheed F-117 Nighthawk Stealth Bomber was designed to be an undetectable plane. To help achieve that mission, the paint scheme was matte black to help it stay hidden in the dark. There's a lesson there, too, for your watch. Polished surfaces catch the light and demand attention; matte or sandblasted surfaces are more visually low-key.
A sandblasted finish can even make gold feel more accessible. As Sandra Lane points out here, the Bulgari Octo Finissimo Automatic Sandblasted doesn't feel remotely gaudy due to this surface treatment. Think of it like mood-lighting for your wrist.
5. Go for an in-house movement
Watch brands love to wax lyrical about their in-house movements, where every internal component is made under one roof. Whether or not this makes a great deal of difference to your watch is a question of almost theological complexity. Nevertheless, it's become another widely accepted mark of horological status. And it's also a true stealth bling move because no one can actually tell your watch has an in-house movement (at least while you're wearing it).
Some brands opt to take this one step further. F.P. Journe, for example, don't just insist on producing their own movements for their watches, they make every one out of 18k rose gold. Whenever you strap on the watch, of course, this glorious spectacle is then buried from view so only the hairs on your wrist can enjoy it. It's a move that seems designed to turn the old adage "if you've got it, flaunt it" on its head.
And if you're feeling especially subversive …
Finally, an honorary mention must go to the Moser Swiss Alp Watch Zzzz. Enclosed within the 18k white gold case is the brand's top-of-the-range movement, a hand-wound calibre with a four-day power reserve. Retailing for US$26,90o, this is an extremely fine piece of watchmaking. Yet in a wilfully perverse move, Moser have then contrived to hide all sign of their watchmaking nous by disguising their timepiece as an Apple Watch.
In horological terms, this is the equivalent of slaving away all day in the kitchen preparing for a dinner party only to then pretend all your culinary efforts were actually ordered in from the local takeaway. The Swiss Alp Watch Zzzz isn't just stealth, it's living so deep undercover that it's gone slightly insane.