The Bulova Jet Star delivers a mechanical sweep with a 262kHz quartz movement – and it starts at US$595
Zach Blass
I would not call myself a quartz snob, but I do not particularly gravitate towards quartz watches at this point in my collecting journey. I take no issue with a quartz crystal-driven calibre – my fondness for Spring Drive is well-documented. My hang up, ultimately, is a ticking seconds hand. Whether mechanically or quartz-driven, deadbeat seconds, to put it simply, just give me the ick. It makes me think of being at school, sitting in class, and staring at the wall clock, seconds inching forward, waiting for the period to end. Fluid sweeping seconds, however, make me feel like time is progressing, moving forward and bringing me serenity rather than anxiety. And this is why I find the new Bulova Jet Star collection so intriguing. With its 262kHz quartz movement, you are able to enjoy a sweeping seconds hand and accuracy within mere seconds per month.
The case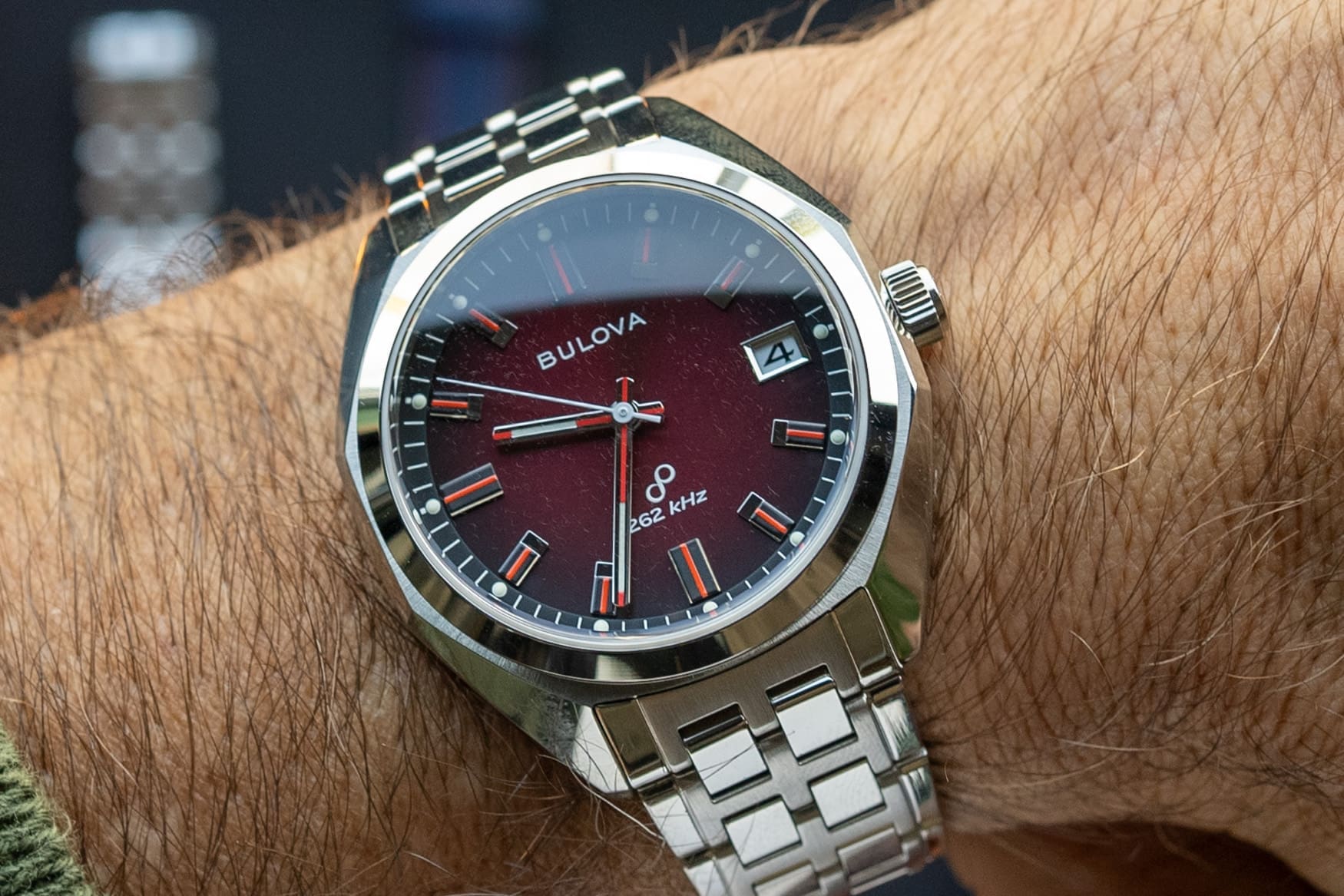 It also does not hurt that the Bulova Jet Star is handsomely packaged in an octagonally shaped and faceted stainless-steel case, based on a 1973 design from the brand's rich archives. The front of the 40mm case is primarily mirror-polished, along with the lugs and outer facets, with a hint of rich brushing peeking out just before the step of the conical bezel. The sides of the case, however, have a rich vertical brush to enhance the aesthetic with enough variety in finishes. But, the largely polished finish definitely situates the piece within the smart-casual daily wearer category.
The dials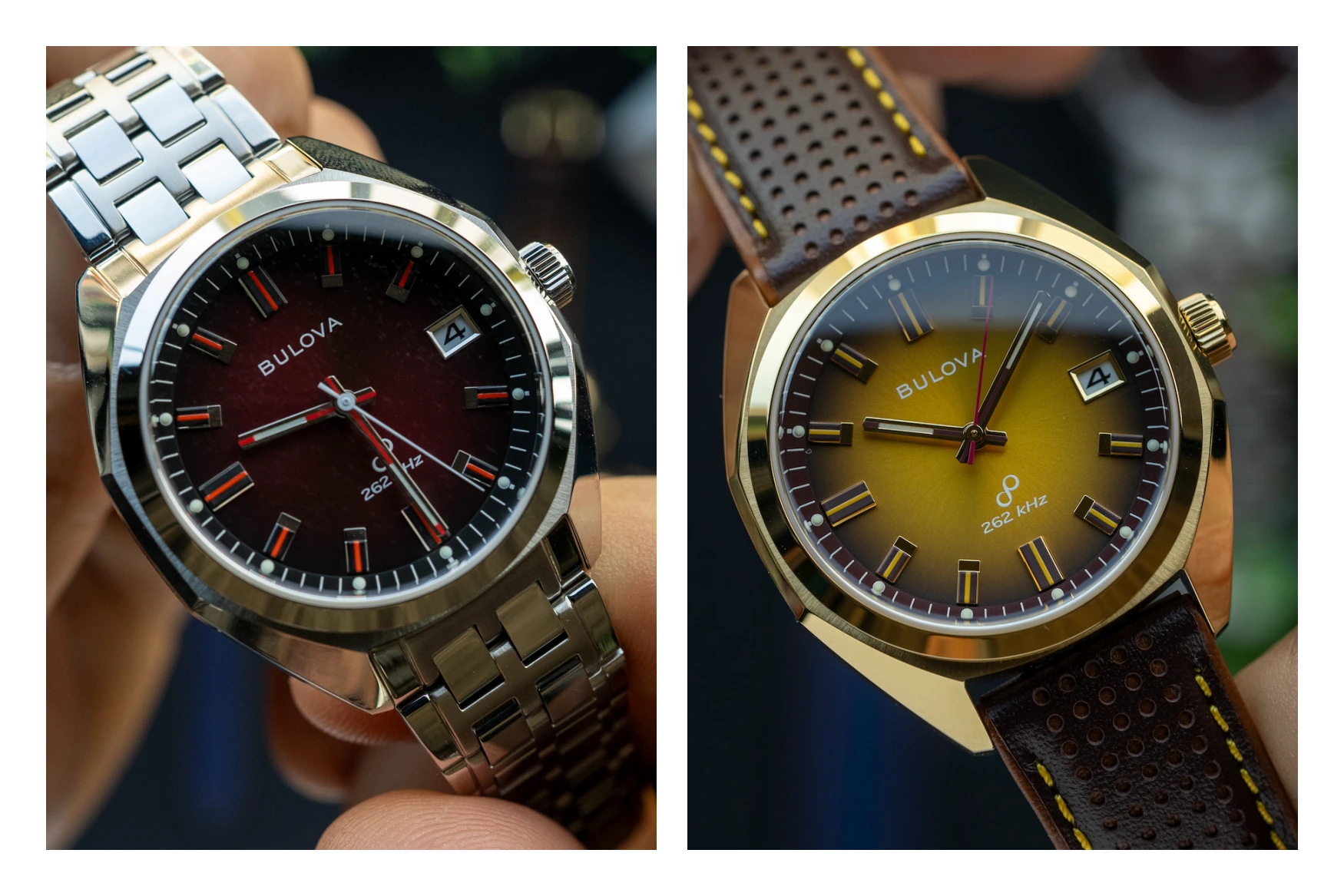 A bit ironic, but the standard edition models are actually bolder as a pair – with the steel model on a bracelet outfitted with a rich red dégradé sunburst dial, and the gold-toned PVD stainless steel model on a leather strap matched with a "butterscotch" gold-toned sunburst dial.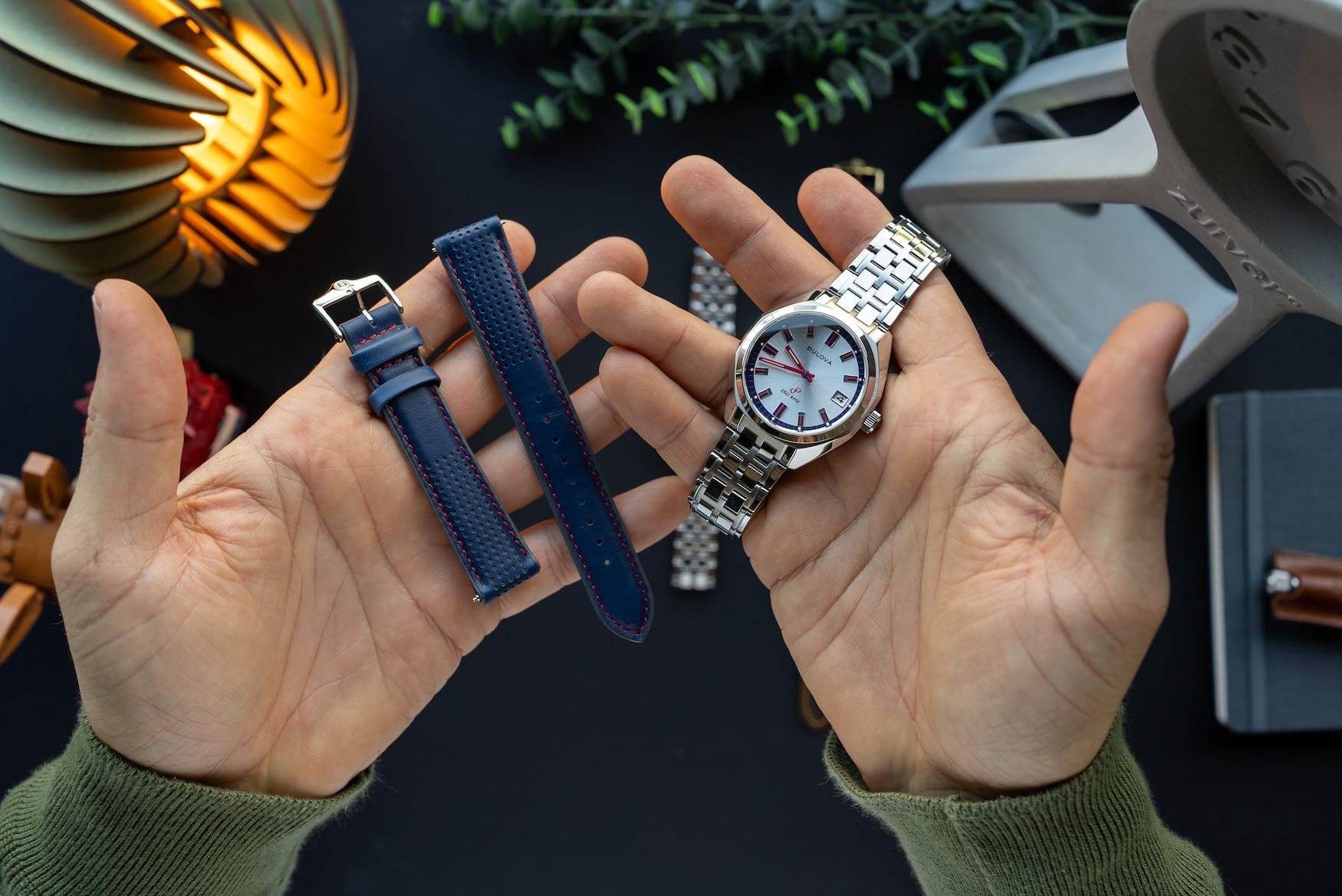 The limited edition model, however, which includes both a bracelet and a strap, has patriotic red, white, and blue accents sprinkled over a largely sombre silver-toned sunburst dial. I'm not saying there is not an element of playfulness to it, as it certainly gives off Captain America or Pan-Am vibes, but silver sunburst, is less of a statement colour than the powerful red or gold.
The straps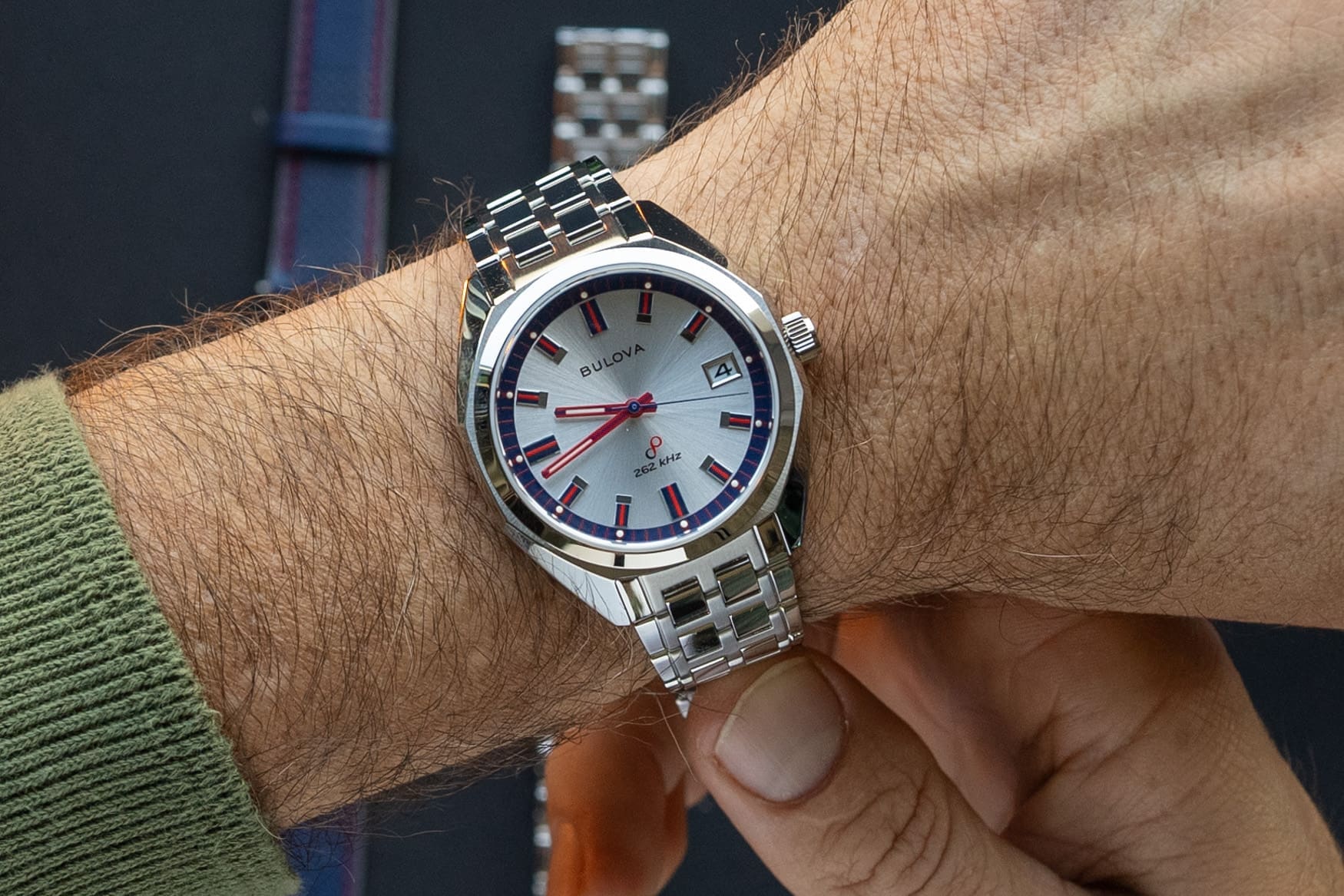 While you could draw comparisons between its case geometry to other watches, the bracelet is unlike anything I have seen before, with a double H-link style. With its squared intermediary link, it looks like the sides of a NYC building, which is coincidentally the location of Bulova's headquarters. The richly brushed H-pieces of the links are like bordering walls, with the polished intermediary squares the shimmering glass windows. Flanking this motif, there are polished and slanted shouldering link pieces that introduce a slight taper.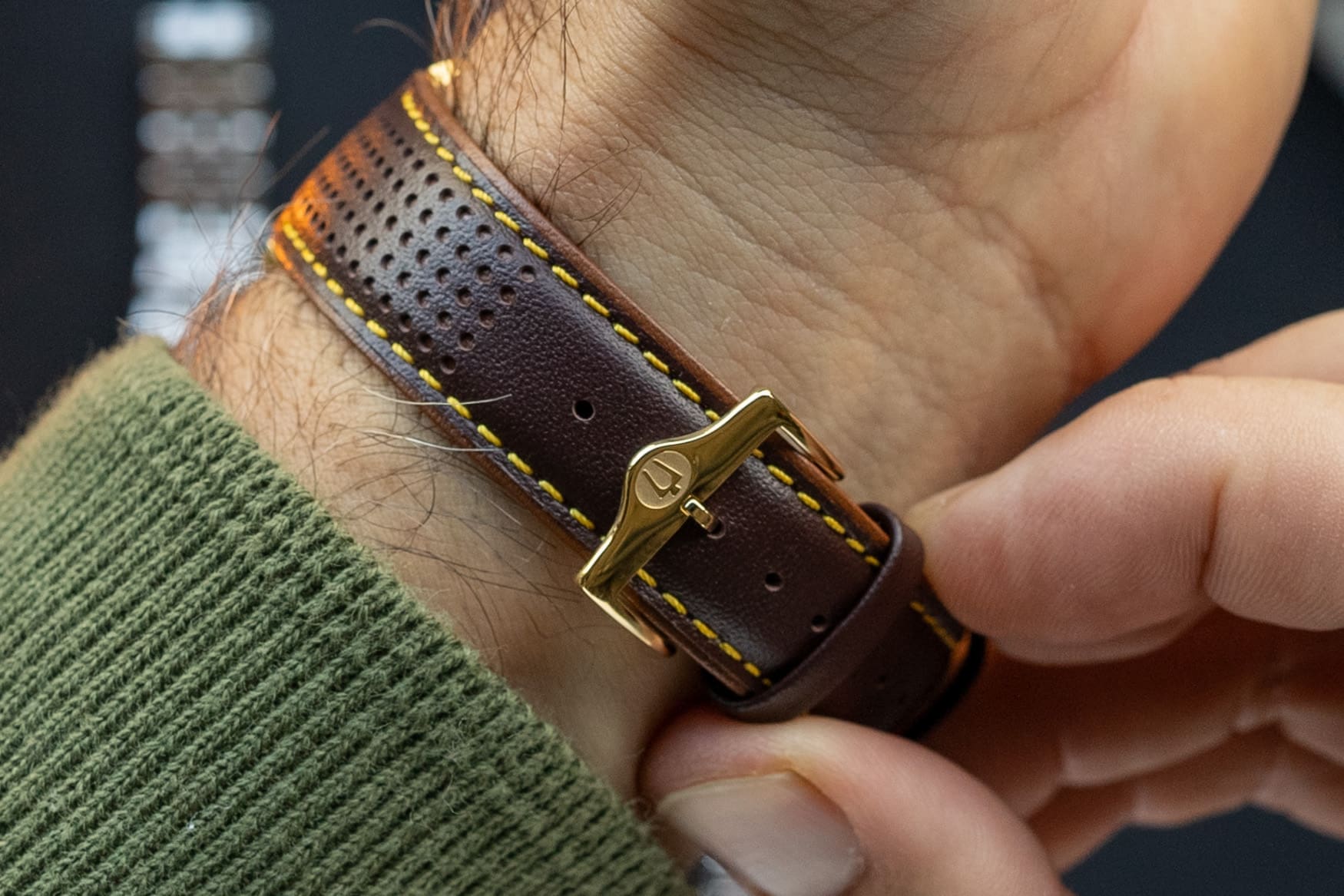 With the steel models, the red dial is sold on the bracelet, and the limited edition is bundled with both a bracelet and strap, but the gold-toned PVD is sold only on a leather strap as they have not made a case-matching bracelet for it. It's a bit of a missed opportunity for some extra grooviness.
The movement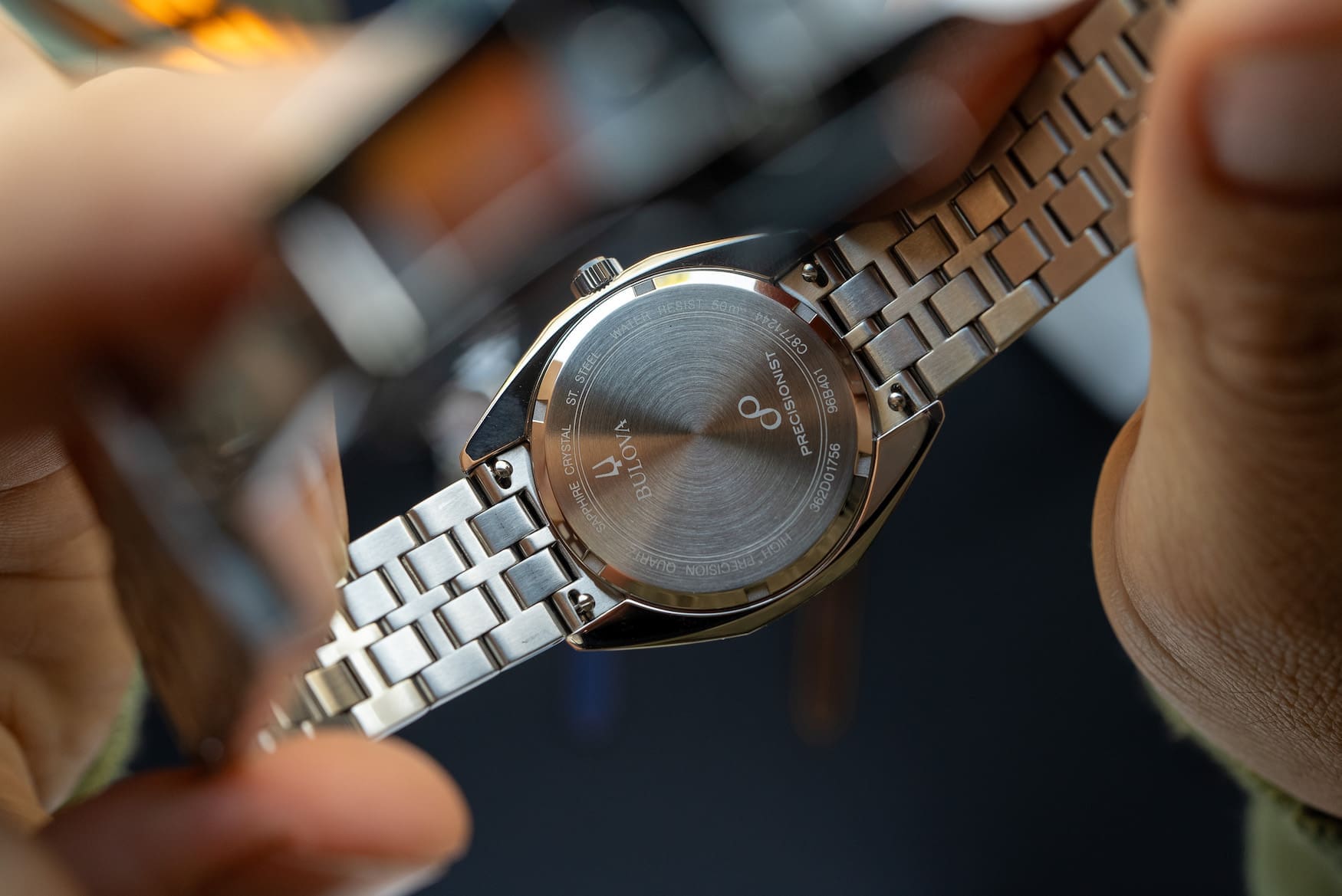 Yes, externally speaking, the dial, case, and bracelet, aesthetic are intriguing. Where things really get interesting is with the in-house Bulova HPQ Precisionist movement. Up until now, the watches using this movement were noticeably larger in overall size than the new Jet Star. Its introduction allows this proprietary movement technology to be worn by a much wider spectrum of wrists. With its three-pronged quartz crystal, the 262kHz movement boasts a sweeping seconds hand that beats 16 times per second, and is accurate within five seconds per month. Its greater frequency, eight times more than a standard quartz movement, may worry you in regards of battery life, but the good news is that the battery life is apparently on par with other, standard quartz movements. Ultimately, this means you get a rich, heritage-driven aesthetic, and the visual experience of a mechanical watch, with the hassle-free function and performance of a quartz calibre. And all that at an attractive price, no less.
The verdict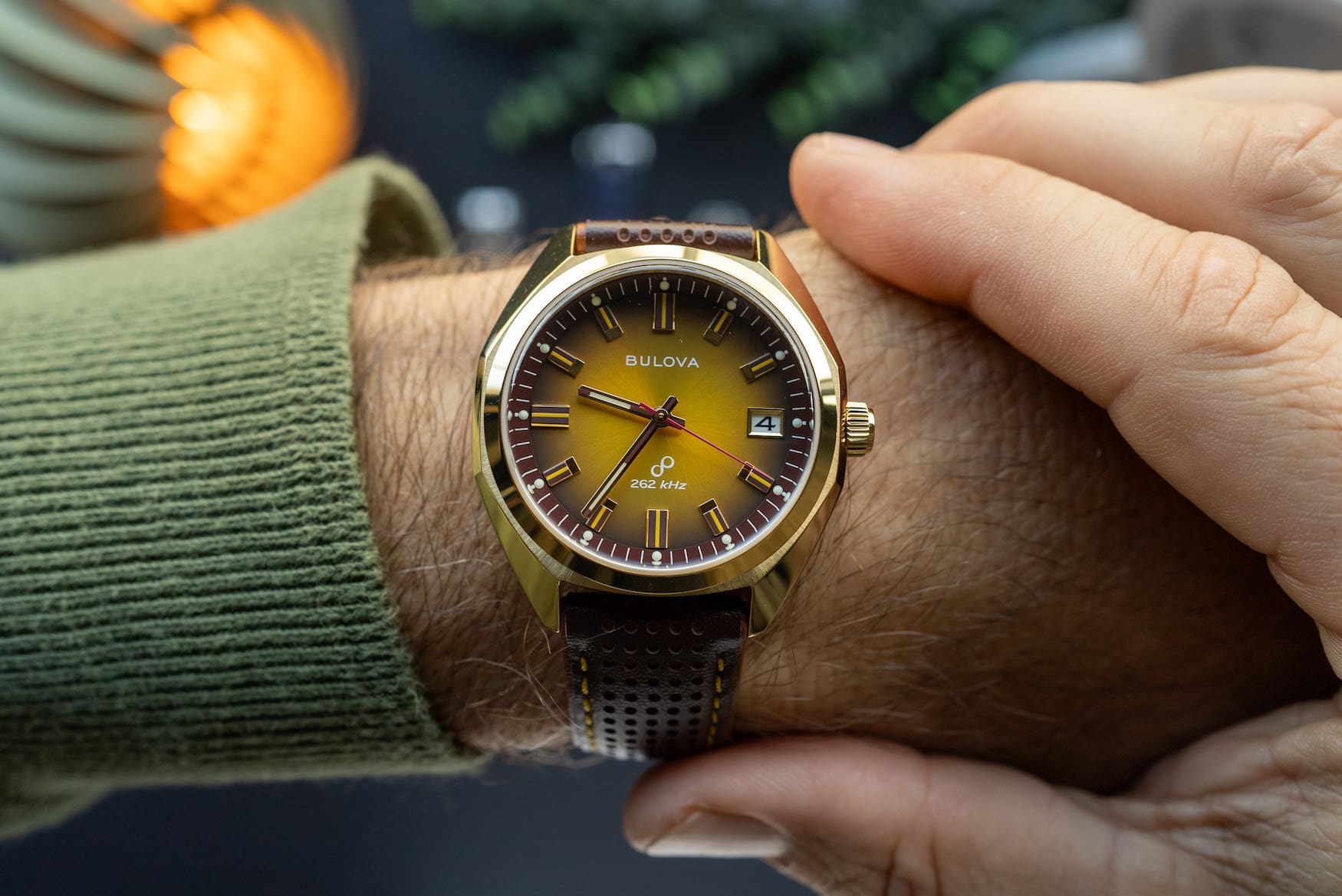 At its US600ish price point, and with its 50-metre depth rating, this is a watch that is both visually and functionally a great fit for students who want to smarten up their wardrobe, office workers who want something handsome on their wrist… Who am I kidding, it's honestly a great fit for anyone. If you're looking for an attractive daily at an attractive price – this is a great pickup in my book.
Bulova Jet Star pricing and availability:
The Bulova Jet Star is available now for purchase, and can be found on the Bulova website. Price: US$595 (Red, Gold-Tone), US$695 (Silver Limited Edition)
| | |
| --- | --- |
| Brand | Bulova |
| Model | Jet Star |
| Case Dimensions | 40mm |
| Case Material | Stainless steel, gold-toned PVD stainless steel |
| Water Resistance | 50m |
| Dial | Red, gold-tone, silver (limited edition) |
| Crystal | Domed sapphire crystal |
| Strap | Stainless steel bracelet or leather strap |
| Movement | Bulova HPQ Precisionist movement |
| Functions | Hours, minutes, sweeping seconds, date |
| Availability | Now |
| Price | US$595 (Red, Gold-Tone), US$695 (Silver Limited Edition) |