The Jaeger-LeCoultre Reverso Tribute Small Seconds benefits from a tiny upgrade with an oversized impact
Luke Benedictus
There was always much to admire about the 2021 Jaeger-LeCoultre Reverso Tribute Small Seconds. The Reverso's standard Art-Deco charm was all present and correct with that winning mix of classicism and sharp formality. There were the fun colours (blue! burgundy! green!) that loosened the proposition up a touch and gave it a contemporary edge. There were the dial-matching coloured straps from Argentinian bespoke polo bootmaker Casa Fagliano in a pleasing nod to the Reverso's origin story. There was the glossy darkness of the dial that accentuated the silvery gleam of the faceted hour markers, dauphine-style hands, and large seconds counter at six o'clock. As I say, much to like. Nevertheless, I had one reservation that I slightly hated myself for because it seemed so pernickety, but it remained a sticking point nonetheless. My issue was the watch's 8.5mm width, which is hardly gargantuan I know. Yet despite the Reverso's sporty roots on the polo fields, today I think of it primarily as a dress watch. And personally I want my dress watches to be genuinely slimline pieces that slide effortlessly beneath a tailored cuff.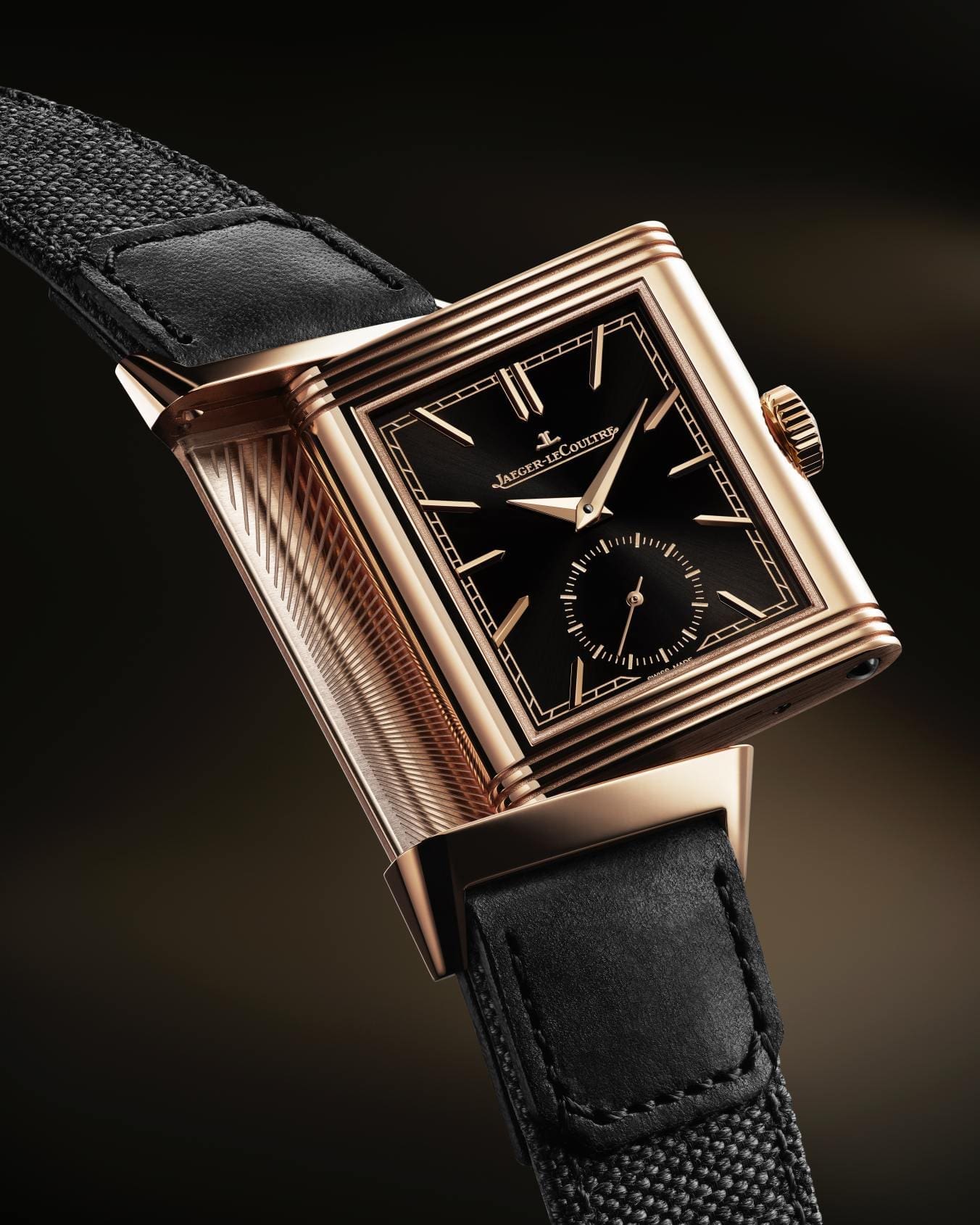 So I'm delighted by the new iteration of Reverso Tribute Small Seconds in pink gold and slightly worried that Jaeger-LeCoultre's design department may have been reading my mind (not a pretty place at the best of the times). That's because this updated version has been redesigned with the watch's lugs and cradle shaved down to make it thinner by almost an entire millimetre – it now measures up 7.56mm. That reduction may not sound very substantial, but it has a disproportionate impact on how neatly the watch wears on your wrist. The Reverso Tribute Small Seconds suddenly feels even more refined.
This wasn't an easy business either. The slide-and-swivel mechanism of the Reverso makes its case one of the most complex in watchmaking, which added considerably to the challenge of reducing its thickness. Comprising more than 50 components – of which almost 40 are dedicated to the swivelling mechanism – the cases are entirely produced and hand-assembled by a specialised team within the Manufacture Jaeger-LeCoultre. Somehow they've whittled off that precious millimetre.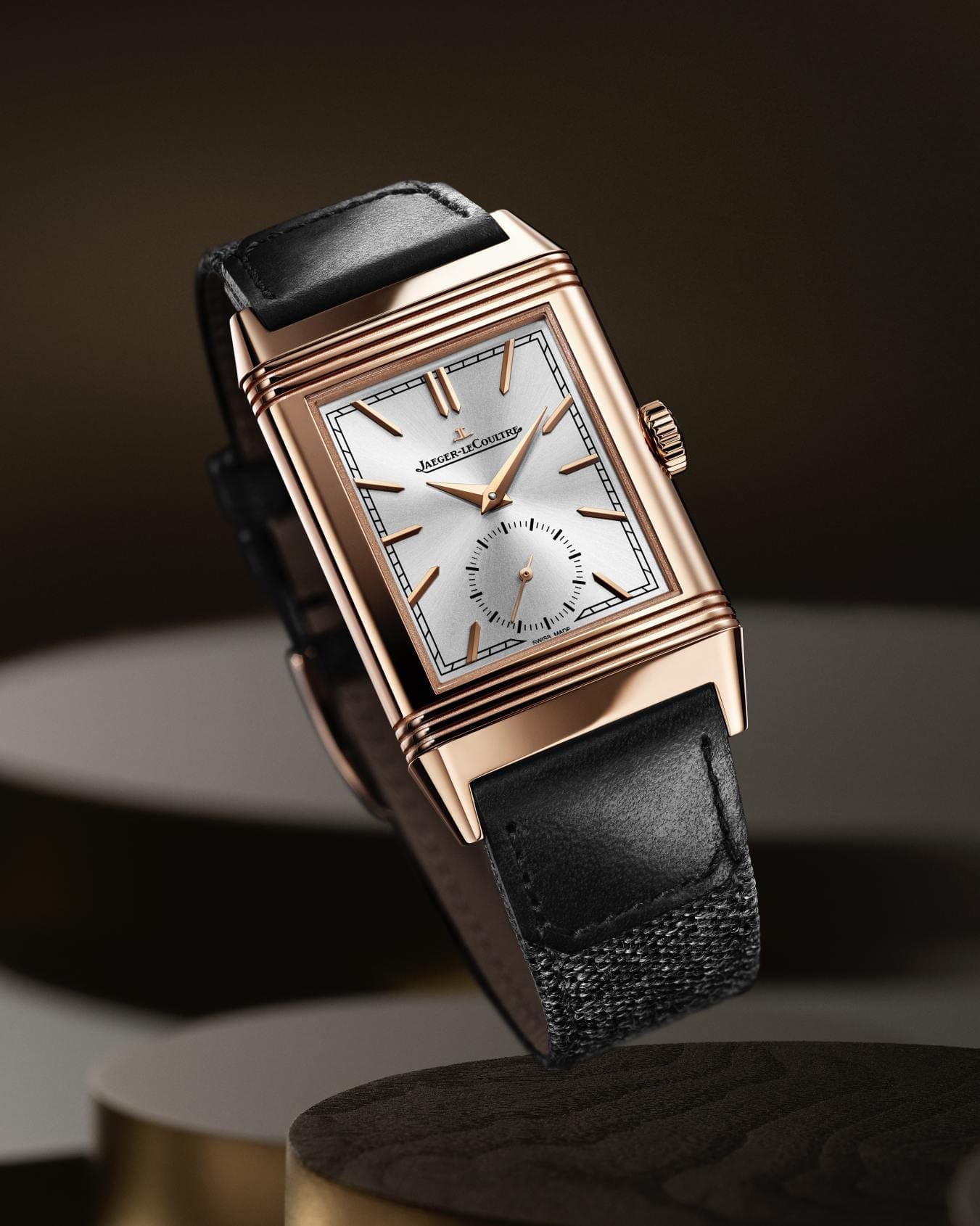 Beyond that there are still a few colour options to choose from, although they are a little more staid than before. Dial choices include a black sunray number, a burgundy lacquer version and, probably the most dressy, the silver sunray piece. A package of two Fagliano straps is offered with each pink gold Reverso Tribute Small Seconds – one made from calf leather and the other combining canvas-and-calf in colours that complement the new dials. The straps that features canvas are particularly interesting because they conclusively prove that the Reverso can also pair well with casual clothes.
Inside, the watch is powered by the manually wound, in-house mechanical movement, Calibre 822 that offers a power reserve of 42 hours. Although the 108 components are hidden beneath the solid metal case-back, we are told they are all finely finished and decorated, just in case you were worrying.
The Jaeger-LeCoultre Reverso Tribute Small Seconds pricing and availability:
The Jaeger-LeCoultre Reverso Tribute Small Seconds is available now. Price: A$35,600
Model
Reverso Tribute Small Seconds
Case Dimensions
27.4mm (across) x 7.56mm (T) x 45.6mm (L2L)
Case Material
Pink gold (18 carats)
Water Resistance
30m
Crystal(s)
Sapphire crystal
Dial
Black sunray / Burgundy lacquer / Silver sunray
Straps
Fagliano Collection interchangeable calf-leather-and-canvas and all-calf-leather (Pink gold/black; Pink gold/burgundy)
Fagliano Collection interchangeable calf-leather-and-canvas strap and black alligator strap (Pink gold/silver)
Movement
Manually wound Jaeger-LeCoultre Calibre 822
Power Reserve
42 hours
Availability
Available now
Price
A$35,600 (pink gold)