THE ICONS – The Vacheron Constantin Patrimony remains a top discreet flex piece
D.C. Hannay
Welcome to The Icons, a new series where we take a horological deep dive into the most legendary watches of all time. We'll delve into the story behind the watch, its evolution over the years, famous (and infamous) wearers, the classic references, and the contemporary versions you should be checking out.  This week it's the Vacheron Constantin Patrimony
Introduction: Vacheron Constantin Patrimony
"It's not the notes you play, it's the notes you don't play." – Miles Davis.
We're all guilty of it. Nothing succeeds like excess, and as watch enthusiasts, the tendency to subscribe to the "more is more" philosophy is pretty common. Hyper-busy dials, openworked movements, or a Roman banquet's worth of complications are often what get the collectors frothing. Hell, I'm a huge fan of the Breitling Navitimer, one of the busiest chronograph dials you'll ever encounter, and I personally know quite a few fans of the incredible skeletonized overload that is the Zenith Defy 21. If I'm being completely honest, I love all the visual stimuli that comes with the pursuit.
But I'm here to tell you, restraint is one of the most difficult things to do well in the realm of watch design. It's incredibly daunting not to muck up a near-perfect execution with some derpy handset choice, awkward proportions, or inelegant, sad logo. But one of the purest exercises in restraint done right is the subject of this edition of The Icons: the Vacheron Constantin Patrimony.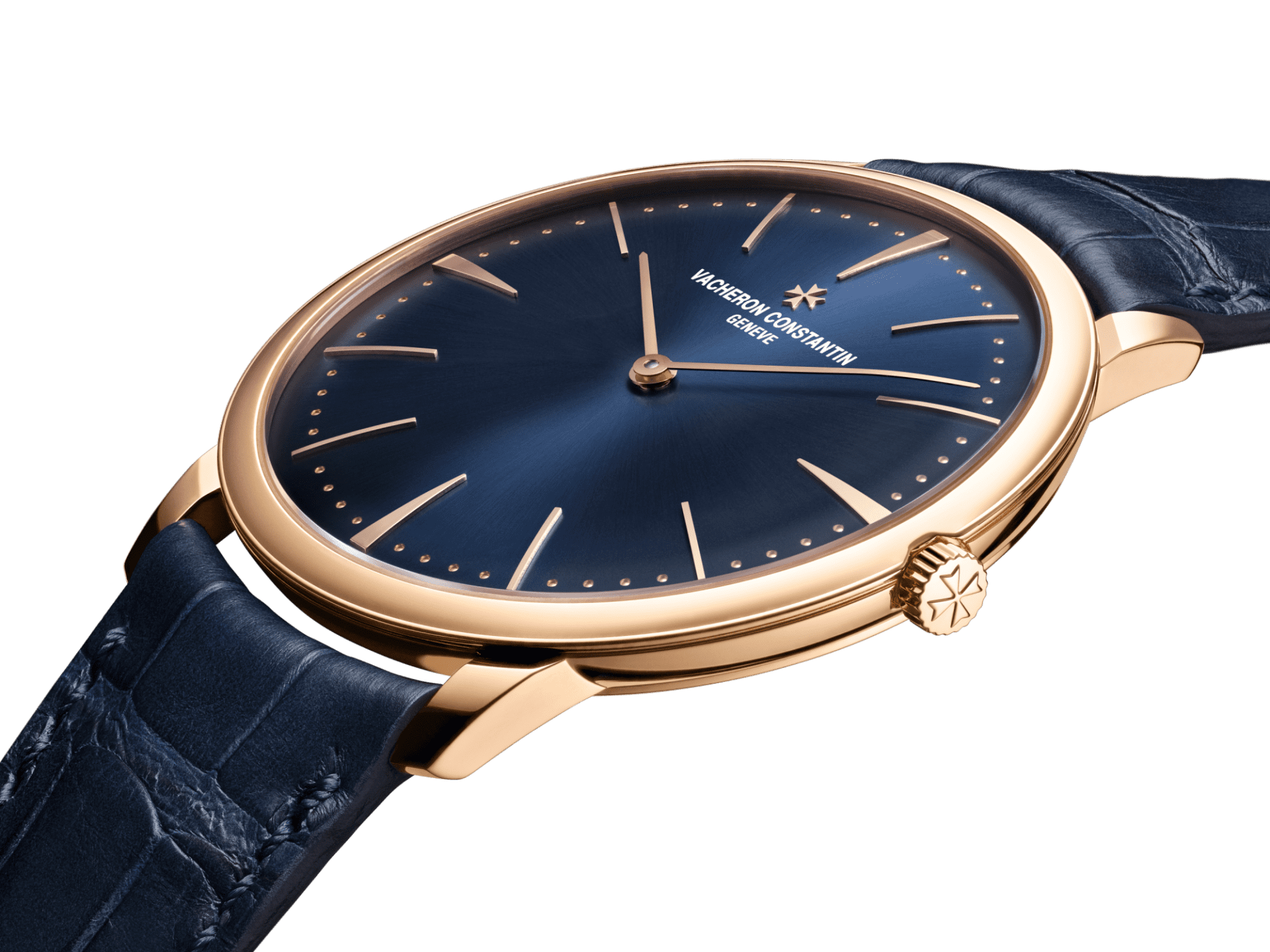 Early History
The Patrimony model proper is scarcely a legal adult, not quite 20 years on from its introduction in 2004, but Vacheron Constantin's roots go further back. Much further. The maison's patriarch, Jean-Marc Vacheron founded his watchmaking workshop in Geneva in 1755 at the tender age of 24. Below is the first known watch bearing his name, a silver pocket watch.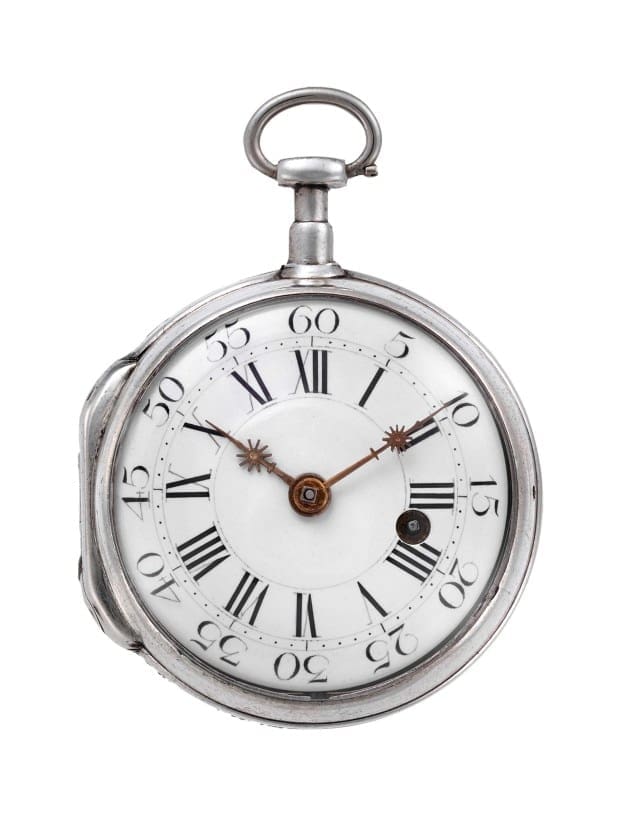 That's 267 years of continuous existence, for those playing along at home. The Constantin name comes from businessman François Constantin, who partnered with one of Jean-Marc's descendents early in the 19th century, Jacques-Barthélémi Vacheron. 
Both men shared a love of complicated timepieces, and made the Vacheron & Constantin union official in 1819. The new partnership saw the workshop creating elegant pocket watches with some of the slimmest movements of their day, hunter-cased watches, and even sophisticated minute repeaters.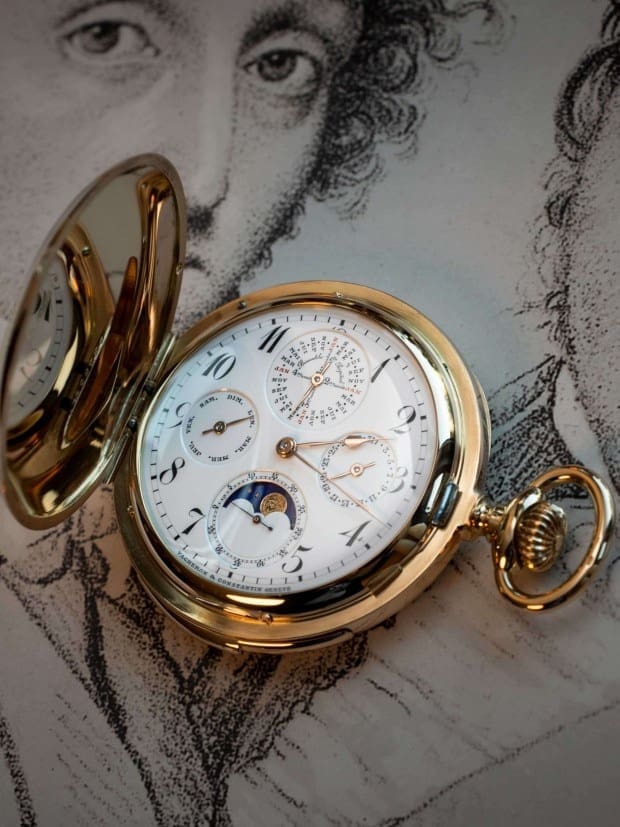 Another notable moment in the brand's history was the hiring of technical director Georges-Auguste Leschot in 1839. Leschot is credited with streamlining Vacheron's production, with his innovation of a pantograph used to duplicate parts with remarkable consistency. It was not just a step forward for Vacheron: It revolutioniSed the entire Swiss watchmaking industry. And it was this expanded production capacity that enabled the company to go global, selling to markets throughout the world by the middle of the 19th century. Soon afterward, the company's famous Maltese Cross logo made its debut in 1880.
Rise To Fame
The Patrimony itself has roots in Vacheron's minimalist dress watches of the 1950s, with its circular case and dial, slim profile, trim lugs, and minimal dial markers, all executed with achingly gorgeous perfection. It's a style seen in other classic watches of the era, such as Patek Philppe's Calatrava, and was absolutely the perfect dress watch in the age that inspired Mad Men. References to seek out include the 6187, the "Disco Volante" 4986 with its wider bezel, and the stunningly perfect small-seconds 6179. It was these models and others that led to Vacheron's minimalist revival in 2004 with the release of the Patrimony range.
The modern watches currently comprise a range of 42 models, with varying materials, sizes, dial colours, and complications available. In addition to the lack of visual clutter and an emphasis on proportion, a trim case height is also a hallmark of the Patrimony. Besides a slim movement, Vacheron goes one better by actually curving the case, dial, and hands of the watch ever so slightly. It's extra steps like this that allow even complicated watches like their minute repeater to boast a case height of just over 8mm. Prices start at around $20,000 USD, and can reach into the stratosphere for certain models. For your money, you've got plenty of choice to ponder, and with its classic good looks, it's highly unlikely that your Patrimony will ever fall out of fashion.
Famous Wearers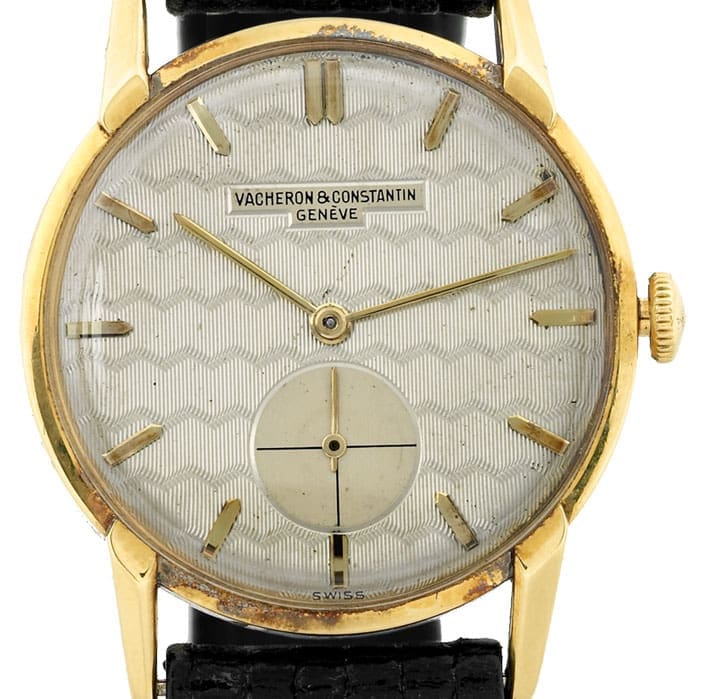 Acting legend Marlon Brando wore this Vacheron from the '50s that is a clear forebear of the Patrimony. It was gifted to him by actress Zsa Zsa Gabor, and was auctioned in 2009 for a mere $18,000 USD.
NBA superstar Carmelo Anthony is a big watch guy (see what I did there?), and when he wants to dress it up, he shows out with a gold Patrimony.
Favourite Models
Just to give an idea of the range of models available in the Patrimony lineup, I've included a bit more than usual in my recommendations, but it shows the wide variety of watches with this shared aesthetic.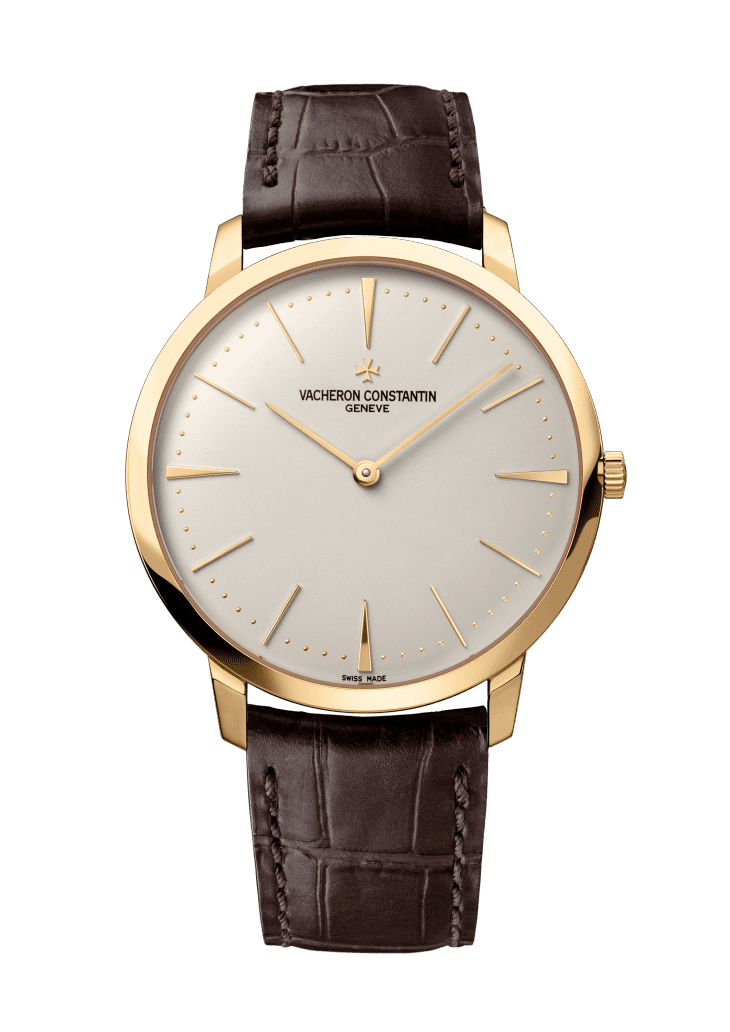 Here's the point of entry in the Patrimony line, a 40mm time-only variant in pink gold with a black dial, and a look that just nails the minimalist perfection that I associate with the name. A manual movement and closed caseback keeps the dimensions svelte at just 6.79mm.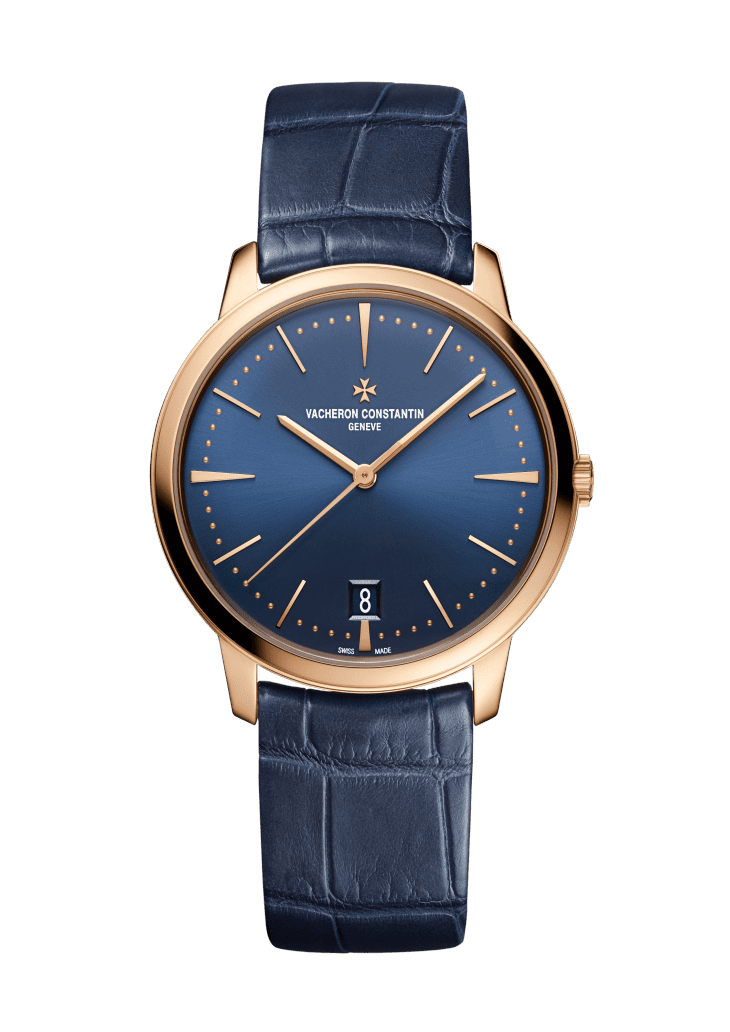 This 36mm version with an automatic movement is going to fit a lot of different wrists. It's lovely, of course, with a deep, soft blue sunray dial and applied rose gold indices, a colour-matched date wheel, not to mention the matching blue alligator strap. But the real attraction for me is the visible Caliber 2450 Q6/3, complete with Maltese Cross oscillating weight in gold.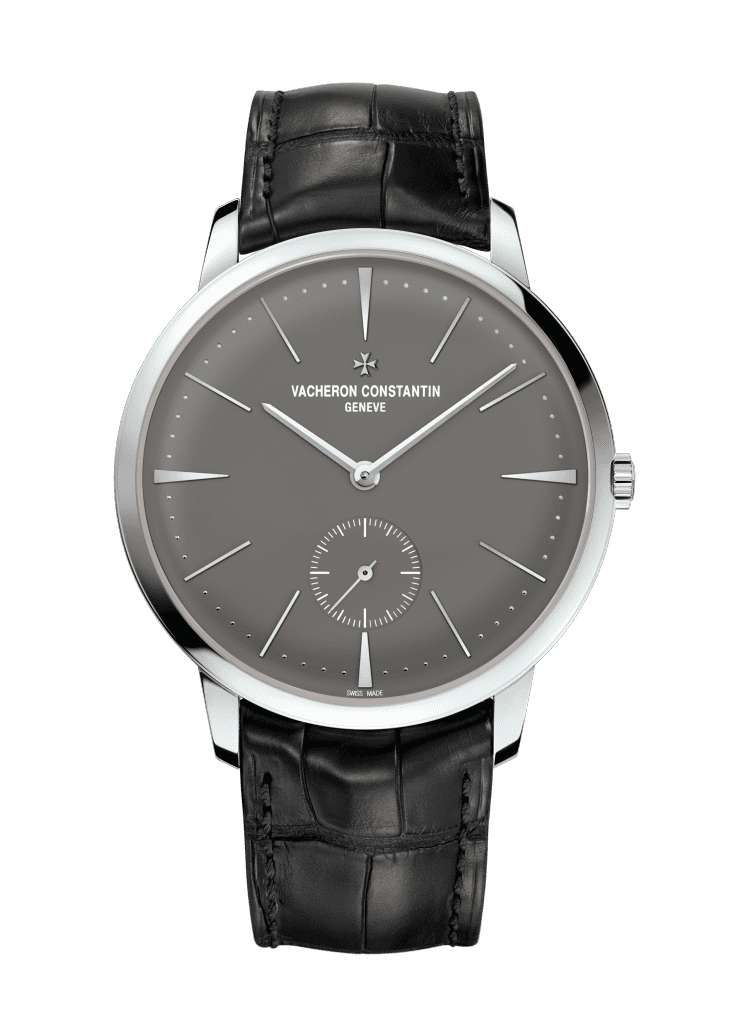 This is my choice, the 42mm manual-winder in platinum with small seconds and a slate dial. I literally can't stand how perfect this is. It's so close to vintage, but utterly contemporary with that nontraditional dial colour.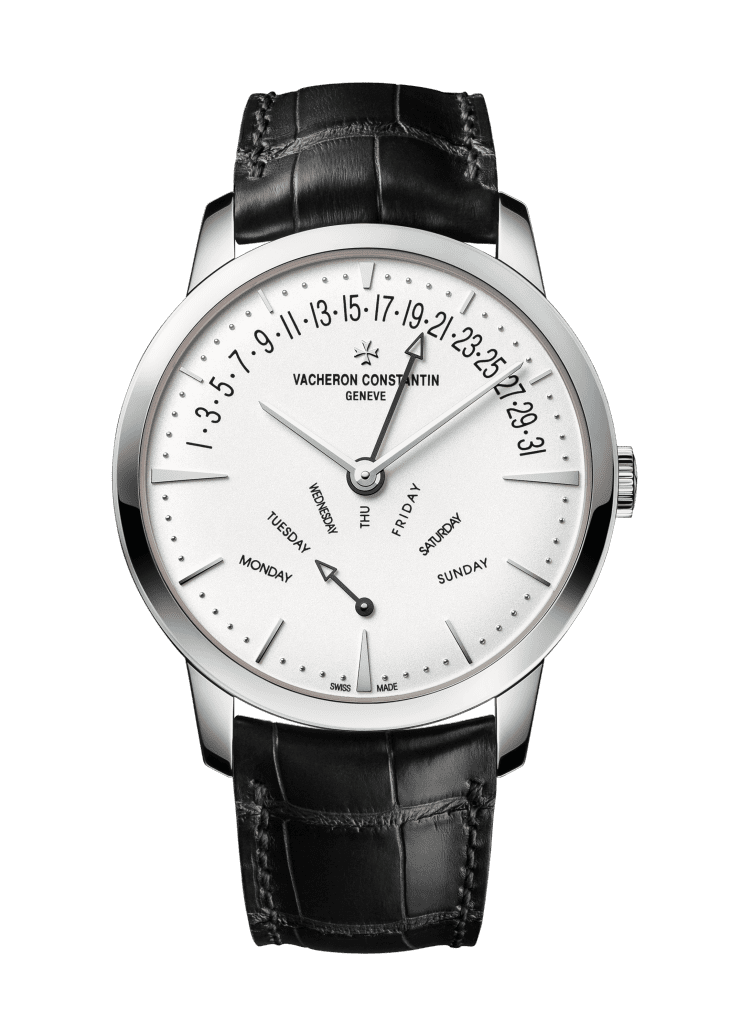 Here's where things get complicated. A Retrograde Day-Date in white gold is a pretty deep cut, but it lets people know you're a serious collector without shouting about it.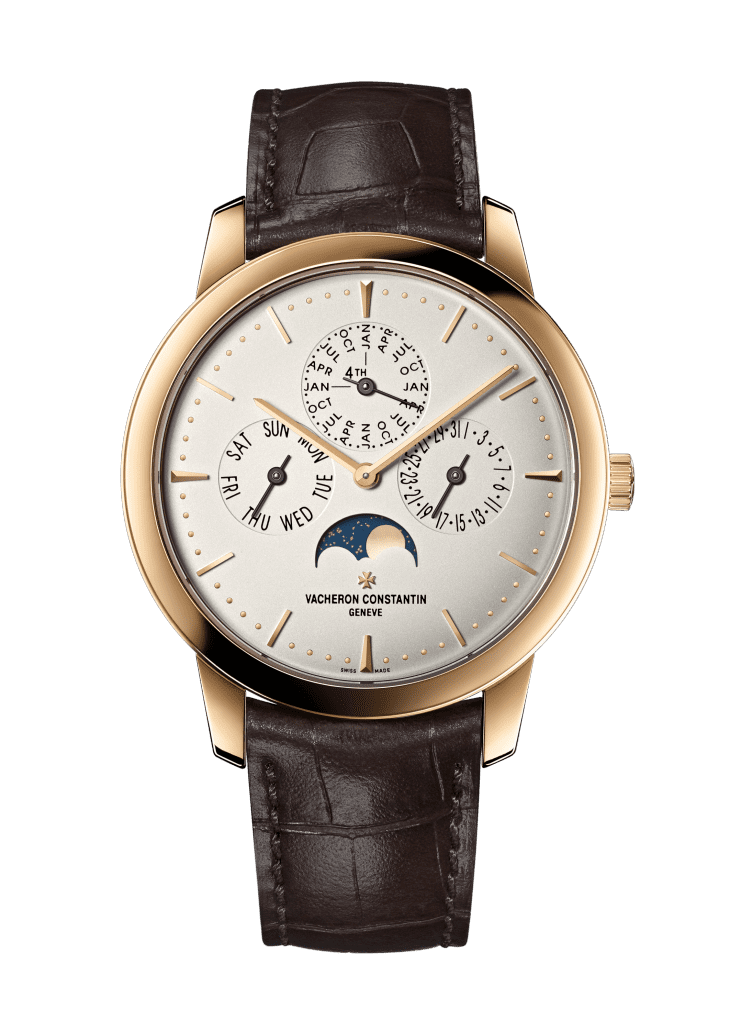 The 41mm Perpetual Calendar Ultra-Thin in rose gold packs a lot of horological goodness into a case under 9mm thick, including an automatic perpetual calendar movement and an exhibition caseback. And what a stunning movement the 1120 QP/1 is: But for $84K, your room better have the oceanfront view, if you catch my drift.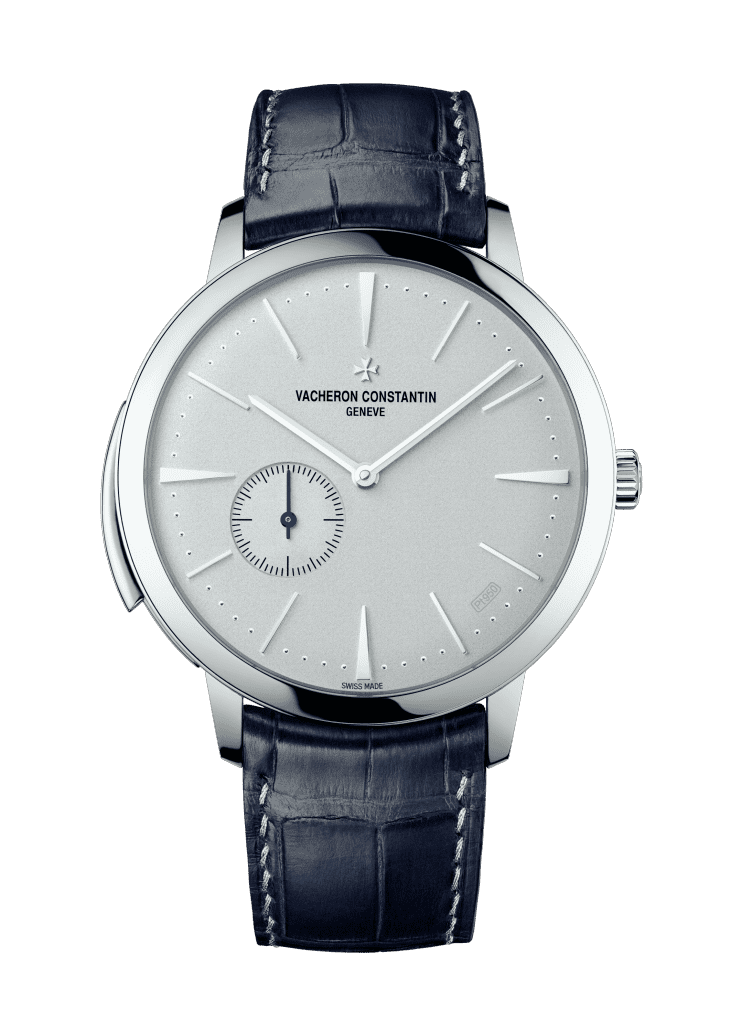 Here's one of the most discreet flex pieces you'll see anywhere, the limited-to-ten Patrimony Minute Repeater Ultra-Thin in platinum. A mere 8.099mm thick, the chiming movement and platinum dial show you mean business, and accordingly, price is "on request".