The heroes and bargains of Sotheby's Important Watches: Part I auction
Fergus Nash
Following on from Sotheby's Important Watches: Part I auction, it's always interesting to go through and assess the accuracy of the lot estimates. Most of the time they cast a pretty wide net, so it's hard to miss, but bidders seeing that top number will always give them something to reach for. Let's dive in and take a look at three of the most expensive and three of the cheapest watches that sold at the auction.
Heuer Super Autavia A Dash-Mounted Timer c.1970 – US$2,520
Starting with the least expensive of the bunch, we have a piece of automotive as well as horological history. Presented without any catalogue note and sparse detail, our imaginations can easily fill in the gaps about how this dash-mounted chronograph may have been used. We've seen a lot of brands take inspiration from timepieces such as these, but in terms of a racing Heuer you can't get more authentic than this. Whether you would keep it as a curio or mount it to a desk with the help of the countersunk screw holes in the square caseback, US$2,520 is a pretty good deal.
Hamilton Pair c.1930 – US$5,040
Coming in at second-cheapest is an incredible two-for-one bargain, with a pair of Hamilton watches from the Art Deco era. They may be relatively dainty at only 28mm across, but as a small watch enthusiast I am incredibly jealous of this pair's new owner. Each has their own quirks and character, with the 14k yellow gold model having a skeletonised case with brash lines that are smoothed over by the circular central case. Its black enamel bezel displays bold gold Roman numerals, and the small seconds complication just oozes class and sophistication. The 14k white gold model is a bit funkier, with distorted Arabic numerals around the bezel, a curvier case, and flèches style hands.
Rolex 'Thunderbird' Datejust c.1961 – US$5,292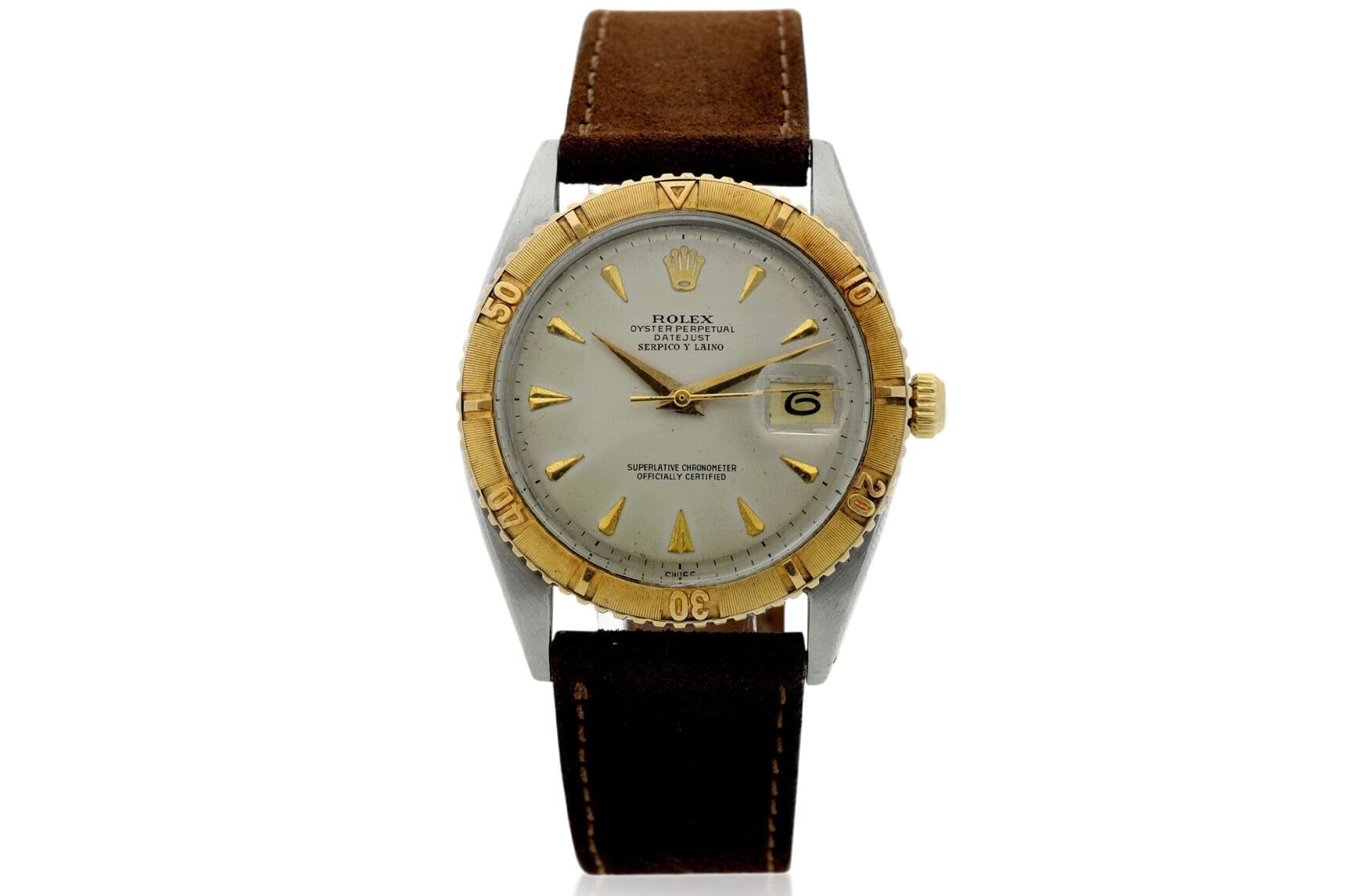 If you want to get into Rolex at the more affordable end of the spectrum, digging into their vintage catalogue from the '60s and '70s is an especially good way to do it. There are a lot of cool Datejusts and Oyster Perpetuals from that time period for good prices, and you can often find fairly unique references too. That said, I'm still surprised at the final price of this Rolex Datejust ref. 1625. Complete with a co-signed dial from Serpico Y Laino, a renowned store in Venezuela, this 36mm "Thunderbird" features a gold bezel and gorgeous dauphine hands in a display of vintage two-tone mastery.
Audemars Piguet Royal Oak Grand Complication c.2004 – US$441,000
Moving into the deep end, it's time to check out this Audemars Piguet Royal Oak Grand Complication that commanded nearly half a million dollars. Still within its sale estimate of $300k-500k, there are some who could consider the US$441,000 sale price a steal. With a 44mm case and bracelet of solid 18k white gold, the salmon Grande Tapisserie dial is laid out with great delicacy considering the wealth of complications. A perpetual calendar, split seconds chronograph, moonphase, and minute repeater are all provided by the automatic calibre 2885 which can keep them running for up to 45 hours when sitting still.
Cartier Pendule Ecran c.1926 – US$564,500
Completely annihilating its estimate maximum of US$200,000, this Cartier desk clock might just be the most impressive timepiece of the whole auction, despite being the second-most expensive. Produced in 1926 and numbered as No. 999, this stunning piece is an elaborate display of opulence and skill. The case is made from various precious stones such as onyx, coral, diamonds and decorated with yellow gold, enamel and even elements of platinum. The dial features a mystery display, floating the hands seemingly in mid-air. The fitted presentation box is almost as beautiful as the clock, with Cartier's signature red leather and gold trim.
Patek Philippe Ref.2499/100 Tiffany & Co. c.1981 – US$818,600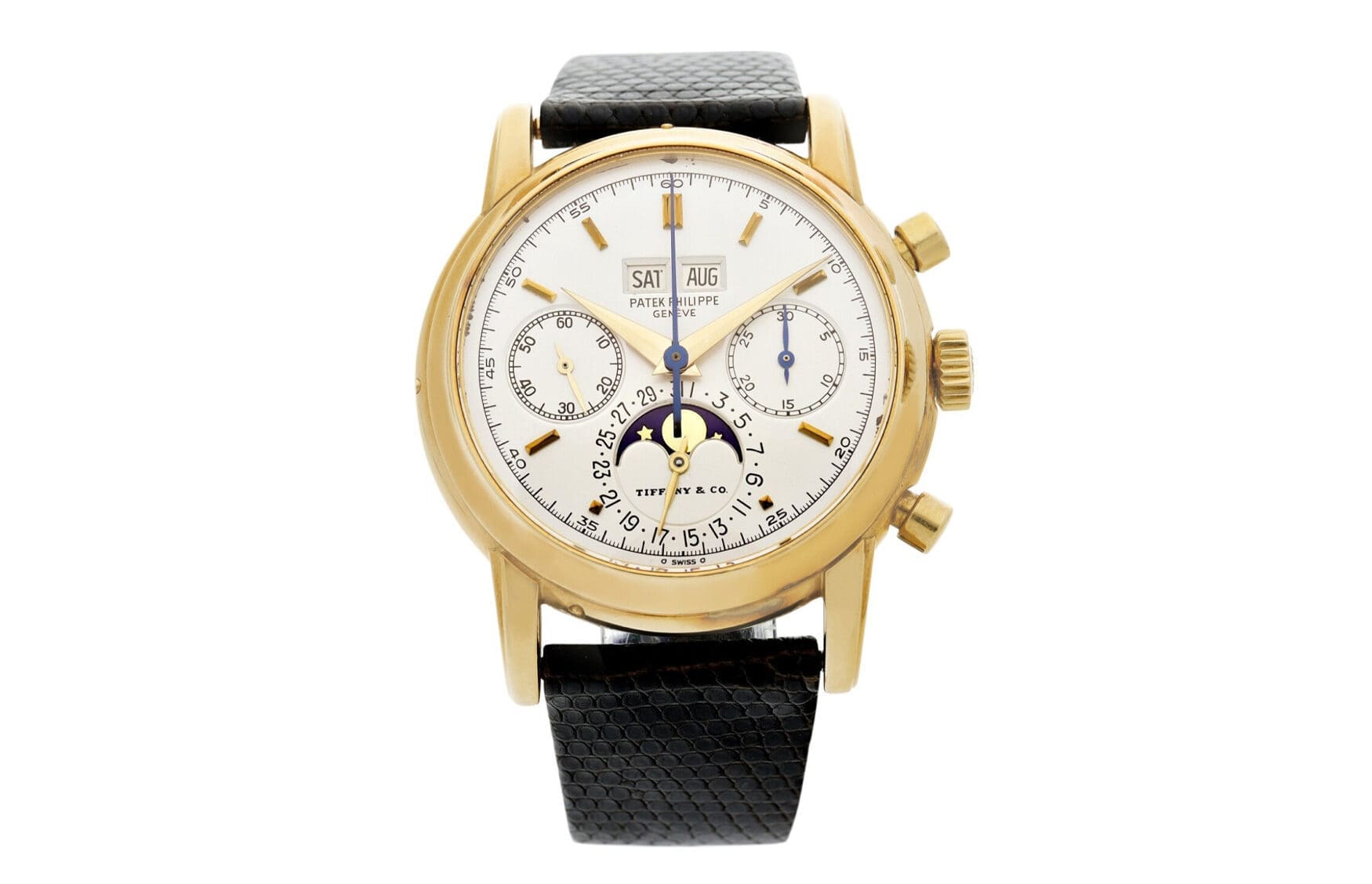 It's always a little disappointing when the watch with the biggest estimate sells for the largest amount, but truthfully it's impossible to be disappointed by a Patek Philippe ref.2499. Only 349 watches were made over 35 years starting in 1950, and this 1981 model belongs to the fourth series as indicated by its sapphire crystal. With its Tiffany co-signed dial, this makes it one of two fourth-series 2499s to bear the signature, and coming directly from the original owner makes this its first public sale. The 18k yellow gold case and the spectacularly laid-out dial are all in a beautifully worn condition, showing it's a watch that has truly been loved and worn throughout its life.