THE IMMORTALS – The Hamilton Murph is a wrist-bound movie star in its own right
D.C. Hannay
As both a watch buff and a film buff, I love it when those two worlds collide. When we see a watch on screen, it's usually a brief glimpse, scarcely enough time to make out the model, but sometimes, said timepiece actually becomes central to the plot. The James Bond ouvre is the prime example of a watch becoming part of the story, with a host of wristborne gadgets called upon to save the day. There are notable others, like the Omega Speedmaster in Apollo 13, or the TAG Heuer Monaco utilised by unlikely drug kingpin Walter White to time a series of grisly prison murders in the award-winning television series Breaking Bad.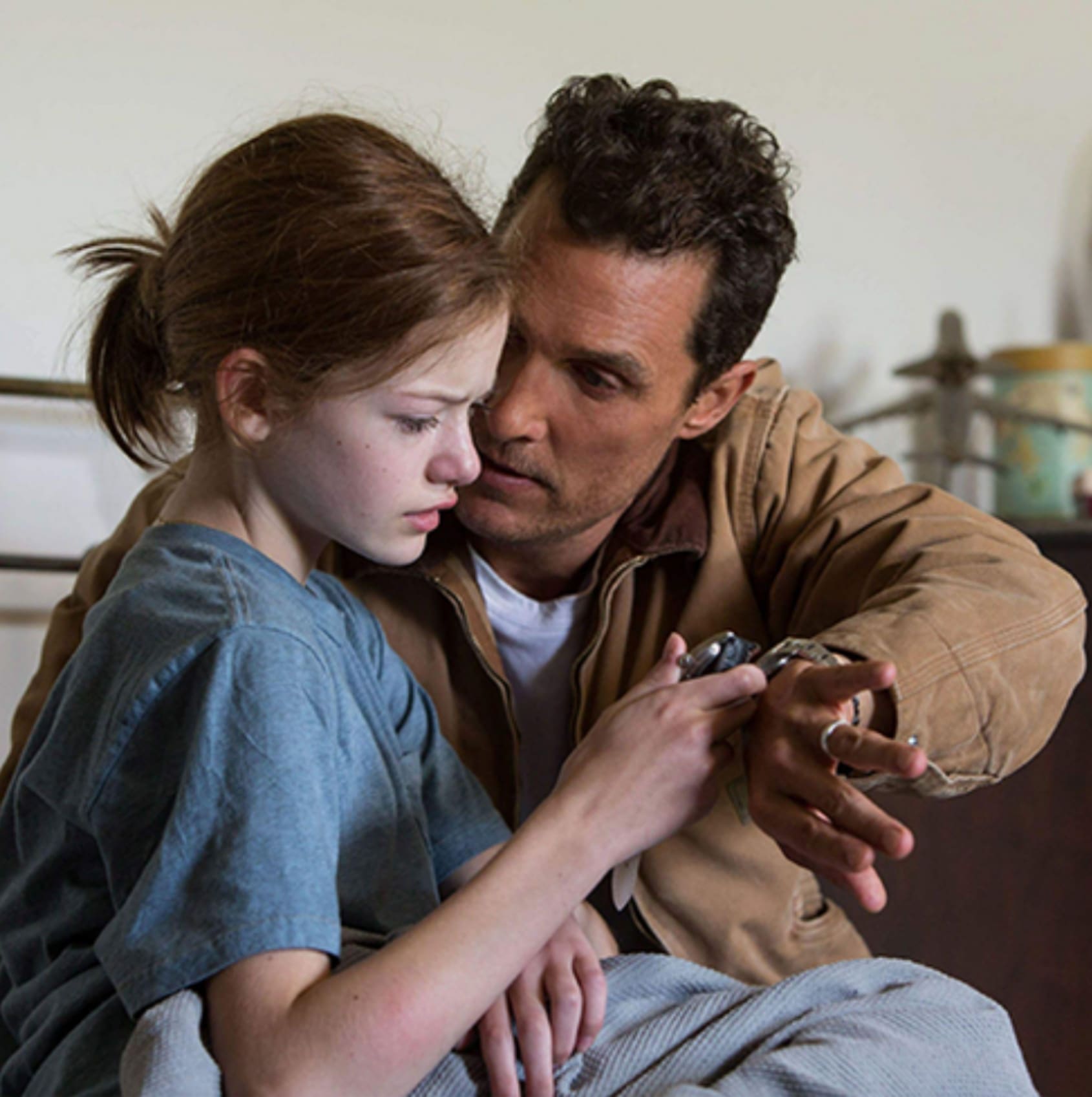 And then there's the Hamilton "Murph" field watch, a crucial plot device in Christopher Nolan's 2014 sci-fi epic Interstellar. NASA pilot Joseph Cooper (Matthew McConaughey) leaves the bounds of a dying Earth on a mission to find a new home for humanity in a distant galaxy, leaving his young daughter Murph behind. Before departing, he hands her a Hamilton watch, with the intent of comparing upon his return how time is affected by the journey through space. Many years and miles later, Coop finds a way to communicate with the now-adult Murph (Jessica Chastain) after a prolonged silence. Spoiler alert: it involves Morse code sent through time via a tesseract, with a message that Murph decodes using the Hamilton's second hand to save the entire human race, shouting "Eureka!" when she does. Easter egg to follow.
The Hamilton in the film was a prop, modified with a servo motor to dart the second hand around the dial as a way to send messages. It was never intended to make it to market. However, the public spoke, and in a stellar bit of fan service, five years after the film's release Hamilton surprised everyone by releasing a faithful version (minus the motor), the Khaki Field Murph Auto.
Specswise, the Murph follows the field watch playbook for the most part, sporting a brushed 42mm case with a long 52mm lug-to-lug, sapphire crystal, a black Arabic numeral no-date dial with cathedral hands all done up in fauxtina Super-LumiNova, an easy-to-handle crown, black stitched leather strap, and Hamilton's H-10 movement visible through an exhibition caseback. About that movement: Being a Swatch Group brand, Hamilton has access to the Swatch-owned ETA catalogue, and the H-10 is based on ETA's 2824-2, a proven workhorse, modified to boast an 80-hour power reserve, perfect for a long weekend. And here's where the Easter egg comes in: lacquered onto the second hand (almost too small to see with the naked eye) are Morse code characters spelling out "Eureka". A subtle, clever touch that most will miss, but fans will secretly smile at.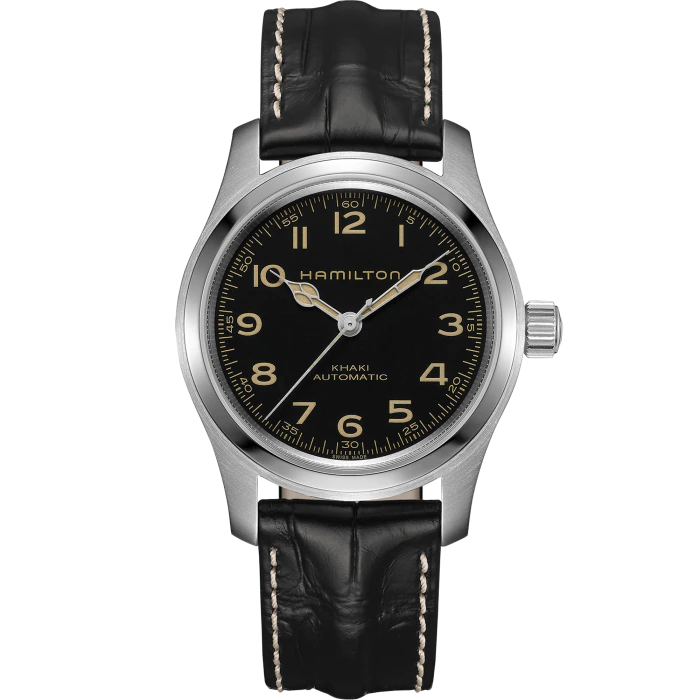 Although bigger than many field watches, the Murph looks great on larger wrists, and the symmetry of the dial is lovely sans date window. It's a classic blend of design elements that just works, and works well. At slightly under a grand, the Murph does come with some notable differences from the standard 42mm Khaki Field Auto, notably the cathedral handset, unique numeral font, aged lume, and lack of a date window. I personally love the look, but you'll have to decide whether the differences are worth a premium of more than $300.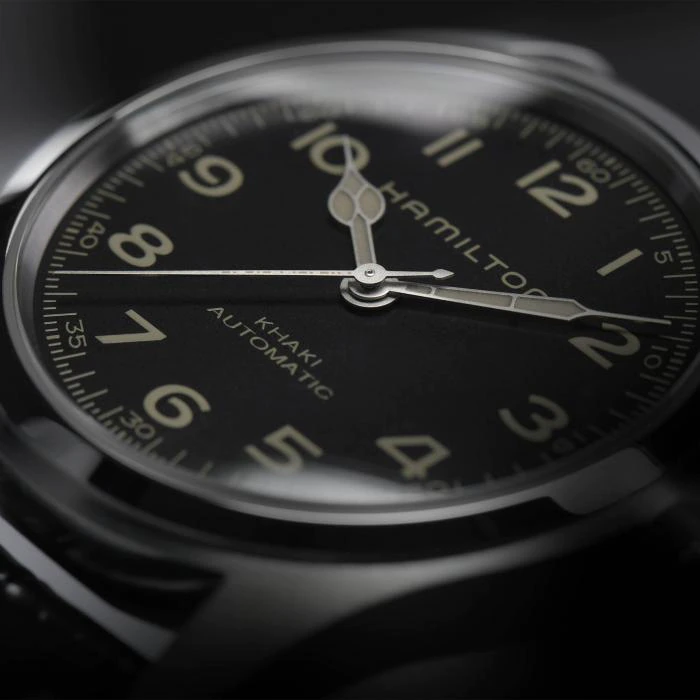 But the heart wants what the heart wants, and fans of the film certainly believe it's worth the difference. There's nothing else quite like it in Hamilton's catalogue, and those lucky enough to snag the earliest versions of the non-limited model were treated to special packaging that included a colour-striped box resembling the film's tesseract, designed by Interstellar's award-winning production designer, Nathan Crowley. All told, the Khaki Field Murph Auto is a winner for both Hamilton aficionados and fans of Nolan's modern-day masterpiece, and makes a, ahem, stellar addition to any collection.