The otherworldly watch collection of hip-hop super-producer Swizz Beatz
Ricardo Sime
If a music artist is blessed with a talent to sing then a producer is blessed with a talent to maximise that ability. For me, an '80s baby who spent his early 2000s in high school, there was one producer whose talents seemed otherworldly. A producer whose work dominated that time period. And who, to my awesome surprise, shares my passion of horology (though I'll be the first to admit, his collection is on a whole other level). That producer is Kasseem Daoud Dean. But many of you know him as Swizz Beatz.
Join me on a journey of his career and the evolution of his watch collection.
The Arrival
It's 2002 and Swizz Beatz has had a meteoric rise in the hip-hop industry. He started producing at the age of 16, going from relatively unknown to one of the most in-demand producers in the game. His work with Ruff Ryder Entertainment and Roc-A-Fella Records would keep that demand going strong for years to come.
One of the reasons for Swizz Beatz popularity was the distinct sound he provided. The layering of his beats was something new and unique. A uniqueness that also defined his watch choices. During a time when Rolex and Jacob & Co dominated the wrists of hip-hop artists, Swizz did things different. Case in point: this Panerai Pam00071 with factory-set diamonds on the bezel he is seen wearing in the music video Bigger Business. It's a leftfield choice that will start to make much more sense as we continue Swizz's journey.
Oh. You're a Collector Collector!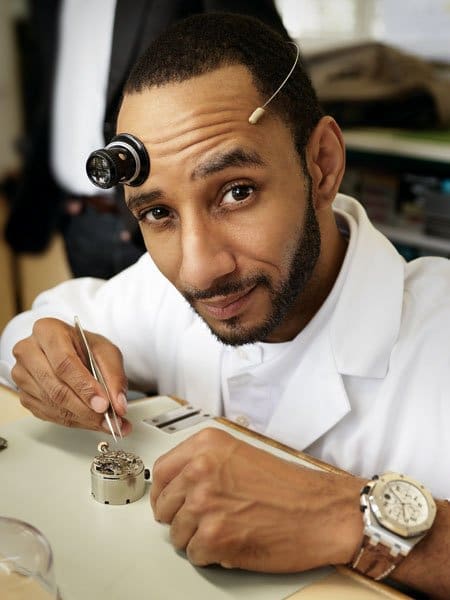 It's 2010 and Swizz has settled into a nice routine. Coming off of the success of his album One Man Band Man, he continues to lend his talents to major recording projects such as Jay Z's The Blueprint 3, Drake's Thank Me Later and Nicki Minaj's The Pink Print. That same year, he starts working on his second studio album (which would later be called Haute Living).
With all that going on, Swizz still found time to make a trip to what many would consider the mecca of watchmaking, the Vallée de Joux in Switzerland. Here, he got to spend time at the workshops of one of his favorite brands, Audemars Piguet. He also got to pick up what he considers to be a "Basquiat piece": the Audemars Piguet Royal Oak Carbon Concept. Already the owner of one of their chronographs, this concept piece announced his arrival into the halls of major collectors.
"The sky's not the limit, it's just the view."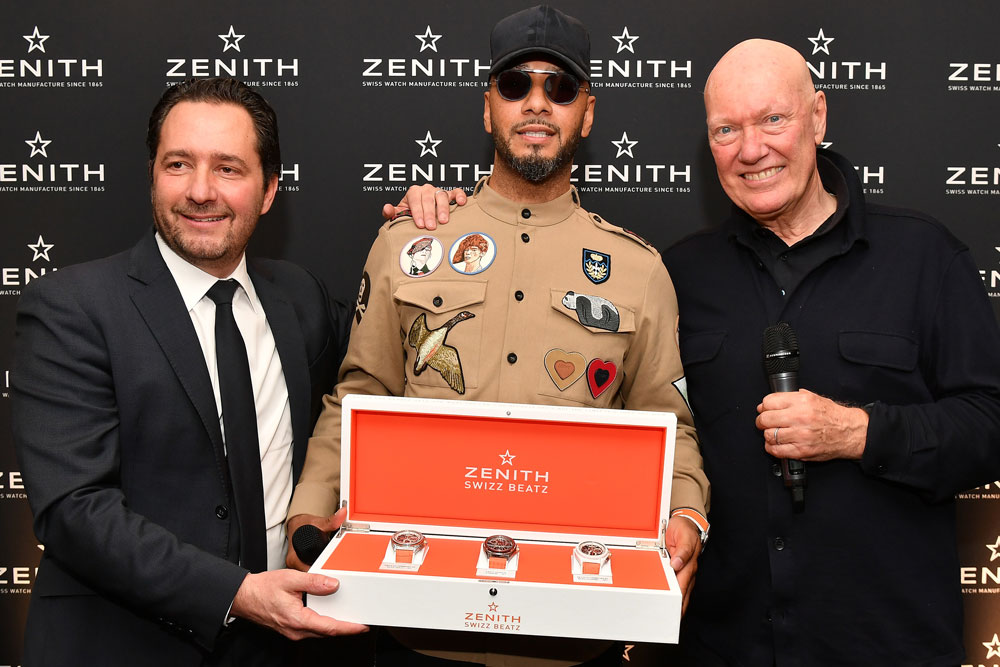 In 2018, while working on the release of his third studio album, Poison, Swizz Beatz once again found time for his watch passion. This time around, he worked closely with the brand Zenith to create a limited-edition set of three watches. Each features the colour orange as well as a personal mantra of Swizz, "Never let people tell you what you can't do, because the sky's not the limit, it's just the view."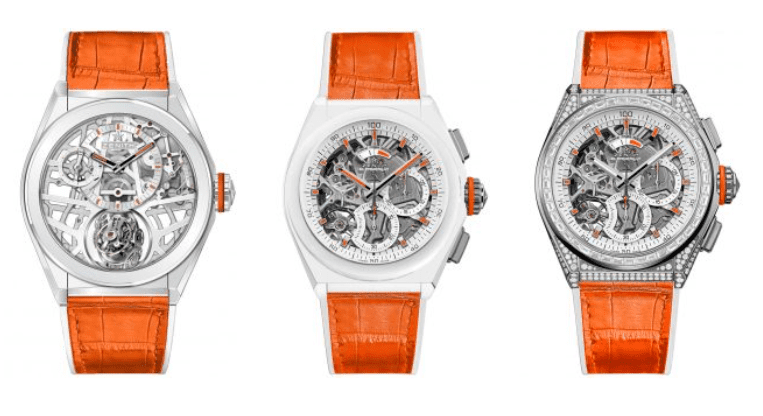 The set consists of (from left to right) a Defy Zero G in Titanium, a Defy El Primero in white ceramic and a Defy El Primero in white gold with brilliant-cut diamonds adorning the case.
A Growing Love for the Luxury Independents
With more than 20 years of producer credits under his belt, Swizz continues to expand his passions. From fashion to art, with even a little camel racing sprinkled in for good measure, he has become a truly worldly man. As for his love for watches, he is developing a love for the high-end independents. This past October, he released the above Dream Watch 5 Tourbillon in collaboration with the brand De Bethune. He has also been pictured with an MB&F Bulldog (below) on his wrist.
View this post on Instagram
Overall, Swizz's journey both as a music producer and watch enthusiast have been the stuff of legend. From humble beginnings, he has created a discography full of hits that are impossible for me to forget. And a watch collection that many of us would love to own. Here's to the One Man Band Man.