The DIY Series: How to modify your watch (Part 2)
Fergus Nash
In Part 1 of this DIY Series, we went over the steps for assembling your own watch from scratch. Even if that's not the avenue for you, maybe there's a watch in your collection that's never been quite as perfect as you'd hoped. If you've ever bought and sold similar black-dialled dive watches over and over again, then perhaps you just need to give one of them a personal touch. Watch modification really isn't as scary as it sounds as long as you're committed to the watch and don't mind a big knock to the resale value. Here are a few ways you can personalise your watch.
Modification 1: Change the strap
I promise that there will be some more substantial modifications later on in this list, but changing a strap is the most basic and possibly the most effective way of changing the way a watch looks. It's also the gateway into the DIY attitude, doing some fiddly work with your fingers and making your own aesthetic judgements. Invest in a good spring-bar tool, measure your watch's lug width, and go shopping.
Modification 2: Change the hands
If you haven't read the first part of The DIY Series, make sure to go back and read Step 2 about buying some watchmaking tools. There are plenty of watches out there with gorgeous dials and beautifully finished cases, only to be slightly let down by a pair of hands that feel anachronistic, out of style, or that don't hit the markers the way you think they should. If your watch uses a movement that's off-the-shelf or based on something like an ETA 2824, SW200, NH35 or many others, then there's a good chance you'll be able to find aftermarket replacements which fit. Simply search for hands followed by the calibre name, order the pair you like, and check out some YouTube tutorials on removing and installing watch hands. You've got to be careful while removing the movement and dial from the case, but it's a deceptively simple task of levering off the existing hands and pressing on the new ones.
Modification 3: Customise the dial
Whether you're a professional painter or just want to let your kid put a sticker on something, customising the existing dial is the most obvious way to make your watch stand out from the rest. If you go down the painting route, you'll want to remove the dial from the movement and make sure that it's completely dried before reinstalling it. If you just want to apply some decals, stickers, or maybe print your initials to look like you got your own gift from the watchmaker, you might get away with just taking the hands off temporarily.
Modification 4: Upgrade (or downgrade) the crystal
Since lab-grown sapphire became a widespread normality, it's pretty rare that watch crystals need to be replaced. Before this, a new crystal was just considered a part of servicing as they would pick up scratches, marks, or occasionally cracks. That said, aftermarket crystals are still widely available for almost any (round) watch in existence. If yours is made from mineral glass, perhaps you want to upgrade to acrylic which can be polished to remove scratches, or sapphire which is scratch-resistant. You may even prefer the softer diffusal of light that acrylic brings, or you may want to swap out a piece of flat sapphire for a domed one. Anti-reflective coating is also a consideration, as it can be clear or tinted for different effects in the light.
Modification 5: Swap out the date wheel
One of the most common wristwatch bugbears is the use of a white date wheel with a black dial. Sometimes it can balance out the white hour marker on the opposite side of the dial if it's placed well, but often it just looks like an afterthought and a result of penny-pinching. Assuming you've done the proper research with the watch's movement and you're confident in taking one slightly apart, then you can order a black or otherwise coloured wheel to install yourself.
Modification 6: Relicing / Faux-ageing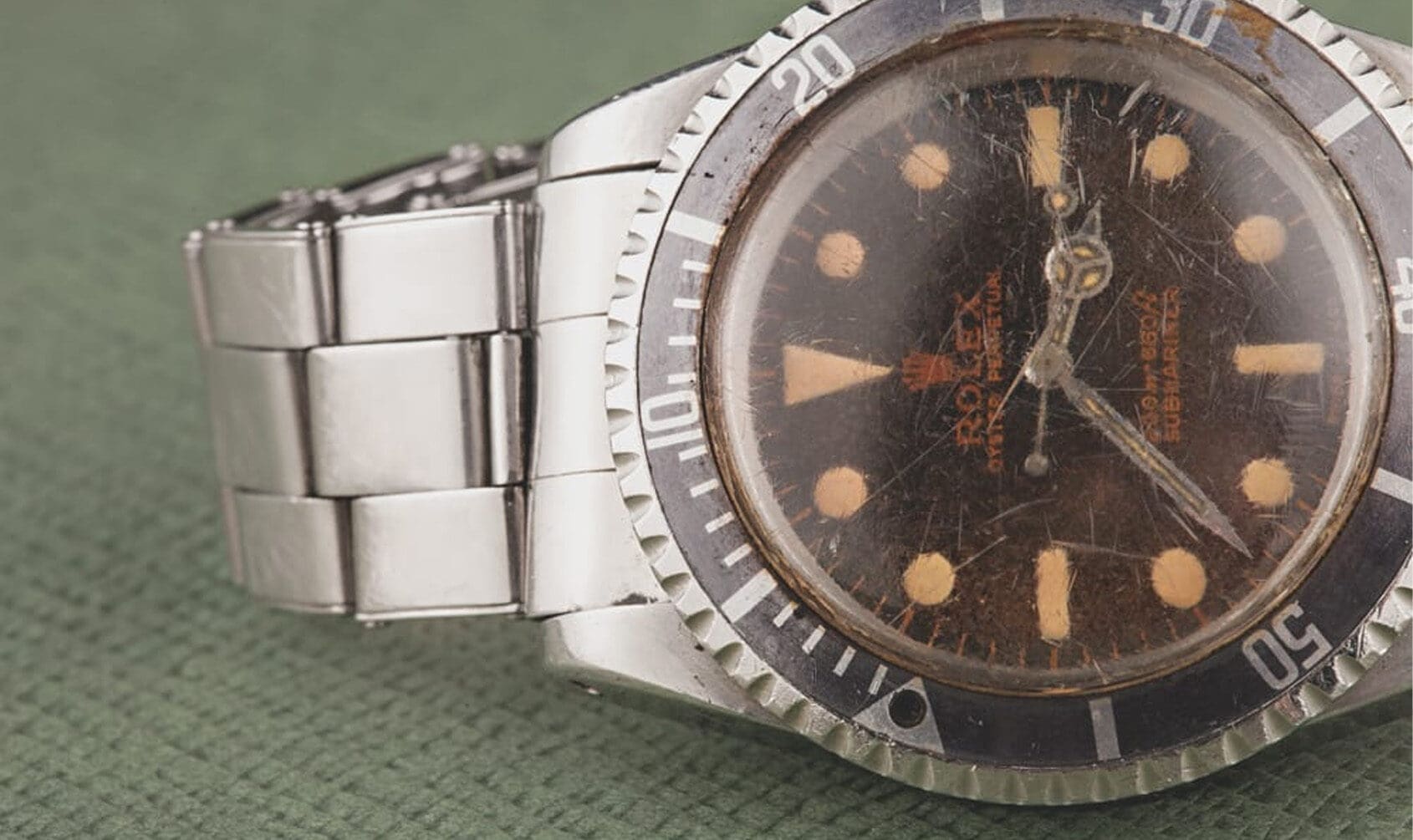 There's a theory about cars and watches that your anxiety about getting it dirty or scratched leaves you as soon as that first scratch happens, so it's best to just get that out of the way as soon as possible. Taking this to the extreme brings us down the path of relicing, as it's been known in the guitar world for years. From leaving it under a strong UV lamp for a few weeks to simulate years' worth of sun fading or throwing it across a gravel pathway, there's really no incorrect way of trying to simulate decades of wear. The most important consideration, besides how far you want to take the damage, is what story you want the object to tell. For example, many scrapes moving in the same direction would imply that there was a single accident which caused it all, whereas a distribution of random yet light scratches will appear more natural.