4 reasons why the Cartier Santos makes a great everyday watch
Time+Tide
Editor's note: I don't know about you, but when I think of everyday watches, I default to round steel sports pieces. Of course, there might be some internalised bias going on here. Because you know what, the Cartier Santos — recently given an all new and improved makeover — is actually a really strong contender for 24/7 duty. Even in its more precious varieties. Don't believe me? Read on …
While you can make an argument for one-watch-per-purpose (a watch for work, weekend, formal occasions, etc), I personally think that versatility is the key to a good watch. Luckily, versatility is something the Cartier Santos has in spades, which you might find surprising given that, on the face of it, the Santos de Cartier is a rectangular watch with a white, Roman-numeralled dial. But this latest watch has been designed with maximum user-friendliness in mind. Not only does the watch come equipped with QuickSwitch and SmartLink systems for changing your strap and resizing your bracelet on the go, each watch also comes with two straps, and is offered in a range of sizes and plenty of case variants. So whether it's work or play, there's a Santos for you. In case you still don't believe us, here's how to break the Santos de Cartier down, for four dress codes.
The formal Santos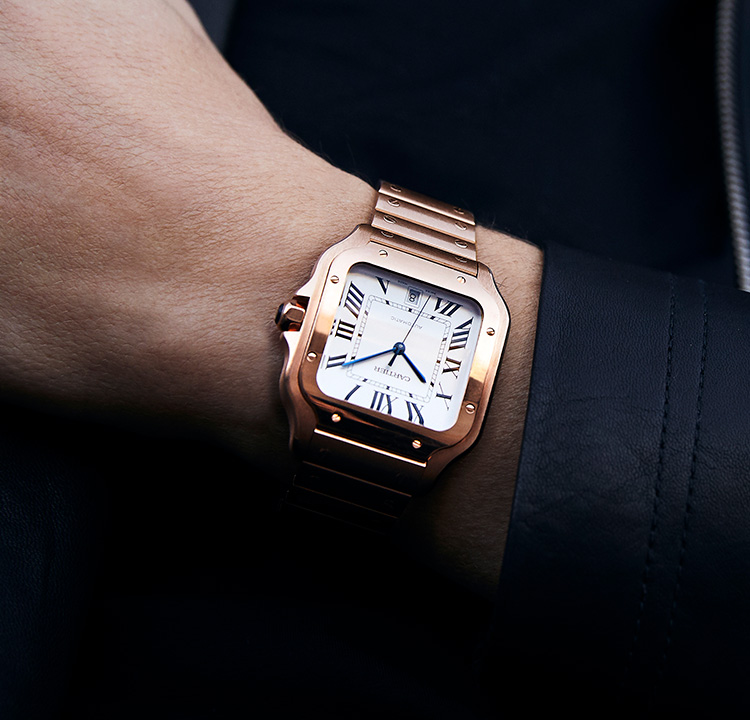 Let's start at the top. Dressing formally can cover a lot of stylistic ground: it could be a wedding (royal or otherwise), or perhaps some sort of grandiose gala (Met or otherwise). And while the finer points of the dress code might vary, the purpose of your watch remains the same. It should say to your host, "This event is important, and I've made an effort." One particularly effective way to say this is with an elegant solid gold watch, the product of more than 100 years of refined design. Now, pink or yellow comes down to personal preference, and the full gold bracelet (while very extra) might be a tad too 'look at me' in more rarefied formal occasions, so we'd opt for the leather strap. But there's no doubting that Cartier's timeless style is never out of place.
The business Santos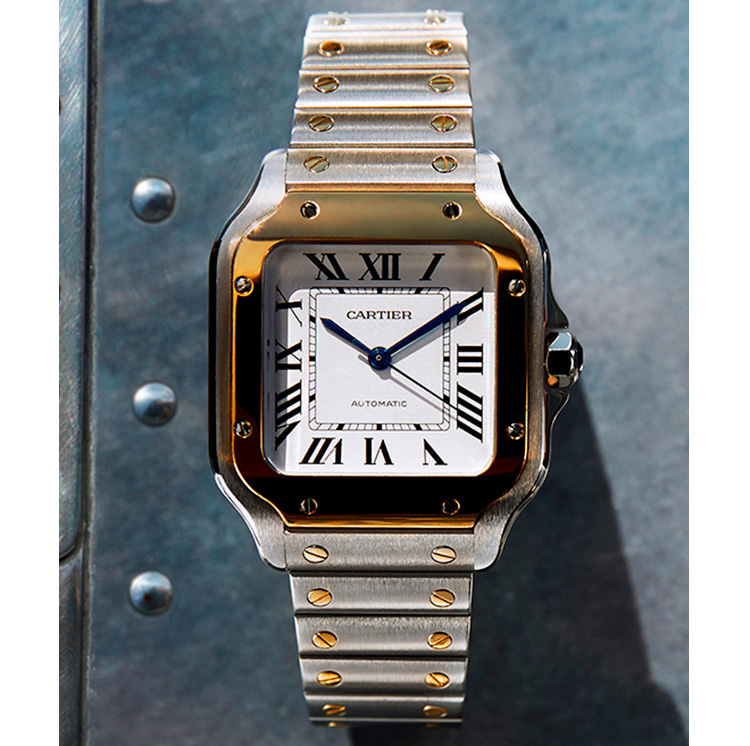 From black tie to regular tie, the Santos still has what it takes for your classic work wardrobe. In these flexible modern times, we're still saying that the bare minimum of professional attire in workplaces that aren't startups is a jacket and tie, if not a full suit. The Santos works here — though unless you happen to own the business, full gold might be a bit too much of a power move by the water cooler. But that's not to say that you can't flex a little, which is where two-tone comes in. Not only does the flash of gold subtly indicate corporate success, it also lets you lean into those Wall Street vibes.
The smart casual Santos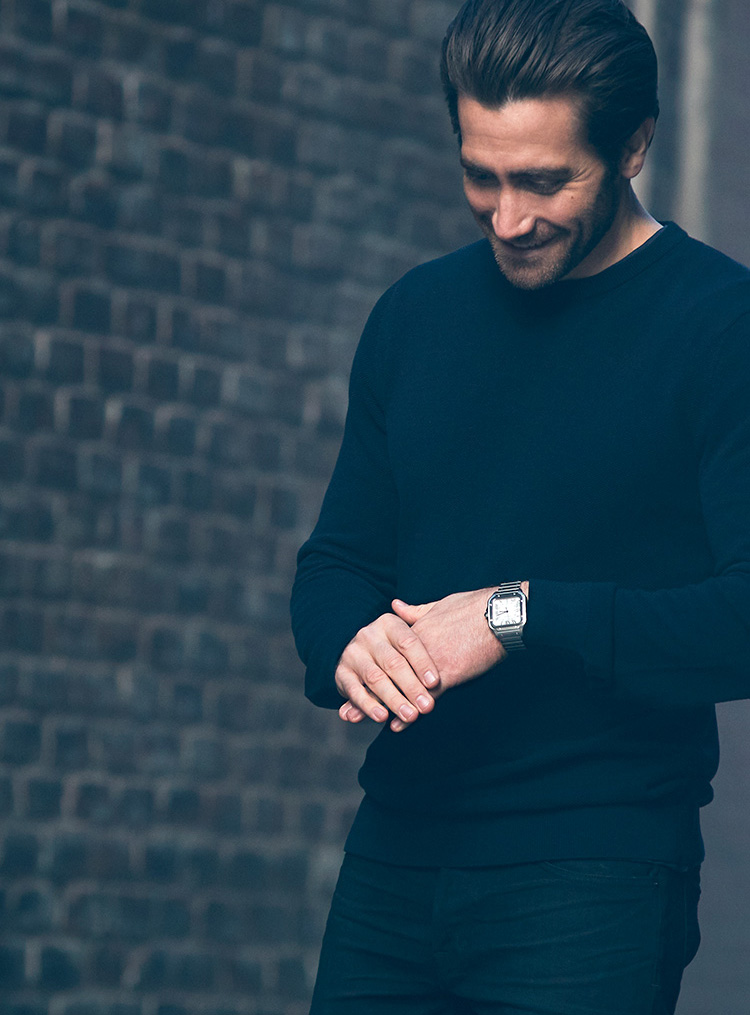 Ah, smart casual, the trickiest of the dress codes, meaning many things to many people. Luckily for us, though, Jake Gyllenhaal pretty much nails it. Light knit, neat jeans and steel Santos on bracelet. The Santos' finely honed combination of soft curves and strong shapes really adds to this look, and you could even go so far as to say that the watch, in and of itself, is enough to put the smart into smart casual.
The casual Santos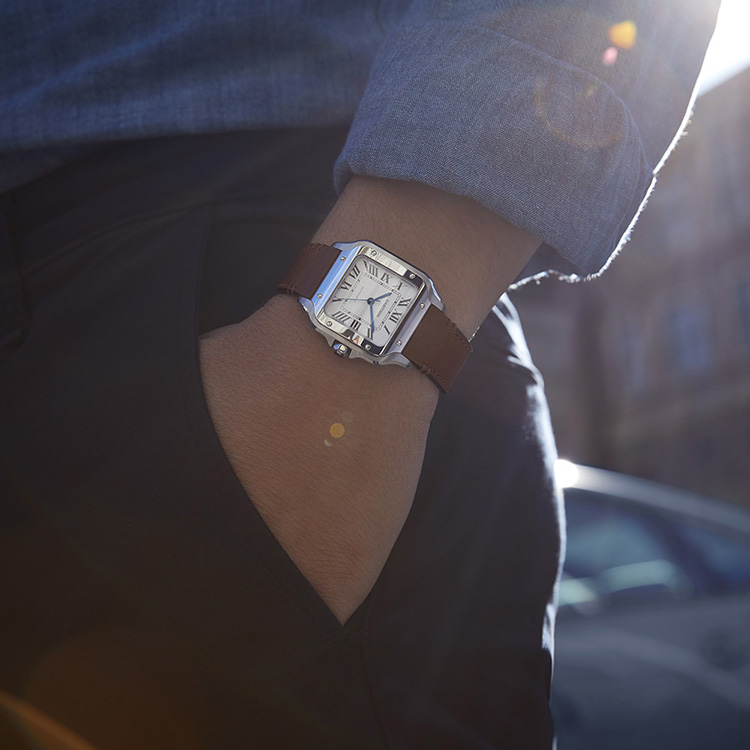 All it takes for the Santos to go from work to play is the (quick) switch of a strap. Each Santos comes with two different straps, and there's quite the colourful selection on offer. For a more casual look we'd suggest this calfskin strap with reinforced stitching to add some rugged to the equation — perfect with jeans and a T-shirt. And just because the Santos has a long and rich history, don't think that the watch can't handle the rigours of modern life. With its new movement that's protected against magnetism and water resistant to 100 metres, this Steel Santos is a watch that can keep up with you, every step of the way.
Head to Cartier to learn more about the new Santos de Cartier.