The Blok 33 is a tool watch that's cool for kids and a guilty pleasure for grown-ups
Kylie Lloyd-Wyatt
In the microcosm of kids' watches there is a new kid on the block, or should I say, a new Blok on the kid. This "Swiss made, kid proof" beauty takes the world of kids watches to a new level by combining classic horological design elements with robust construction, time-telling education and more than a smattering of cool. Available in a rainbow of colours, this watch is sure to delight your kids and perhaps rouse your own inner child too. I'm sure the parents amongst us are familiar with the usual offerings that can break all too soon under the stress of childish enthusiasm and play. The idea that children's watches can be disposable like many toys, bothered parents and Blok founders Oliver Fowles and James Walker.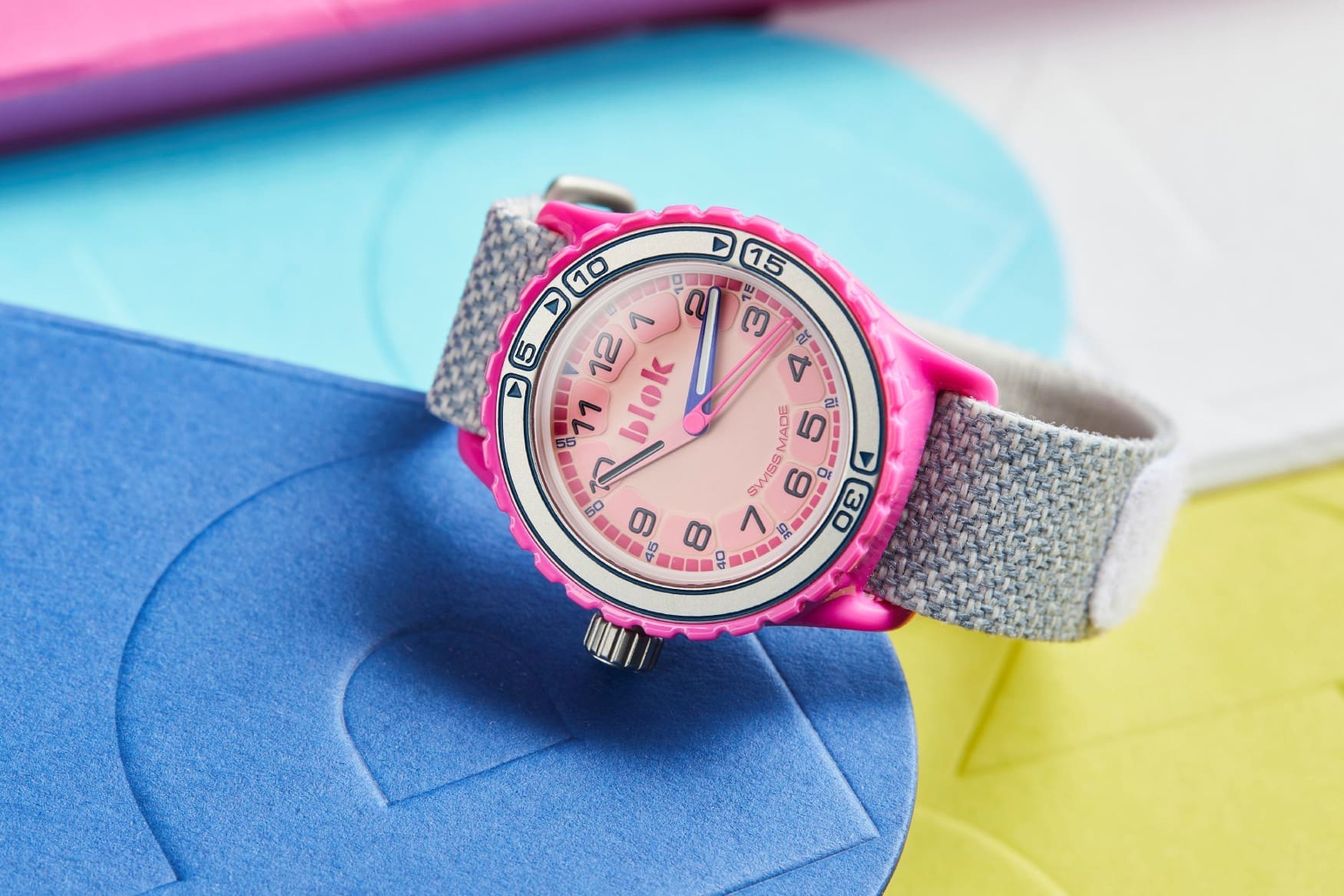 As self-professed watch addicts, they lamented the absence of classic horological design language in most children's offerings, you know, those things we love about watches like rotating bezels, thoughtfully laid-out dials, legibility, beautifully designed and well-proportioned cases. They also wondered, as a collective of watch loving "grown-ups", whether we too have lost touch with own inner child and thus whether we could also do with a fun-loving collectable in our lives and watch boxes. These musings sparked a cracker of an idea; in their own words to create "a stylish, analogue watch with a real-deal, Swiss-made heart. Credible with our haute horology friends yet self-evidently cool to our magnificent, inquisitive, adventurous kids". They reached out to Neil Ferrier, product design expert at the legendary Discommon Concepts and with some ingenuity and I'm sure quite a few late nights, Blok was born.
Design language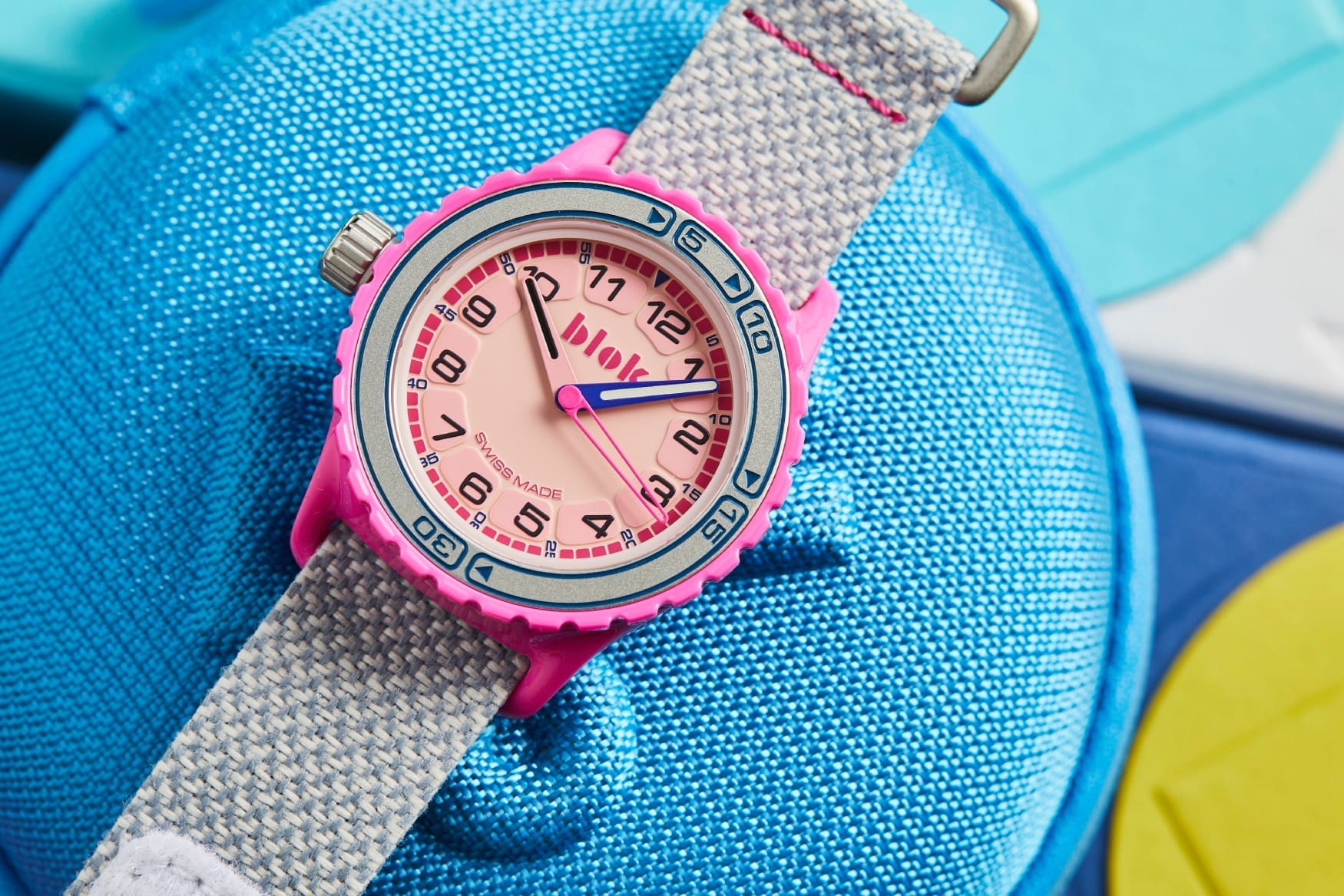 The watch I got my hands on is the inaugural Blok 33 in Fuchsia/Magenta, though to actually get it I had to use chocolate to bribe it off the wrist of my own little miss. Obviously fun and playful, through a "watch aficionado" lens it impresses as exceptionally well-considered, proportioned and balanced with an artful combination of design elements and a masterful colour palette. This speaks volumes to us grown-ups, but for me, looking at it through this lens seemed to miss the point. In switching over to my "kid" glasses it became clear that this Blok 33 might just be the ultimate tool watch out there, designed specifically for a child to use every day, from teaching intuitive time telling to withstanding the rough and tumble of the playground all while espousing the necessary "cool" for recess.
Educational tools
The name Blok is not just a quirky nod to the oldest kids' toy in history, it's a reference to the way this watch conceptualises and teaches the concept of time to children. On close inspection you will notice that each hour is marked by a "blok" rather than a point, allowing the child to read the hour more accurately. Minutes are denoted by smaller blocks forming the outer ring. The dial itself, though not lumed, is highly legible and the three hands of different colours and lengths clearly delineate hours from minutes and seconds, all obvious requirements for a children's watch. 
But perhaps the true genius of this watch is how it allows a child to conceptualise the passage of time and time setting. Us watch-fam parents are undoubtedly all too familiar with the five-minute countdown to finishing at the playground, leaving a friend's house, turning off the television, you name it, as a way of signposting for our children to prepare (or resist) accordingly. Indeed, we are also unfortunately aware with how notoriously bad kids are as understanding how long five minutes is. Blok cleverly harnesses these ideas via a thoughtfully designed bidirectional rotating bezel. This one has a satisfying 60 clicks, one for each minute, with easy grip knurling that's soft on little fingers. Rather than the usual indices, periods of time ranging from five to 30 minutes are printed on the metal inlay, so that the minute hand can be lined up with the start of the period and effectively count down. For a kid, this is a fun and interactive experience that, along with giving agency, creates a stronger awareness of the passage of time. I dare say, this might also get your little munchkin's watch habit started early; we all know how addictive a good bezel can be.
Rough and tumble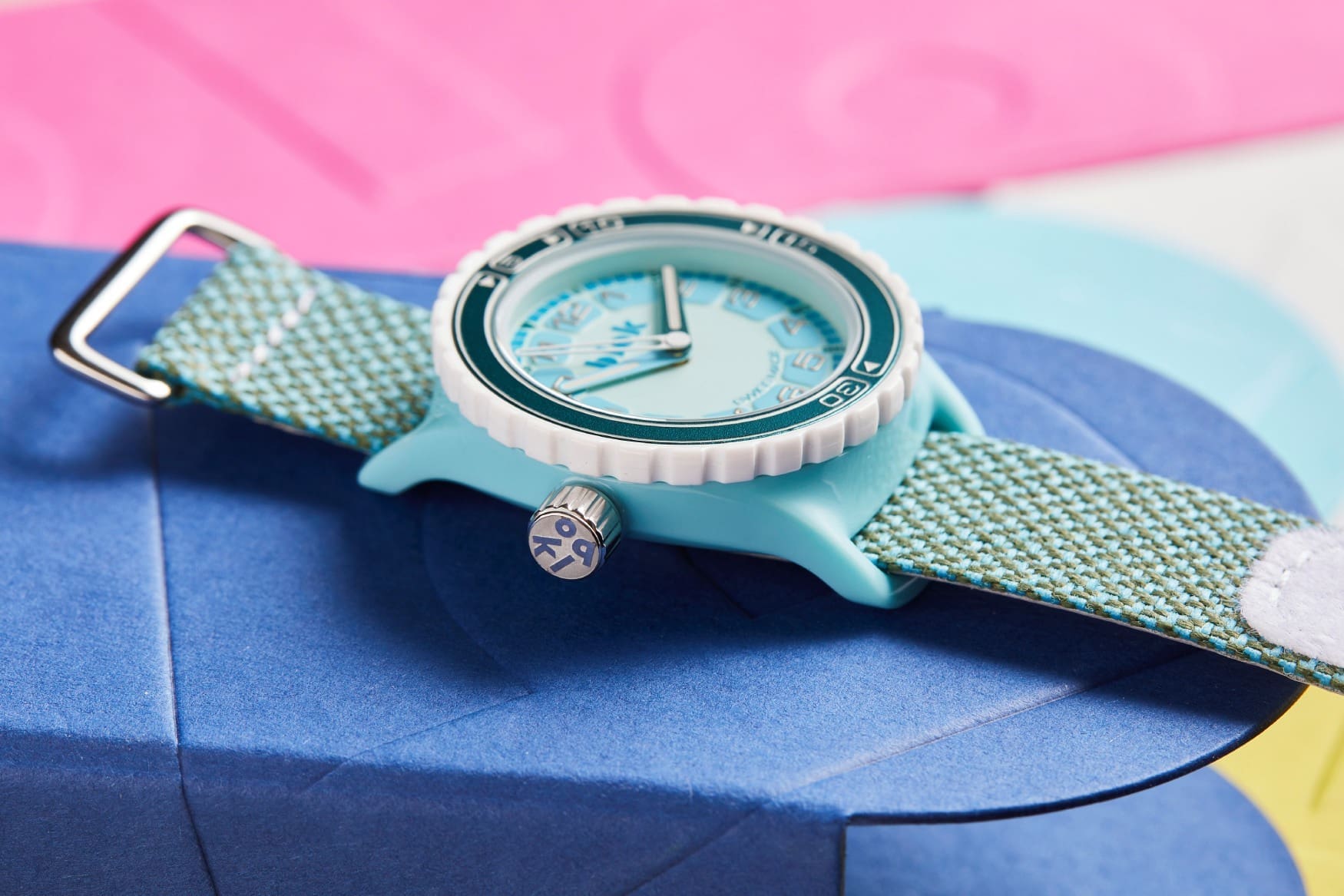 This watch is not just a pretty and educational face, thankfully it is also built to take whatever your monkey can throw at it. The case is crafted from a Swiss nylon bio polymer, a robust and supposedly more environmentally minded material when compared to straight-up plastic. Scratch-resistant sapphire rather than acrylic crystal protects against the invariable wear and tear that can make a dial hard to read. 
Inside, a robust Swiss quartz movement ticks away, protected by a screw-down crown offering 100m of water resistance. Yes, you read that correctly, water resistance – and definitely more than enough to survive a good water fight. The crown is cleverly located on the left side of the case, making it  harder for little right-handers to fiddle with and ultimately unscrew, a thoughtful touch providing further protection for the calibre inside.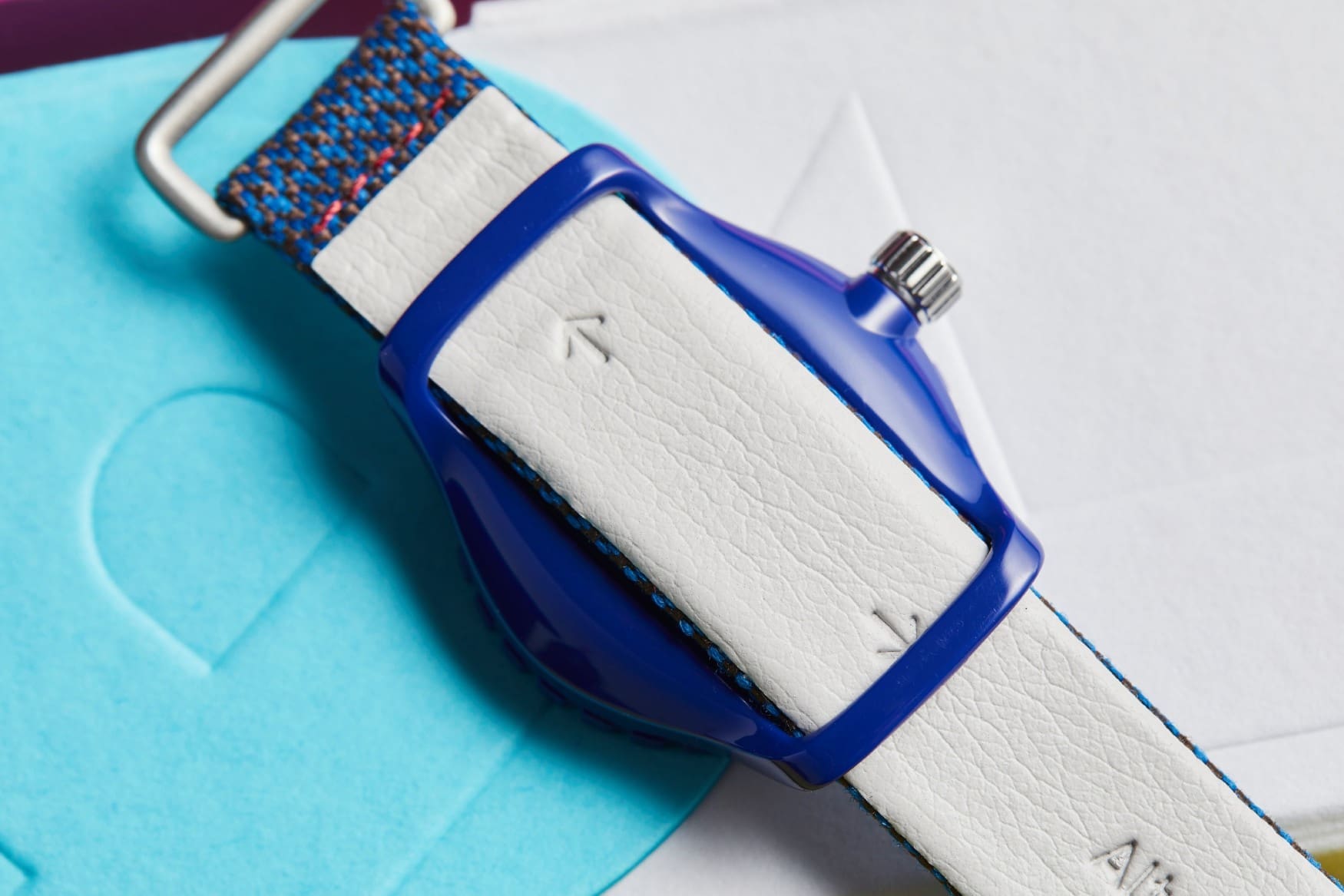 Comfort is also paramount for all day use, where in "kid land" anything uncomfortable will quickly end up forgotten at the bottom of a drawer. The 33mm case featuring delightful integrated lugs will fit a pre-schooler right through to smaller adult wrists (yes, this watch is also for grown-ups). The lug design not only provides additional robustness and a nod to cool watches in higher price segments, but it also allows the strap to sit snug against the smallest of wrists for a secure and comfortable fit. 
The strap is crafted from recycled plastic bottles, on point for the brand's sustainability leanings and the super soft Napa leather lining sits comfortably against younger skin. The high-grade Velcro fastening makes it easy to strap on and off, especially for less dextrous younger fingers. Though it looks the part, the mummy in me wonders whether the lighter-coloured straps in the line-up might be dirt magnets, but given its almost tweedy aesthetic, yet another lovely touch, it's equally possible that playground grime will simply blend right in. A 17mm lug width also narrows down strap options, a common annoyance for grown-ups but perhaps less relevant for our kiddos. 
Cool factor
So thus far we've seen that this watch is a down and dirty playground tool watch with educational chops, but is it cool? The fun yet clearly considered colour palettes of the magenta/fuchsia in my hand and other offerings in the line-up are playful without being garish. There's a timelessness in the design that hopefully means it won't fall out of fashion or favour as your munchkin gets older and the robustness means it will stand up to most childhood adventures. 
But in this case perhaps the most important barometer of cool is the experience of my own little princess. Quite simply, she loves her watch, wears it incessantly, enjoys playing with the bezel and timing things and it gets a lot of interest from her peers and their parents alike. The older children we know are also very interested in her watch, along with the other colour offerings that might suit their own aesthetic and a steady following is growing in our social circle. 
Guilty pleasures
I could wax lyrical about the impact of design, balance and proportion, but to me, this watch just feels right; it enlivens the kid in me. It's a thoughtful, playful and tasteful offering that might just take us grown-ups back, at least for a moment, to the childish fun of watch collecting – I see this as a "guilty pleasure" contender for many a watch box. For our kids though, will this watch become the new Pokémon? Probably not, but it will be there for the long haul as a treasured part of their life, imbued with their childhood memories and adventures. After all, isn't that what owning a tool watch is all about?