Sunshine for the wrist: The best yellow dial watches from DOXA to Hublot
Thor Svaboe
Whatever the weather, the watch on my wrist can pep up the dullest day, so what better choice than a piece of yellow sunshine for the wrist.  While the watch world's fashion trends are changing from blue to green this year, there is nothing like the FLASH of a yellow dial to make you smile, whether it's presented in a tough carbon-fibre diver's case or via the honey-coloured minimalism of Ming. Even Rolex realised this, bringing us the 70s delight of the Stella dials, for their new Oyster Perpetual, including a 36mm piece of wrist-worn yellow delight. So to bring some much-needed cheer to a difficult year, here are some of the best yellow dial watches around.
DOXA Carbon Sub 300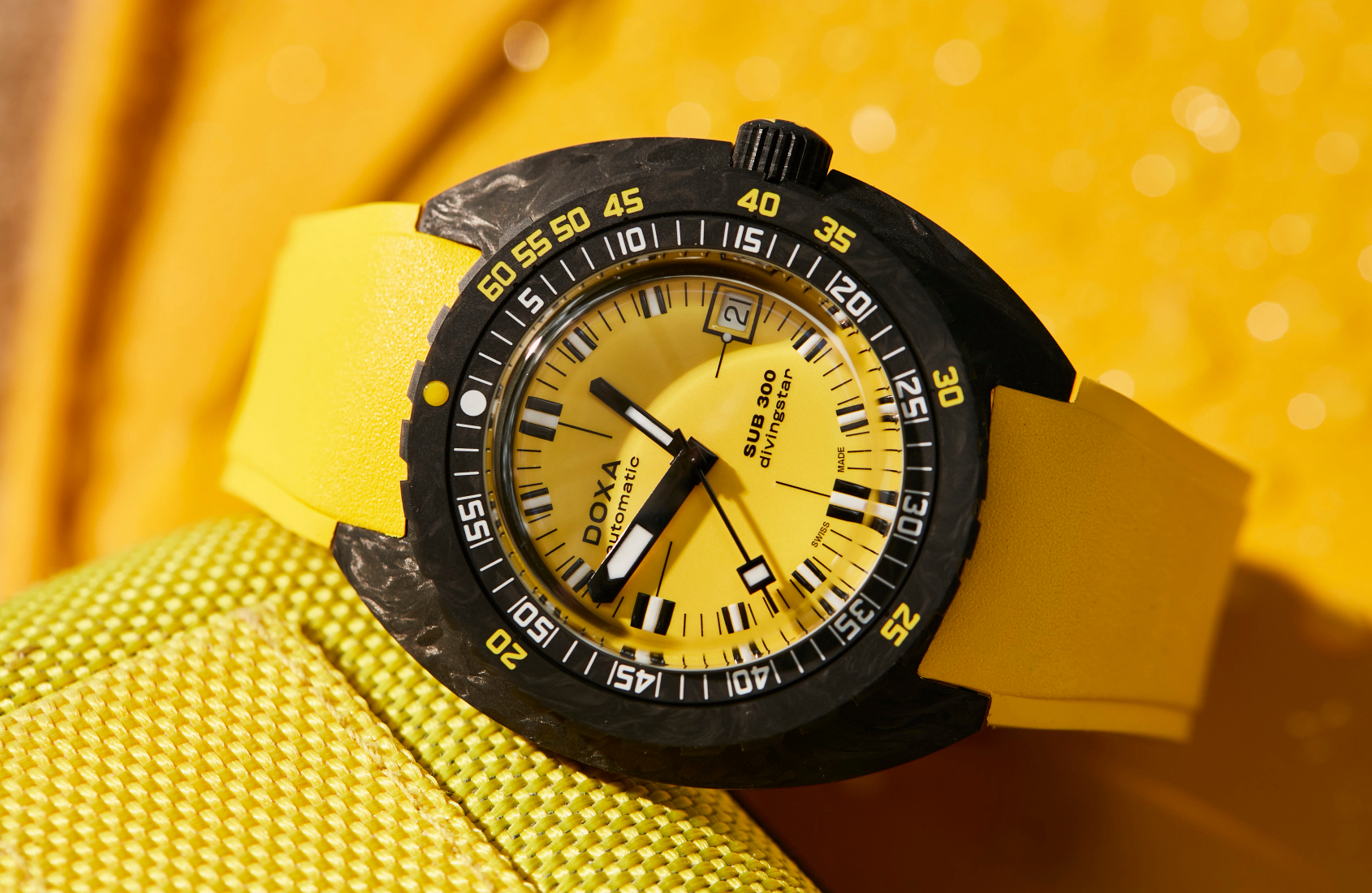 The new DOXA Sub 300 carbon collection was for me one of the most delightful surprises of the year. I was already enjoying their Sub 200 on a beads-of-rice bracelet, but the looks of their new carbon fibre, COSC-certified Sub 300 collection knocked me out. There is just something sense-tickling in the juxtaposition of that quirky '60s swoopy cushion case with the high-tech, F1 vibes of that carbon fibre case. And I'll tell you what, I'll happily wager a few dollars that you won't find the automatic COSC-ETA 2824-2 movement within a carbon-fibre case for this price anywhere else. Try one on, and you'll be surprised by the astounding lightness of the case and the fact that the 42.5mm diameter wears a lot smaller. The lightweight, smooth comfort of this killer bee of a diver's watch is pretty unique and tempting at $5,490
Rolex Oyster Perpetual 36mm
Let's just try to write this without me resorting to being a whingeing sod about the difficulty of obtaining a steel Rolex. Seriously, this is a celebration of the simple fact that Rolex astounded me, knocked me for six, simply B.L.E.W. me away when they launched the veritable candy feast of colours in the new Oyster Perpetual range. The searing canary yellow is available in a medium 41mm case and, for me, perfect 36mm size, making it a deeply intriguing proposition. Decades of Rolex's evolutionary design with every slight angle, bracelet link and groove honed to perfection make it insanely comfortable. But then, in a very non-Rolex move, it's enlivened with a shot of bright yellow, wake-me-up juice, powered by the brand new caliber 2232, incorporating the Chronergy escapement tech and a long 70 hour power reserve. In short, it's well worth $7,850 AUD if you marry your AD's sister (sorry).
Hublot Big Bang Unico Yellow Magic
Magic indeed. Unlike Rolex, Hublot presenting a mad yellow and black ceramic wrist tool wasn't a huge surprise, but I still love it, even after seeing plenty of Big Bang Unico versions through the years. It's also a testament to the material skills of Hublot. Coloured ceramic is famously hard to create, because the manufacturing of the material requires high temperatures that can burn the pigments. But Hublot managed to circumnavigate this in order to create, what the brand claim, is the first-ever bright yellow ceramic watch. It comes in their more manageable 42mm case size, but don't get me wrong, this is as bright as Shane put it: "like the summer sun lighting up a New York Taxi", and would have a huge presence even at 30mm. It's easy to dismiss Hublot as outré wrist art for show-pony types, but this brand has undeniable horological chops. Look closer and the HUB1280 calibre makes itself known through the openworked dial. This is a mechanical marvel, and with a 72 hour power reserve, is a serious piece of chronographical kit with great visibility through the yellow and black and a connoisseur's flyback chrono function. The split case design reveals a black centre, with a tough, functional crown and pusher set-up putting this firmly in the category of highly functional sports chronograph. Hublot have once again smashed it, while clad in a future-proof yellow racing suit. Priced at CHF 24,900
Ming x Massena LAB
While not necessarily yellow per se, I do find myself strangely drawn to the new Ming x Massena LAB, and I'm not even big on modern minimalism. There is a good reason the smooth, swoopy-lugged piece of honeycomb hotness made the Massena LAB site crash TWICE, such was the mad rush of orders streaming in, ending in a lottery (true story). On a smooth black suede strap with golden stitching, the alien-smooth look of a Ming is the result of a collaboration between watch industry and forum scion William Massena and the maverick flair of Ming Thein. The 17.09 is pure Ming, in a distinctive golden creamy hue with a perfect 38mm case. The swoopy slab sided sports watch is still dressy, but in a 2021 casual version of formality. The dial centre is a graphic honeycomb pattern, and bold skeletonised hands point to laser-etched numerals on the actual sapphire. On its Jean Rousseau Paris leather strap, the case houses a modified version of the Sellita SW330-2, the 300.M1, developed by Manufacturer Schwarz-Etienne. At $2,795 USD the lottery draw might have ended, but stay tuned to Ming and Massena and cross your fingers.
Yellow dial Custom Bulgari Octo Black designed by… me
If you feel like your ultimate yellow watch just hasn't been created, how about a bespoke watch? You might think this would be insanely expensive, but that isn't necessarily true. I had a go at the Bamford Watch Dept. Customizer – for a true build-your-own-dream-watch experience. True to George Bamford's roots as a top-tier customizer, here the bespoke world is your oyster. Based on a comprehensive range from LVMH, including TAG Heuer, Zenith and Bulgari, I lost hours playing around with what is a very contemporary twist on personalisation, and at £9000 created a personal view of what a yellow dial, all black O.G Bulgari Octo can look like. Tempting? Indeed. Have a go, it's fairly addictive.