The best brown dials of 2021 from a tasty cappuccino to dark chocolate
Thor Svaboe
I'm a coffee addict and I love chocolate. That's a dangerous combination, clearly visible in some of my stories written on a dizzying caffeine high with added sugar rush. Despite the Italians making the best espresso in the world (sorry Melbourne baristas), the Nordic region has the world's highest coffee intake and we're proud of it. My homeland of Norway is a close number two (behind Finland) in consumption per capita of 21.82 lbs per year. Yes, that'll mostly be me.
To find a watch dial with the delightful flavour of coffee or cocoa is only a natural progression, and this year we have seen some delights as diverse as Zenith and Seiko. From frothy cappuccino to dark chocolate delights, we bring you a world of warm colours and '70s style, in the best brown dials of 2021 so far.
Omega Seamaster 300 Bronze Gold
With a dark brown ceramic diver's insert framing a stunning dial, the new version of the Seamaster 300, turns the vintage volume up from demure to rich. And that's before you realize that the case itself is an intriguing material with a great medium 41mm size and a 48mm lug-to-lug. Admittedly, it's not slim at 14.4mm, but with the rich colour of the case why skimp on the metal?
This is the first bronze-gold alloy watch I've seen, and I'm rather enamored. What is bronze-gold exactly? Bronze with about 37.5% of 9K gold in the mix to give it a lighter, more lustrous appearance, while having the added bonus of not reacting with your skin. The cocoa brown of the black lacquered bronze dial (92% copper) is brushed to reveal the bronze tones and warm it up visually to go with the cream lume. At $17,675 AUD against the steel version, the rich aura is worth it, oozing a quiet but masterful confidence on the wrist. Under the caseback there's still the no-date caliber 8912, with a 60 hour power reserve and a Master Chronometer certification.
Seiko Presage SRPF043J1 Hojicha
OK, this might have been released on the cusp of 2020, but I'll include it anyway as the dark beige to brown fumè dial is a tasty joy to behold. The SRPF043 is a limited edition but with 7000 made it's still easy to find at retailers. And what a dial it is. I sincerely feel that the Presage range has taken a step up from dressy Seiko to a proper baby Grand Seiko image. The dial here with its impossibly deep lacquer, cream-like textured depth and rich gloss, is proof in the chocolate pudding, of Seiko's intent to move upmarket with the series. Inspired by a tea-based cocktail from the Star Bar in Tokyo, the gold numerals float ethereally on the dial, while katana-sharp sword hands ensure a balance of legibility with the ambience of a tasty dessert. With a price of $595 AUD, the 38.5mm case on a hand-stitched soft leather strap will sit comfortably under any cuff or jumper, and the solid 4R35 calibre is plenty accurate for a great daily wearer.
Zenith A385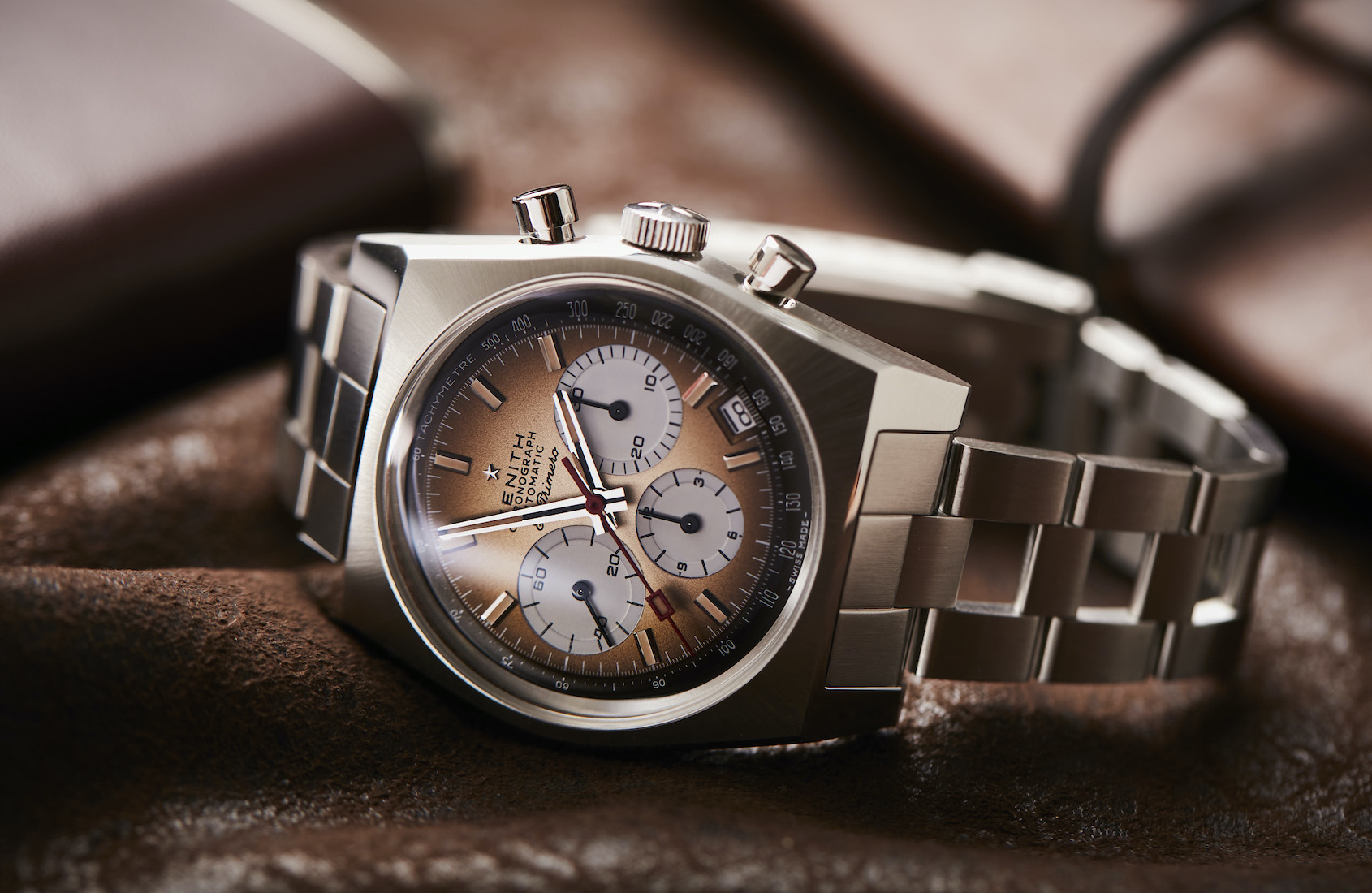 I love my cappucino, and while this dial might only be dark brown on the edges of its fumè dial, the rich tones speak a strong language of '70s glamour (singing, even, with a "bom chicka wow wow" guitar in the background). I was quietly celebrating the reissue of the angular Zenith Chronomaster A384 a couple of years ago, with great respect for Zenith's decision to augment the original sweet-spot 37mm case size. And it has been a resounding success, with the A385 "Cappuccino" one of my favourites.
The dial is framed by a dark brown tachymetre track, the delicious cappuccino flavour gradually lightening to a lustrous gold in the centre, a dial lover's delight. One bright pop in the classic El Primero square lollipop hand is as delightful as ever, while the dial colour is complemented by cream lume on indexes and sword hands.
This version of the El Primero series is marked by a bold, angular wedge of a case, steep at the lugs and vibrant in its radial-brushed top, a brilliant frame for the bezel-less dial. White registers ensure legibility in this 37mm chunk of sports chronograph, and I would buy it on the pitch-perfect, ladder-style steel bracelet for that airy vintage feeling. Ultimately,  $11,400 AUD isn't a lot for bona fide time travel, especially when powered by the legendary 36,000vph El Primero movement.
Montblanc Heritage Perpetual Calendar Limited Edition
Sharpening their designer pencils (or would that be filling up their own fountain pens?) for Watches and Wonders this year, Montblanc keeps underlining their horological focus, though I was sold a fair few years ago with their Geosphere. This time, the classic logo under an elegant gold, lume-filled 12 adorns a caramel-chocolate degradè dial, proving a warm match to the rose gold case. There's no denying that this takes the Montblanc Heritage look to a new level, with a Perpetual Calendar powered by the in-house MB 29.22 calibre, a 28,800vph movement with a decent 48 hours of power reserve. The MB 29.22 is made exclusively for Montblanc at Val Fleurier, and unlike normal lever movements, relies on wheels and cams, an advantage for setting the calendar.
The dial is as busy as it is imbued with soft satin ambience, giving it a rich feel with the gold details, while remaining legible. A classic sharp outer minute track frames a textured hour ring, while the degradè centre of the dial has a soft sun-ray effect. With a GMT function on top of the tempting QP functionality, this is Montblanc at its absolute best, with the warm tones underlined by an alligator strap with a rose gold buckle. Available this month from Montblanc for € 24,900
Kurono Chronograph 2
The connoisseur's microbrand with a market-value conscience, Kurono is as intrinsically Japanese as its offerings are strong. With a tier system of orders, Kurono Tokyo rewards its loyal customers, while also keeping a firm eye on the secondary market, a laudable move in today's high-temperature collecting sphere.
In the Kurono Chronograph 2, Hajime Asaoka's design language is once again at the core of what is a charmingly full mid-century dial design. The Reiwa cocoa brown centre plays a stylish game with the copper tachymetre scale intersecting the large twin registers. Meanwhile another circle of sharp copper marks a black hour ring dotted with polished buttons for indexes, then another ring of cocoa brown offers silver print for minutes and chrono seconds. On a dark brown textured strap, the polished small nugget of 38mm simply displays all we want in a vintage chronograph, with the bright polished details clearly denoting the Art Deco magic wand of Hajime Asaoka. It's well worthy of its GPGH nomination at a budget-friendly $3,993USD+tax.