THE IMMORTALS – The A. Lange & Söhne Zeitwerk is a truly high-end digital watch
D.C. Hannay
Editor's note: The Immortals is a new series that examines a watch that we believe deserves recognition as a bona fide modern classic. You'll already be familiar with most of the watches, we imagine. But DC will delve a bit deeper into these timepieces to explain why they've quickly established themselves in the horological canon. Today, it's the A. Lange & Söhne Zeitwerk.
When I think of digital watches, my mind immediately goes to a display carousel stocked with black plastic quartz watches priced at $9.99 at a discount superstore. What I don't think of is the upper echelons of high horology, where the crafting of mechanical masterpieces is akin to religion. Yet here is where the breathtaking Zeitwerk from Germany's A. Lange & Söhne resides, a 'digital' watch with prices that start around $89K. But this is no G-Shock (sorry Casio, you know I love you!). The Zeitwerk is technically a digital watch, in that the time is displayed via large Arabic numerals, but that's where any similarity ends.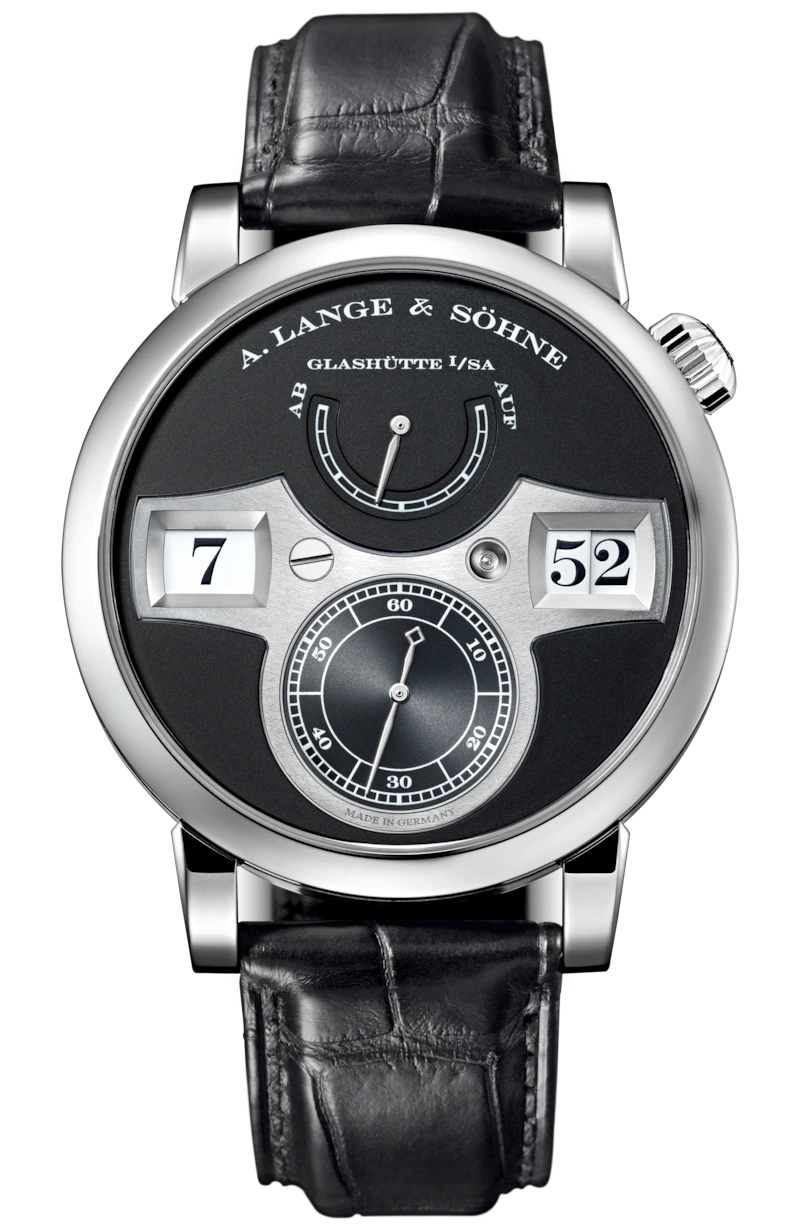 The Zeitwerk is what's called a jumping movement watch, whereas the numerals are printed on discs that reside behind the dial, advancing to show the current time through cutouts. And it's not a new idea. In fact, it was patented by Austrian engineer Josef Pallweber all the way back in 1887. Many fine watches (including IWC and F.P. Journe) have used the principles of the jumping hour/minute display since, although it's easy to see why the jumping mechanical movement fell out of fashion with the advent of electronic digital watches. But although their popularity may have waned, the jumping movement never went away, and the wizards at A. Lange & Söhne brought it back as a technological tour-de-force with the introduction of the Zeitwerk in 2009.
The Zeitwerk's time display actually riffs on the original Lange 1's date windows, big, bold, and supremely legible. The hours on the left and minutes on the right are visually connected by way of a bridge machined from German silver. Such outsized digits were unheard of for this type of movement because of space constraints, until Lange came up with the idea of three discs for the movement instead of two, one for the hours, and two separate ones to display the first and second digits of the minutes. The easiest way to explain it: By reducing the digits to six for the first place and ten for the second, they cracked the code for making the discs smaller while making the numerals bigger. That's some innovative German engineering, and Lange was the first to do it.
The Zeitwerk's movement also uses a constant-force escapement for precision during the jump, resulting in an exacting changeover of the numerals.
The other complications powered by this manually-wound movement include running seconds at 6, and a power reserve display above at 12. As you move through the rest of the Zeitwerk line, additional complications include a peripheral frosted glass date ring that highlights the current day in red, a striking time, a decimal strike and a minute repeater. It's to Lange's credit that all these increasing levels of complexity remain superbly integrated to the stunning dial designs, a symphony of symmetry. And of course, Lange's dials are a bewitching cocktail of surfaces between the hands, indices, and the precisely beveled cutouts of the numeral windows, all rendered in a variety of precious metals.
Heady stuff to be sure, resulting in a dial with a one-of-a-kind look, but the rest of the Zeitwerk is equally jaw-dropping. There's no other way to put it: The movements are just stunning to look at. Precious metals, hand-engraving, bevelling, engine turning, striping, heat-blued screws…the list goes on. That such a precise miniature machine can also be unapologetically gorgeous is a wonderful thing.
Customers can order their Zeitwerks in a number of precious metals, including cases of pink or white gold, platinum, and Lange's own Honeygold. And you will definitely be noticed, as the standard Zeitwerk case checks in at nearly 42mm in diameter, with most of it dial, and still others stretch out to more than 44mm. But you didn't buy a Zeitwerk because you're a wallflower, now did you? If you're a fan of "digital" watch displays that are more than just a bit extra, the Zeitwerk brings a very niche, archaic, and unique style of movement screaming into the 21st century world of unmistakably ultra-luxe timepieces.