The 8 best Hublot skeletons to come out of the cupboard
Fergus Nash
Whether you're a lover or a hater, nobody makes watches quite like Hublot. They are pioneers in materials and styles, which is what makes them such an attractive beacon to some of the world's greatest modern athletes, artists, musicians, chefs and more. One of their most unique qualities is pride in showing off their innermost workings through dial skeletonisation, despite often having industrial and minimalistic finishing. Here are 8 of the best Hublot skeleton watches they've made so far.
Hublot Classic Fusion Tourbillon Skeleton All Black
A sinewy web of dark struts connect subdials and the housing for the mesmerising tourbillon in this Hublot Classic Fusion Tourbillon Skeleton All Black, resting in the hulking ceramic case which makes this watch feel like a futuristic cyborg relic. The differing tones of shadow and contrast between the brushed finishes and polished gloss actually help this murdered-out colour scheme remain intriguing to the eye, and surprisingly versatile, with some of Hublot's best openwork displays.
Hublot Big Bang Tourbillon Automatic Orange Sapphire
It's strange to be writing about the Hublot Orange Sapphire without focusing on its translucent case that looks a bit like a Jolly Rancher, but the Big Bang Tourbillon Automatic also happens to showcase some of Hublot's best skeleton work. The organised chaos that is a mechanical movement has been arranged shockingly neatly, with plenty of negative space allowing you to see through the watch just like the case. The tourbillon cage is symmetrically placed with the automatic micro-rotor, with a train of gears moving horizontally between them.
Hublot Classic Fusion Ultra-Thin Skeleton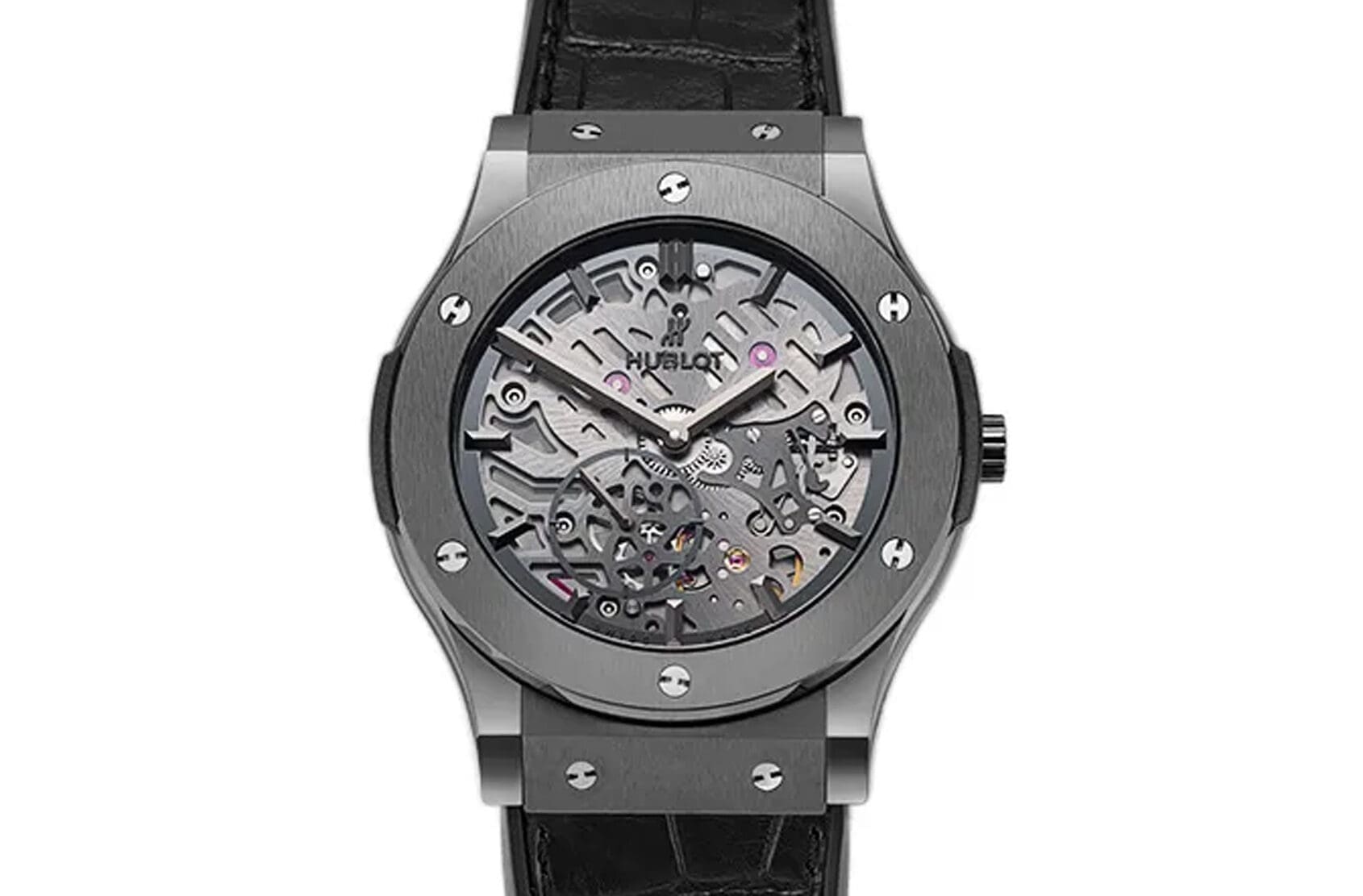 Some people think that once you've seen one skeleton dial then you've seen them all, but Hublot thoroughly proves that theory wrong. It's true that some of the more traditional styles can look similar, but the Hublot Classic Fusion Ultra-Thin Skeleton is definitely unique. The watch still has a dial, which even has a beautiful sunburst grey finish on it. But, sections have been hacked away to reveal some of the inner workings and even integrating gears and bearings into the dial.
Hublot Spirit of Big Bang Titanium Blue Skeleton
You'd be forgiven for thinking that this Hublot Spirit of Big Bang didn't have a skeleton dial at first glance, thanks to a generous coating of blue surfaces on many of the movement's exposed components. The different finishes including brushed and matte also bring a slightly different hue of navy, creating a wash of contrasts and complex layering which the hands and markers can rise out of in their grey brightness.
Hublot Black'n'Red Skeleton Tourbillon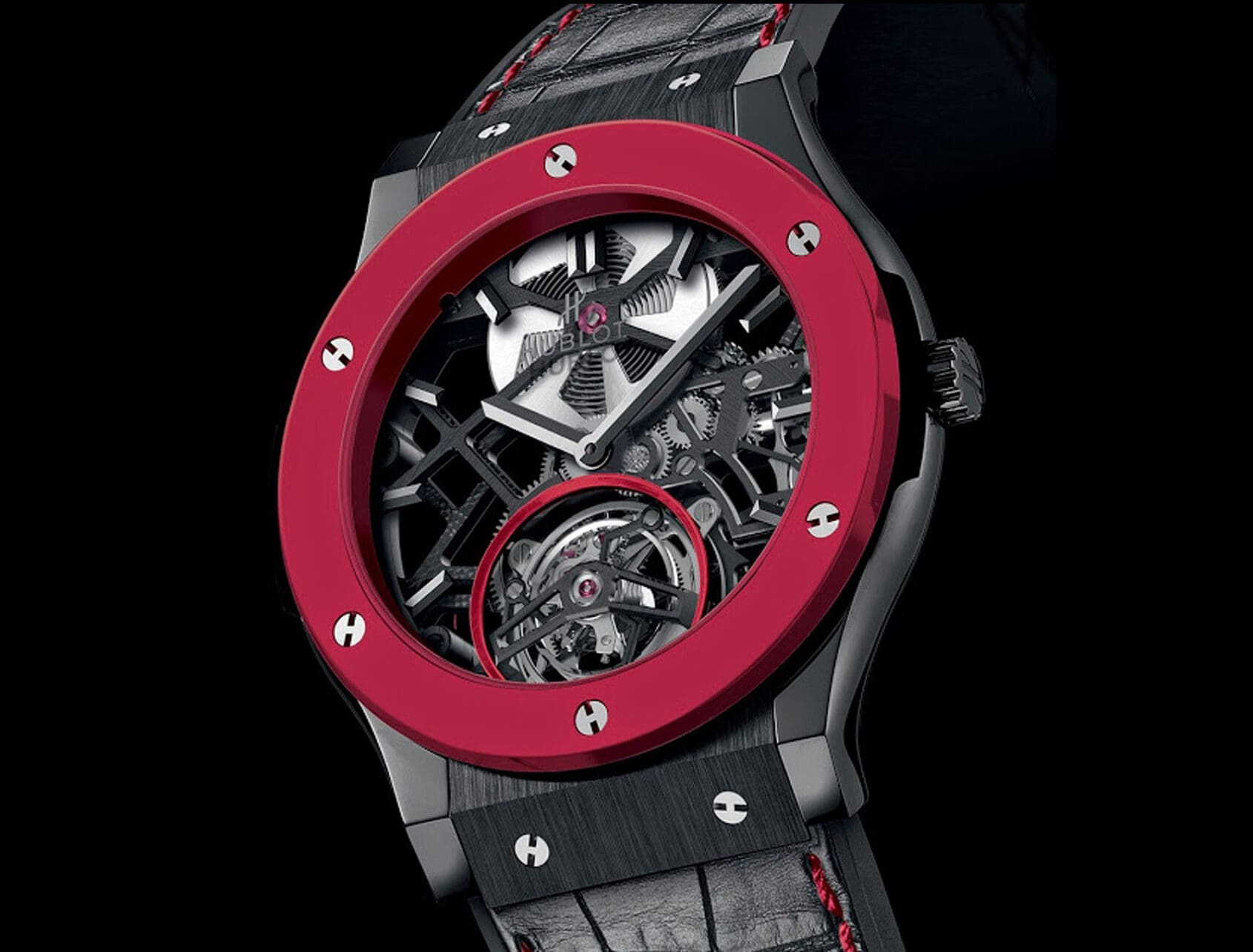 Created for the Only Watch charity auction in 2013, the aptly named Hublot Black'n'Red Skeleton Tourbillon was the first watch ever to use a red ceramic bezel. This older version of the Classic Fusion Tourbillon Skeleton arranges its two main pieces in vertical symmetry, with the tourbillon at 6 o'clock and the skeletonised mainspring barrel at 12. The blackened struts stretch across the dial, implying a delicate balance of technical perfection.
Hublot Big Bang Integral Titanium
The Big Bang Integral is a modern classic for Hublot, and this version in titanium is really a distilled example of Hublot's sports watch expertise. The Unico 2 flyback chronograph movement refutes all claims from those who say Hublot isn't a true watchmaker, and here it's displayed in quite a bare bones way. The minimal matte finishing goes to show Hublot's pride, as they don't feel the need to distract with decoration.
Hublot Big Bang Unico King Gold Ceramic
This watch may share a movement with the Big Bang Integral, but the effect is wildly different when used in the Unico King Gold Ceramic. With aggressive military stencil numerals on the even numbers and black and gold contrasting case elements, this watch is an absolute luxury thug. The skeleton dial adds a lot of depth which pulls you in, but the definition of those King Gold hands and subdials keeps everything planted and legible.
Hublot Spirit of Big Bang Rainbow 42mm
Just in case the 39mm version with a rainbow-paved dial was a little bit too much colour for you, the 42mm reference of the Hublot Spirit of Big Bang Rainbow uses a blacked-out HUB4700 with some contrasting silver components to ground the sheer brilliance of the case and strap. It strikes a balance between street-level cool and gaudy that few can achieve, and is guaranteed to make both people's eyes and mouths water.