VIDEO: Andrew, Frank, Wei & RJ pick the 4 best watches under $10k, including IWC, Oris and 'rapper's weed'
Andrew McUtchen
Recently, myself, Frank from Monochrome, Wei from Revolution and RJ from Fratello got together for a Zoom call that had no loftier intention than to kill our boredom for a couple of hours. The idea was to talk about the winners and losers from Watches & Wonders, the same way we've done in the media lounge at countless watch fairs in the past.
This was the first order of business, our favourite watches under $10k, and if you watch I think you'll agree, the group got off to a flier. If, by flier, you mean inappropriateness. Consider it a window into our world, a glance behind the scenes at the nonsense that goes on.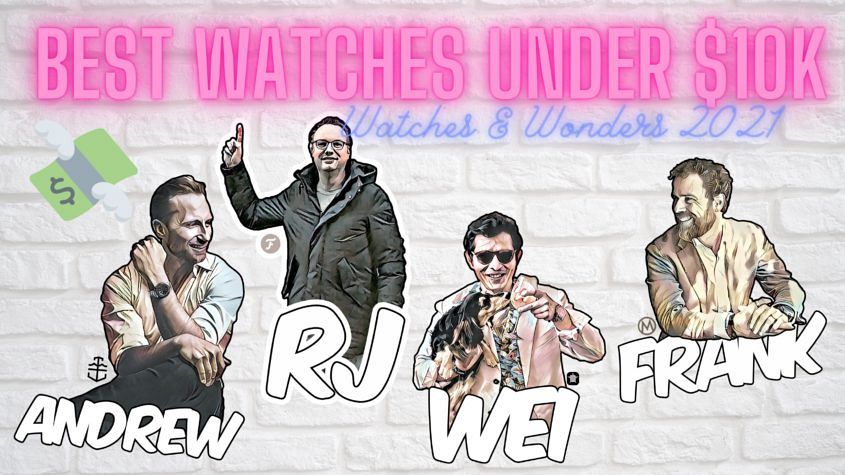 How can you get involved and what can you win?
The deal is, each category host has to come up with a prize to encourage involvement. If you watch the videos – which will be posted across our YouTube channels – and comment on your pick from the four options, you go in the running to win the prize. The prizes vary dramatically. From a Cuban cigar (God help Wei getting this out to the winner), to two pretty fine watch carry options from us and Frank at Monochrome, to a Limited Edition Speedmaster Fountain Pen from guess who. It's one prize per category, not per channel. So we'll be scouring all the comments for the best, the funniest, the most sincere. We'll also be doing a bunch of polls on social media to see which pick is getting the most traction. No single watch will be declared a winner – covering a watch in glory is not the point at this stage. 
What are the categories, when are they running and who is hosting what?
Friday 7th May, 10pm AEDT, 2pm CET, 8am NYC – Frank Geelen from Monochrome hosts 'Dark Horse' – which is the hidden gem award, for the most surprising killer watch
Saturday 8th May, 10pm AEDT, 2pm CET, 8am NYC – Wei Koh from Revolution hosts 'Batshit Crazy' – and quickly discovers that everyone interprets this in a different way!
Sunday 9th May, 10pm AEDT, 2pm CET, 8am NYC – Robert-Jan Broer of Fratello hosts 'Future Forward' – celebrating watches that are doing something genuinely innovative