Editor's note: OK, yes, it seems as though every time you scroll through Instagram these days, it's highly probable that your feed will be inundated with myriad "rainbow" bejewelled-bezel timepieces.
And whether you're for or against them, there's no denying it – these bedazzled technicolour flex watches are firmly solidified in the zeitgeist of current watch culture.
It's not just the ubiquitous (if you can call it that) Rolex Daytona Ref. 116595 RBOW either, with several watchmakers jumping on the figurative "coloured ice drop" bandwagon.
Hublot, in particular, has been a strong proponent for these types of timepieces, with the Swiss marque producing several vibrant iterations across their various collections.
One such watch that really stands out in Hublot's catalogue is this, the Hublot Big Bang Tourbillon Power Reserve 5 Days Sapphire Rainbow.
Our man, Felix Scholz, was lucky enough to go hands-on with the near quarter-of-a-million dollar watch late last year, and these were his initial impressions:
There are a lot of things I love about Hublot, and I've got to say, this watch manages to cram pretty much all of them (barring ceramic) into one awesome, 45mm package. It's the Big Bang Tourbillon Power Reserve 5 Days Sapphire Rainbow, and it does pretty much what it says on the tin.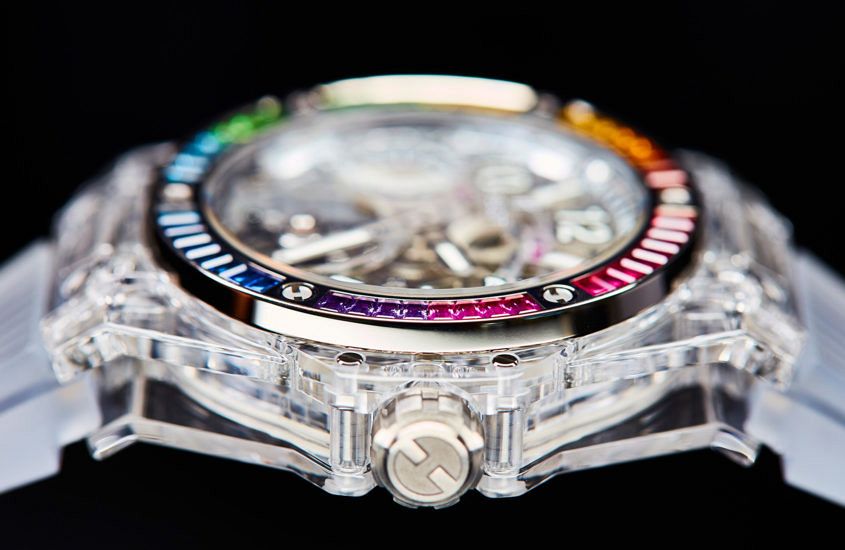 Let's start with the case. Hublot has been playing with (and seriously democratising) ultra-hard, ultra-slick and ultra-cool synthetic sapphire cases since 2016, and it's become something of a staple in their higher-end limited editions. For all its transparency, this 45mm wide and 14.25mm thick case has stacks of presence, providing an almost unbearably crisp, sharp silhouette. The incredible wrist presence provides an amazing juxtaposition with the transparent nature of the material. But in a twist that's exclusive to the Australian and Japanese markets, Hublot has brought the rainbow heat to the equation, with a bezel stunningly set with 48 baguette-cut stones, arranged in a vivid, cascading rainbow.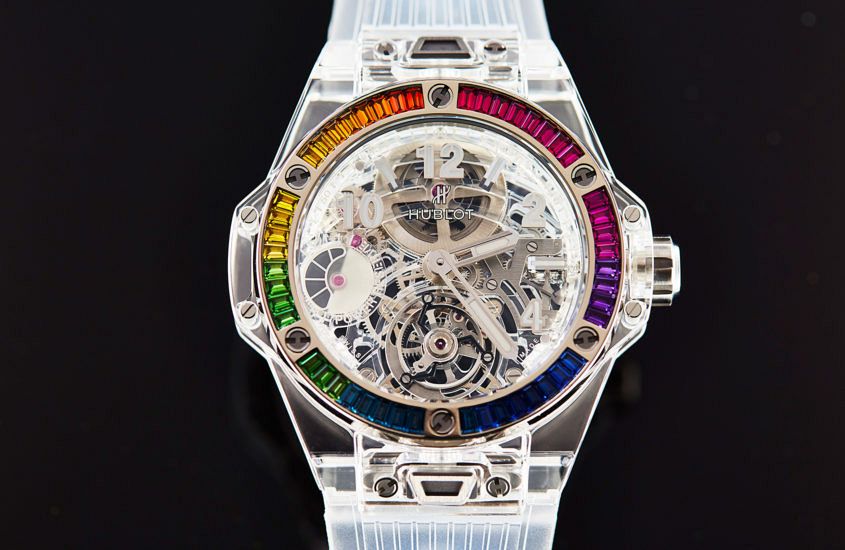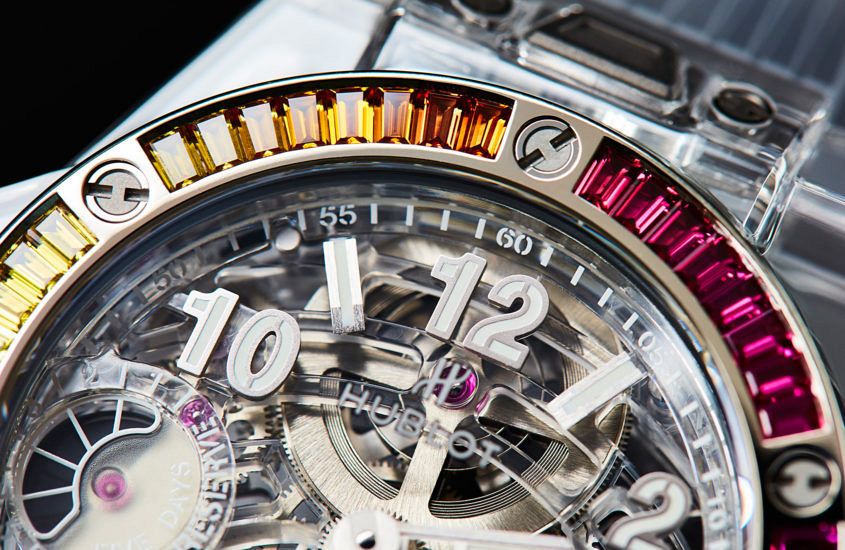 Ordinarily, the sapphire and rainbow combination would have had me swooning, but the movement takes it to the next level. It's not a chronograph, but it is a tourbillon — a manually wound one with a hefty five days of power reserve. I really love this side of Hublot's movement manufacture: it's big and brawny, perfectly in sync with the look of the watch (but, again, pleasingly in contrast to the seemingly delicate case design). And while the technical details of the movement are great, I love the look. To ensure maximum transparency, Hublot has used clear acrylic bridges for the HUB6016 movement, to stunning effect.
For me there's a feeling of joy around this watch. Holding it, I find it impossible not to smile, and I can only imagine that this feeling is amplified wearing it on your wrist all day, every day. I mean, what's not to like?
Hublot Big Bang Tourbillon Power Reserve 5 Days Sapphire Rainbow Australian pricing
Hublot Big Bang Tourbillon Power Reserve 5 Days Sapphire Rainbow, $223,000