WA-HOO! TAG Heuer teams up with Nintendo to present the TAG Heuer Connected x Super Mario Limited Edition
Zach Blass
At Time+Tide we pride ourselves on tackling how watches relate to pop culture. Sure, die-hard enthusiasts get turned on by listed specifications – calibers, diameters, lug widths and lug-to-lug lengths. But to the broader marketplace it takes something a bit different to catch the eye. The common thread between any type of watch buyer, however, is that novelty needs to stir up an emotional connection – something that ties the watch to something deeper in their lives. The Nintendo character Super Mario became a familiar presence in many of our lives as young gamers, forging a bond that carries right through even to adulthood. Today, TAG Heuer is drawing the connection between gamer and watch wearer, with the TAG Heuer Connected x Super Mario Limited Edition watch – a limited edition of 2000 pieces.
The TAG Heuer Connected x Super Mario Limited Edition follows the familiar format of previous Connected watches from the LVMH brand, but leverages an all-new aesthetic – both within the software and hardware of the watch. The 50 metre water-resistant steel case is 45mm in diameter and 13.5mm thick, sporty dimensions that present a robust smartwatch with an engaging large and legible screen.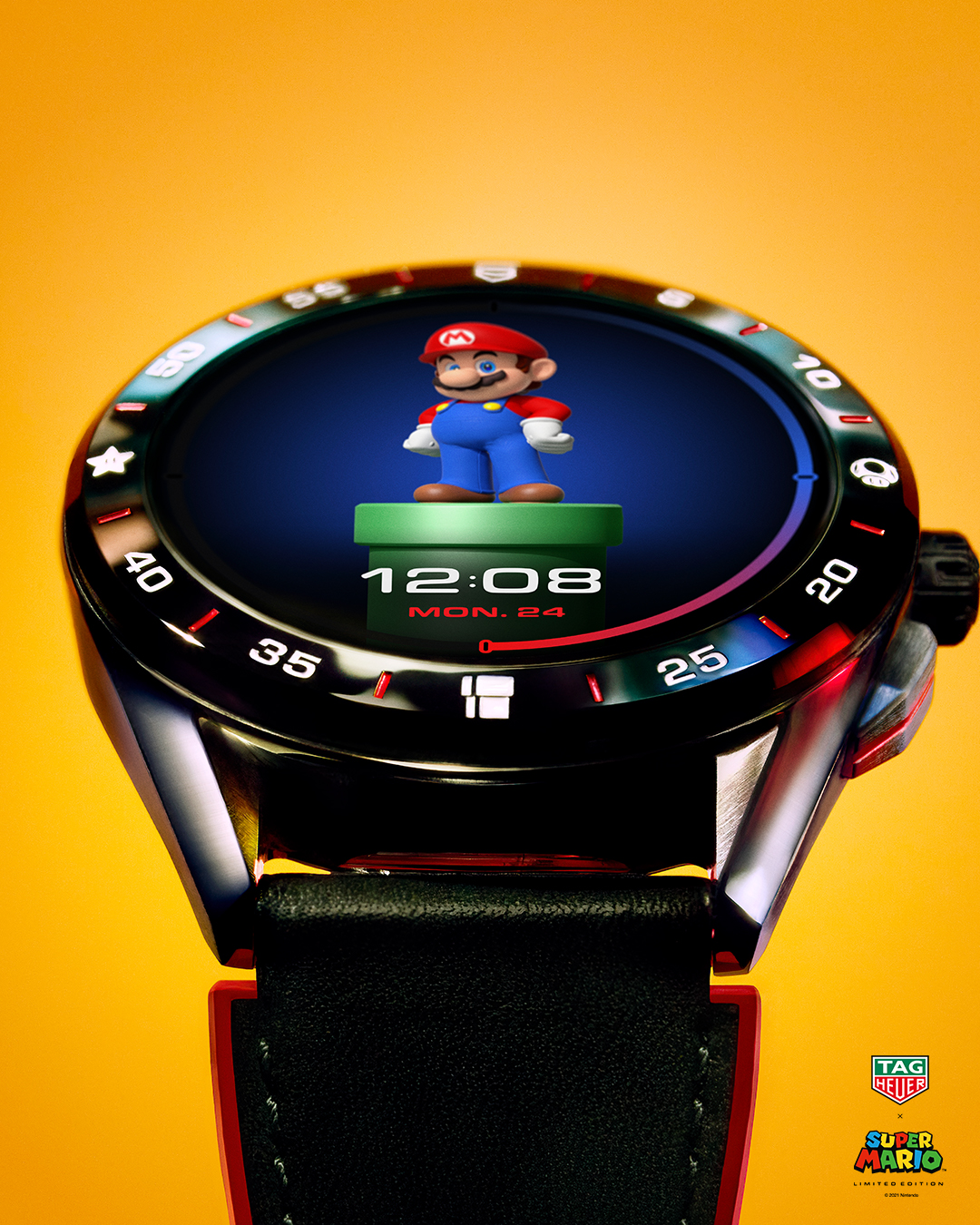 Mixed finishes create a greater sense of luxury, with contrasting brushed and mirror polished surfaces to create intriguing light play. There are exclusive and subtle hints of the Super Mario theme that shine throughout – the bezel, for example, presents motifs of Toad, green pipe, and a star in place of the 15, 30, and 45 numerals. You will also notice the Mario cap red lacquer accents found on the bezel graduation, push buttons, and crown engraved with a Mario "M".
The two included straps, exclusive to the watch, are also subtle nods to Super Mario. The first is a black leather on Super Mario red rubber that can tone down the look with a hint of playfulness for more formal or smart casual moments. If you really want to catch the eye, and further drive home the Super Mario look, TAG Heuer has also included a perforated rubber strap entirely in Super Mario red. Each are secured by a steel folding deployant clasp engraved with a Super Mario "M" in place of the standard TAG logo.
In terms of the software there are digital exclusives for buyers to enjoy. For this limited edition, TAG Heuer has revisited and re-interpreted four dials to include special details associated with Super Mario. According to TAG Heuer: "The Timekeeping watch face was reskinned using the retro elements from the 1985 version of Super Mario Bros. with Mario, all in pixels. Also, two versions of the Heuer 02 watch face were created exclusively for this edition: a fun rendition using Super Mario's iconic red and blue colours, and a more classic one with subtle touches of Super Mario's red cap. Lastly, the Orbital watch face had its neural network replaced by Super Mario's iconic elements rotating in a beautiful and mesmerizing movement."
By no means should it make or break your purchase decision, but it should be noted for existing TAG Heuer Connected watch owners that you may also be able to get in on the Super Mario fun as well. Currently TAG Heuer is considering making the interactive watch face available on other editions of TAG Heuer Connected at a later stage. But the experience is largely exclusive to the limited edition, especially when it comes to the interface of the watch.
As many of us know, smartwatches have largely increased the gamification of fitness and activity – creating trackable goals for the wearer to strive to complete each day/week. Now the engagement between the watch, the wearer, and their health has never been more fun, incorporating Super Mario into the process. Those familiar with the Super Mario character will know he is very active in his games, acrobatically jumping to reach the next stage, serving up aces on the tennis court, hoping for a hole-in-one on the golf course, and speeding past fellow characters in kart racing. It is a fitting pairing for a Connected smartwatch, Super Mario serving as a playful ambassador for health and fitness.
TAG Heuer explains, regarding the exclusive interface experience, "Mario greets you with a welcoming salute in the morning and as the day progresses and you rack up your step count, you unlock rewards at each stage of your daily target – 25%, 50%, 75% and 100% – a different animation plays out on the dial. These take the form of Super Mario's famous objects: at 3 o'clock the Super Mushroom that makes Mario grow, at 6 o'clock the Pipe that allows him to travel fast and at 9 o'clock the Super Star that makes him invincible lights up! And when you reach 100% of your daily step count target, Mario climbs the Goal Pole, another iconic feature of the video game. The idea is inspired by the famous "easter egg" concept that all gamers know very well, which consists of hiding features and surprises as a bonus in video games."
Whether a fan of luxury watches or video games, the TAG Heuer Connected x Super Mario Limited Edition is a really neat and exclusive experience that has great potential to enrich your daily life – all with a welcome smile.
TAG Heuer Connected x Super Mario Limited Edition pricing and availability:
The TAG Heuer Connected x Super Mario Limited Edition is presented in a packaging designed exclusively for this collaboration. It also comes with a travel case in Super Mario red. This edition limited to 2,000 watches will be available only in selected TAG Heuer boutiques and at www.tagheuer.com in some regions, from 15th July 2021. Price: $3,100 AUD
Full Specifications:
TAG Heuer Connected x Super Mario Limited Edition Reference SBG8A13.BT6247
Digital content:
TAG Heuer Connected watchfaces
TAG Heuer x Super Mario animated watchface*
TAG Heuer x Super Mario interface and reskins watchfaces (exclusive to the Limited Edition)
*The interactive watchface will be pre-installed on the TAG Heuer Connected Super Mario Limited Edition, but TAG Heuer is also considering making it available on other editions of TAG Heuer Connected at a later stage
Physical characteristics:
Steel case, 45 mm diameter, 13.5 mm thickness
Water-resistant to 5 ATM
The screw-down caseback bears the special inscription "TAG Heuer x Super Mario Limited Edition" Super Mario red lacquer applied to the bezel graduations Red lacquered push buttons M symbol of Mario engraved on the crown in red lacquer
Strap: Quick-change system Black leather strap on red rubber Additional perforated rubber strap in Super Mario red. Steel folding clasp engraved with M symbol of Mario.
Battery life:
One full day under normal usage conditions (20 hours with 1 hour of activity), 6 hours for sports use (GPS, heart rate and music)
Charge time:
Full charge in 1 hour 30 minutes at temperatures of between 15 C and 45 C
Sensors:
Heart rate monitor, compass, accelerometer, metrics and recorded activities
Data accuracy:
The data and values generated or calculated by the TAG Heuer Connected smartwatch when monitoring activities are designed to provide a precise estimate of the metrics and activities recorded. However, these data and values cannot always be 100% accurate and must not be used for purposes requiring 100% accuracy. The TAG Heuer Connected smartwatch features a heart rate monitor, but this is not a medical device and is not designed to provide medical diagnosis services or medical advice. It must not be used to diagnose, treat, cure or prevent any illness or disease.