If we're honest with ourselves, luxury sports watches aren't actually designed to be used during sport. Sure, they are more robust than your typical dress watch, but the most adventurous situation they are designed to find themselves in might be diving into glittering Capri waters from the deck of a sailboat, maybe suffering a small knock to the case as you haul yourself out of the warm sapphire waters. The TAG Heuer Connected Golf Edition is different. It is a luxury sports watch that is designed to be used while playing sport. And not simply as a passenger during an activity, but to play an important role in quantifying your activity, and even improving your performance. The source of this possible improvement to performance is two-fold, and shines a light on the consideration that has gone into making the watch so much more than a notification device on your wrist.
Before getting into the ways it can impact performance, let's take stock of the watch itself. The TAG Heuer Connected was first released five years ago, with the most recent expression of it released this week in the generation three, available in a range of different colours. It was only a year ago that the first TAG Heuer Connected Golf Edition was released, a product that showed the brand's interest in the sport and paved the way for the most recent version of the watch we are looking at today.
The 45mm titanium case walks the tightrope of a comfortable wrist presence and having a screen large enough to be genuinely functional, and nails the balance as something that doesn't feel dissimilar from a mechanical watch while featuring an always-on 1.39-inch OLED touchscreen. The TAG Heuer Connected Golf Edition arrives in a considered package wrapped in the same soft leather of a golf glove, containing three Titleist X TAG Heuer golf balls, tees and a golf divot tool that features the same black PVD coating as the watch. Strapping the watch to your wrist is a comfortable rubber sports strap with a golf ball dimple pattern, and is secured with a titanium folding clasp that is easy to interact with and adjust. Interacting with the watch is similarly intuitive, with two chrono-pusher style buttons and a functional crown, as well as the touchscreen that can be operated while wearing a golf glove.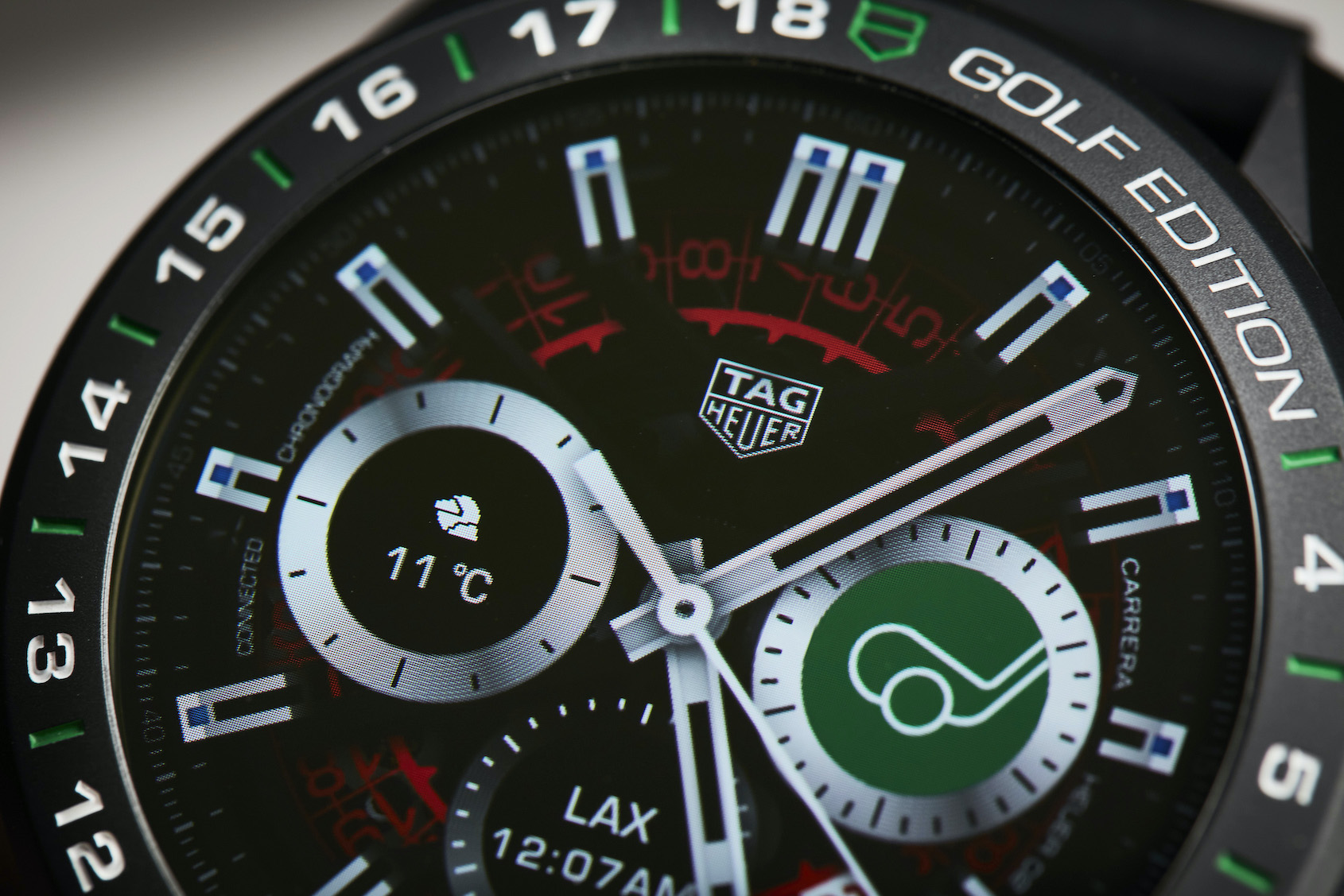 It is these details in the design of the hardware of the watch that make the TAG Heuer Connected Golf Edition simple enough to use that it does not distract or interrupt play while out on the green, a factor that is extremely important in a game where mental focus is such a large component. Managing concentration and stress levels are critical pieces of equipment in the toolkit of a good golfer, and are areas that TAG Heuer has sought to assist in with features such as the Breathe app.
In an interview with sports psychologist and golf coach Jamie Glazier, he mentioned the Breathe app as a useful tool to control stress levels before playing an important game of golf. While this may sound silly, in many sports where the physicality of athletes is relatively similar, having a mental edge makes a significant difference in how well one athlete might perform compared to another. The optimum relationship between stress levels and performance is often described as taking an inverted U shape on a graph, where being too relaxed or too stressed is likely to result in poor performance, and good performance is found in a combination of calm and concentration. As many amateur and professional athletes experience high levels of stress before competing, the Breathe app, alongside heart rate tracking, can be used as a tool to reduce stress levels before teeing off, potentially resulting in an improved performance.
As well as the psychological tool that the watch offers, the Golf app that sits at the core of its functionality is an excellent instrument for collecting data on your golf game. As teachers in the classroom and coaches on the field will tell you, feedback is one of the most important parts of learning and improving in any area. Without the ability to understand and analyse what has been done while attempting a task, it is impossible to know what areas there are for improvement and how to adjust behaviour to ensure the next attempt sees this change for the better. While it would be nice having a coach follow you around the course every time you played golf, it isn't exactly practical. But having key pieces of information about your performance to reflect on yourself, or with a coach, is another practical benefit of the TAG Heuer Connected Golf Edition.
As you make your way around the course, you have the option to record not only the score for each hole, but the clubs you used, the length of each shot, and the number of putts you take on each green. If you miss the green on the approach, you can record if you missed it to the left or right, as well as the weather while playing that day. All of this information can be analysed to improve your performance, to see if you pull your shots in one direction consistently, how effective your club selection is, and how your game changes in different weather conditions. Once these areas for improvement are identified, you can take specific steps to address them, rather than feeling the frustration of plateauing and not knowing why.
Thanks to the suite of golf-specific tools that the TAG Heuer Connected Golf Edition has on offer, it is clear that it was designed with the intent to improve almost anyone's golf game. If it's nerves before your local weekend tournament or you can't work out why you always miss the green to the left, this the watch that might offer a solution.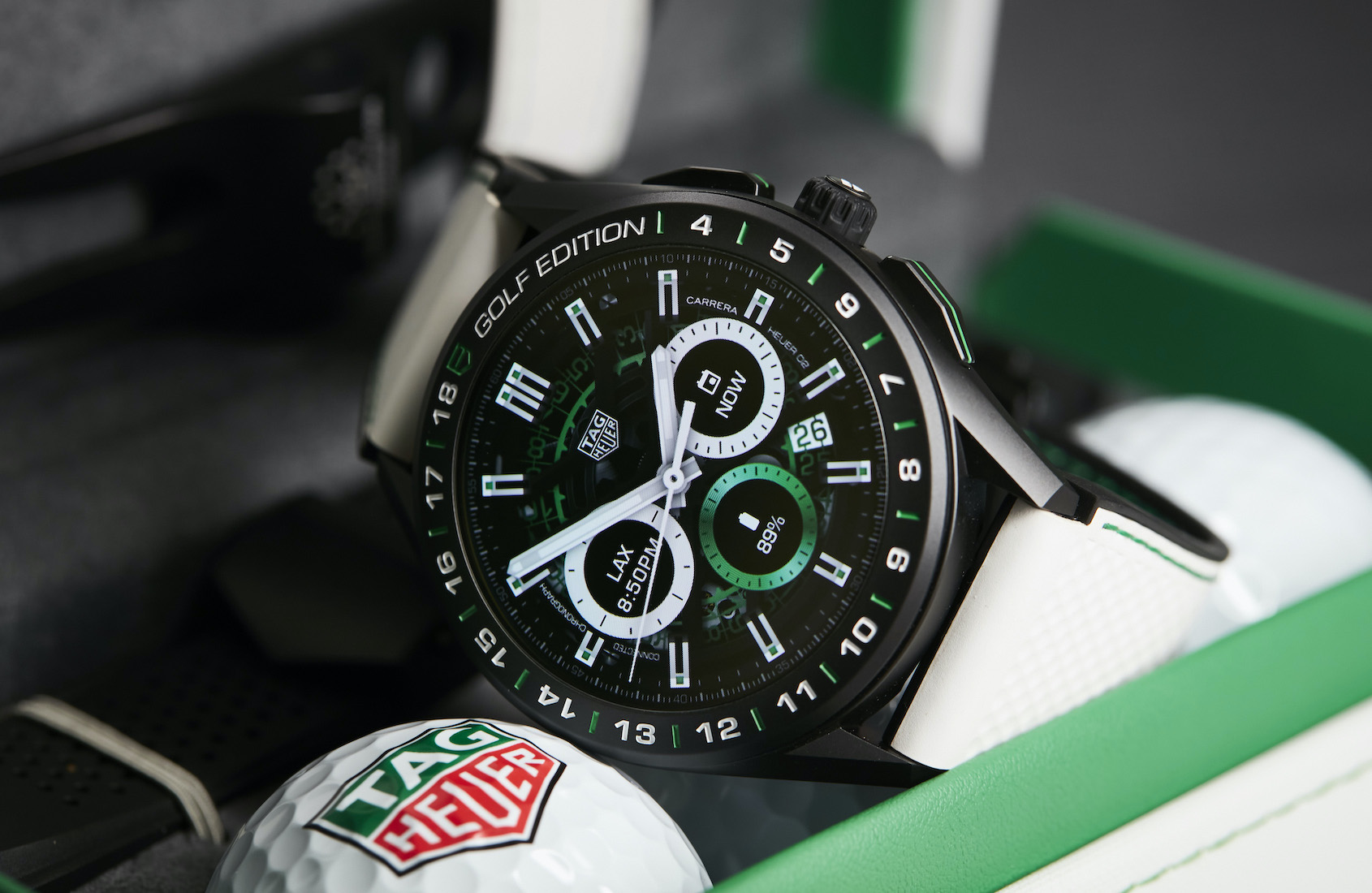 TAG Heuer Connected Golf Edition pricing and availability:
The TAG Heuer Connected Golf Edition is AUD$3700 and is available at TAG Heuer boutiques and the online store.
Made in partnership with TAG Heuer. However, the opinions expressed in this article are our own in accordance with our Editorial Policy.