The dark delights of the black ceramic TAG Heuer Carrera Heuer 01
Time+Tide
Editor's note: I'm a big fan of the Heuer 01 from TAG Heuer. It's a cool, modern watch that looks great in a whole bunch of executions. And, to my mind, one of the best is this fully black ceramic number. Sporty, stealthy and — dare we say it — sexy.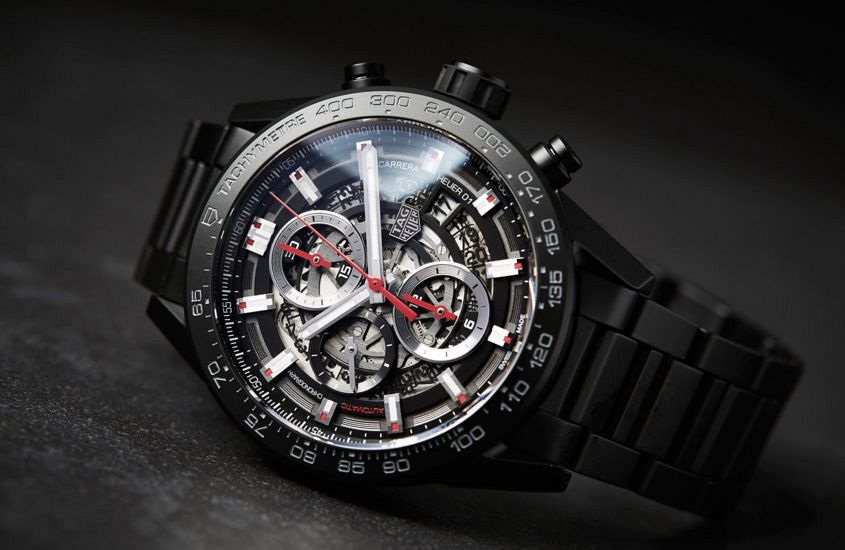 In two short years, TAG Heuer's Carrera Heuer 01 has gone from a single statement model to a fully fledged sub-collection, with something for everyone. Having said that, this stealthy, slightly smaller 43mm in matt black ceramic might just be the most versatile model yet.
The case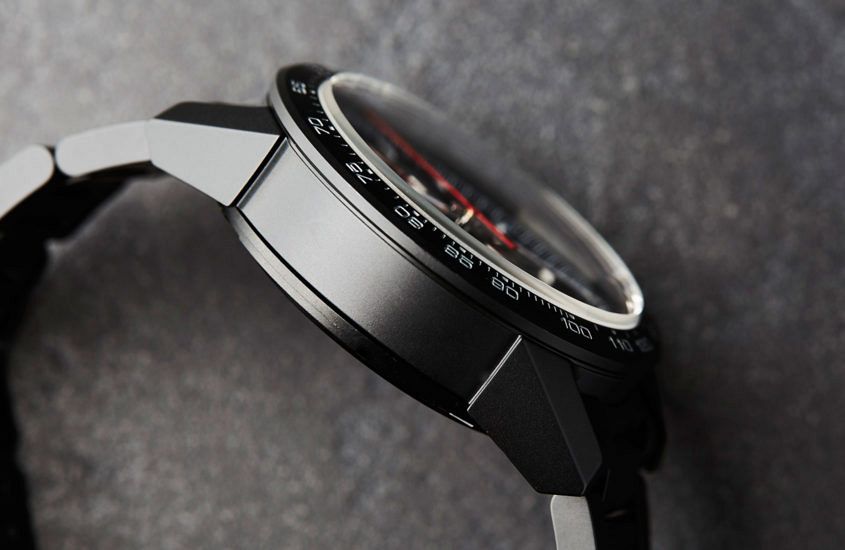 There are two noteworthy features of the case of the CAR2090: its size and material. First of all, the size. As I've said before, the 43mm Heuer 01 models are much friendlier to more wrists than the (frankly, pretty massive) 45mm versions. 43mm is still a large, modern sports case size that doesn't — especially when coupled with the height required by the integrated chrono movement — lack anything in the wrist appeal department. Secondly, the material. The matt black ceramic case construction (with a stainless steel core and caseback for water resistance) doesn't just look mean, it also means your watch is nigh unscratchable, and substantially lighter than a comparable steel model — two factors that greatly improve the day-to-day wearability of this piece. It'll look good for longer, and won't weigh you down at the end of the day.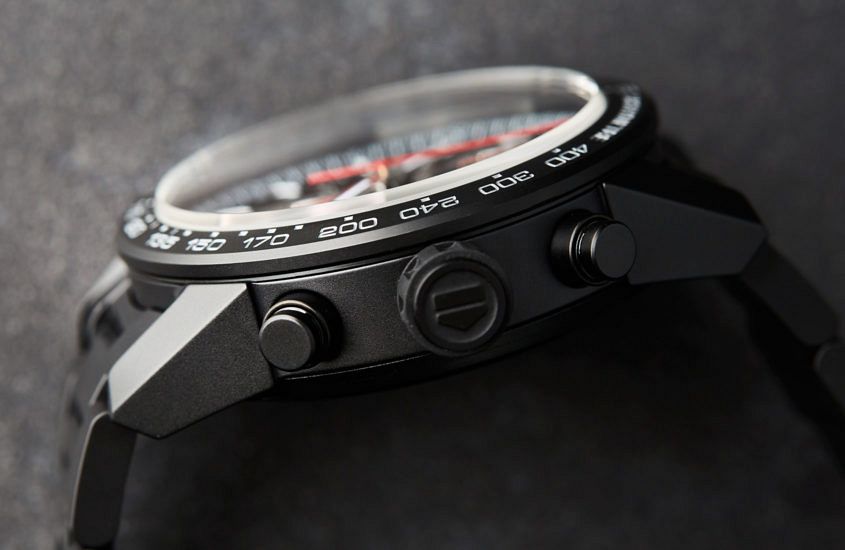 The dial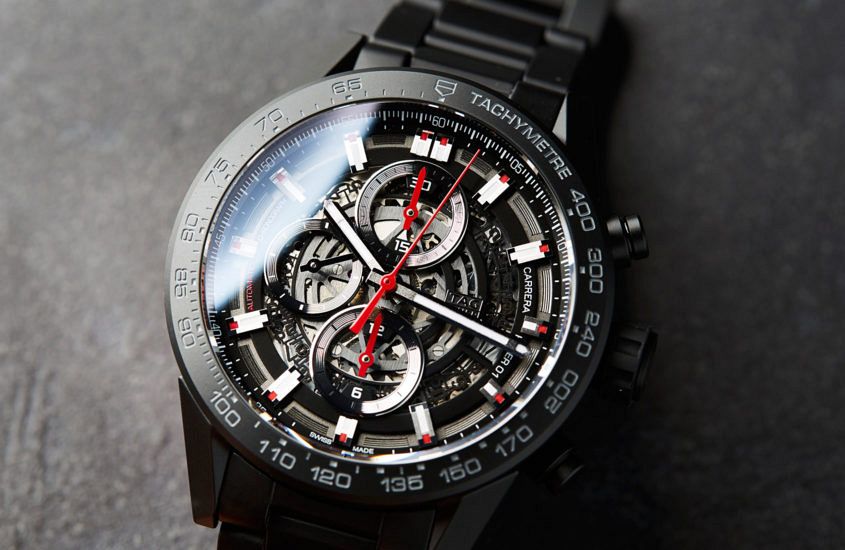 TAG Heuer must have been tempted to go full phantom with this dial, like they did with the larger, 45mm ceramic model. But readability prevailed, and the skeletonised dial, while predominantly black, is still quite legible thanks to the stainless hands and hours, as well as the bright red details. Sure, it's quite a busy design, but it's a strong, modern look that appeals to many people. If you want a more conservative/traditional look, there's steel 43mm versions with solid dials, and if you want something a little more extreme, there's the all-black 45mm version I just mentioned.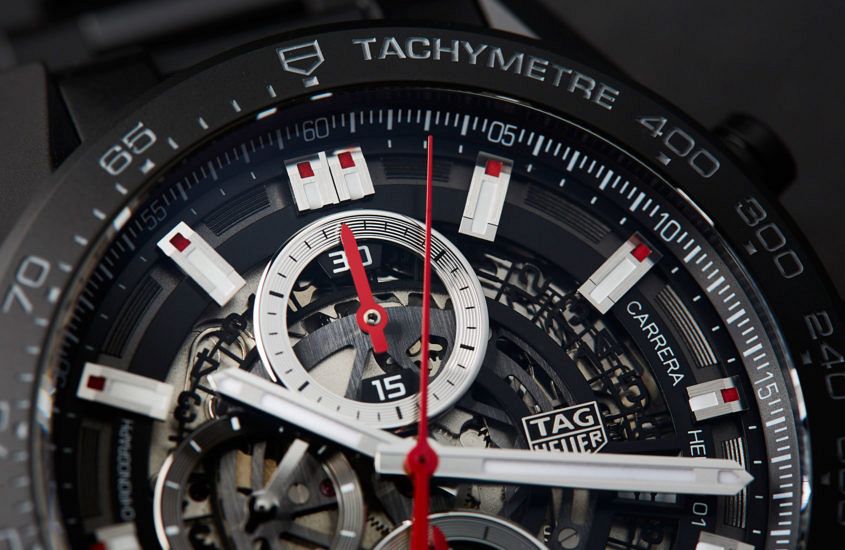 The movement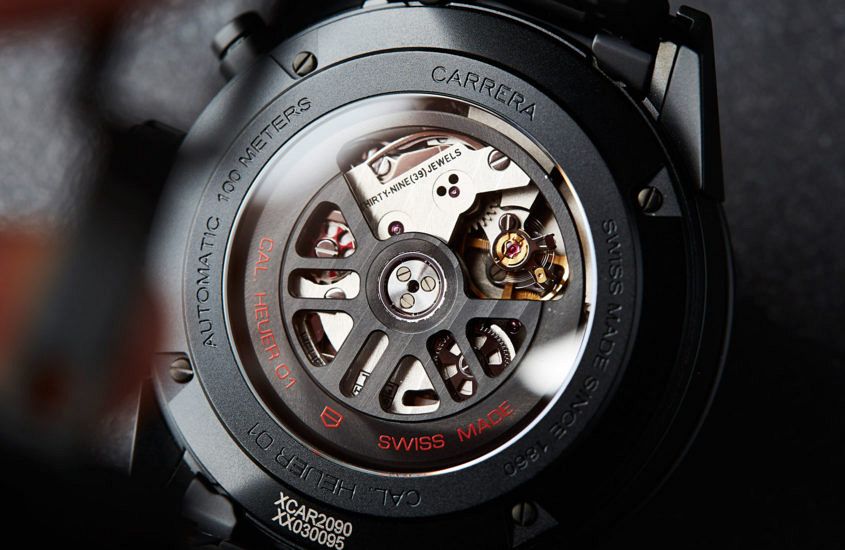 No real surprise here, this Carrera is powered by TAG's workhorse integrated column wheel chronograph, the Heuer 01, an evolution of the Calibre 1887. Reliable, robust and looking the part with its black rotor and red detailing — including the column wheel. And while it's still a relatively mass-produced movement, it's good value and a little more interesting than the ubiquitous ETA chronographs out there.
The bracelet
The black ceramic bracelet is a real highlight for me. Solid, untapering and stylistically in keeping with the rest of the Heuer 01 bracelets, this version has been slightly tweaked in the end link department, which are a little more in keeping with the line of the watch lugs, and thereby cohesively integrated into the case. The real drawcard, though, is the durability of the black ceramic. Bracelets are scratch magnets and one of the hardest-wearing parts of a watch, and as such you rarely see fully black PVD bracelets. Ceramic, with its extreme hardness, doesn't have that problem.
On the wrist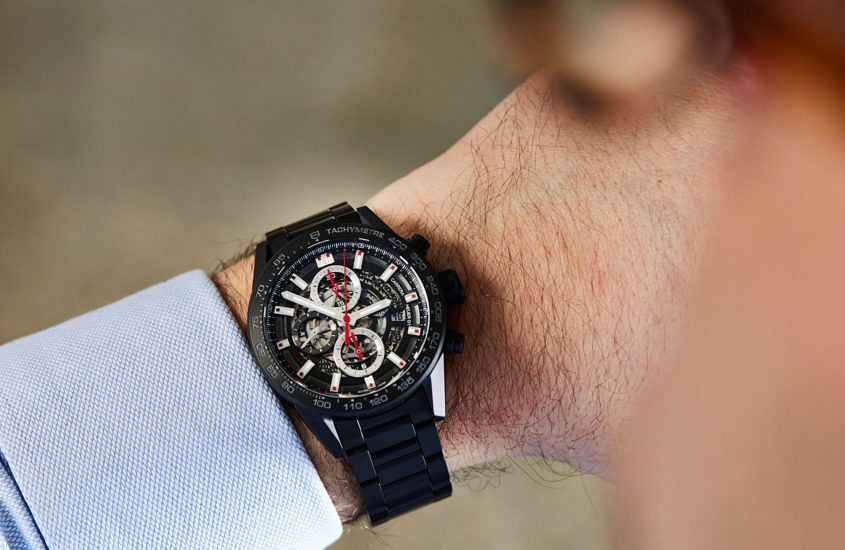 This is a comfortable watch on the wrist. It's got a casual, sporty style that inspires a knockabout nonchalance and, luckily, it's got a construction and constitution to match. I had very few issues with this watch on the wrist (apart from the fact it looks a little out of place with a suit), except perhaps the relatively tall case height. Luckily for me, the combination of domed sapphire and ceramic case/bezel is tough enough to spare it from the ill effects of the occasional ding.
The verdict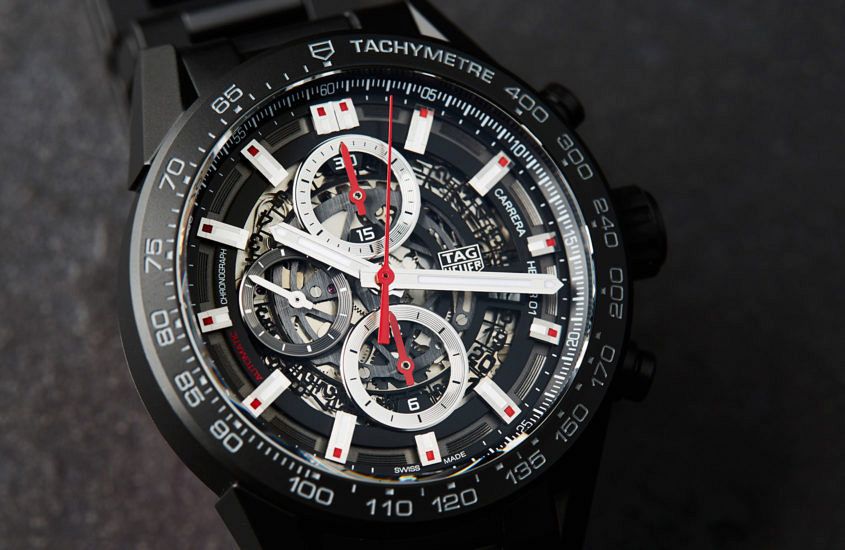 I've worn a lot of Heuer 01s over the last few years (in fact, I'm wearing one as I type this), but for my money this slightly smaller, ceramic one is the most attractive. Not necessarily in terms of looks — which are, after all, subjective — but in terms of a complete package. For just over $8K you get a modern, fully ceramic-cased chronograph with a solid movement and link to the great automotive heritage of the Carrera. Not bad at all.
Talking point
PVD? Nah, mate — it's all about ceramic these days.
Who's it for?
Looking for a well-priced, modern sports chronograph with a few features to stand out from the pack? Look no further.
What would we change?
Personal preference, and probably uneconomical, but I'd love to see the main plates and bridges of the movement given a blacked-out treatment too, to make it look a little more stealthy.
TAG Heuer Carrera Heuer 01, ref. CAR2090 Australian pricing
TAG Heuer Carrera Heuer 01, 43mm in black ceramic, $8100