TAG Heuer Aquaracer Solargraph – if it's quartz, may as well make it solar
Borna Bošnjak
After introducing a slew of references with the facelifted Aquaracer Professional, many thought it would be a while until we saw even more additions, myself included. Only a few months later, TAG Heuer showed that they weren't done with Aquaracers quite yet. The Aquaracer Solargraph was a totally unexpected entrant into the Aquaracer Professional 200 family, and it certainly surprised everyone I had a chance to speak to, for good reason. TAG Heuer didn't just take a bog-standard quartz Aquaracer 200 and slap some solar cells on that bad boy, but more on the tech later on. If you saw this one coming, you're either very good friends with someone from TAG Heuer or a liar.
Dial-side transparency
On first glance, the dial and overall look of the Solargraph is clearly descended from the current Aquaracer Professional 200 lineup. The garage-door dial, truncated triangle indices and dodecagonal (I will always profess my love for that word) bezel receive an almost blacked-out treatment. Avoiding a complete monochromatic look, TAG Heuer chose a powdery, baby blue for the seconds hand, which is matched by the hour marks on the stepped rehaut. I also appreciate the two lines of text (plus mandatory TAG Heuer logo, of course), keeping the dial really clean, while I assume it also benefits the amount of sun that passes through it onto the solar cell.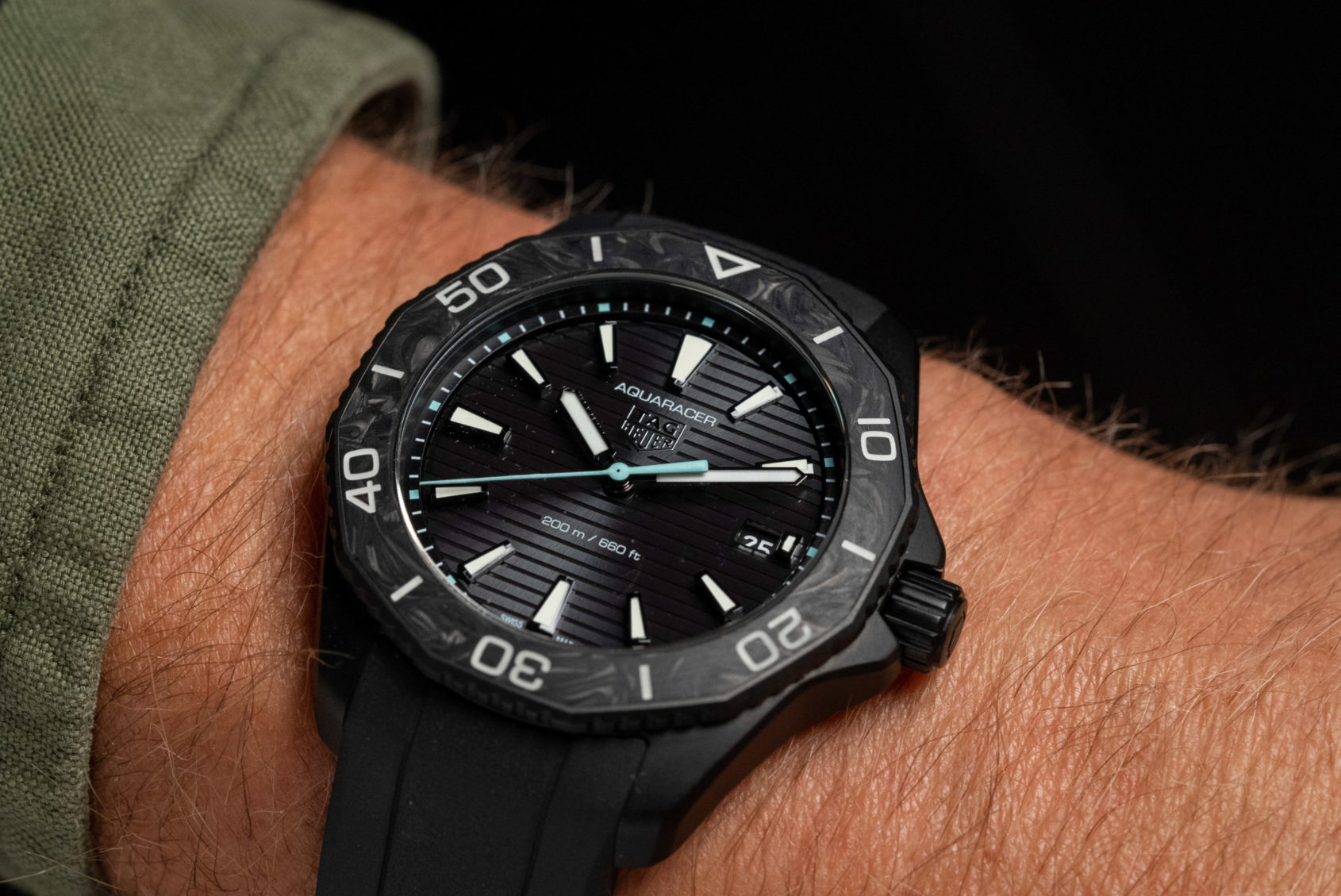 That is, in fact, the main party trick of the Solargraph's dial. Rather than exposing the solar cell directly on its surface, the dial is tinted, yet still transparent enough to feed plenty-o-photons through to the accumulator. If you look at the date cut-out in the above image closely, you can just see the transparent layer and its thickness, as a slightly dimmed date wheel peeks out underneath.
Normally, I'd discuss the bezel when talking about the case, but given the light show the Solargraph provides, there's no skipping it here. Presenting with three different lume colours — an icy blue, lime and dark green — I'd be sitting around with a UV torch, luming up the Solargraph constantly. The insert itself combines carbon and Super-LumiNova® to create a unique look in every piece.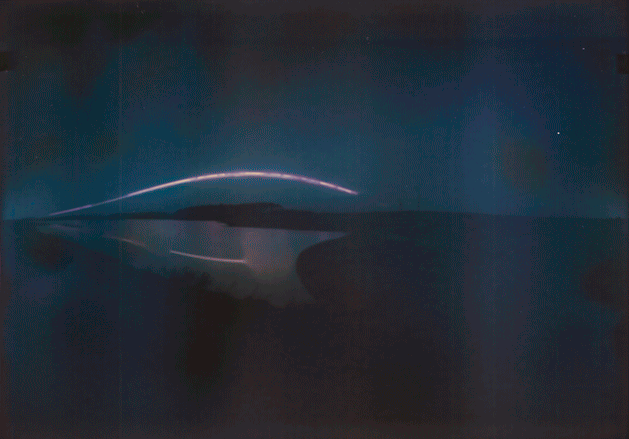 I wondered why TAG Heuer called it the Solargraph, since my initial hunch was that the 'graph' comes from chronograph, which this is clearly not. While TAG Heuer claims the bezel look is inspired by rock ridge formations, it reminds me of solargraphy, the practice of long-exposure Sun photography. I mean, look at those wavy patterns!
I'm perfectly happy with being incorrect, but it certainly suits the name  ¯\_(ツ)_/¯
Sporty simplicity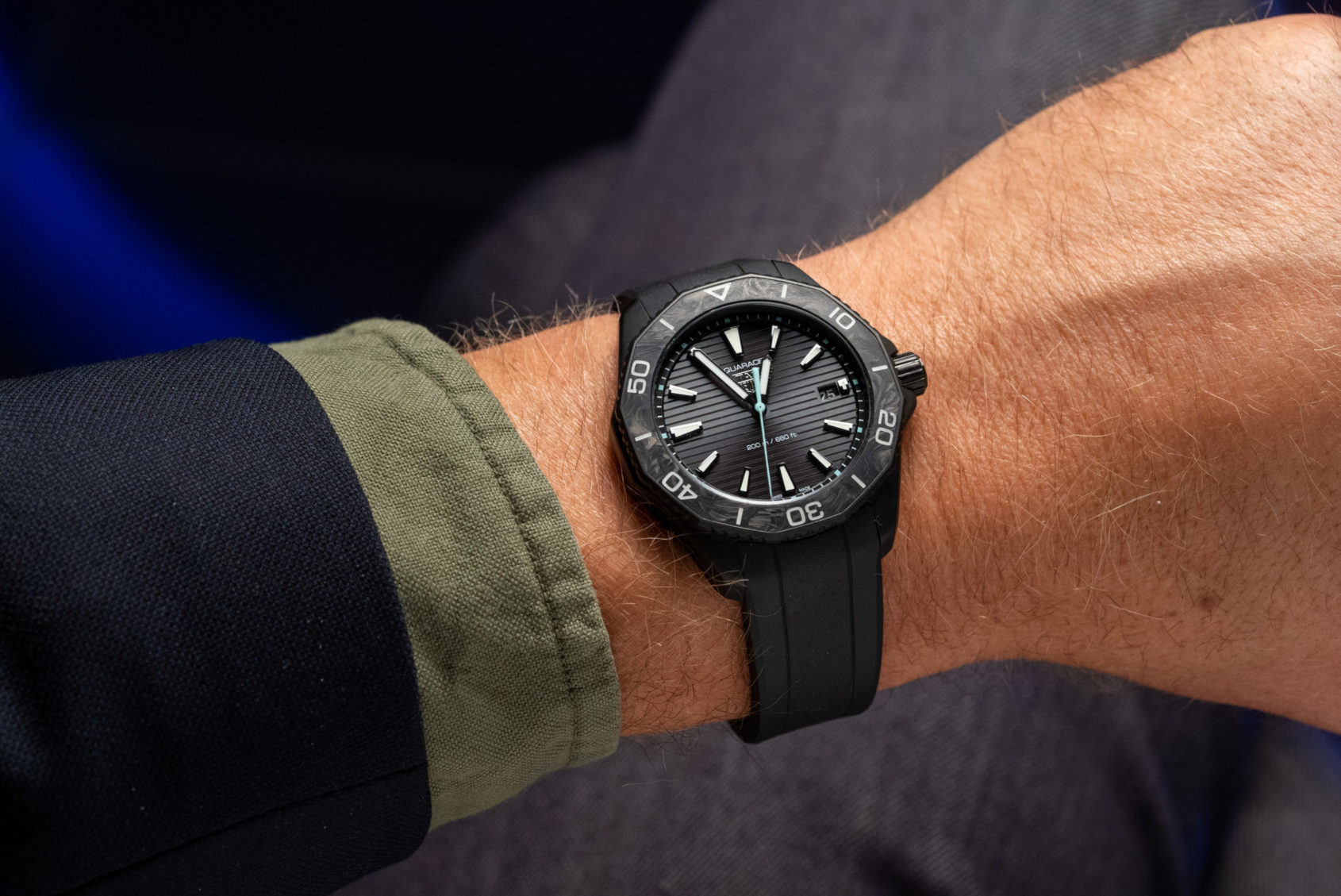 It's with the case where TAG Heuer really takes a step back, baring it to only the essentials. Simple design? Check. Simple finishing? Check. Cover it all in DLC for extra stealthiness? Check.
It packages it all in a 40mm diameter, and, if it follows the rest of the Professional 200 family, has a 47mm lug-to-lug and a thickness of just under 12mm. This size will certainly wear well on the majority of wrists, though I do expect some wanting their sporty watch to be a tad larger than that.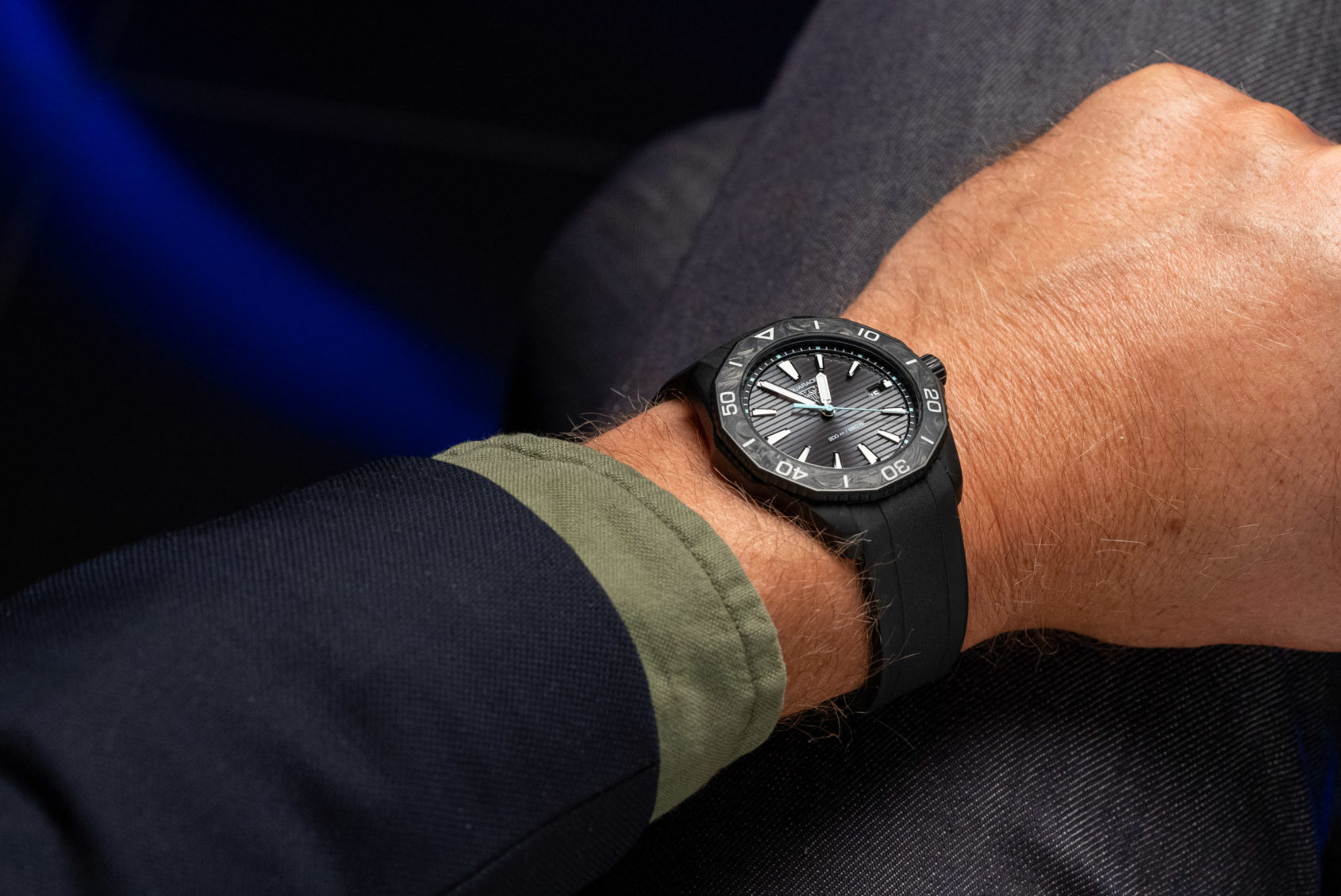 The rubber strap completes the no-frills look, yet once again, TAG Heuer paid close attention to how it integrates into the side of the case, giving it a really pleasant, seamless fit.
Phenomenal solar powers, itty-bitty case space
Try as I might, I think I might've twisted that Aladdin quote a bit too far. In any case, the Solargraph harnesses energy from the Sun, a source that will (hopefully) not perish for the next five or so billion years — how's that for a power reserve?
TAG Heuer is working closely with La Joux-Perret and, by extension, Citizen, to adapt the famed Eco-Drive technology for their own purposes. The result is the TH50-00, which offers six months of autonomy on a full charge, which takes just short of a day's worth of sunlight. Give it just two minutes of exposure, and the Solargraph will run for the entire day. Should you choose to set it aside for some time, make sure you pull the crown out and, provided you return to it within the next three and a half years, the Solargraph should keep on tickin'.
The verdict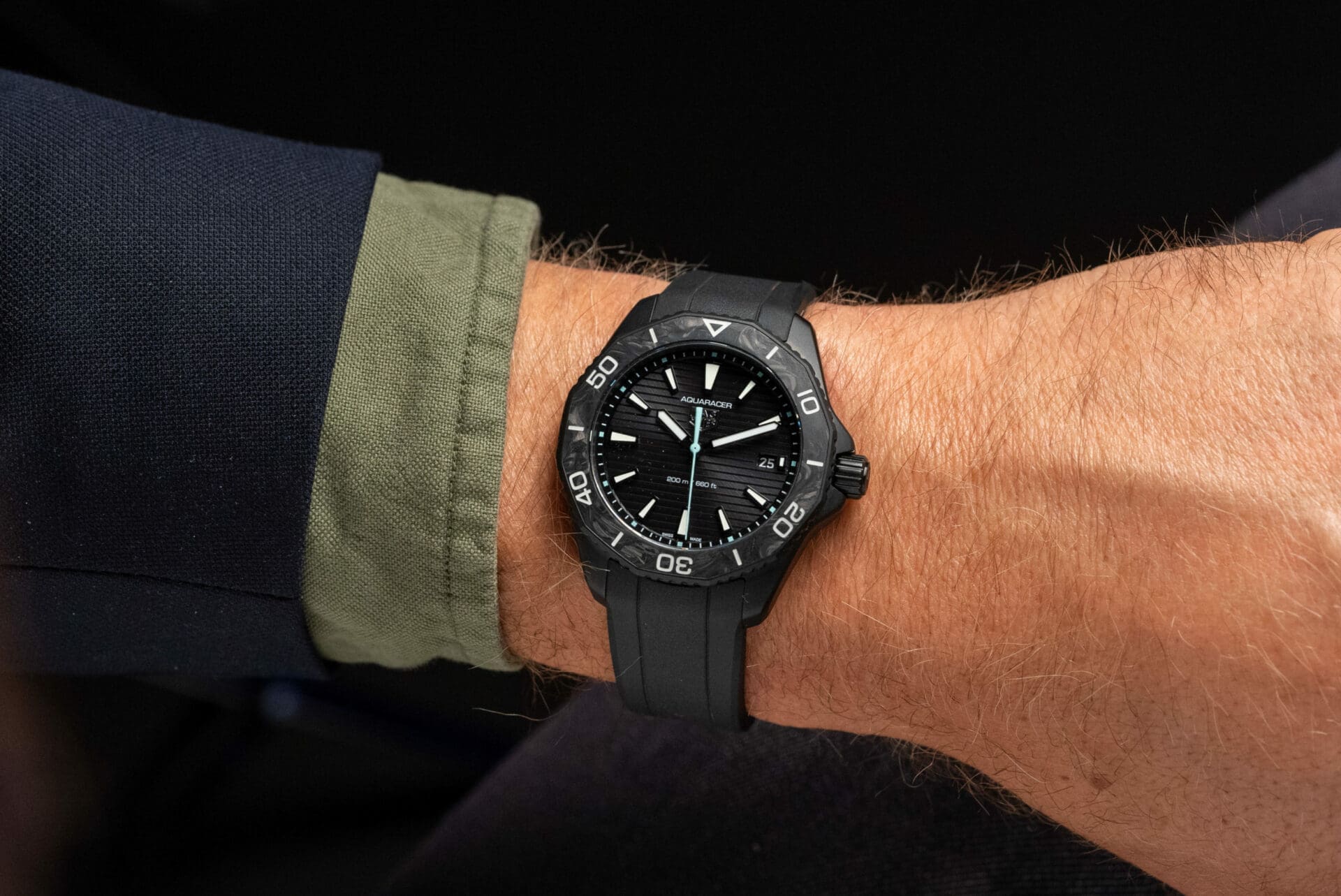 If you read the title, you already know my general feelings about the Solargraph. If you read last week's review of the new SBGP017, you'll know my feelings about high-end quartz. For a tool watch that's meant to be high-performing and not leave you stranded, solar is such a sensible option. The Solargraph doesn't have many bells nor whistles when it comes to finishing, but expecting those would be missing the point. This is a fun, quirky watch that's a great poster boy for solar and quartz technology, albeit at a relatively high price. I'm looking forward to the direction TAG Heuer takes it, as long as they can keep up supply.
TAG Heuer Aquaracer Professional 200 Solargraph pricing and availability:
The TAG Heuer Aquaracer Professional 200 Solargraph will be available in October 2022. Price: $4,300 AUD
| | |
| --- | --- |
| Brand | Tag Heuer |
| Model | Aquaracer Professional 200 Solargraph |
| Reference Number | WBP1112.FT6199 |
| Case Dimensions | 40mm diameter |
| Case Material | Stainless steel, DLC-coated, carbon bezel insert |
| Water Resistance | 200 metres |
| Dial | Black/transparent |
| Crystal | Sapphire crystal |
| Strap | Black rubber strap with DLC-coated steel clasp |
| Movement | Caliber TH50-00, solar, 6 month reserve on a full charge |
| Price | $4,300 AUD |