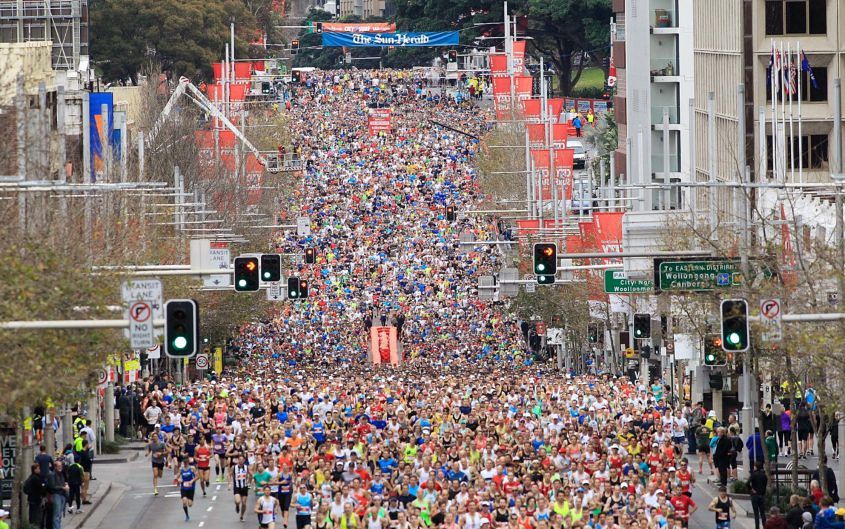 In the 46 years it's been going, the City2Surf has grown to become the world's largest fun run, taking place each August in Sydney, bang in the middle of the southern hemisphere's glorious winter. This year, around 80,000 people have entered the race, which kicks off tomorrow morning at 7:50am in the city centre before meandering 14km through the Eastern Suburbs to its final destination at Bondi Beach.
All of these facts compelled you to sign up and now, with less than 24 hours to go, it's time to get in the zone. Well, we're here for you. The best way to get through something like this is by being prepared. So, with the clock ticking, here's our blow-by-blow account of what you can expect tomorrow – so strap on your Seiko (they're the official timekeekers) and make every second of the City2Surf count.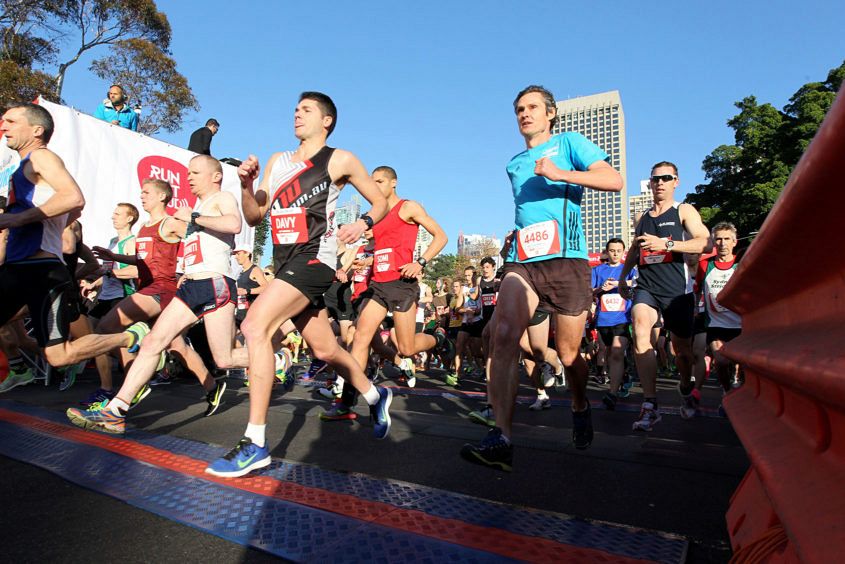 0:00:00 – Anticipation
You're excited, not just because the race is about to start, but because you've finally got a legitimate use to use your chronograph. The start line is just ahead. You carb-loaded last night, hydrated this morning, got here early to queue at the porta-loos, and now it's on. Yes, it's tempting to hang back because The Veronicas are performing here at the start, and you really want to see them do 'Everything I'm Not', but stay strong. Now is not the time to get distracted.
0:10:00 – Eagerness
You've spent the past 10 minutes shuffling in what feels a like a giant pack of zombies rather than doing any actual 'running', but look – it's beginning to thin out now you're at Rushcutters Bay. If you just circumnavigate this group of pram-pushing mums, you'll be free… And you're off!
0:30:00 – Despair
You've reached the foot of what veterans call Heartbreak Hill – 2km of relentless incline, as the name helpfully suggests – at which point you curse yourself for not sticking to Dry July quite as rigidly as you intended. Right about now, you will without fail be overtaken by an octogenarian dressed as a Ninja Turtle who looks not to have broken a sweat. Our advice? Take this as inspiration, not defeat. Follow that turtle!
0:35:00 – Envy
It's not often you get a chance for a sticky beak this close to $6 million homes without arousing suspicion, so make the most of it as you pass through Vaucluse. A solid stint of property perving is just what's needed to take your mind off the lactic acid burning in your legs.
0:40.03 – Resignation
As you stagger through Dover Heights, take a moment to reflect on the fact you haven't beaten the race record, set by Steve Moneghetti in 1991. Ah well, it's the taking part that counts, right?
1:00:50 – Anxiety
Welcome to North Bondi, with its welcome party of hipsters handing out tiny cups of disgusting-yet-refreshing kombucha. (Under no circumstances ask for water. Do you want them to think you're old?!)
1:20:00 – Anticipation (again)
As you round the point and begin your downward descent towards the beach, you feel a burst of energy in your legs as you realise the end is in sight. You can almost taste the sausage sizzle you'll be rewarded with, and it spurs you on into something that almost resembles a sprint.
1:30:00 – Elation
After rounding the bend into the final straight, you've done it! And however hard the previous 90 minutes might have felt, we guarantee you'll have a smile on your face for the finisher's pic below your time on the Seiko clock.