Well, this month ended just as quickly as it started, busy with watch related activities –and a bunch of incomings (including this stunning tropical Tudor Sub). Here's what happened…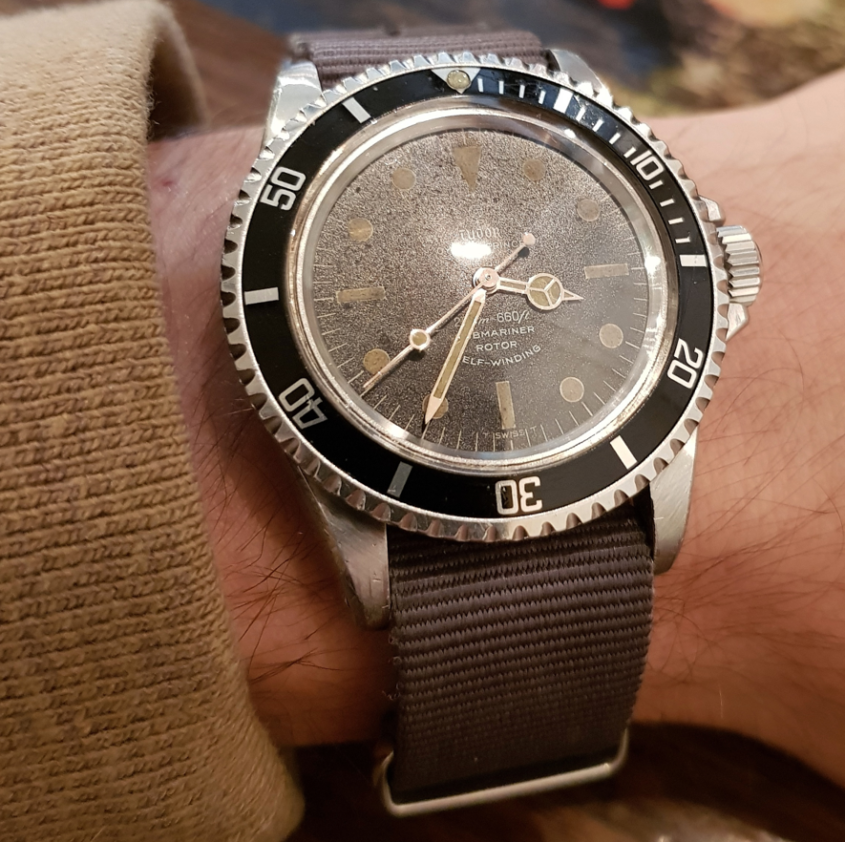 I kicked off August with a coffee with Rich who, aside from having a great car collection, has a love for watches. He was rocking a Rolex Sea-Dweller (SD4K) on an Everest Rubber strap. Rich noted he prefers to wear watches on some sort of strap, and the only watch he keeps on the bracelet is his Audemars Piguet Royal Oak (ref. 15300). Understandable — it's one of the best bracelets I've ever felt.
Later, I made my way down to the Nomos Glashütte x Monards event, tucked away at South Yarra's famous Stables. There I saw Phoenix, who just so happened upon a purchase.
This particular model, the Nomos Club neomatik, caught her eye, and for good reason — it's a great looking watch! What Phoenix really loved though, is that although it's a diving watch, it doesn't share the chunkiness you usually find on more popular models. Phoenix has an impressive collection, featuring brands like Rolex, Tudor and Roger Dubuis. For her next piece, she's tossing up between a Blancpain Fifty Fathoms, or embarking on the hunt for a special 'birth year' piece.
I was sipping on a coffee when from across the table I spotted a heavily patina'd vintage Tudor on Graham's (@GreyWhisky) wrist. Immediately, I knew it had a special story. After chatting with Graham, it turned out that Tudor had always been the brand he's felt the strongest affinity for — his Grandfather's "special watch" was a Tudor date. Besides this 7928, Graham also owns two other Tudor Subs; a 1995 79190 (black dial) and 1976 9411/0 Snowflake (blue dial).
The story of this Sub, however, is one of trial and tribulation. After finally finding a birth year Snowflake, he'd been looking to add a 1960s Submariner for around 18 months. During this time, the price of vintage Tudor skyrocketed. Graham searched high and low, being sure to track down local dealers during several overseas holidays. But unfortunately, in the metal, none held up to their online listings. While the photos looked great online, when he saw the watches with his own eyes and handled them, he realised how much they had been "engineered".
This piece was eventually (and somewhat stressfully) purchased off a Vintage Rolex Forum seller, with Graham forgoing the opportunity to handle the piece and view it under a loupe. Instead, he had to trust his knowledge, research and gut instinct. Thankfully, when it arrived earlier this year, it was what everything he'd hoped for.
Graham loves that (even with dings) the case is still sharp, the patina is even and toffee coloured (although, too dark for some), and the glossy black bezel insert still shines. Next on his list is another Tudor Submariner, probably the "Lollipop" 76100 from the 1980s. And – if finances ever allow – any of the 1950s Tudor Subs, or the 'Big Crown' 7924.
And finally, I spotted something pretty foreign on the wrist of none other than T+T Founder, Andrew McUtchen. Yes, a Bremont MBIII – which I promptly stole for the morning. You don't see too many Bremonts on Australian shores, as the brand is still establishing themselves here. But I have a feeling we'll be seeing more pop up around the place.
Until next month,
Andy