A mid-60s Submariner with a sea story, a bargain Speedy, and a lit Reverso at the first virtual Smith & Singer auction
Nick Kenyon
Smith & Singer (formerly Sotheby's Australia) are hosting their first watch and jewellery auction of the year this week, featuring a smattering of interesting watches, with a few standout pieces. While the current circumstances mean a crowded room focused on a rostrum is impossible, the auction will be held virtually, with bidding allowed via telephone and online to enable the sale to go forward. While watches only make up a portion of the Jewels Department of Smith & Singer, there are always some interesting lots on offer, including a Heuer Autavia "Jo Siffert" and an Omega Speedmaster Apollo XI 1969 ref. 145022 69 in the last 12 months. This sale is no exception, with a few lots in particular that aren't things you might see every day, and is due to take place on May 27 at 6.30pm.
Lot #111: ROLEX 'AMERICA'S CUP' SUBMARINER REF 5513, A STAINLESS STEEL AUTOMATIC WRISTWATCH WITH BRACELET, CIRCA 1967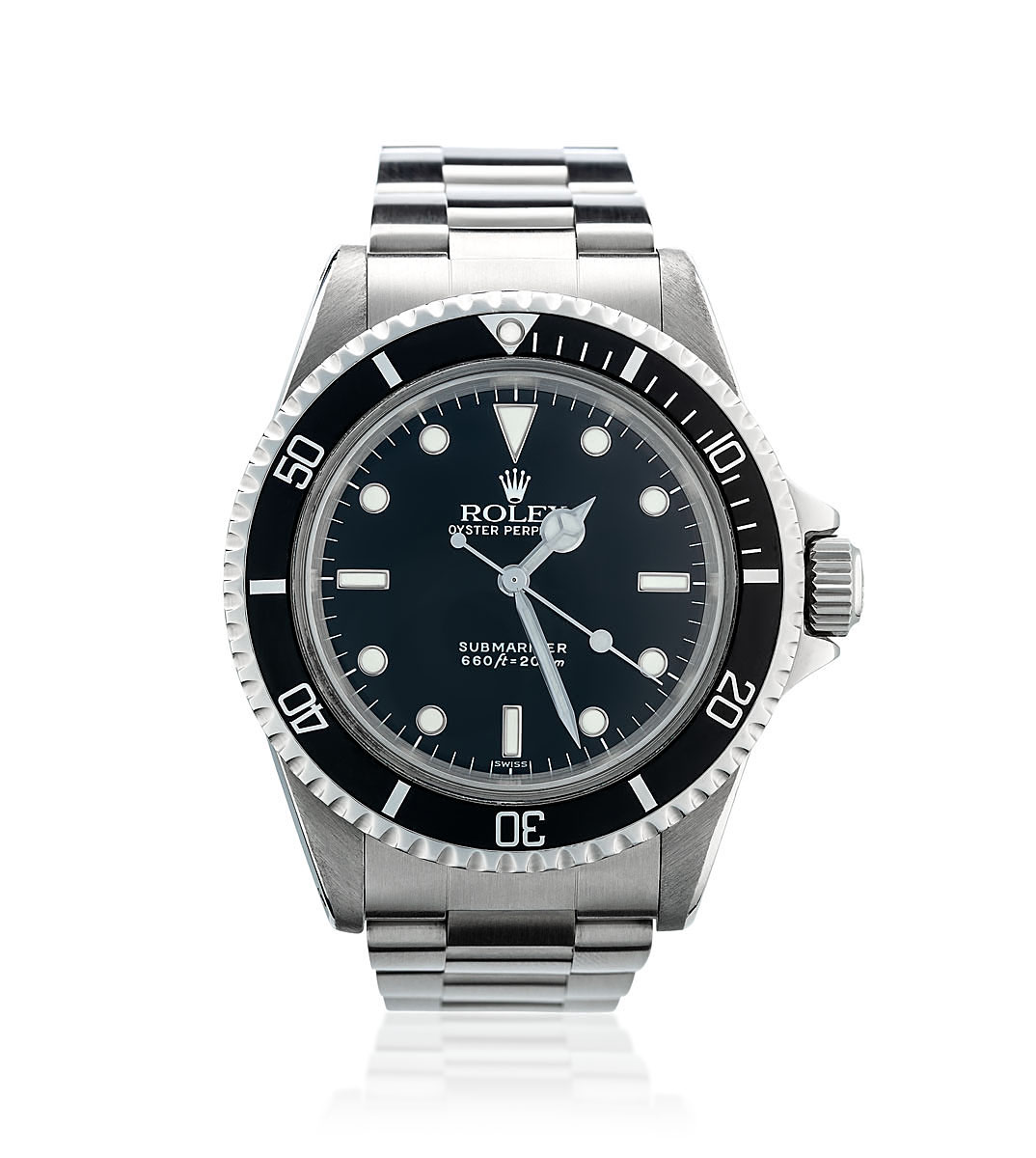 When it comes to buying vintage watches, provenance is one of the single most critical factors for many collectors. The origins of this particular Rolex Submariner are belonging to a member of the Australian contingent of the America's Cup race in 1967, aboard the racing yacht Dame Pattie. The second most critical factor for collectors is condition, and the keen-eyed – like Nick Gould, who was quick to alert us of this one glaring addition – will spot in the Service Document on the listing that the dial has indeed been replaced as part of a service. Winners may be grinners, but the loser that owned this watch may still crack a smile in the end – the Australian challenge was unsuccessful, losing 4-0 that year, however the occasion was marked for this crew member with the acquisition of a ref. 5513 that was engraved America's Cup 1967, J.T. Estimate: $12,000–16,000. View lot here.
Lot #108: OMEGA SPEEDMASTER APOLLO 11 40TH ANNIVERSARY NO 2963/7969, A STAINLESS STEEL CHRONOGRAPH WRISTWATCH WITH BRACELET, CIRCA 2009
It is fair to acknowledge the number of limited edition Omega Speedmasters that have been released in recent years, however if you look at when the trend began, you'll notice most have been released in the last decade. That makes this limited edition Speedmaster, from 2009 for the 40th anniversary of the first lunar landing, one of the earliest modern limited editions. The 42mm watch celebrates the important moment in space with a silver Apollo 11 medallion at 9 o'clock that features an American eagle landing on the surface of the moon. Estimate: $3000–5000. View lot here.
Lot #99: JAEGER-LECOULTRE REVERSO NIGHT AND DAY GRAN' SPORT DUO REF 295.1.51, AN 18CT GOLD REVERSIBLE WRISTWATCH WITH DATE, CIRCA 2005
The art deco pillar of Jaeger-LeCoultre that is the Reverso wasn't always as conservative as we now know it. A decade and a half ago, the focus was on it as a sports watch, as it had been originally designed in the 1930s as a polo watch. Complete with a rubber strap and beefy gold case, it reminds of a time when JLC were more boisterous and expressive, a streak that has quietened down in more recent years. Estimate: $5000–7000. View lot here.
Lot #86: PIAGET REF 13431A6, AN 18CT GOLD CUSHION-FORM BRACELET WATCH WITH DATE, CIRCA 1973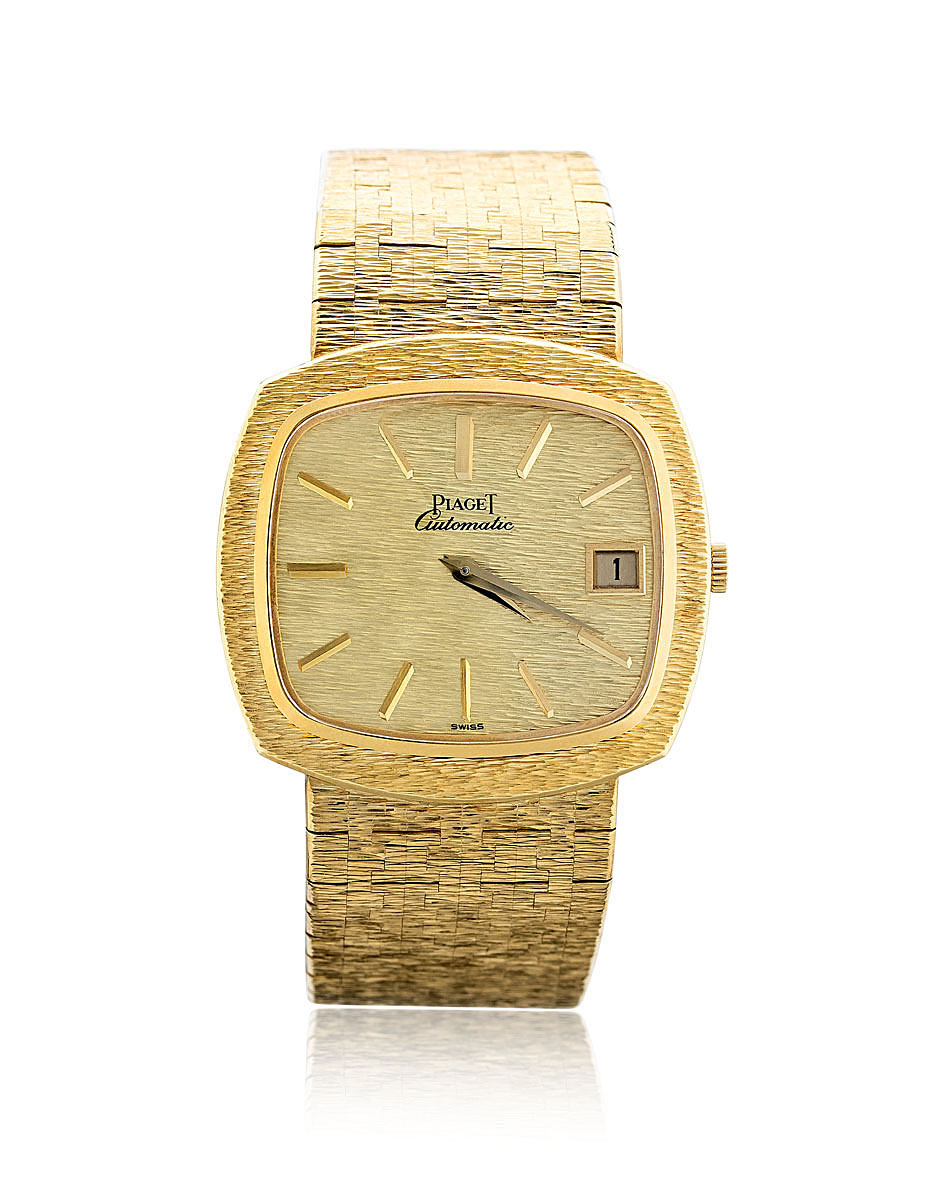 The late 1960s and '70s were a golden era of fine ladies watchmaking from Piaget (something continued in the current-day Piaget Limelight collection). The quality of the engraved gold bracelets, with remarkably intricate links, invisibly held together, are impressive to this day, along with similarly high-quality cases and movements. This TV-shaped Piaget from 1973 is an excellent example of this type of work, with the automatic caliber 12PCI, with micro-rotor, one of the finest ever produced by the brand as well as being one of the thinnest time-only movements ever produced. Estimate: $3000–5000. View lot here.
Lot #112: RENÉ LALIQUE A PRE-WAR 'NAXEFADES' 8 DAY DESK CLOCK, FRANCE, DESIGN INTRODUCED IN 1926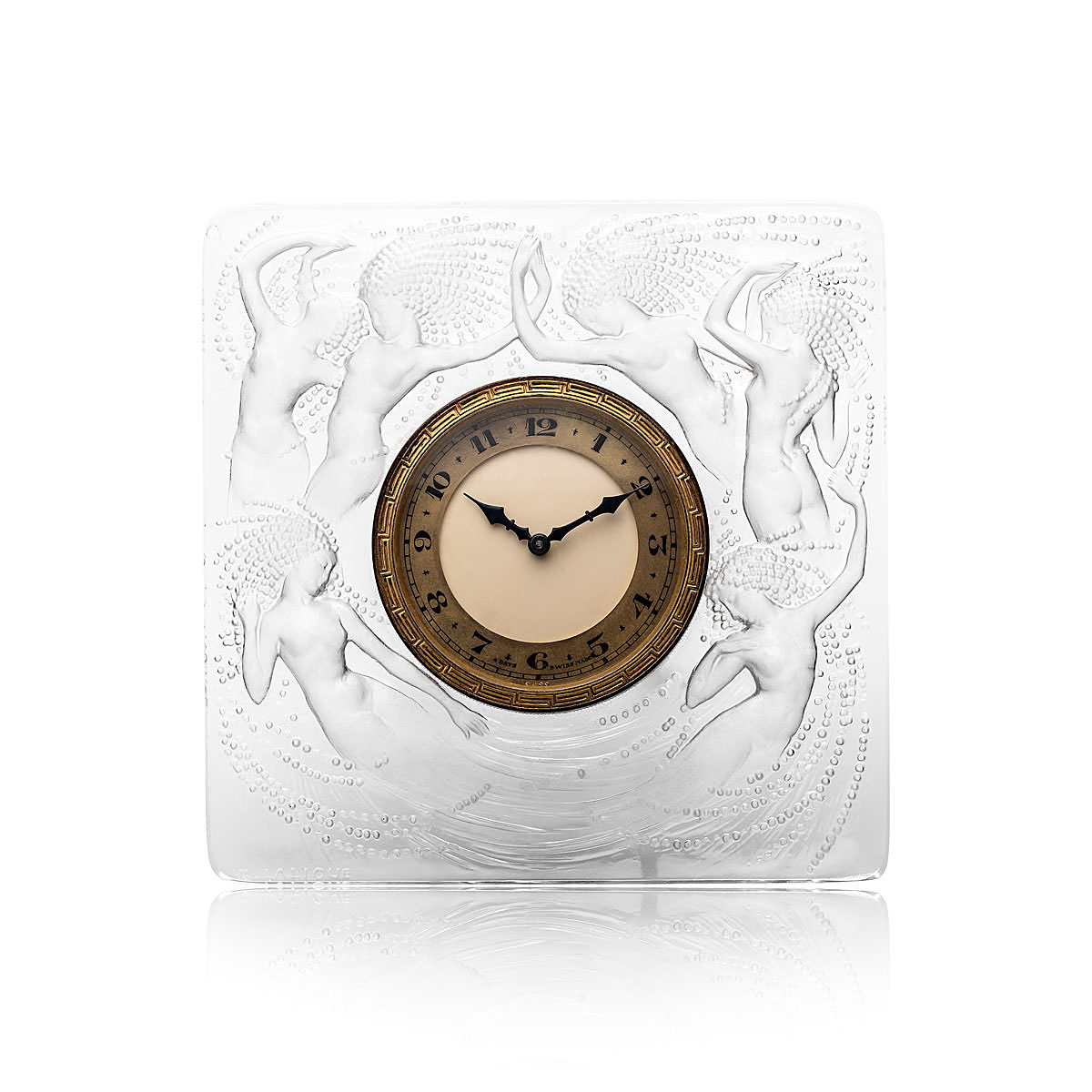 Another horologically interesting lot is this 8-day desk clock by René Lalique. Lalique was a well-known glass designer at the end of the 19th century and beginning of the 20th, and a contemporary of Louis Cartier in the Paris decorative arts scene. His enthusiasm for the art deco style that was established during his life is clear in the design of this frosted glass panel, featuring a scene of sea nymphs. Estimate: $3000–4000. View lot here.