Slim kings – the Piaget Altiplano 40mm Ultra-Thin Date and the Altiplano Chronograph
Felix Scholz
A few weeks ago we were treated to an evening with Piaget, and their thintastic Altiplano collection. And while we had a bunch of watches in our office, and our excellent photographer Jason Reekie on hand, it would have been a shame not to make the most of it. We've already seen what the mighty meteorite dial looks like in crisp focus under good lights, and now it's time for two others — the 40mm Altiplano Date and the Altiplano Chronograph. 
Piaget Altiplano Chronograph
 Flyback Dual Time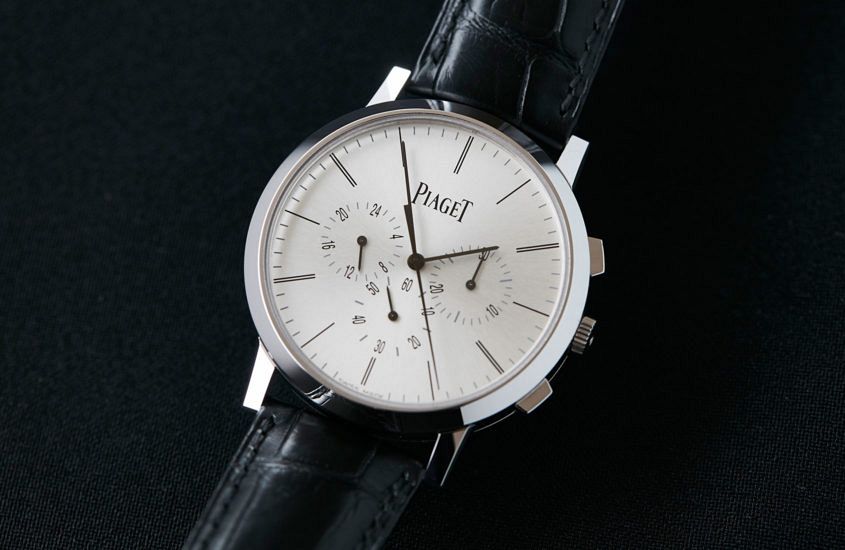 OK, so if you're anything like me, a chronograph isn't the first thing that comes to mind when you think of Piaget, or indeed of ultra-thin watches. But here we are. And here is Piaget's take on what's typically a très sporty watch. First seen in 2015, the Altiplano Chronograph — here in white gold — is impressive, not just for its delicate proportions (41mm wide and only 8.24mm thin for the fully cased watch; the movement is a mere 4.65mm), but also for the fact that this is a new, from-the-ground-up movement, and a manually wound column wheel flyback with a GMT at that. Technique aside, this thing is gorgeous. Clean and stylish and a refreshing change of pace from the sports geared chronographs that so dominate the sector.  Piaget Altiplano Chronograph Flyback Dual Time, $46,300 AUD
Piaget Altiplano 40mm Date

Now it's time to take things down a notch. Both in terms of complication and thickness. Gone is the chrono and second time zone, and we're left only with time, sub seconds and a date — on the left-hand side, which is cool and unusual. What's also cool is the 6.36mm height (in an automatic to boot). But more than the hard facts and figures, what really stands out about this watch is its style. It's the epitome of reserved, considered design, and the sort of watch you should hold up if anyone ever suggests that a statement watch needs to have diamonds or size to have presence. In the case of this Altiplano, slender equals strong. It's like a finely tempered rapier, and just as sharp. Piaget Altiplano 40mm Date, $38,100 AUD
Made in partnership with Piaget. However, the opinions expressed in this article are our own in accordance with our Editorial Policy.