Earlier this year Grand Seiko announced a watch that was an instant hit within collectors' circles. The new Grand Seiko Hi-Beat 36000 9SA5 Series 9 "White Birch" SLGH005 had everything you might expect from a Grand Seiko. It had a well-proportioned 40mm steel case, contained the brand-new 9SA5 automatic hi-beat movement and also featured a dial to die for. Inspired by the white birch trees surrounding Studio Shizukuishi where the watch is made, it immediately reminded collectors of the famous Grand Seiko SBGA211 "Snowflake" thanks to the richly varied texture of both dials.
Both the SLHG005 and the SBGA211 are admired for the complexity of their dials and we wanted to know what it's like to shoot each of them, as well as what the differences between the two are. To do that I spoke to a photographer, Harry (@harrythecool), to discuss his experience of shooting these two watches as well as the wish-list watches that he'd most like to snap.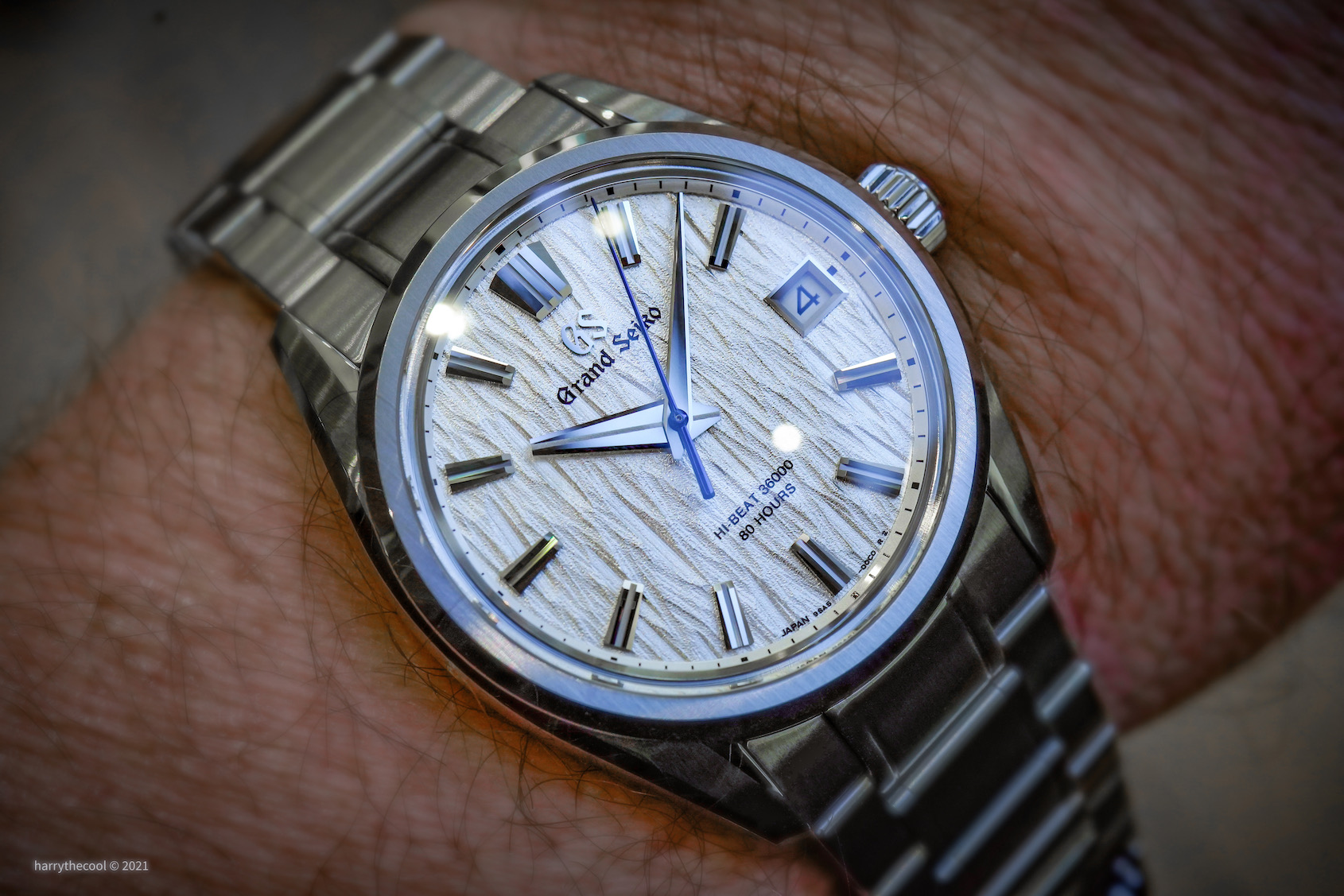 Time+Tide: Firstly, please tell us a little bit about yourself and how you came to love watches?
@harrythecool: It was about 45 years ago when I saw a Rolex while window shopping in Helsinki, Finland. At that time, I felt it was the nicest looking thing on earth. The fact it was way too expensive for me made it feel even more exclusive than it probably was. Ten years from that I got married and I felt that an appropriate gift for my wife was a Rolex Datejust with white gold bezel (now, almost 36 years later she still wears it). On our 10 years anniversary she gave me a Rolex Datejust as an anniversary gift and I was hooked. Not only to my wife, but watches also! During my rush-around years, with three kids and lots of work in the IT industry, my watch just hung on my wrist until Instagram was introduced around 10 years ago. As a passionate photographer, it was finally the reason to combine two of my hobbies, watches and photography.
Time+Tide: While all of your photos are fantastic, we particularly love your shots of the Grand Seiko SLGH005 White Birch. What is it about this watch that you enjoy to shoot?
@harrythecool: While macro photography is a nice way to admire watches, it's kind of ruthless too. Every imperfection becomes the size of a brick house and every dust particle is like a bat on the ceiling. Grand Seiko is as close to perfection as you can get, and I love to photograph that perfection time after time. There is no need to use Photoshop to clean the sides of the hands or indexes, as everything is flawless. One reason for me loving the White Birch was the dial and the added width of the bracelet. It looks bigger than its size and seems to have more depth in its dial than the Snowflake. Also the mirror-like indexes give you an endless list to fill your creative needs as a photographer.
Time+Tide: What is it like shooting such a textured dial? Is there anything different you need to do compared to shooting a regular watch dial?
@harrythecool: I love dials with depth. Everything three-dimensional is a joy for me. I love to see how the watch dial reacts in different lights and especially how the mirror face indexes reacts. At its best it's like a sunset that looks different every evening. The indexes of Grand Seiko are so precise, they are reflections like no other and those hands are next to perfect. They all are made for the eye. An admiring eye.
Time+Tide: You have also shot the Grand Seiko SBGA211 Snowflake, which is another famously textured dial from the brand. Were they different to shoot? How does one compare to the other?

@harrythecool: For me they are both three-dimensional and white. The Snowflake, being whiter, is even more challenging. I'm not sure if the Birch dial leans a bit towards silver. A textured dial is always nice from the photographic point of view and it softens the less desirable hard contrast a lot. Add some texture-based shadows and you will become a true friend of the mixture between available light and those shadows. It would be nice to see what effect some darker colour would do to the dial. On the other hand, it might also harm the original idea of the contrast between white and shadows.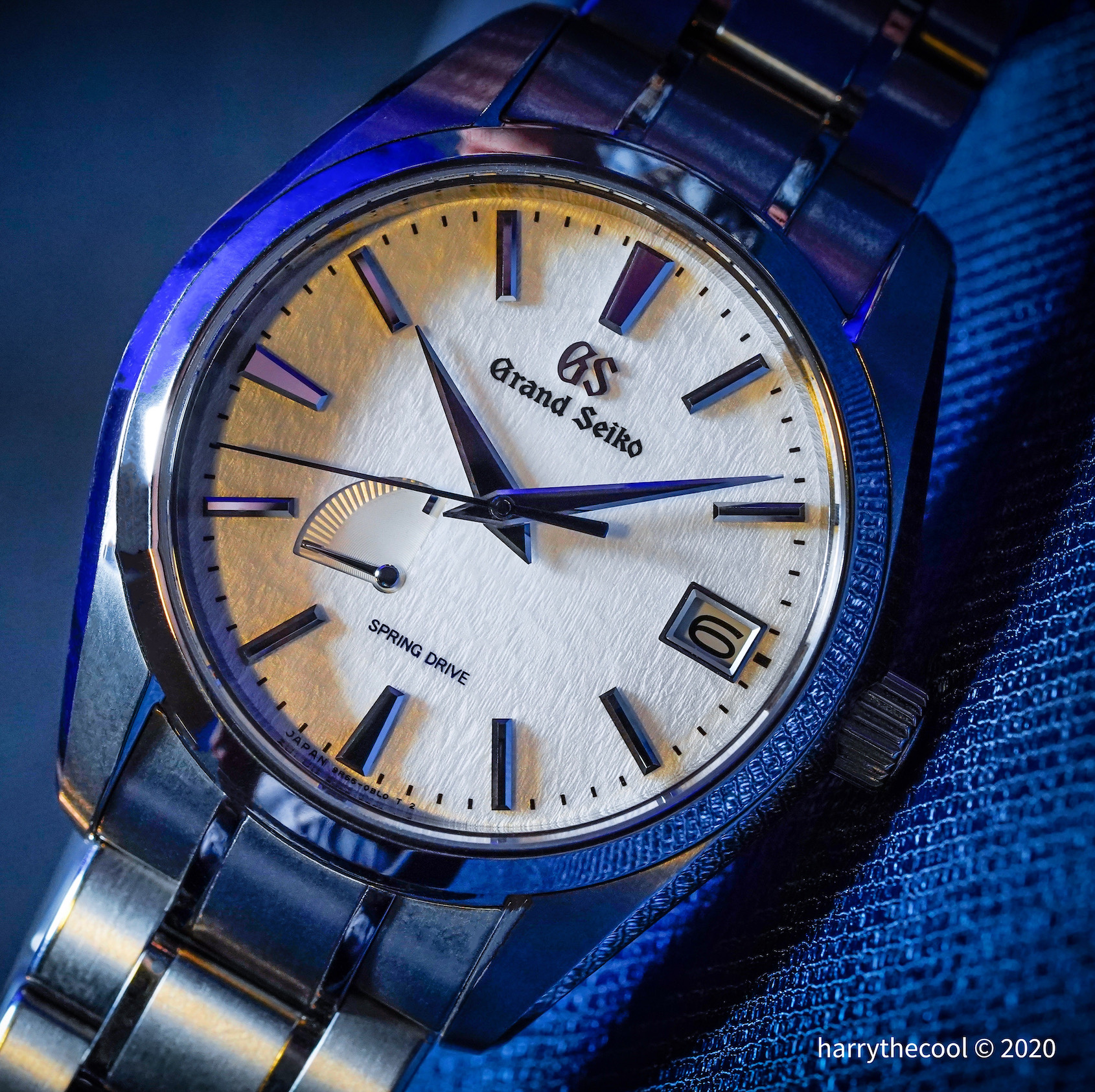 Time+Tide: You are also based in a country that sees a lot of snow. How does that affect shooting the dials of these Grand Seiko references?
@harrythecool: There are areas in Finland where for almost two months in the winter we go totally without sunrise and sunset. So you are asking about the light from a person who is a fan of available light but is often without that light. I'm too lazy to use artificial light, not to mention a tripod, so one can say I just suffer and hibernate during winter months like a bear. Mainly waiting for summer.
Also, while shooting the White Birch and as an example of the mixture of artificial light and natural light in a local AD store (Kultakello Finland), the colour temperature was a nightmare to a lazy JPEG shooter like me. Editing all the results in my iPhone doesn't help either. The lack of light usually means pretty high ISO values and because of that, a bit of a downgrade in quality too. But hey – you have to have some excuses.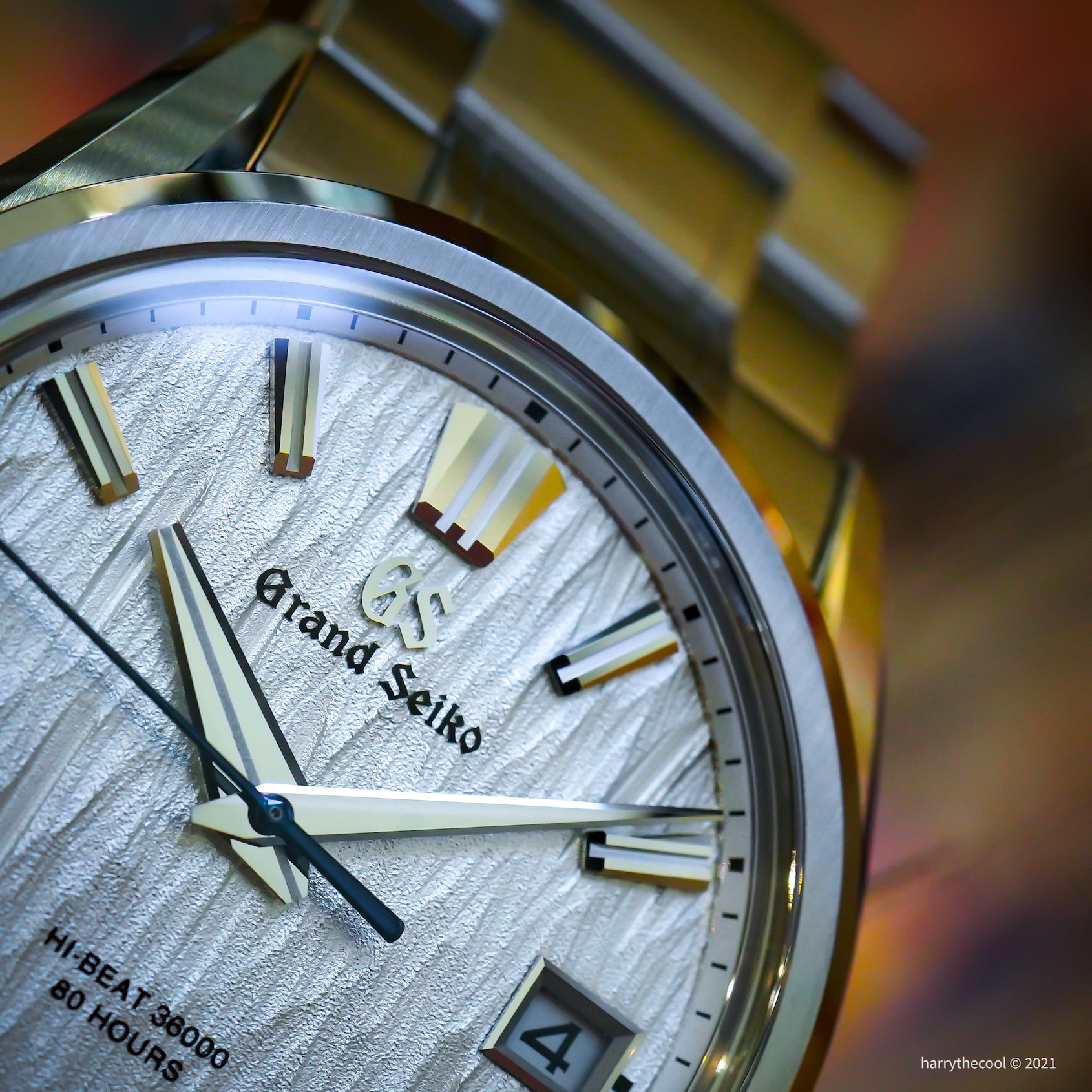 Time+Tide: The 9SA5 caliber within the SLGH005 is new from Grand Seiko and is one of their most interesting movements to date. Compared to other movements you have shot, is there anything that stood out to you about this caliber?
@harrythecool: I immediately felt like I have seen that movement somewhere before. Maybe it reminds me of the more industrial look of the Tudor in-house movement with a similar-looking layout. And I love the same 3D here. I love everything three-dimensional like those letters in the rotor and engraved golden Grand Seiko text below that. It's a fascinating and inspirational look.
Time+Tide: On a final personal note, what are the three watches that you would love to shoot but have not yet had the opportunity to yet?
@harrythecool: I have visited the Finnish-born Kari Voutilainen and his wife Terttu in Motiers a few times in Val de Travers Swizerland. They are such a wonderful couple. Unfortunately, Voutilainen watches obviously go straight to his customers, so that's why I would love to be there in some imaginary Voutilainen watch owner's gathering as a photographer. It would be true heaven to me. They're such highly finished and detailed watches, they're almost poetic.
Also, Stepan Sarpaneva and his unique Sarpaneva productions. I could travel and hunt those custom-made watches for a picture or two.
And third… Well, the list is endless. It's like rating golf courses, there aren't any best ones, they are all different ones. All nice but different. I believe this hunt is not over any time soon.