Voodoo sex and a 1950s gold watch – the missing link between Marlon Brando and Zsa Zsa Gabor
Luke Benedictus
Imagine a watch that could give you sexual superpowers. Buckling it onto your wrist would invest you with such dangerous charm and animal magnetism that no mortal could possibly resist you. Admittedly, as watch complications go, this would be a damn sight more useful that any piddling moon-phase. But this far-fetched object might actually exist if you subscribe to what psychologists call the "magical law of contagion".  Effectively, this is the voodoo idea that a person's essence can be transmitted through the objects they have touched. On that basis, the Vacheron Constantin dress watch that Zsa Zsa Garbor gave to Marlon Brando could be the ultimate sex totem. Let me explain…
It was Socrates who suggested that "the male libido is like being chained to a madman", but in Marlon Brando's case, he was shackled to a veritable asylum. Married three times with two long-term partners, cosy domesticity wasn't really his "thing". This, after all was a guy who met his penultimate long-term girlfriend during a threesome and whose long-term secretary recalls seeing another woman in his bed on the morning he was getting married to his first wife.
As you can therefore imagine, Brando's list of sexual escapades was hardly conservative, especially when contrasted with today's tinderbox of sexual politics. Bedpost notches reportedly included Marilyn Monroe, Marlene Dietrich, Grace Kelly, Jackie Kennedy, Shelley Winters, Rita Moreno, Jackie Collins and Heidi Fleiss among others.
In addition, Brando was open about his sexual fluidity with his male lovers allegedly numbering Richard Pryor, James Dean and Cary Grant. As the actor happily admitted in Gary Carey biography's Marlon Brando, the Only Contender: "Like a large number of men, I too have had homosexual experiences and am not ashamed."
Amid this cavalcade of lovers, Brando met the stunning Hungarian starlet Zsa Zsa Garbor. Now here was a woman whose romantic entanglements were almost as complex as Brando's. If you believe that re-marrying is the triumph of hope over experience, well, let's just say Zsa was one of life's optimists. She famously shrugged off her succession of nine husbands explaining, "I don't believe in living in sin, so I always got married".
These marriages include the hotel mogul Conrad Hilton, the actor George Sanders, the inventor of the Barbie doll, plus the lawyer who facilitated her divorce from the inventor of the Barbie doll. In those rare moments when she wasn't walking down the aisle, Gabor cheerfully admitted to being propositioned by George Bernard Shaw, Greta Garbo, Warren Beatty, Richard Burton, Sean Connery, Henry Kissinger and Elvis Presley.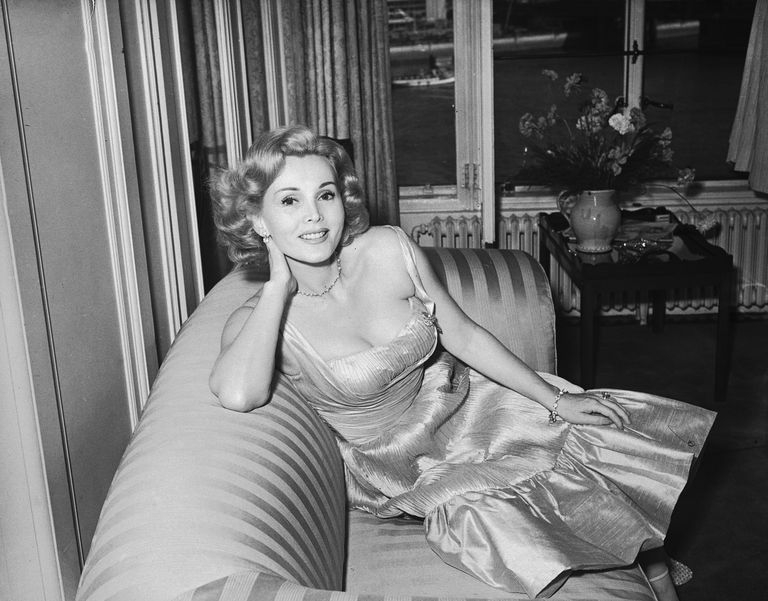 Somehow Gabor still found time to kindle a close friendship with Brando.   When he won an Oscar for On the Waterfront, Gabor sent him a yellow gold Vacheron Constantin, a slimline dress watch with an undulating textured dial. On the caseback she engraved a heartfelt message: "To Marlon love Zsa Zsa June 24th 1954".
In 2009, the timepiece sold at The Important Collectors' Wristwatches, Pocket Watches & Clocks auction held by Antiquorum in New York for six times its estimated value for a price of $18,000 USD.
Sadly, Brando didn't repay this gift in a very gentlemanly fashion. Nine years later, the pair appeared together on the Tonight show. Ahead of this appearance on live TV, Brando was necking shot after shot of neat vodka. As Garbor explains in her autobiography:
"I appeared on the [Tonight] show with Marlon Brando. The show was still live in those days. I wore a low-cut pink Oscar de la Renta evening gown rather like a powder puff, and, of course, my diamond earrings and diamond necklace. We started bantering about this and that. Then Marlon leaned forward and leered, 'I don't know why Zsa Zsa has to talk so much. With those boobs she really doesn't have to say anything.'
Marlon's first comment was fairly acceptable to the American TV audience. His next comment, though, definitely was not … Marlon announced, 'Do you know what I want to do with that girl, Johnny [Carson]? I want to f*ck her'."

It was an inexcusable display from Brando and unlikely to have improved Gabor's view of male self-control. When asked on another chatshow how to prevent men from straying, her blunt answer was: "Shoot them in the legs."
But there's a serious side to all this. Because I am now genuinely concerned about the fate of that yellow-gold Vacheron. Just think about the "magical law of contagion". If sexual energy is in any way transferable then that watch is the carnal equivalent of a nuclear bomb. Given the key players in its past life, this watch must now be super-charged with a level of sexual power that is frankly off the charts. Considering this potential, one must surely worry about the fate of the unknown buyer who snapped up this watch. Armed with such a potent sexual talisman, one only hopes they take the necessary precautions.