Watches are emotional objects. We don't need them. We want them. And we use them to mark important occasions. Birthdays, graduations, career milestones … you name it, they act as talismans of success and remind us of the moments that are special to us. Speaking to this theme, one of the questions we receive most at Time+Tide HQ goes something along the lines of this: "I want to buy a watch for my child's 18th birthday, but I don't know what to get. Can you guys point me in the right direction?" We wanted to tackle that question head on, and offer a few suggestions on the best 18th birthday gift watches — all ringing the till under $2K AU. Let's get into it.
TAG Heuer Formula 1
For Australians, TAG Heuer is a brand that looms large in our collective consciousness. It's always been one of the most well-known Swiss watchmakers and therefore an obvious go-to for a milestone gift. One of the most popular TAG Heuer references is the Formula 1, loved for its universally wearable 41mm case diameter and its robust build quality. The blue dial has a sunburst finishing that catches the light beautifully, and with 200m of water resistance, you don't need to wear kid gloves with it around water. As someone's first good watch, this is a strong choice. Price: $1950 AU. For more details, visit TAG Heuer right here.
DOXA SUB 200
DOXA is a brand that has a long history in Swiss watchmaking, all the way back to the late 19th century. In more recent decades, DOXA has got a name for producing well-regarded diving watches and was famously seen on the wrist of Jacques Cousteau in the 1960s. The DOXA SUB 200 is the entry point into the brand. Available in six different colours, it embodies the robust feel of a true tool watch. With an automatic movement and a comfortable beads-of-rice bracelet, it is a go-anywhere, do-anything watch. Price: $1590 AU. For more details, visit DOXA Australia right here.
Seiko SPB149
The Seiko SPB149 has won a lot of fans in 2020 as a contemporary reissue of the first-ever Seiko dive watch, the 62MAS. The strong design language is thanks to the bold black bezel, the squared-off lugs and the sunburst dial, all of which combine to make a handsome package on the wrist. Sporty but classic, the pop of gold on the second hand adds a pleasing flourish to a great all-rounder. Price: $1995 AU. For more details, visit Seiko right here.
Longines HydroConquest
The Longines HydroConquest is a modern dive watch that looks just as good in the boardroom as it does at the beach. And even if your 18-year-old isn't going to be setting foot into many boardrooms for the forseeable future, the 41mm steel case will look comfortable on any wrist. In essence, it's the quintessential dive watch, with an unassuming black dial, date window and reliable automatic movement. Everything you need and nothing you don't. Price: $1850 AU. For more details, visit Longines right here.
Tissot Gentleman Powermatic 80 Silicium
This Tissot serves up a seriously sleek package, with a stunning sunburst blue dial and 40mm case. The stainless-steel case features a blend of brushed and polished finishing that highlights the clean case lines throughout and, despite the automatic movement, is kept at a svelte 11.5mm thick. The hidden star of this watch, however, is the movement, with a silicone spring that is resistant to magnetism, and a full 80 hours of power reserve. You can put it in a drawer on Friday afternoon and it'll still be running on Monday morning. Not that you'd ever want to take it off. Price: $1250 AU. For more details, visit Tissot right here.
Baltic Aquascaphe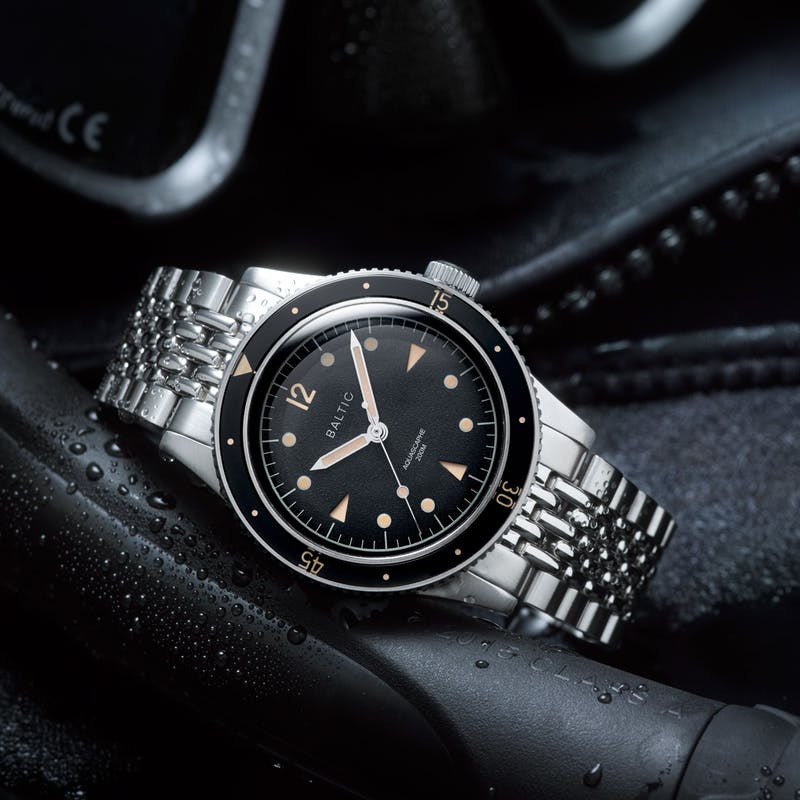 Baltic is a relatively young brand based in France, who have built a cult following over the last few years for their affordably priced vintage-inspired divers. With a classic design straight out of the golden age of scuba diving, a matte black dial and workhorse automatic movement, there's a lot to like. What you will have to decide, however, is if you get it on a tropic-style rubber strap or a steel beads-of-rice bracelet. Or if you can't decide, just get both! Price: $937 AU. For more details, visit Baltic right here.
Hamilton Khaki Field Watch
Hamilton were originally founded in America in the late 1800s to produce railway pocket watches. This history of purpose-built, accuracy-optimised pocket watches still informs their watch philosophy almost 140 years later. Taking inspiration from the military watches from the middle of last century, this cleanly designed time-only wristwatch takes function just as seriously as form to offer a look that's equally fitting at the seaside or with a suit. Price: CHF 585. For more details, visit Hamilton right here.