Rubber fetish: 5 of the best sports watches on rubber straps from monochrome to lemon fresh
Thor Svaboe
While I deeply enjoyed writing the story about unlikely grail watches on rubber straps, let's be honest. Most of them are far out of reach for most mortals even with a serious budget, given the watches' limited supply. So here is a look at some more accessible examples that are tough, fresh and, most importantly, readily available on the comfort of rubber. From monochromatic diver's watches to vintage candy-coloured options, take your pick of the best sports watches on rubber straps.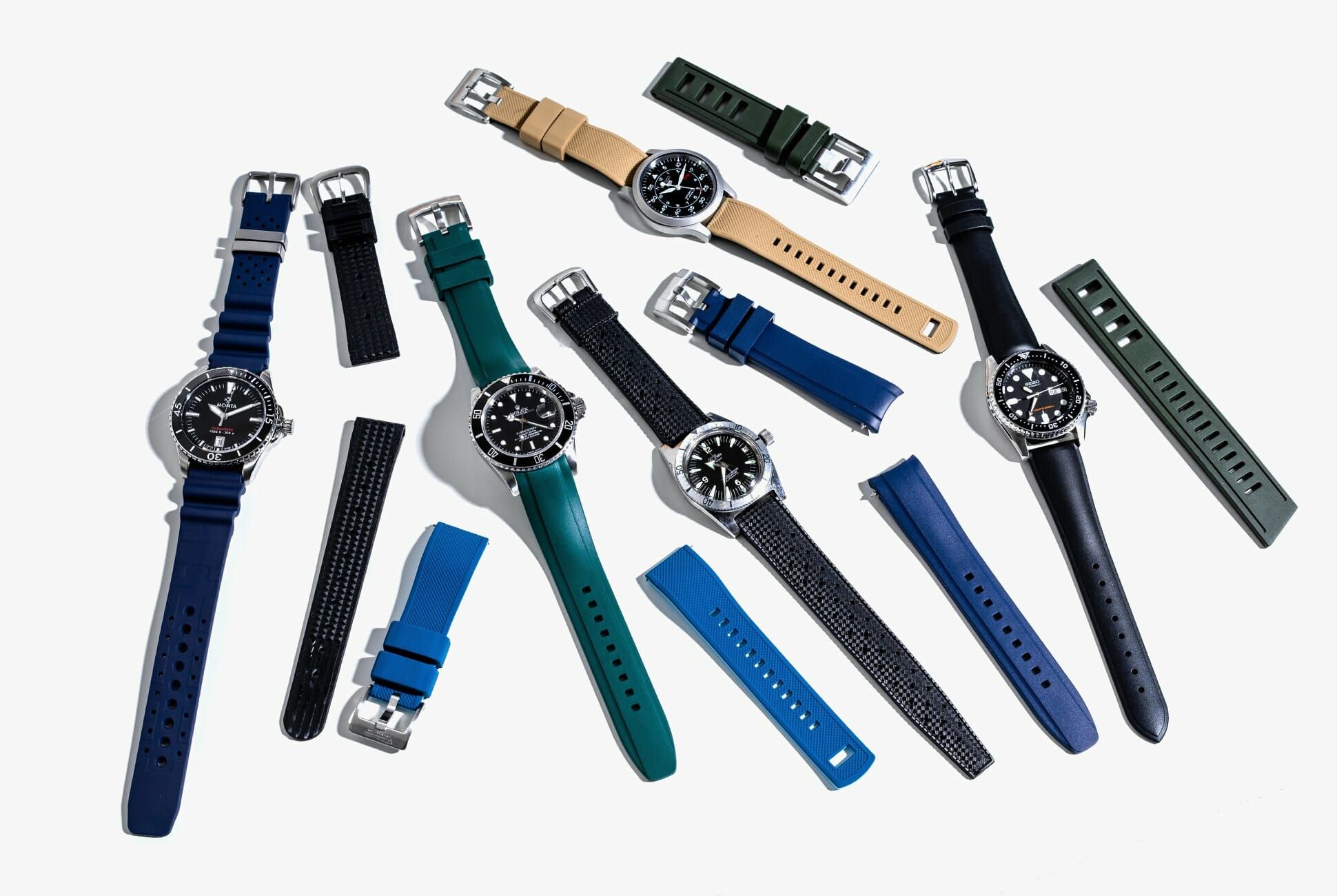 Omega Seamaster Diver 300M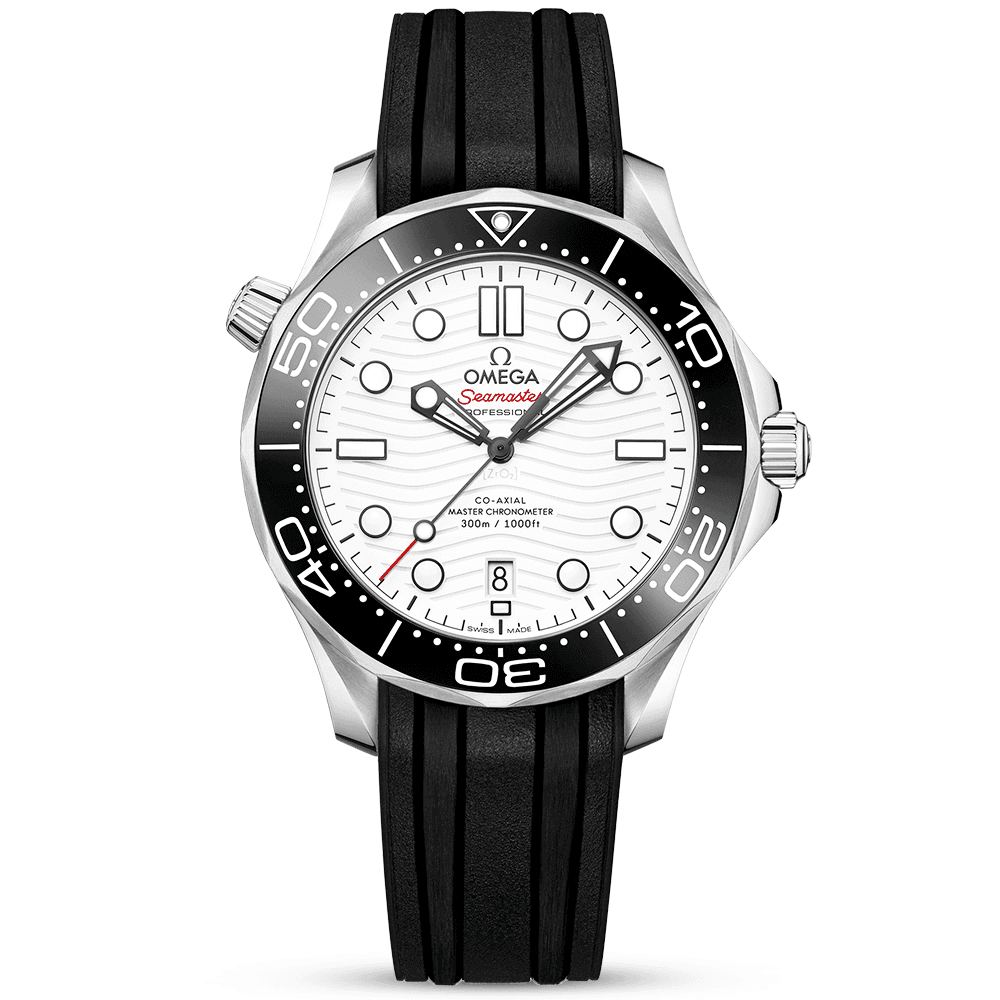 Omega show there's nothing dull about a white dial in this carefully honed evolution of the Seamaster Diver 300M. The rubber strap is supremely comfortable as you'd expect from the big O and hugs the wrist with pleasing tactility. It's marked with a discreet twin-stripe relief pattern and delivered in black to underline the strong monochrome vibe. Twisted lugs with a broad sweep of polished bevel create dynamic shape-play in the distinctive case while the glossy ceramic bezel frames an icy cool dial. The skeletonised hand set, tough black in this case, together with the wave patterned dial may be divisive. But in this graphic context it brings life and added detail to what is already a superb design. Large, blocky indices that light up like lanterns after dark sit with quiet confidence, and the bright red Seamaster script adds a balanced pop of colour. When you consider the 300m depth rating and the fact that this houses the immaculate co-axial chronometer movement, this is one of the strongest divers around – a perfect everyday wear in its crisp arctic white. Price: $6380 AUD
Hublot Spirit of Big Bang Meca-10 Black Magic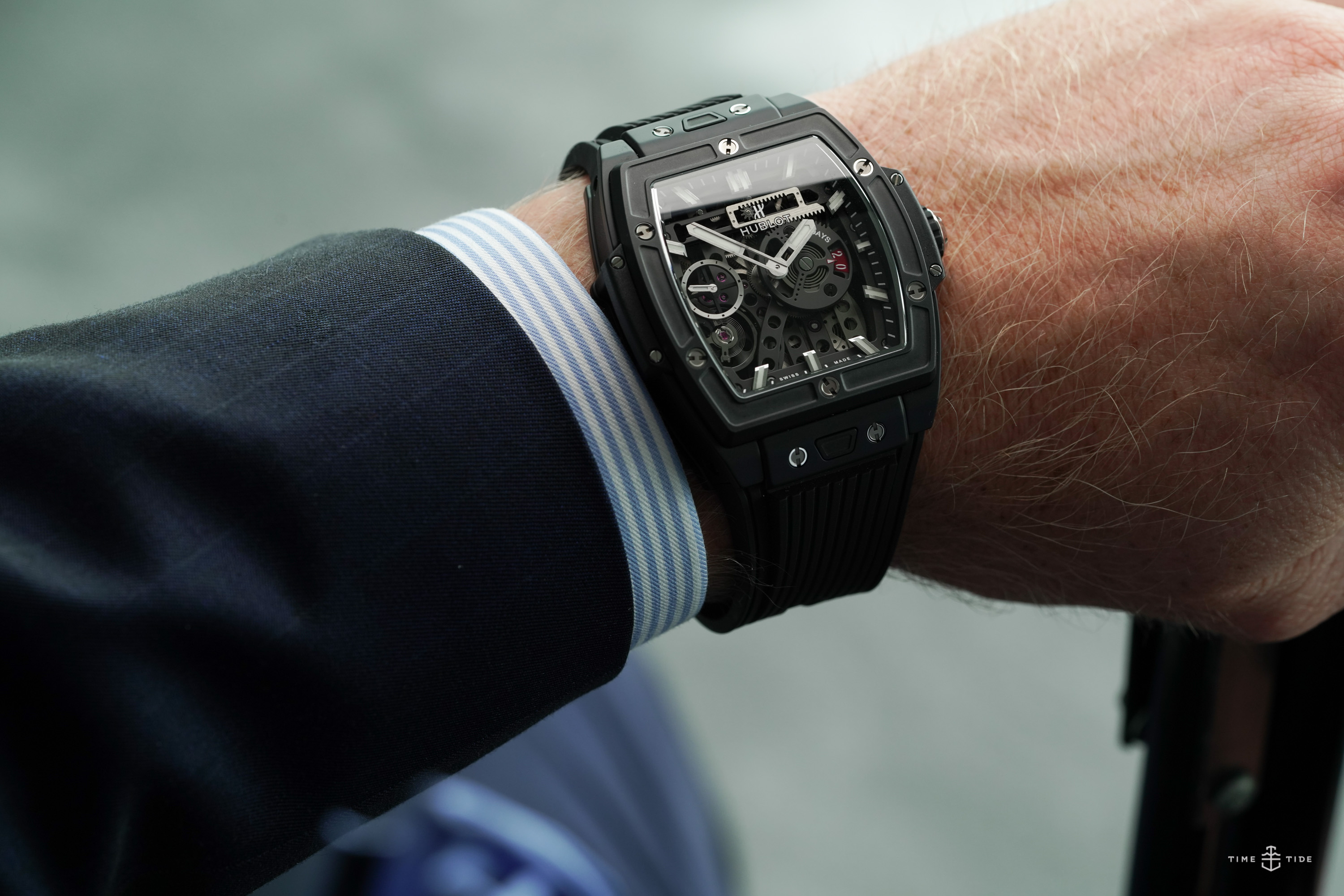 Accessible watches on comfortable rubber straps come for all budgets, and while the Hublot Spirit of Big Bang Meca-10 Black Magic is a considerable investment, its credentials are as solid as its details are tech-tough. A case like the Spirit of Big Bang awakens the engineer in all of us, with its weight-saving milled-out sections and visible bolts underlining an air of indestructibility. The lack of a dial reveals the movement (or the movement becomes the dial), but either way it's deeply fascinating. As if peering into the engine room of an alien craft, the fascinating structure of the Meca-10 calibre cannot fail to engage you. Up until now, it's only been fitted to the well-known round Big Bang cases with this reworked in-house HUB1223 calibre a first within a Spirit of Big Bang case. Hublot has a tried-and-tested rubber strap technology that includes deep striations and shapes that both echo the ends of the strong Spirit case design, a quick-release system to ensure flexibility, and just the right balance of solid feel and soft comfort. All black, deep futurist vibes and, yes, it is probably tougher than you. Price: $38,000 AUD
Oris Aquis Date Caliber 400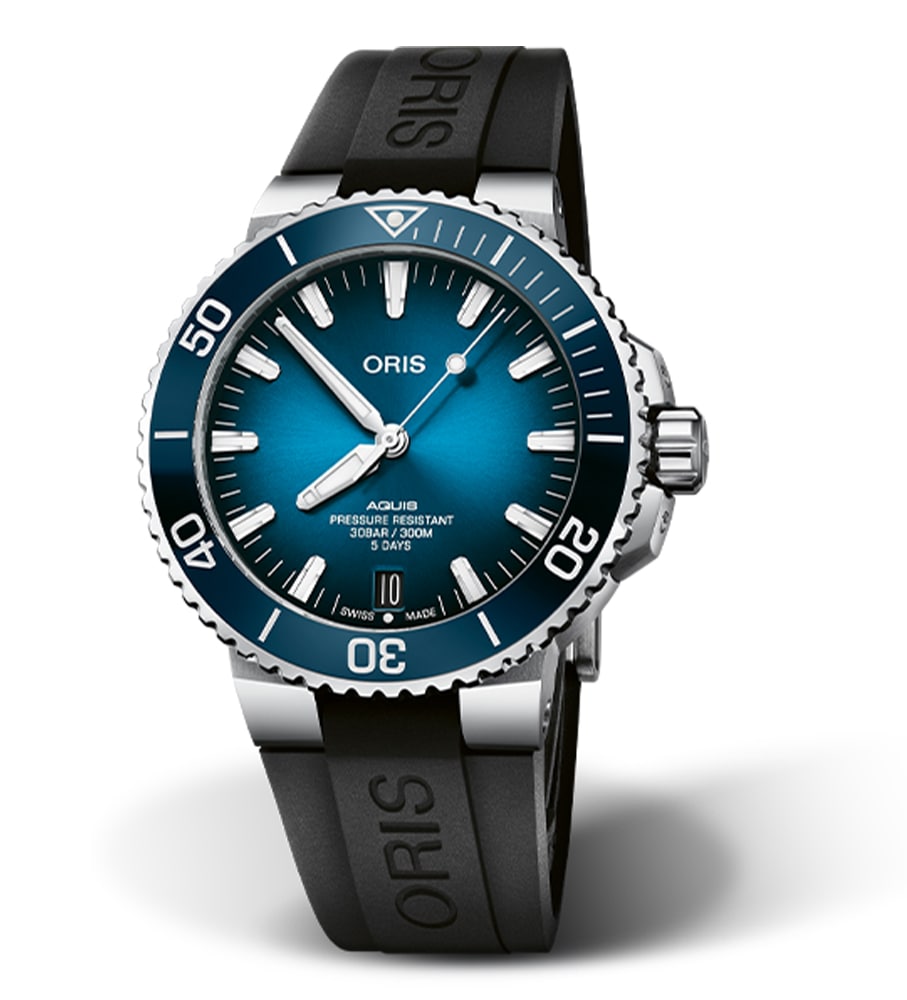 Oris knocked it out of the park last year with the new in-house Caliber 400 that offers a stonking five days of power reserve and sets the bar high for 2021. It also demonstrates the serious tech side of Oris, with the silicon anchor and escape wheel adding serious antimagnetic properties, while most of the movement is produced without the use of steel alloys. All this comes fitted inside the large, comfortable 43mm case and is available on what is a very comfortable rubber strap. While some are frustrated with Oris' insistence on their own integrated lug design preventing the use of all the other lovely straps you fancy, the soft yet reassuring quality of the material more than makes up for it. There's nothing quite like rubber done the Swiss way. And to sate your strap-a-holic appetite, you have a great selection of OEM colours to choose from — just imagine that blue fumé dial on a bright yellow strap for the beach. It's quite a dial, too, with its hypnotising blue depths and bold applied details in the indices and sword hands. This is a wintery cool blue alternative that'll go the distance with you on any tough trek; its inherently rugged nature evident with its ceramic bezel, thick sapphire crystal and 300m depth rating. Price: $4600 AUD
Seiko SPB147J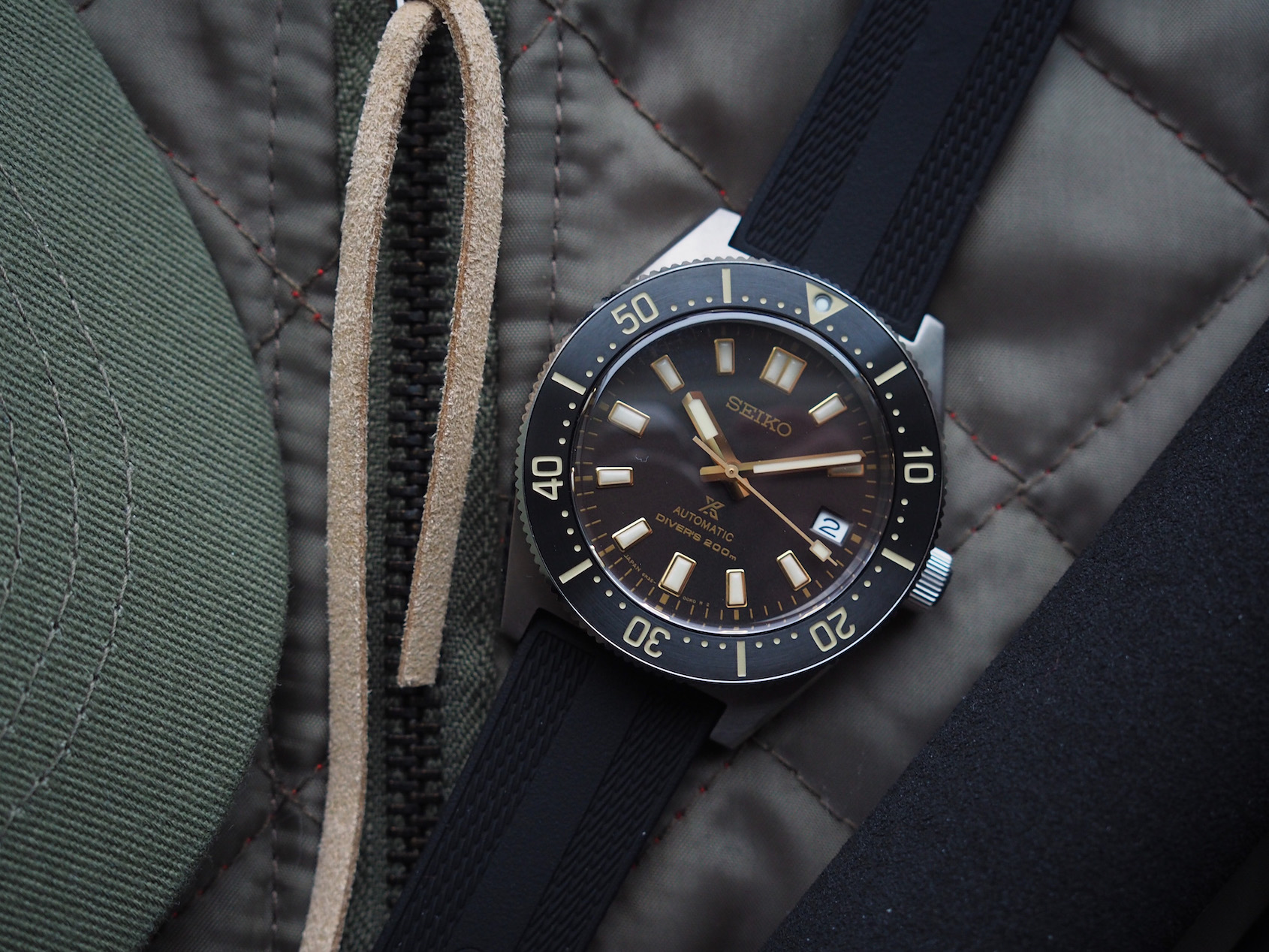 In a bonanza year of retro divers from Seiko, the SPB143 has been a runaway success story as a proper 62MAS alternative, presenting a classic go-with-everything grey dial and a decent steel bracelet. But have another look at its gilt brother, the Seiko SPB147J, that's good enough to go against the venerable Tudor Black Bay Fifty-Eight in our duel here. On a soft, patterned silicone rubber it is as comfortable as they come, boasting those golden details that captivate a vintage-focused audience. In a tough bout, it came into the ring swinging, slightly chubby at a 13.2 mm thickness, but comfortable with a lug to lug of 47.6mm and the classic dynamic sweep of a Seiko case. A tool watch case with a narrow centre band of brushed steel, and an acutely angled polished bevel top and bottom, slims the case size right down. Ultimate finish and ergonomics makes it punch considerably above its price point, with a seriously long power reserve and a 200m depth rating. And those applied gold details on a bronze dial? Sublime. Price: $1595 AUD
DOXA SUB 200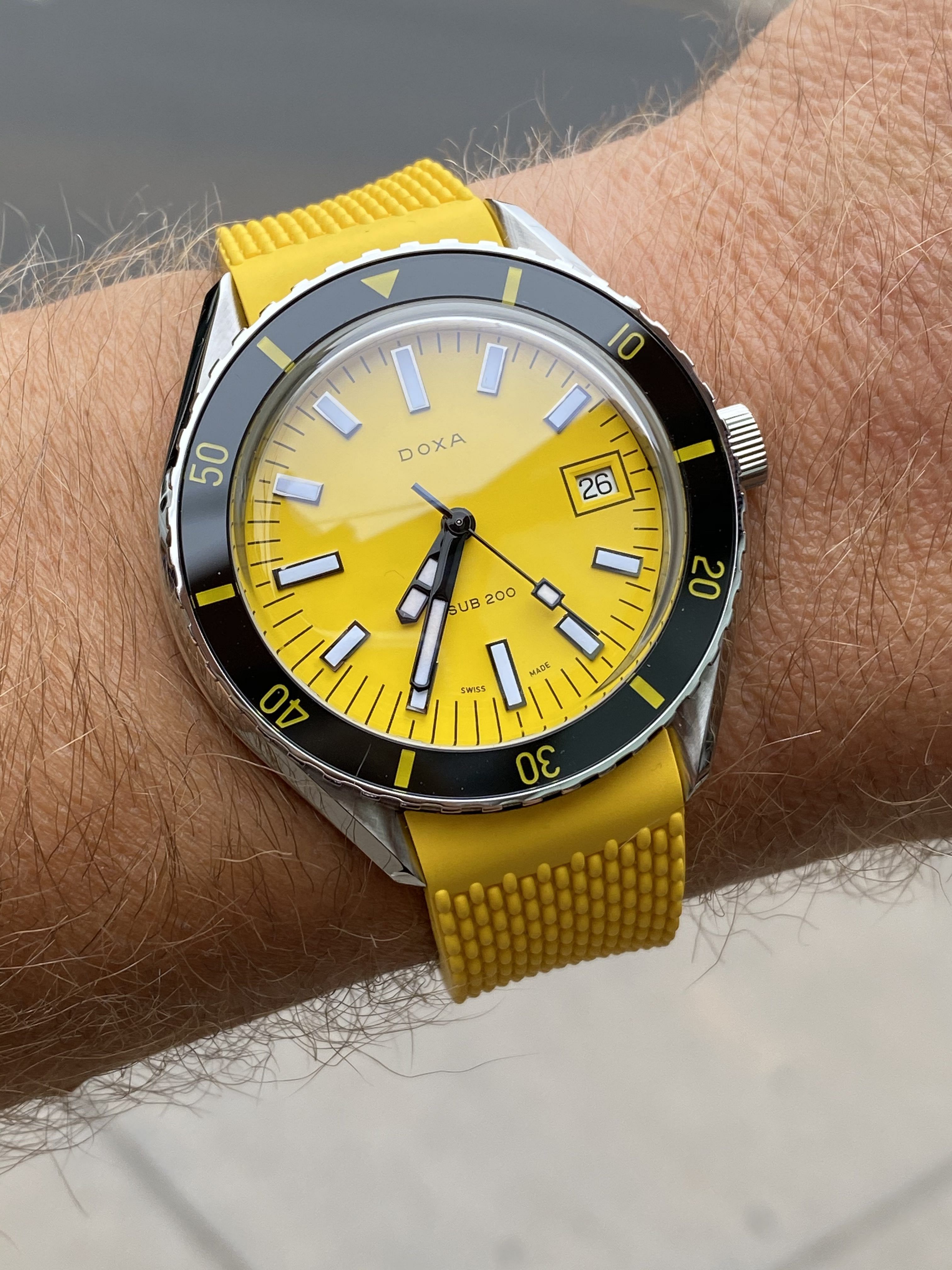 I will admit to cheating as this is already in my collection. But I love vintage divers and, without a doubt, this tough and perfectly formed yellow dial DOXA SUB 200 is one of my best buys of 2020. It's the watch I will wear on a rainy Tuesday in lockdown; hell, this is yellow and cheerful enough to make me happy full stop. With its super-short lug length, it's a 42mm that sits like 40, and will slip under a dark dressy shirt: yes, even dressed up I might need a sunny pick-me-up from that dial. The rubber strap is soft and pliant, and comes with the intricate surface look of a Milanese bracelet. Best off all, it's matched to every one of the delicious candy jar colours of this tough vintage skin diver. As I said to the rest of the Time+Tide team, this will get me through Norway's arctic winter months while I consider moving to Australia to escape the cold. Price: $1150 AUD Pick it up here.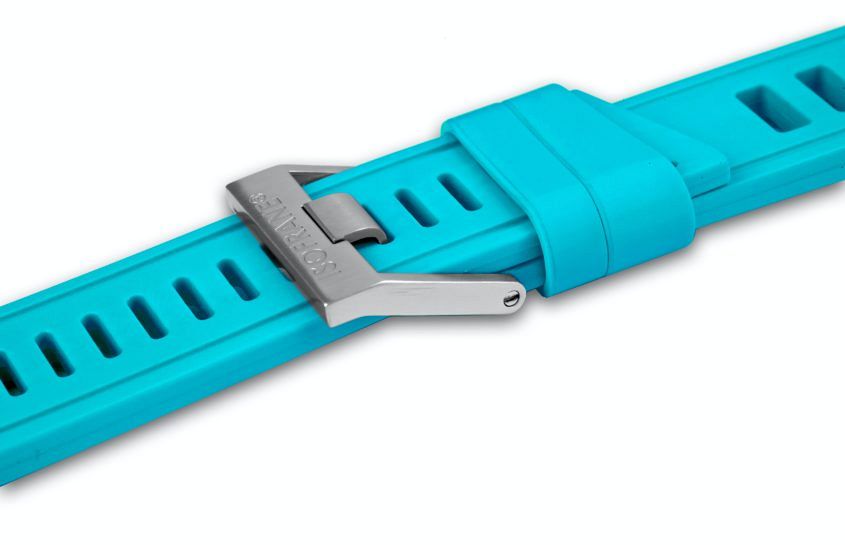 What about when you already have a watch, maybe a vintage-inspired skin diver on a bracelet or even a not-very-water resistant hand-sewn leather strap? Have a look at the range of Isofrane rubber straps in the Time+Tide Shop here and change up for some colour in your life. Superb quality with that just-so '60s look and feel. Price:$185 AUD