We are giving away a Royal Enfield Stealth Black Time+Tide Special Edition Motorcycle, enter on Monday
Andrew McUtchen
Watch lovers don't need to be told that great things take time. And that's certainly been the case leading up to this moment. As readers of our NOW magazine know, last year we had a little dalliance with the brand that used to inhabit our HQ space, and now lives next door. Royal Enfield. Basically, we had a few beers one afternoon and found some matt black, lightly modded common ground between watches and vintage-inspired bikes.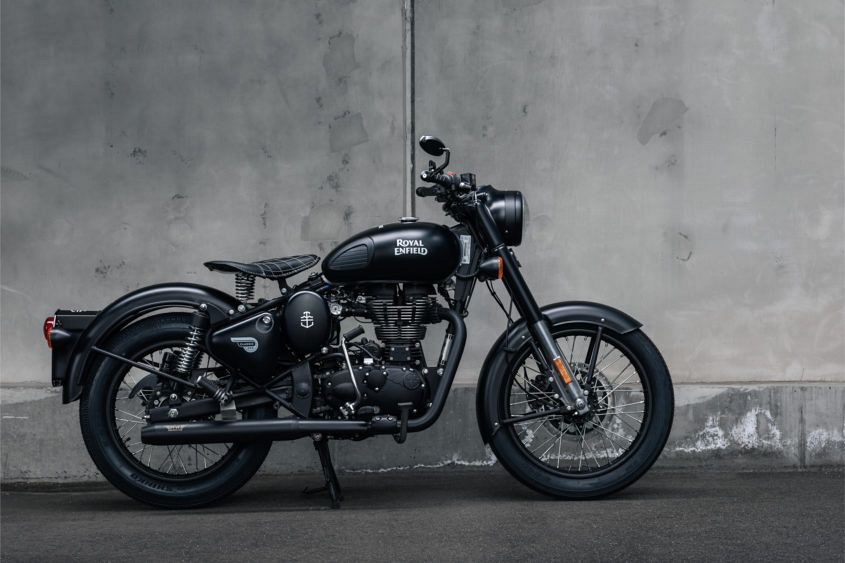 Shortly after, we started work with them on a project that had sheer, exuberant fun as its intention. A Time+Tide motorcycle. We wanted it in the Bobber style, first made popular in the golden age of the wristwatch, the 1950s. We worked with Australian Royal Enfield Dealer Mid Life Cycles to mod it just how we liked, with a leather solo saddle, a mean matt black Moto Wings Performance exhaust and custom bar-end mirrors to complement the low, retro style of the timeless, ever-badass Royal Enfield Classic 500.
Today, we are excited to announce that the very bike we conceived of could be yours.
So, let's get to it. How do you win it? You must first be Australian (Bronx cheers here, I know, but there is good news for our international tribe, you can now download the previously print-only 2018/2019 Buying Guide). Secondly, you have to fill in a form with your details and the last watch you bought. That's it. It takes approximately 30 seconds, at most. And you can multiply your chances of winning by sharing the comp and helping us get the word out to your own tribe.
If you're international, there's still a very compelling reason to get involved by downloading our buying guide, which has 200 watches between $200 and $200,000, all handpicked by our team. All awesome. Until now, it was a print-only deal.
To sweeten the already pretty short-and-sweet process, we're giving away hundreds of premium ballistic nylon Time+Tide NATO straps. This is truly a can't-lose exercise. Because by entering you're also joining our tribe – where fun stuff happens off the books, as it were. Event invites. Exclusive 'dark' watch sale events (that only subscribers ever hear or know about). And more things than ever going forward. Because if there's one thing we value more even than watches, it's having a signed-up tribe behind us.
We're excited. We've had this bike in our showroom for six months. We can't wait to get it in the hands of a winner. It could be you. On Monday morning you can throw your hat in the ring. Thanks for reading, and thanks, as always, for being a part of our story.
A quick summary of the Terms and Conditions: Competition starts 9:00 AM AEST 29/04/2019. Ends 11:59 PM AEST 20/05/2019. Open to Australian residents 18+ (if entrant under 18, consent must be provided by a parent or guardian) who fulfill the entry/eligibility requirements. Prize is a Royal Enfield x Time+Tide 'Stealth Black' Special Edition Motorcycle valued at $9,990 (inc GST). Excludes on-road costs and registration. Major Prize draw 2:30 PM 21/05/2019 at Peazie, 2/27 St Edmonds Road Prahran VIC 3181. Winners notified via Email within 2 days and published at Time+Tide watches website 27/05/2019. Promoter is Time and Tide Watches Pty Ltd. ABN 18 367 821 559. 22 Cremorne Street Cremorne VIC 3121. Authorised under NSW Permit No. LTPS/19/33191, ACT Permit No. TP 19/03029 and SA Permit No. T19/467. For full terms and conditions, click here.