Editor's note: The Rolex Sky-Dweller is an amazing timepiece. No doubt about it. It's also the epitome of what Rolex does so well — take something exceedingly complicated, like an annual calendar, and then create a simple, novel and ingenious way of not only displaying said complication but how you interact with the watch. Seriously, who else would have thought of something like utilising the fluted 18k yellow gold bezel to adjust the various different complications of the wristwatch? Anyway, in this writer's humble opinion, it's a stroke of genius, and I totally understand why the Sky-Dweller is today in such high demand globally. A little while ago, we reviewed the updated model line-up when it was released at Baselworld 2017, and these were our thoughts.
In the months, weeks and days leading up to Baselworld the speculation around what novelties Rolex would release reached a near fever pitch. Pundits made predictions about what the new Sea-Dweller would look like, and if we'd see extensions added to the Daytona and Yacht-Master family. But no one predicted an updated Sky-Dweller …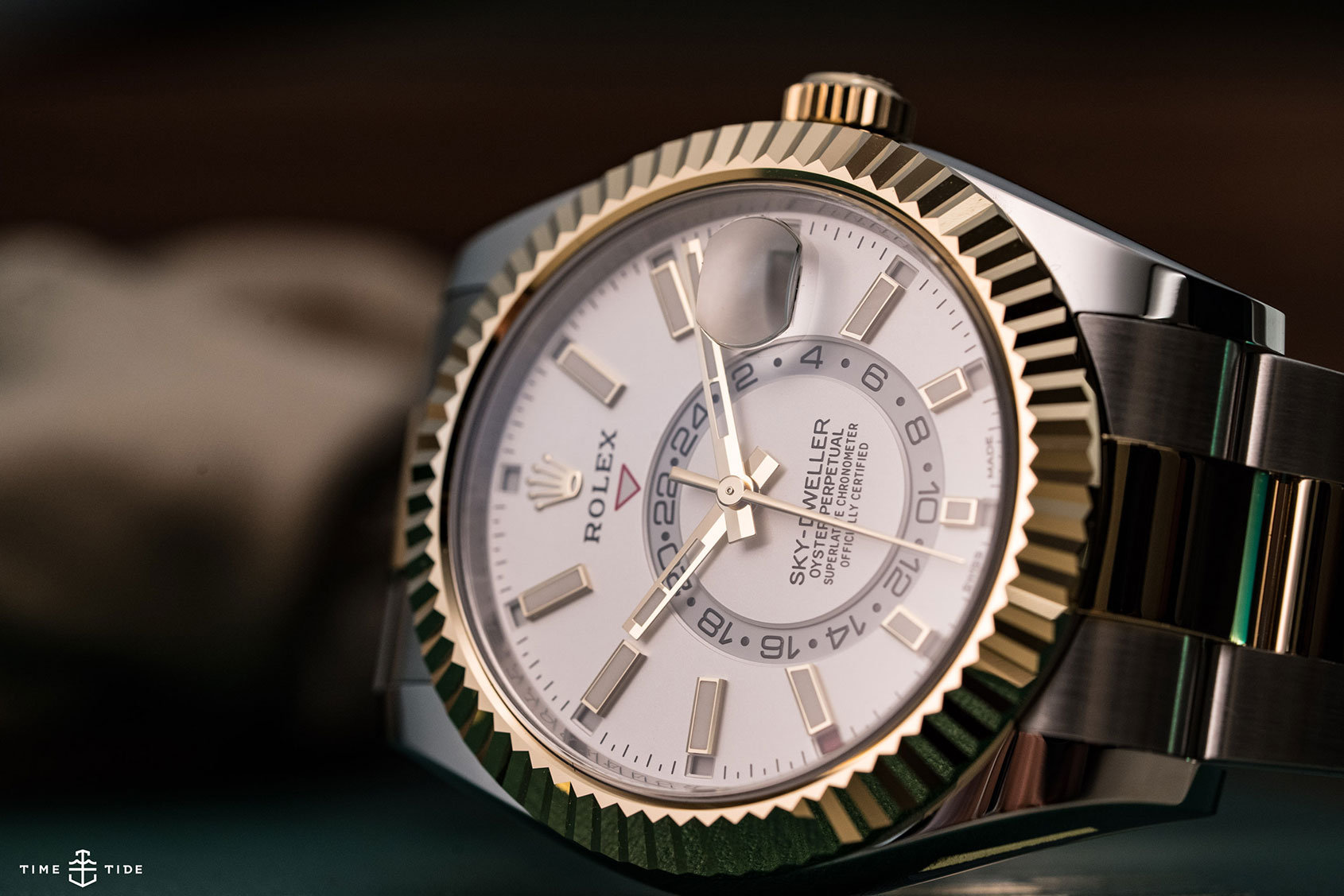 Originally released in 2012, the Sky-Dweller has always been something of a niche proposition. Highly complex and only offered in precious metals, the dressy Rolex lacked the instant cachet of the Professional series.
Well, with the addition of competitively priced Rolesor models (the steel and yellow gold has a Swiss RRP of 16,300 CHF, and steel with a white gold bezel is 13,700 CHF), we expect the Sky-Dweller will rocket to the top of a lot of people's interest lists. It's not just the fact that Rolex has democratised the Sky-Dweller somewhat that has people interested, they've also given it a facelift, lengthening the hands, replacing numerals with indices and blending the 24-hour disc into the dial. All this adds up to a Sky-Dweller that looks and wears differently to the original, and we're pretty sure Rolex has another hit on their hands.