EDITOR'S PICK: I did not want to like the vintage Rolex Pepsi GMT-Master ref. 1675. It had other plans.
Thor Svaboe
EDITOR'S NOTE:  Between the struggle to get hold of new pieces and the deranged prizes for pre-owned prices, it's easy to hate on Rolex. For the sake of emotional self-preservation alone, it can be easier to turn your back on the brand, muttering about confected scarcity or overcooked hype. The inconvenient truth is that Rolex persist on making superlative watches as Thor found out when he encountered a vintage Rolex Pepsi GMT-Master…
I have had enough of vintage Rolex. Really, enough. Hyped out. Even in the darkest days of lockdown I would skip Hodinkee's Talking Watches episodes focusing on GMT-Master references and vintage Rolex collections … bring me some carbon fibre!
Why, then, do I find myself standing here outside the house of the owner of a 1969 Rolex GMT-Master 1675 feeling sick and wanting to leave? Caressing the scratched lug for the last time, trying to read the surface like braille, encoding the history within. I did not want to hand it back.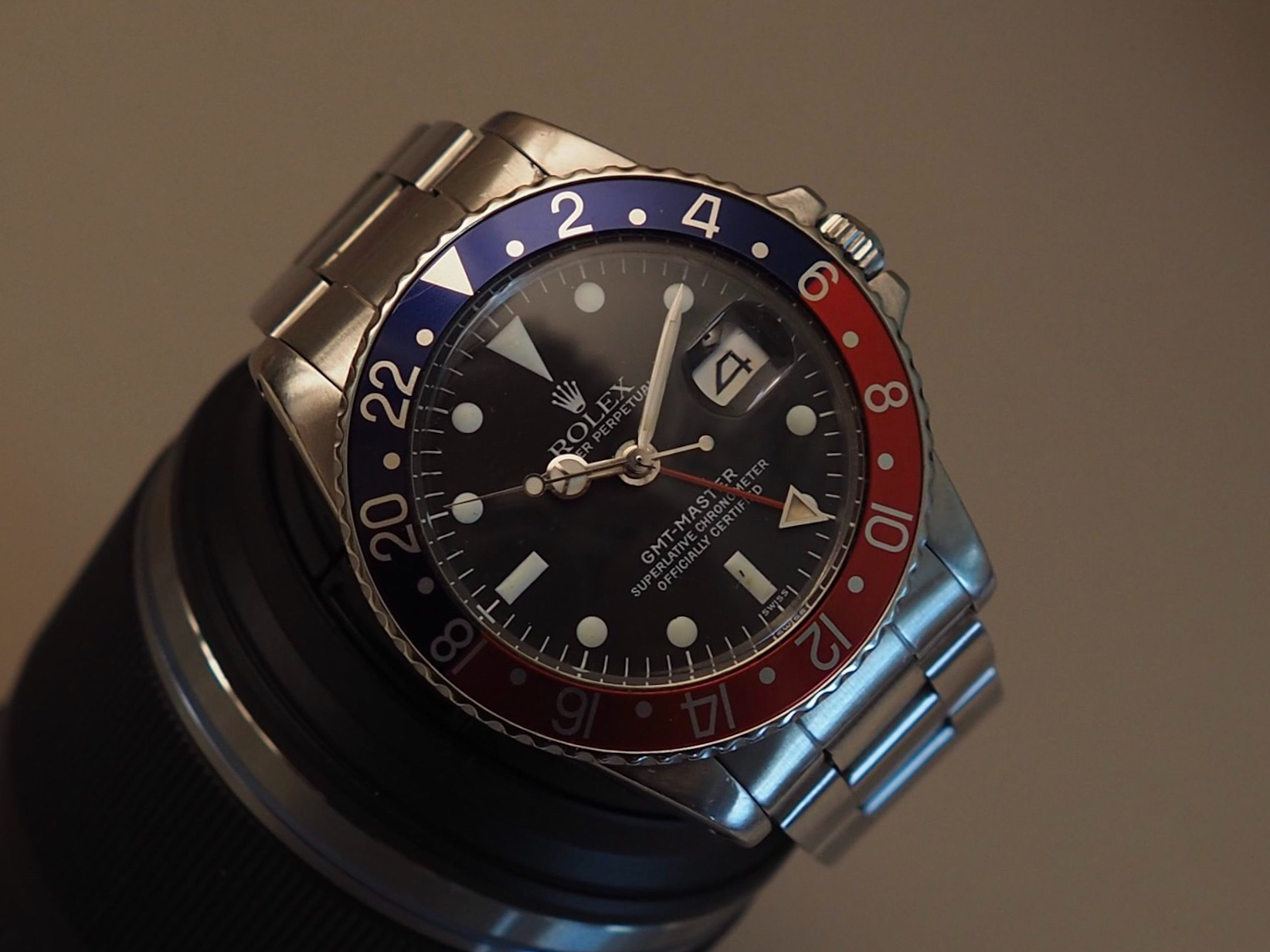 A weekend with the iconic Rolex "Pepsi" 1675
I'm once again struggling to fit an objective lens for this review, with one of the icons of watchmaking on the wrist. The GMT of GMTs, the Pepsi of Pepsis, most people have an opinion on this classic travel tool from Rolex. History is richly embedded in the bracelet of this compact sports watch, a GMT-Master from around 1969. There is something special about recognising the shape and colours of a model that has been in production for more than 60 years, the same struggle with objectivity as when you sit in a classic 911. Today, the GMT-Master is bigger, bolder and more sharply bevelled than in the late '60s, and might imbue you with a different perceived image than the solid tool watch that started life in the late '50s.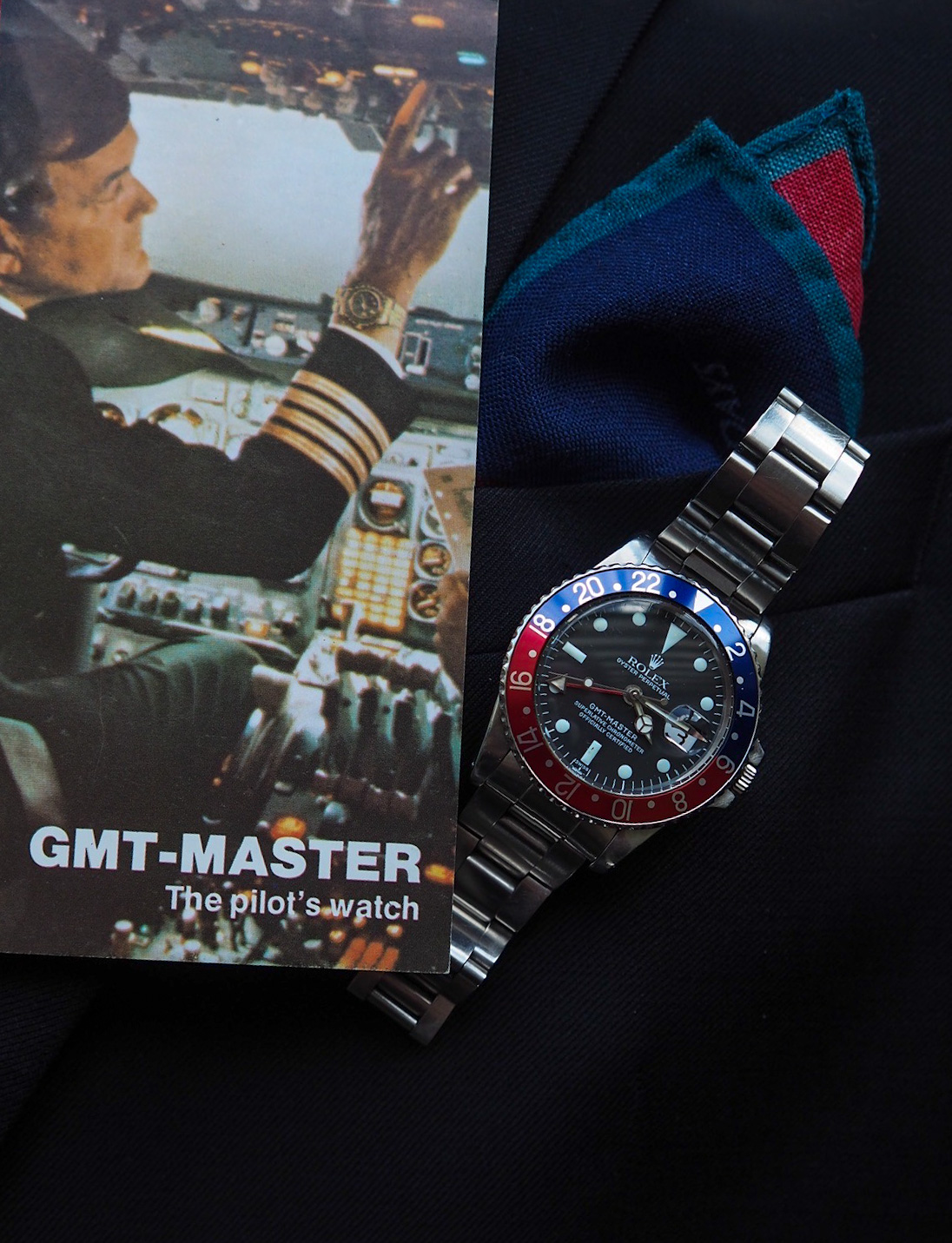 I will not delve deeper into the history books than what most of us know already: Rolex was in 1952 contacted by the most glamorous airline of the day, Pan Am, who had the strong need for a tool for their pilots crossing the Atlantic. Rolex stepped up to the task with what became the quintessential travel watch, and firmly established the GMT genre we know today.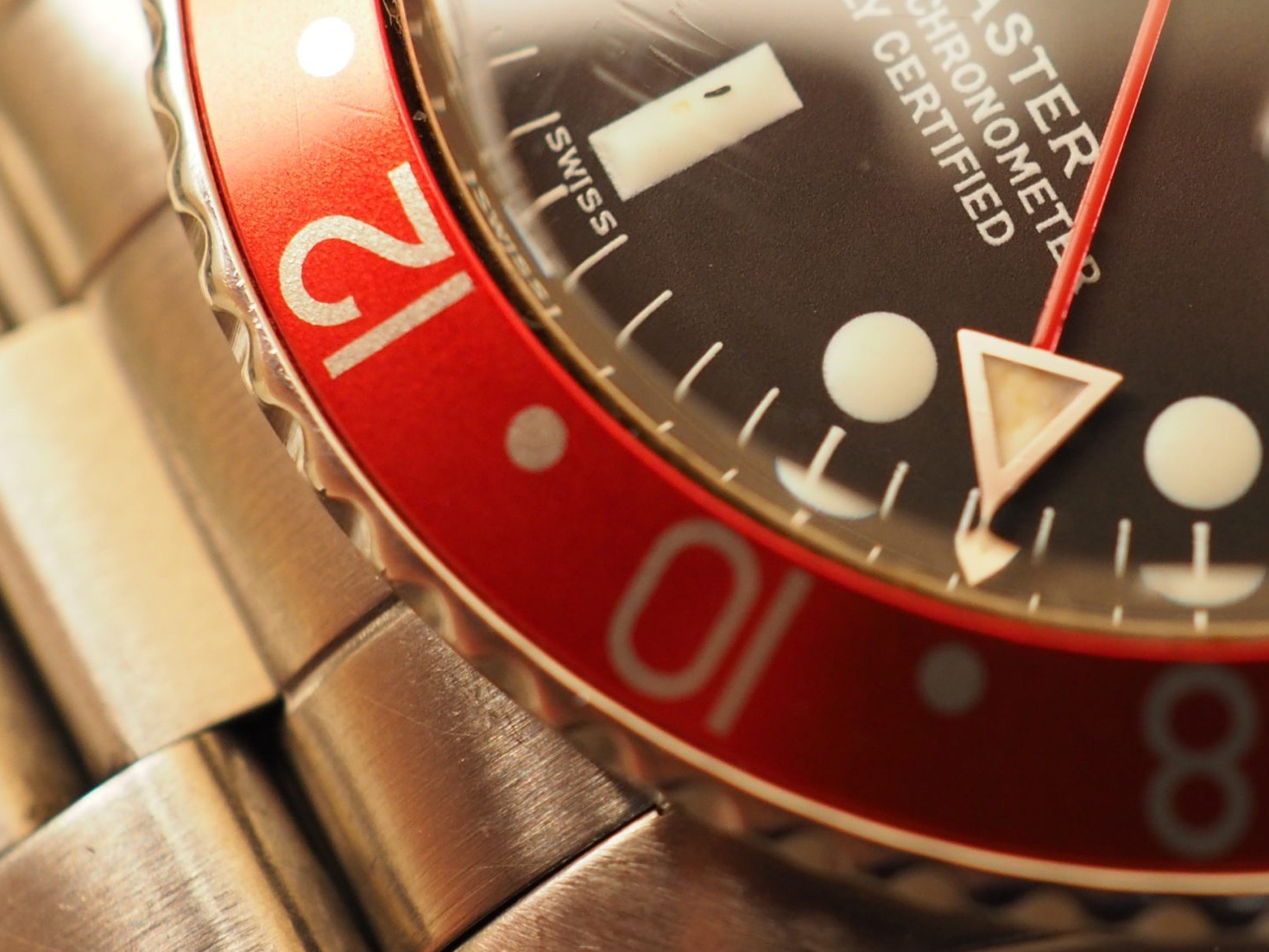 Fast forward to my own childhood, and ever since Magnum P.I. flashed that red and blue bezel, I was aware of this as the Rolex to have. A tough but glamorous status symbol, not the tool it was set out to be – and for me always there on a varying graph: spanning pure disdain in my punk rock political youth, back through to an object of desire. Now we have had an oversaturated period of both films and articles on the insane values found in battered vintage pieces with purple and grey faded bezels. Then came that weekend.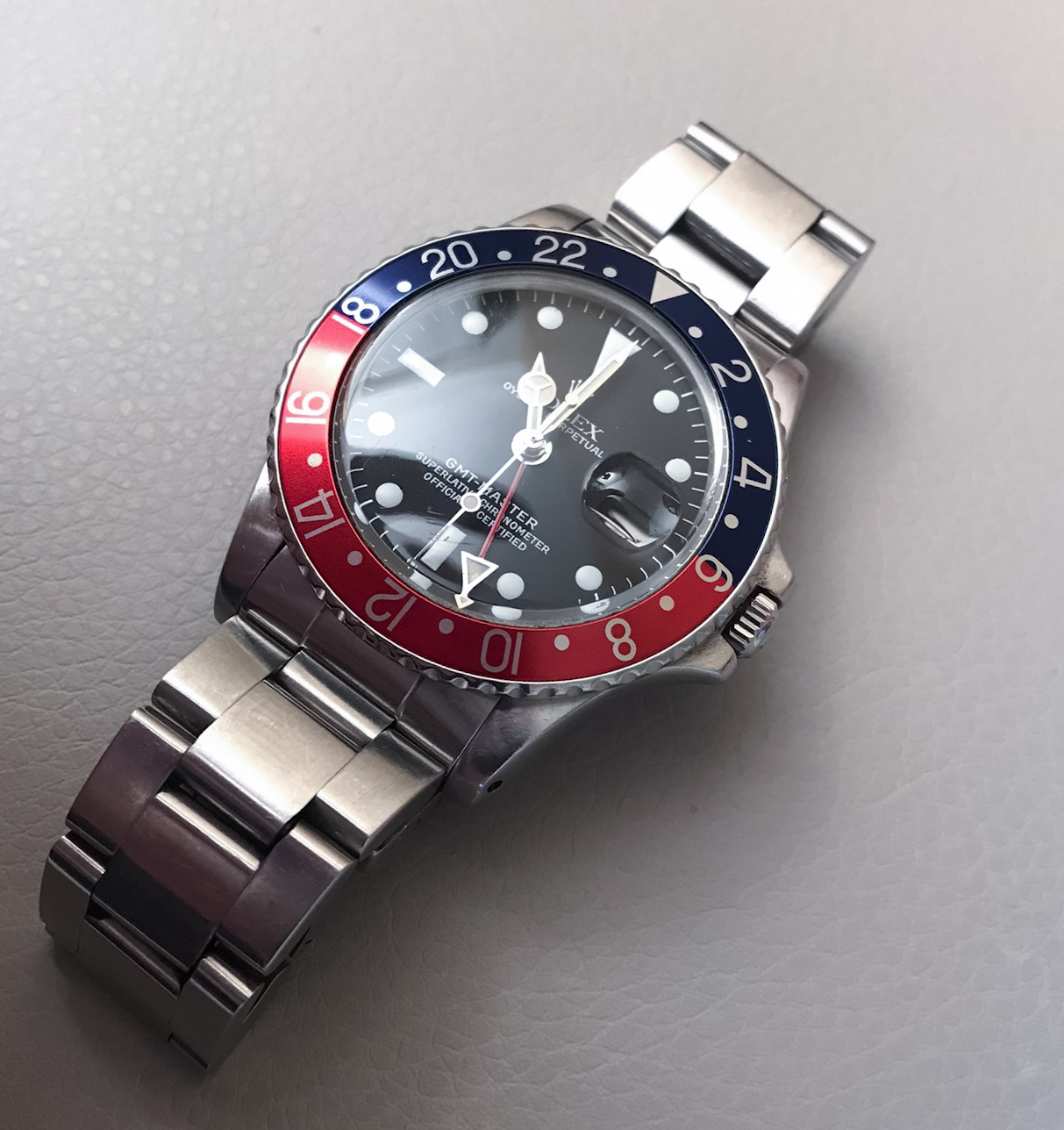 I had a Patek Philippe Aquanaut in for a review – and when picking it up, the owner held out the surprisingly small and demure GMT-Master. Yes, the Forefather. 
Holding the lithe GMT-Master in my hand I couldn't help but want a closer look, even just to snap a few shots, something that didn't prove easy with that acrylic crystal … There are not a lot of these around that aren't squirrelled away in safes or watch cases, and it changes our perceptions. The slick ceramic bezelled 2020 GMT-Master is what we see on wrists at any given GTG or airport lounge, perennially sold out at the AD. And that larger, sharper – high-res version is our point of reference.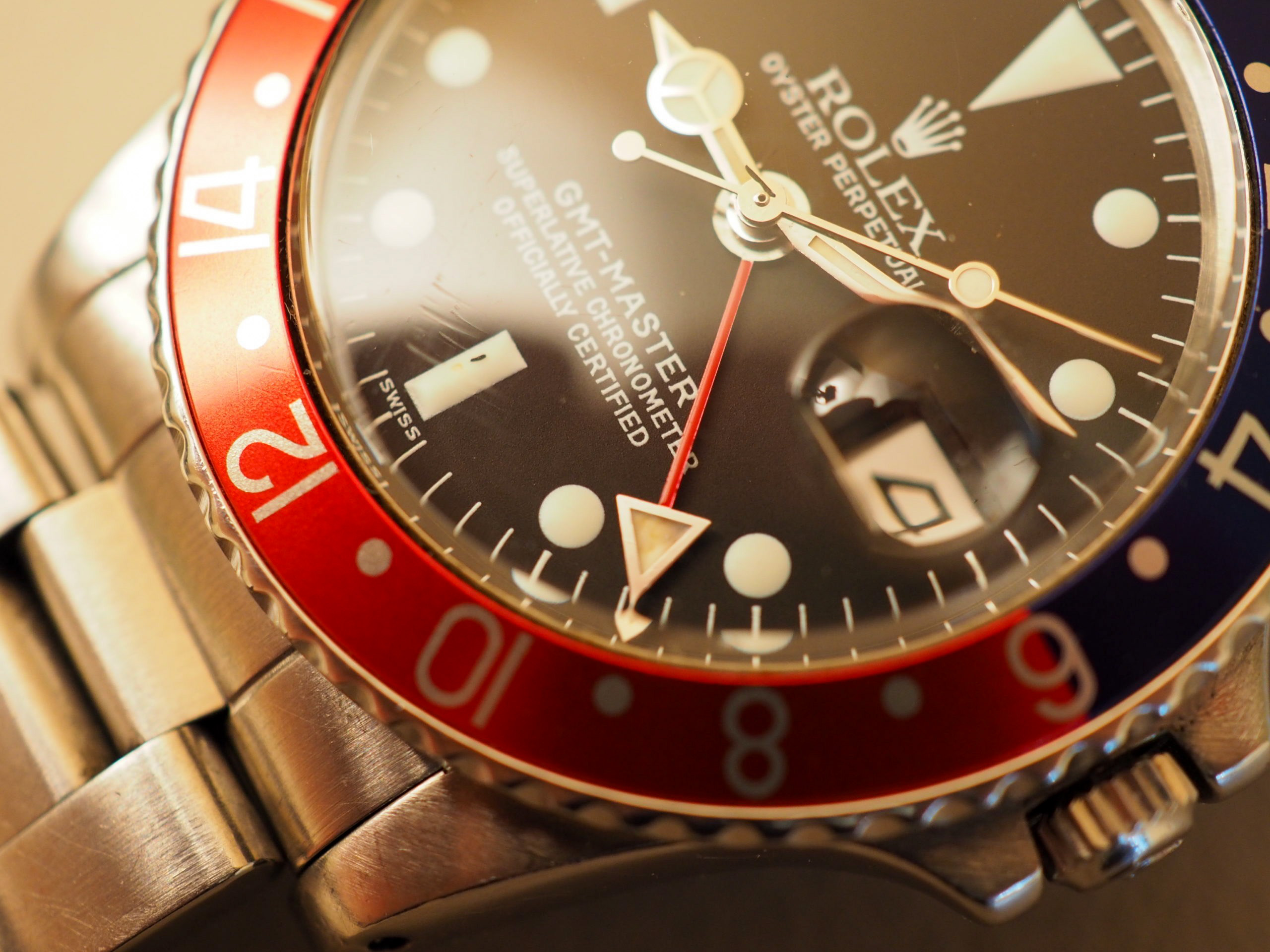 First impressions
I had fallen into the same category, and was not ready for the reverse shock of compact, svelte and lack of weight. I know my millimetres and grams, but in my head the larger-than-life image of the GMT-Master had become a monster. My wrist turns out to be the exact size of the owner's, because never have I had a review piece where I threaded my hand through the delicate vintage bracelet and folded the rather flimsy-feeling diver's clasp and felt … At home. Instantly forgotten were the exit-clicks on YouTube from another Talking Watches episode (note: I love Talking Watches, seriously) when a vintage $1 million Rolex is being fawned over, and scrolling past another Watchville thumbnail with a scratched double red vintage Sub. This GMT-Master is not something I want to take off my wrist. What witchcraft is this?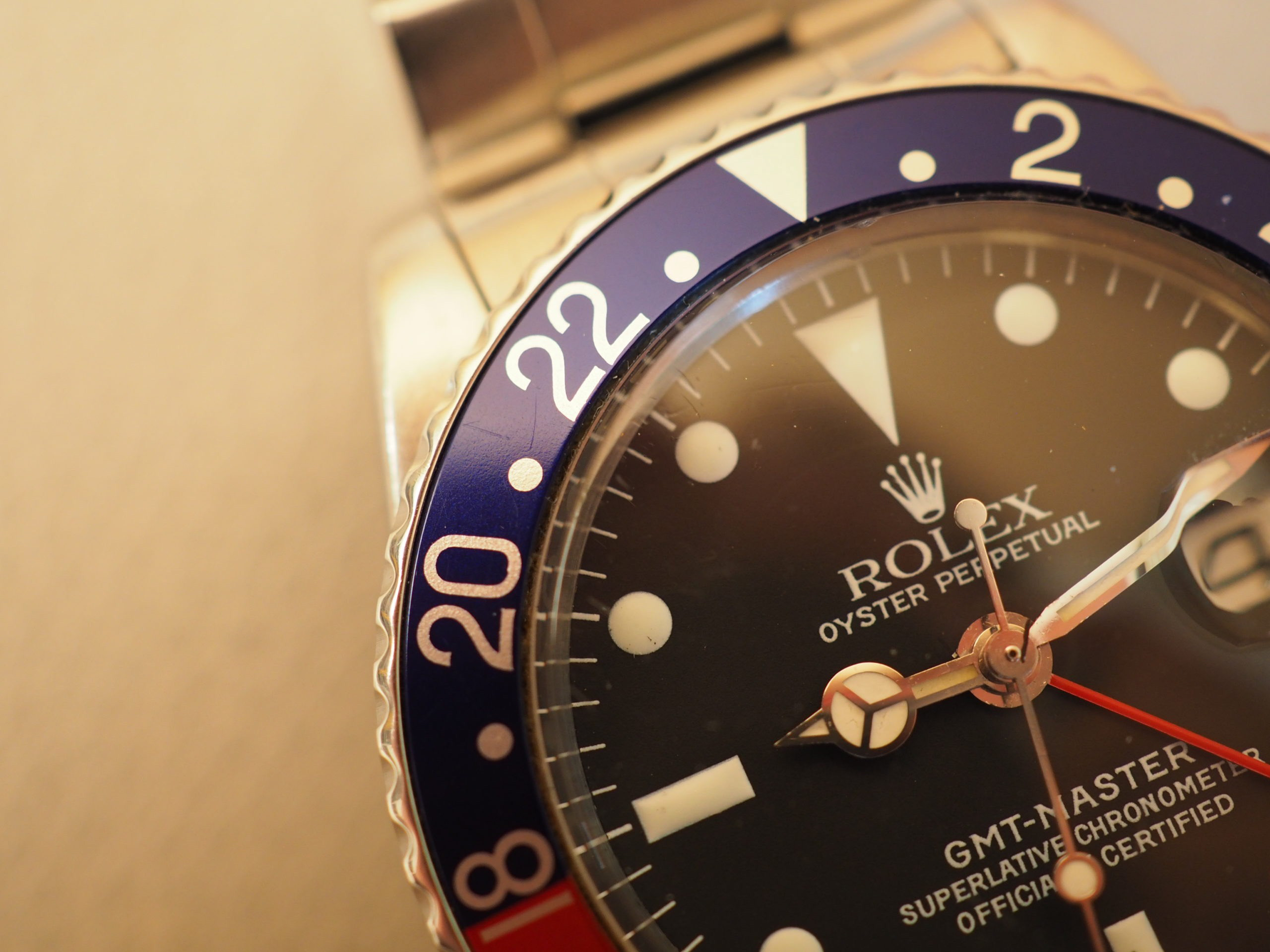 The case
At a dress watch-like 11mm, the case is 38mm across if you ignore the discreet crown guards – with a stubby 45mm lug-to-lug. This is svelte by today's standards. And, it is smaller than my own oft-heralded Black Bay Fifty-Eight, and yet I still envisioned largesse. If Leonardo da Vinci had sketched out the Golden Ratio for wristwatches on his drawing board, these are the numbers you would see. The compactness of the design takes me by surprise, yet the visual presence is there in spades. 
What strikes me is the quiet language it speaks: that of a downplayed, and downright confident tool watch. The comfort is pure objective micro ergonomics, and the respect for Rolex is solidly underlined. The parallel with the timeless Porsche 911 is something that often springs to mind, from the lithe shape of the 1965 debut through to today's high-tech, larger-than-life myth that still captivates. 
A tool watch, not a symbol or icon, that is the plain-speaking design language the vintage GMT-Master speaks. Especially with the unpolished history easily transcribed from the plethora of nicks, scratches and hairlines on the case. The classic traits we know from its Submariner origins are all here. The slim, slightly rounded lugs curve downwards, creating another aspect of inherent comfort, and not too much as to relegate it to wrists of my twig-like size. It's another trait that has me seriously questioning all the 42-44mm watches left in my collection.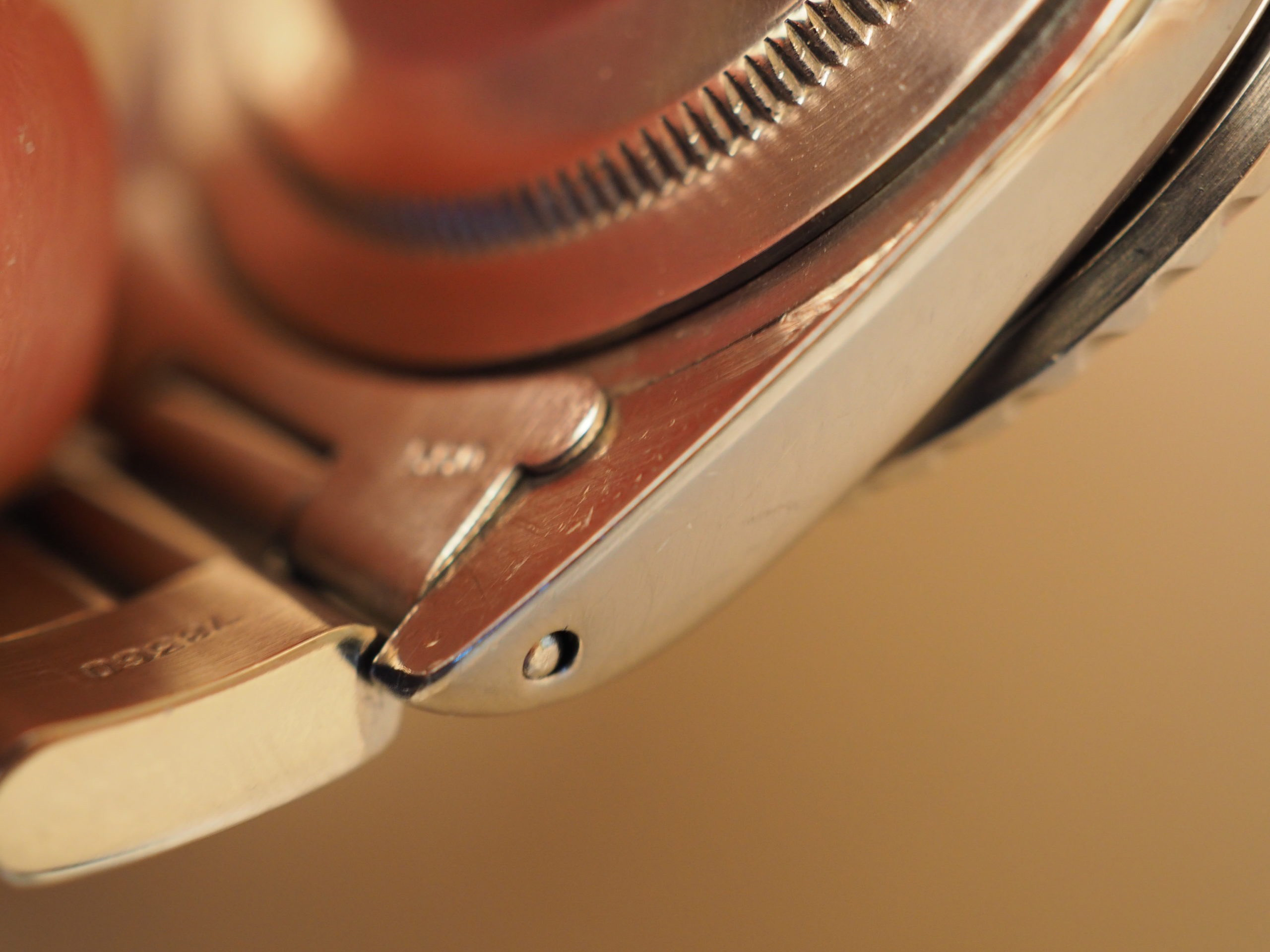 The crown is small and delicate, flush with the now ubiquitous crown guards of the second-generation flat-topped version. As a comparison to the vintage-inspired diver du jour, the Black Bay Fifty-Eight, it's of the same 11mm thickness but feels more slender with its rounded and oh-so comfortable case sides. The case has hardly been touched by a polishing cloth, and retains the delicate balance between polished side and brushed top, though the bevels are a bit smoothed off. Drilled lugs will no doubt make it tempting to try on a vintage leather strap to go casual with a pair of jeans for a change.
If I seriously concentrate on erasing the iconic reputation that emanates from the watch and compare it objectively with other sub 40mm divers, the proportions are just right. It has the strange balance of feeling quite dainty while at the same time having serious presence, crown at 12 and historic Pepsi colours notwithstanding. The aluminium bezel has very few scratches and fadeless sharp colouring – so there is a distinct possibility this was changed during a service in the '80s or '90s, as this was the norm. Ironically, now you can buy a faded tropical fuchsia-coloured bezel for the same as a new Tudor, something that would have been binned at the AD for a fresh one.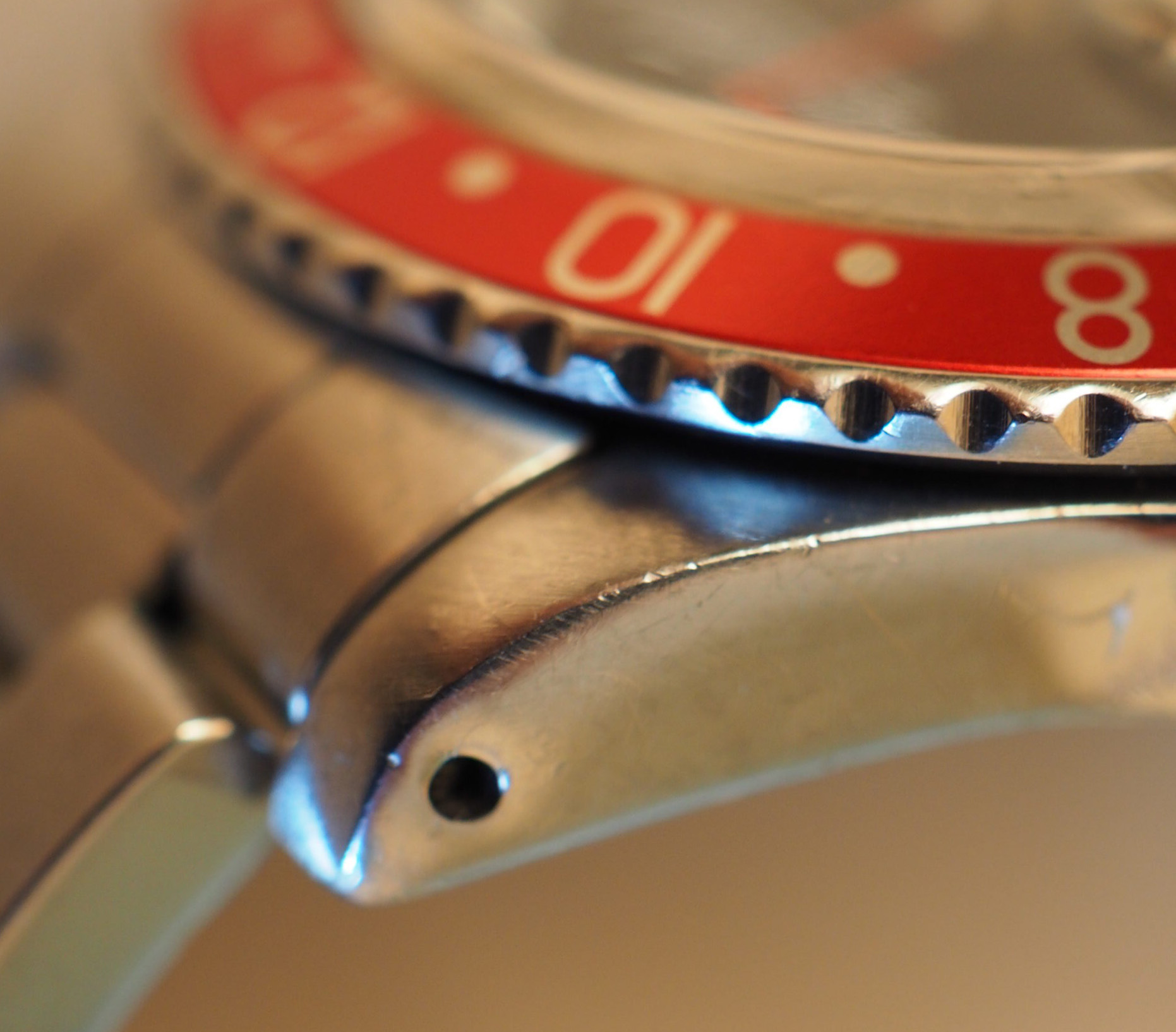 Be careful when looking at GMT-Masters if you want that legendary creamy faded lume and pink bezel, as the values fluctuate wildly – leaving the marketplace very tempting for less-honest individuals. Focus on the generation you're after and don't skimp on your research.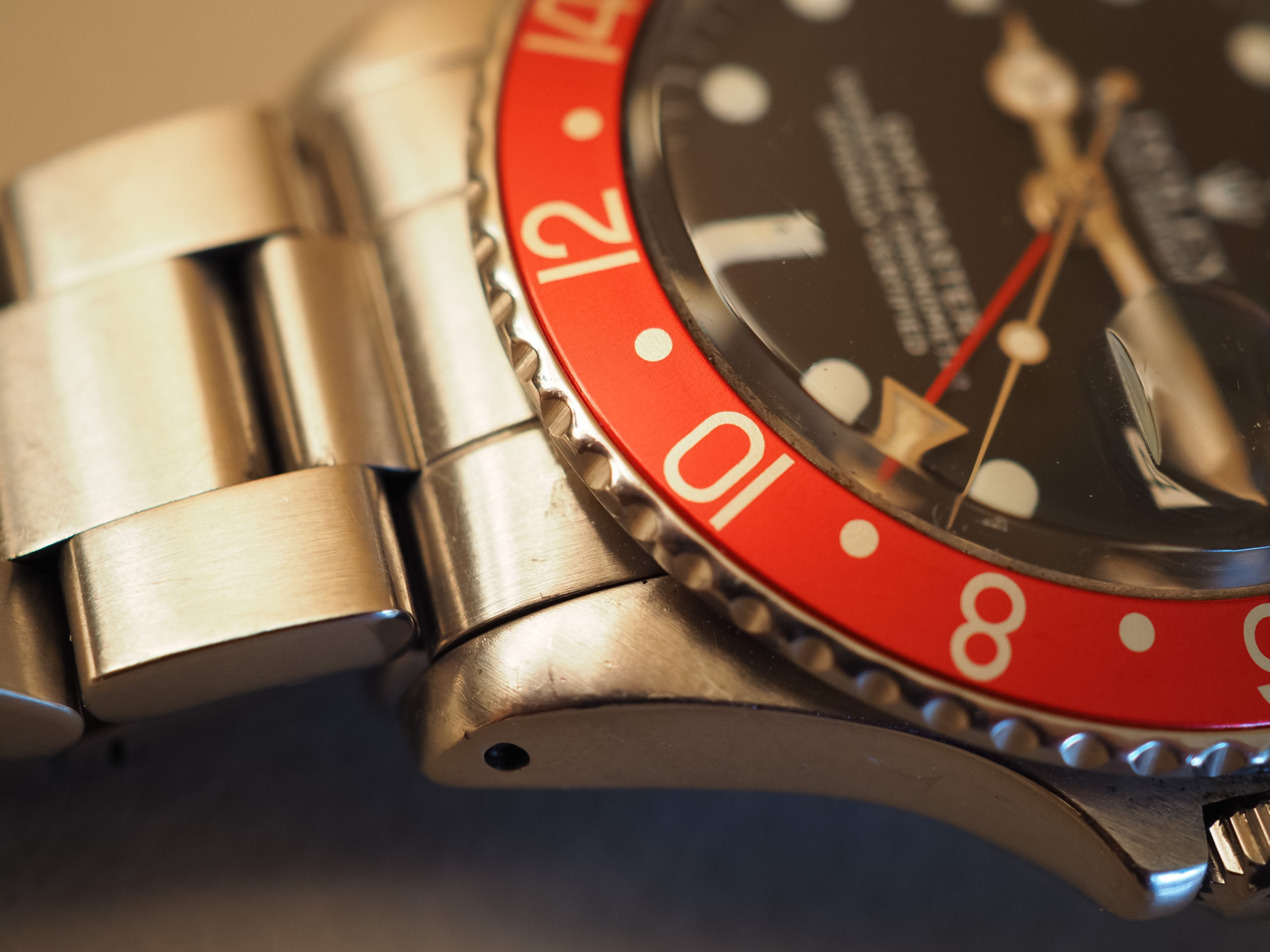 The dial
This particular example has probably spent more time under a shirt sleeve than on a tropical island the last 50 years, as the lume is still quite the crispy white on the sharply printed indices. When pulling out the crown we notice that the seconds are non-hacking, dating this pre-1971. For its age, the crown engages and clicks like a five-year-old lesser specimen of a mechanical watch, another annoyingly perfect way to make me fall for the 1675. The dial itself is legible yet muted, playfully distorted at any slight angle due to the nature of the acrylic crystal and its cyclops.
The large arrow end of the red GMT hand points to a 1968-70 production year without me checking the serial number, and livens up the dial no end. You set the time when you touch down (in my mind on a Concorde or a Pan Am Jumbo), and twist the non-clicking 24-hour bezel so the arrow points to your home time. That's it. It is a tool, and this is why it is winning me over, you just need to recalibrate your head to a time before two swipes and a touch of an icon were sci-fi fantasy.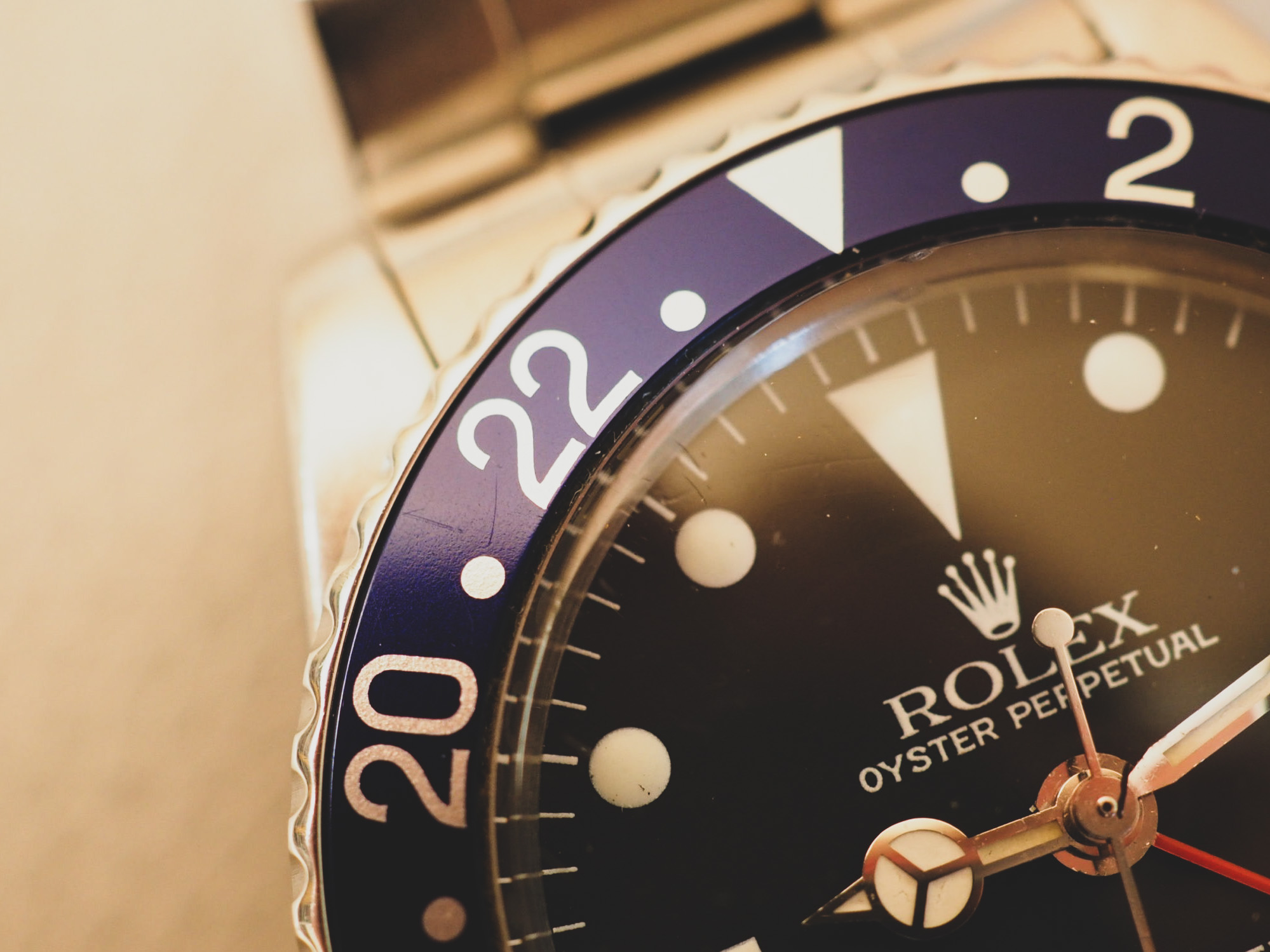 The bracelet
Well, what can I say? The Oyster bracelet, being an early one, is by even Seiko standards quite flimsy, though the stretch is less pronounced than on most '60s sports watches. But this lightness, with the classic taper down to the stamped diver's clasp, is what makes it drape around the wrist like few others. Judge it for what it is, a 50-year-old bracelet and you'll be damn impressed. And just this feeling of soft flexibility is what makes it superb, again something that makes it sit so well and slip under a dress shirt cuff – yes, this is allowed in 2020, even under the sleeves of bespoke tuxedos at the Oscars.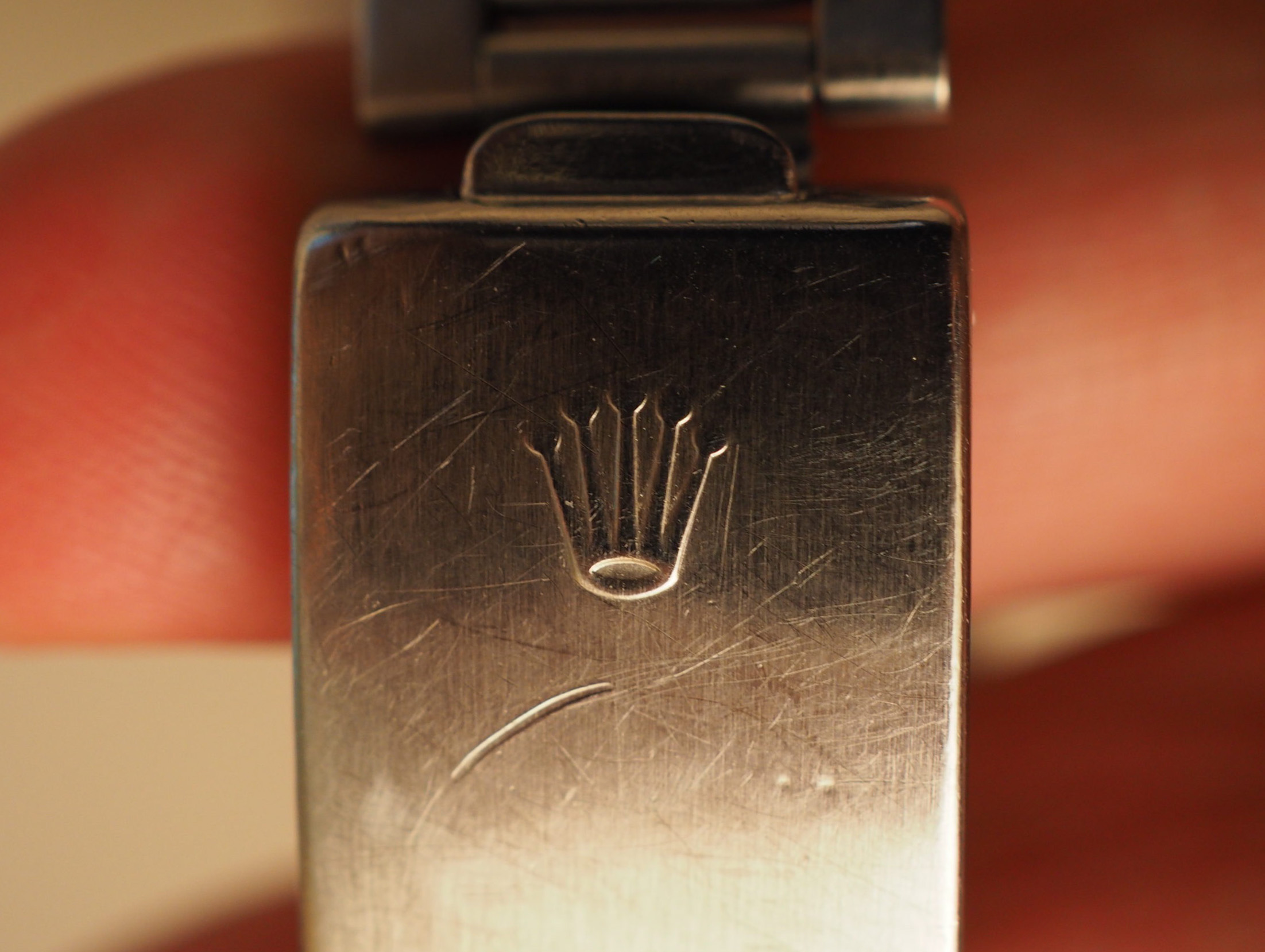 We won't open the back, as the 25-jewel 1575-calibre was not made to be beautiful, but assembled with a solid functionality in mind and chronometer certified. This watch has been regularly serviced, so not COSC-specs anymore but perfectly good enough in the +/- for everyday wear, and still with a decent 40+ hour reserve.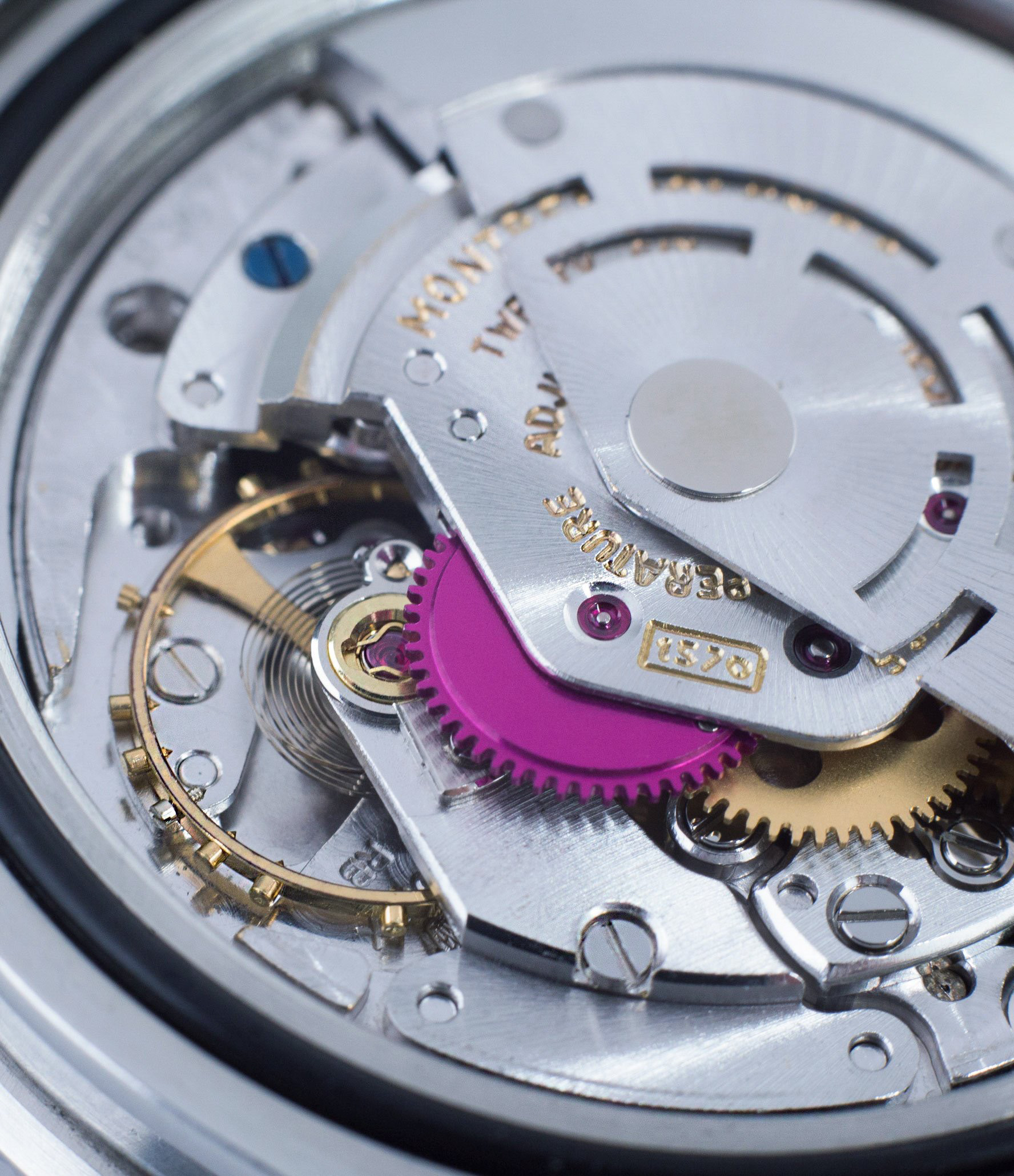 A conclusion
I implore you all to take your vintage GMT-Masters out of the safe — add a few of your own scratches to the rich history. Just as much as a Ferrari GTO or a vintage Porsche doesn't want to be vacuum-packed waiting for rising values to peak, it wants to be used and bring you as much joy as these brief days of infatuation are giving me. Wearing the muted and comfortable scratched vintage 1675 is pure joyful time travel and, yes, taking care of it for the next generation means wearing it. And with that, I'm back at the house of the owner, quietly fondling the scratches and considering my options, be they robbery or the sale of a car.
Note: This was purchased by the owner's wife when they married, for less than $2000. The deal was done in a neighbourhood car park and while it came with papers, the watch was delivered in a plastic bag from a convenience store to not arouse suspicion. The perfect gift from a perfect wife. I'm trying to pass on this idea to mine …