The sleeper Rolex story is that the Batman and Pepsi are back on Oyster and Sky-Dweller is available on Jubilee
Zach Blass
There was a major Rolex announcement hidden in plain sight today. It was not mentioned during Rolex's Watches & Wonders presentation, but our team of sleuth detectives realised that on Rolex.com the model configurator tool will allow buyers to put the Rolex GMT Master II Pepsi & Batman on an Oyster bracelet once again. On the flip side, you are also now able to pair the Rolex Sky-Dweller with a Jubilee – making it the only collection available on Oyster, Jubilee, and Oysterflex bracelets.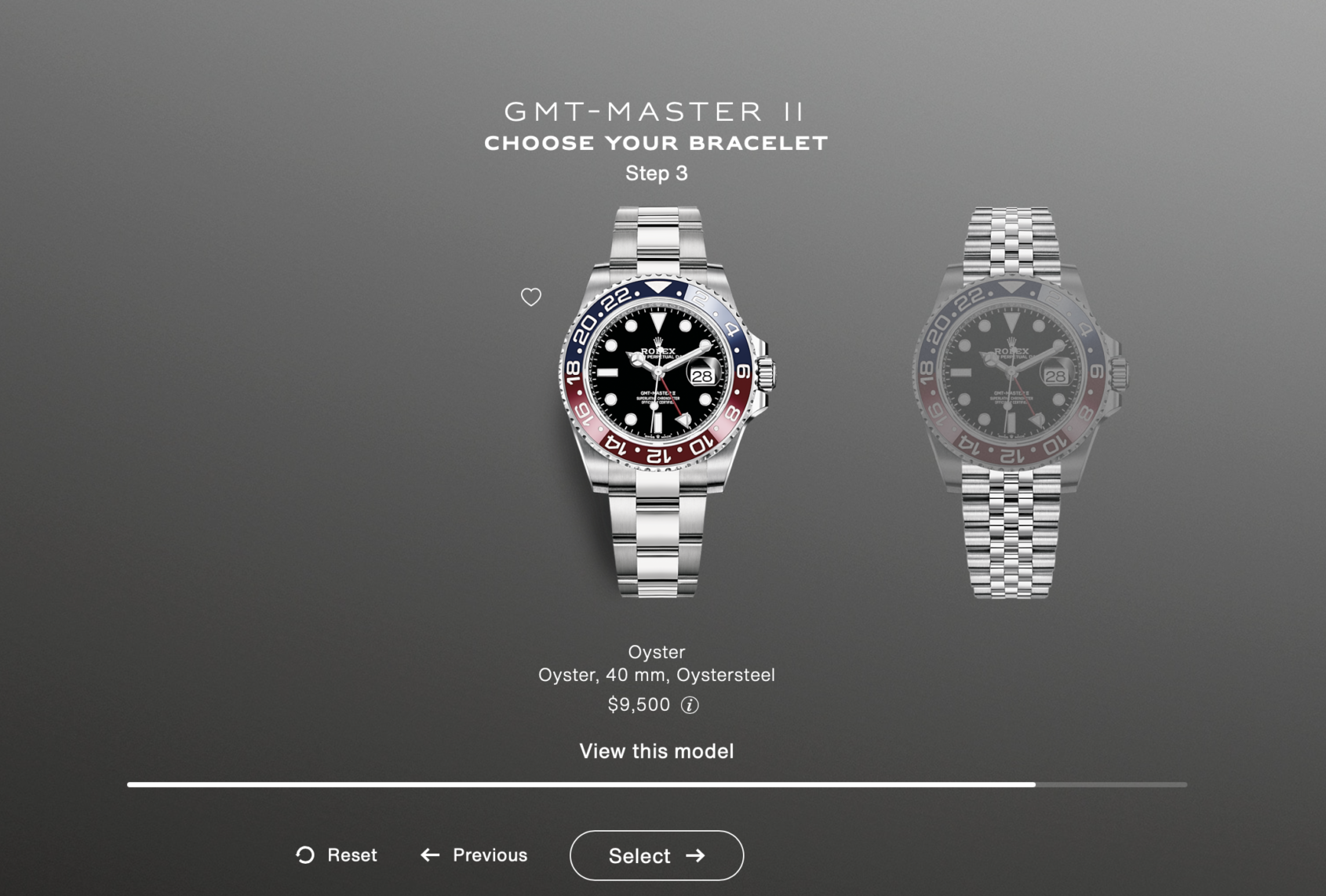 What I think of the new and returning options…
Let's kick things off with the Sky-Dweller. After seeing the model finally paired with a Jubilee, I have to say I really dig the pairing. With Datejusts, I have always believed that smooth bezel references look best on an Oyster bracelet, while fluted references look their best on the Jubilee. The Sky-Dweller strictly has a fluted bezel configuration and as a result this new pairing is my personal favourite. It looks fine, of course, on an Oyster bracelet, but the Jubilee elevates its design and adds further elegance to one of Rolex's most complicated watches. Being, at its core, an evolution of the brand's Pilot watch design I like how the Jubilee further ties in the cosmopolitan aesthetic.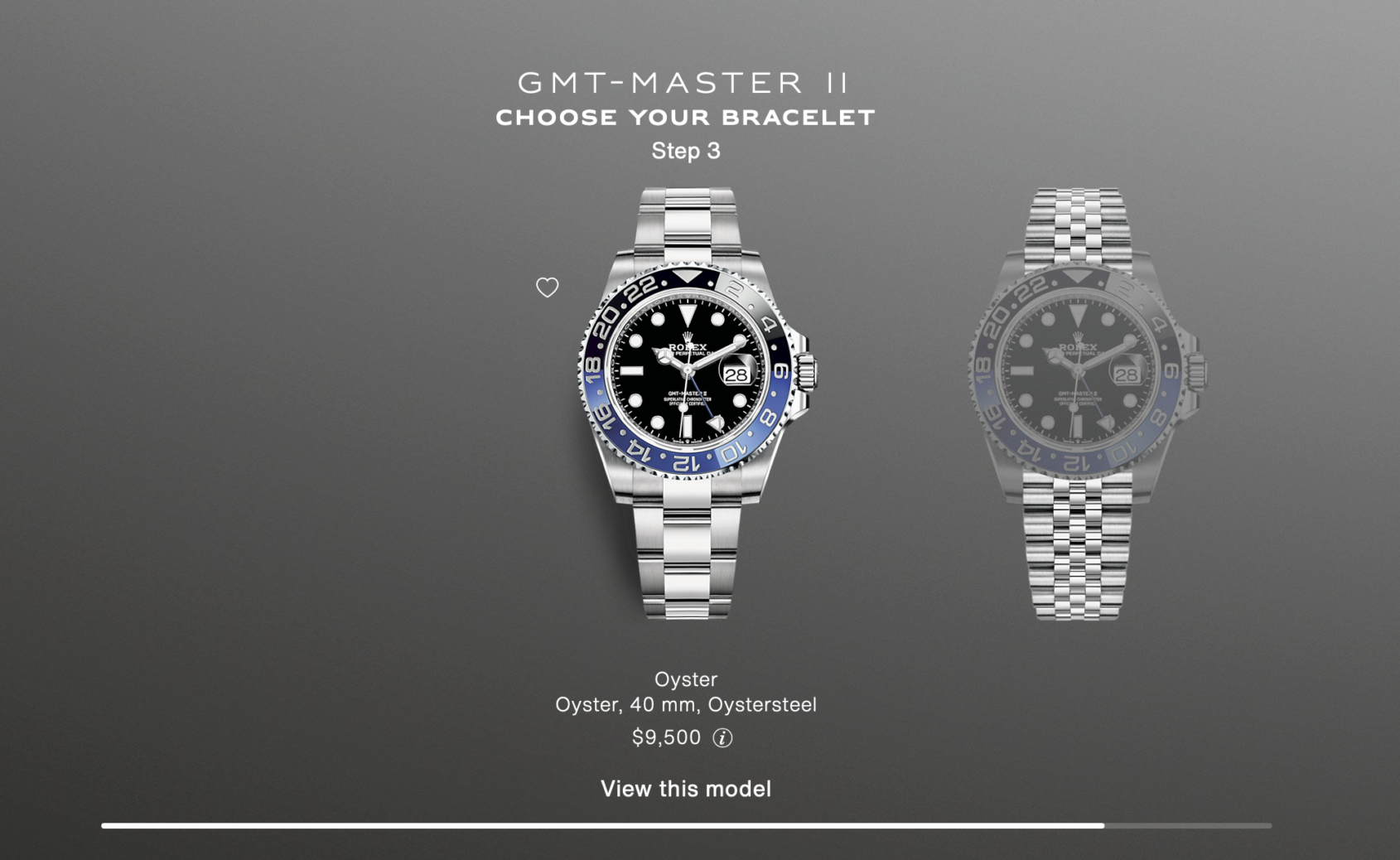 Like the Sky-Dweller, I prefer the GMT Master II on a Jubilee bracelet. But many felt, upon the release of the 'Batgirl', that they were already acclimated with the watch on an Oyster bracelet. Sometimes it can be hard to shake the first aesthetic, and I am sure many of you reading this may disagree with me about the Sky-Dweller being better on a Jubilee. But regardless of how I feel, this is big news for both pre-owned and at-retail buyers.
What does this mean for the secondhand value of the original "Batman"?
Those who own the original Batman, or even the Pepsi, may be wondering upon this news what it means for the secondhand value of their watch. While I believe watches should not be bought primarily for their investment quality, especially when most watches do not trade over their retail value, I do keep value-retention in mind when evaluating a potential purchase. My initial impression: the value of the original Batman will soften a tad due to the greater potential of product availability with more Rolex GMT Master II Batman watches on an Oyster bracelet in circulation. I consider myself quite informed on the secondhand market but I figured it would good to ping two renowned vendors of pre-owned watches to get their invaluable insight on the matter: Joshua Thanos of WatchBox and Paul Altieri of Bob's Watches.
ZB: What did you think of the new Rolex releases this year?
PA: This is always an exciting time of year for watch enthusiasts. While I am not overwhelmed by this years launches, it might be indicative of a tough 2020. I am happy to see the Explorer come back in 36mm and in steel. The movement update on the Explorer 2 was inline with expectations but nothing enough to get me too excited. I was also hoping to see something new and exciting in the Milgauus. Perhaps next year. Love the new dials though!
JT: Pretty mild releases from Rolex. No discontinued models, just new bracelets, movements, metals and dials. I'm actually happy that they didn't release anything groundbreaking or discontinue anything super hot. I'm hoping this will calm some of the Rolex mania. Overall a pretty quiet showing from the crown.
ZB: What do you think about the GMT Master II being available on an Oyster bracelet once again and the Sky-Dweller being now available on a Jubilee?
PA: The addition of the jubilee bracelet to the Sky-Dweller adds a nice touch of class to an otherwise sporty watch. Additionally, the Jubilee is also more comfortable to wear as it contours to the wrist due to the additional moving parts it encapsulates.
JT: As for the new oyster bracelets on the Batman and Pepsi, I think the winner is the Pepsi on an Oyster bracelet. That should go through the roof. I'm curious to see what will happen with the Batman on an Oyster bracelet as there are many of those already in existence. To be honest, I'm most excited for the Jubilee bracelet on the Sky-Dweller. As a much beefier watch, I'm curious to see how the Jubilee will fit – that one may be on my list.
ZB: Will renewed availability of the Batman on an Oyster effect the second-hand value of the original?
PA: I don't think prices will change much on the second hand market for the Batman. There is already a shortage of these models and my guess is this will continue to apply upward pressure to prices.
JT: The overall demand for Rolex is so high that no steel sport models will be available at retail, but it makes sense that the original Batman on Oyster would come down in price since they're making more of them. But that won't happen for at least a year, or maybe never. They've been consistently trading in the mid-teens for a few years now.