IN-DEPTH: The Rolex Explorer II Ref.216570, sleeper classic or on the brink of extinction?
James Robinson
Let me start this review with an admission: I thought the Big Crown was going to turf many of its current models in 2020. The Milgauss, for example, is well past due for an evolution from its current form, if it remains at all. Likewise, the Air-King – which stylistically borrowed heavily from a set of dash clocks made for a land speed record car that Rolex no longer has any affiliation with – was also rumoured to be disappearing for good.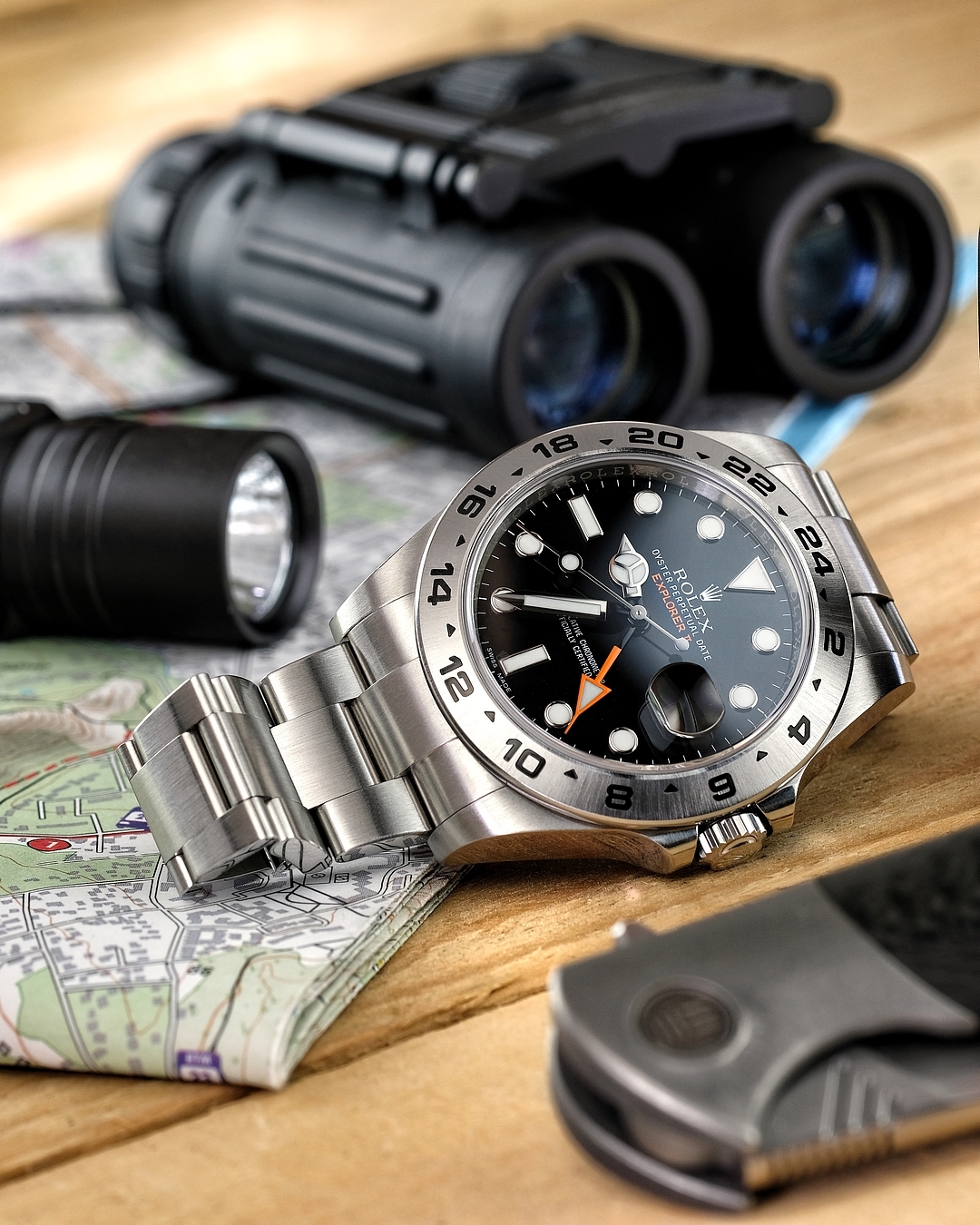 In my opinion, though, the model that was most ready for a reboot was the divisive Explorer II Ref.216570. Here is a watch that has been in production for one year shy of a decade and, until recently, hasn't exactly been a fan favourite. In fact, before stainless steel professional models escalated in value, the Explorer II, in either the black or white dial, was readily available from your local AD. I should know – I used to work for one.
Why was it never as desirable as something like a Submariner or Daytona? Well, the large 42mm case size has been off-putting for many, considering that its predecessor, the Ref. 16570, was a more agreeable 40mm. Then there's the "maxi dial", which some people love, but purists tend to turn their noses up at. And the overall aesthetic of the watch just doesn't offer the same sort of opulence as other "sports" Rolex watches. It's unashamedly a tool watch first, luxury item second – form following function in almost every regard. The innards of Ref.216570, which were impressive in 2011, are also getting a bit long in the tooth – 48 hours of power reserve in 2020 is, for some, simply not good enough.
Despite all this, though, the current Explorer II has still managed to develop into somewhat of a cult among a sect of watch enthusiasts. And, honestly, what has slowly edged this model back into the desirability radar is photographers like @nicedily. The watch actually shoots very well. And @nicedily, who was kind enough to provide images for this story, has well and truly put that front and centre with shots of his own Explorer II Ref. 216570.  So, when the opportunity to wear a black Explorer II for a week or so came up, I was compelled to revisit the idiosyncratic steel sports watch. Especially considering its days may indeed be numbered.
The dial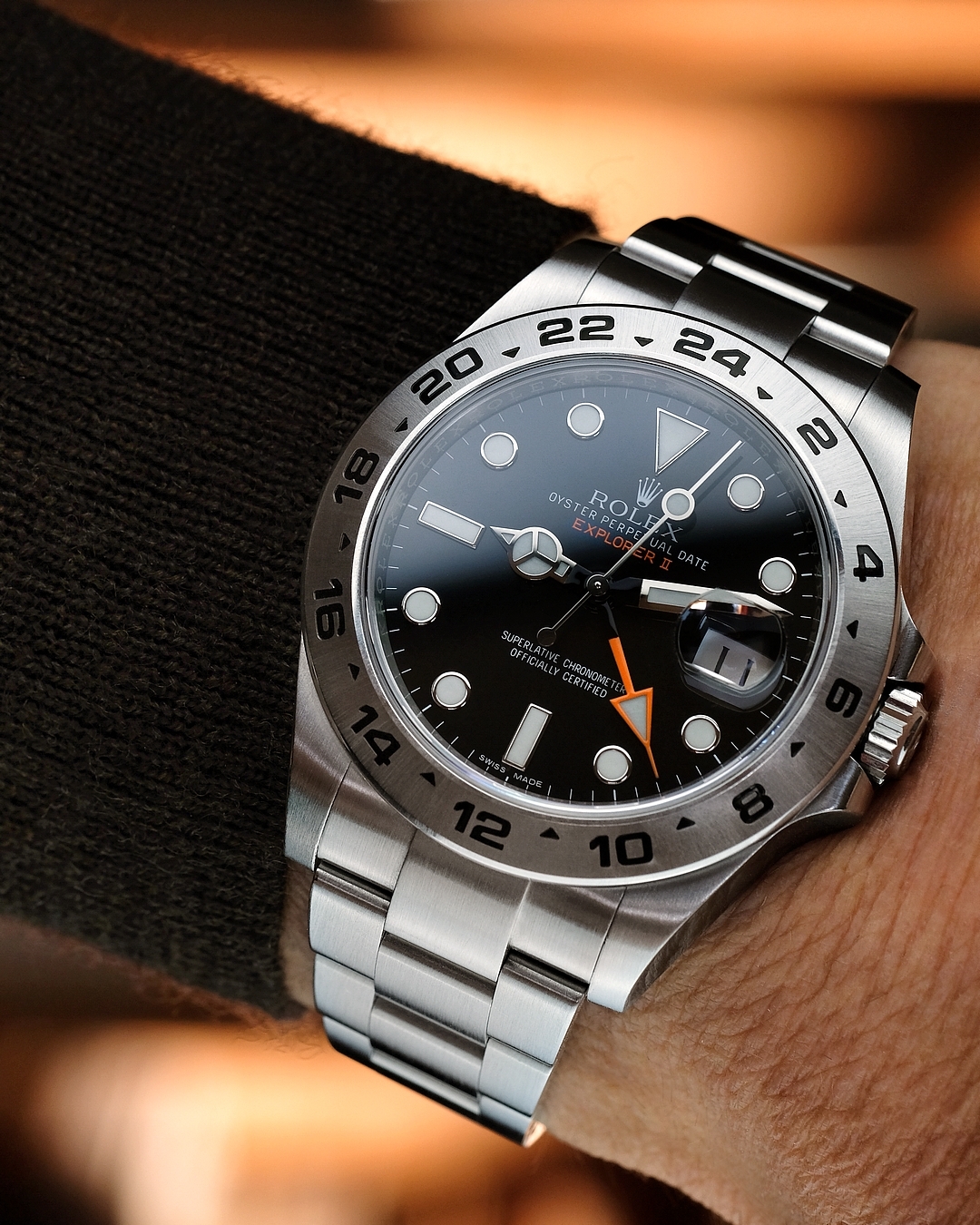 Remember how I said this watch was all about form following function? The Explorer II's black dial is perhaps the sole area of the timepiece where this is only partly true. Sure, the legibility on offer here is profound – even the quickest of peeks at the stygian, satin-finished dial provides the wearer with all the information they need. But Rolex has also seen fit to adorn the dial with stylistic cues that aim to pay homage to the first-ever incarnation of the namesake, the Ref. 1655 "Freccione" or "Steve McQueen" Explorer II.
The base of the Mercedes handset and the iconic bright orange 24-hour hand are painted black, which creates the famed "phantom" effect and gives the impression that the hands are floating above the dial. It's a well-judged effort by Rolex; homage can easily come across as pastiche, but it doesn't on the Explorer II, it just works. And, more importantly, it doesn't get in the way of the watch's primary remit.
The oversized Mercedes handset is bold, as is the 24-hour hand, and they're both filled with Rolex's Chromalight lume. Likewise, the seconds hand, "maxi" style XL indices and centering arrow at 12 o'clock are also filled with the ultra bright blue lume – wear this watch in a dark room after being outside, and you'll swear there's a mini-rave on your wrist, replete with glow sticks. The date aperture, located at three o'clock, is capped with an Cyclops, so ascertaining the date is a breeze. The simple white minute track around the dial's edge provides great contrast and is also very easy to read. Perhaps the only visible clue that this is a proper luxury item is Rolex's signature rehaut, which is definitely not something you'd find on your average speleologist's timepiece. The attractive dial is capped with sapphire crystal with an antireflective coating, which aids in legibility; especially on glary days spent exploring.
The case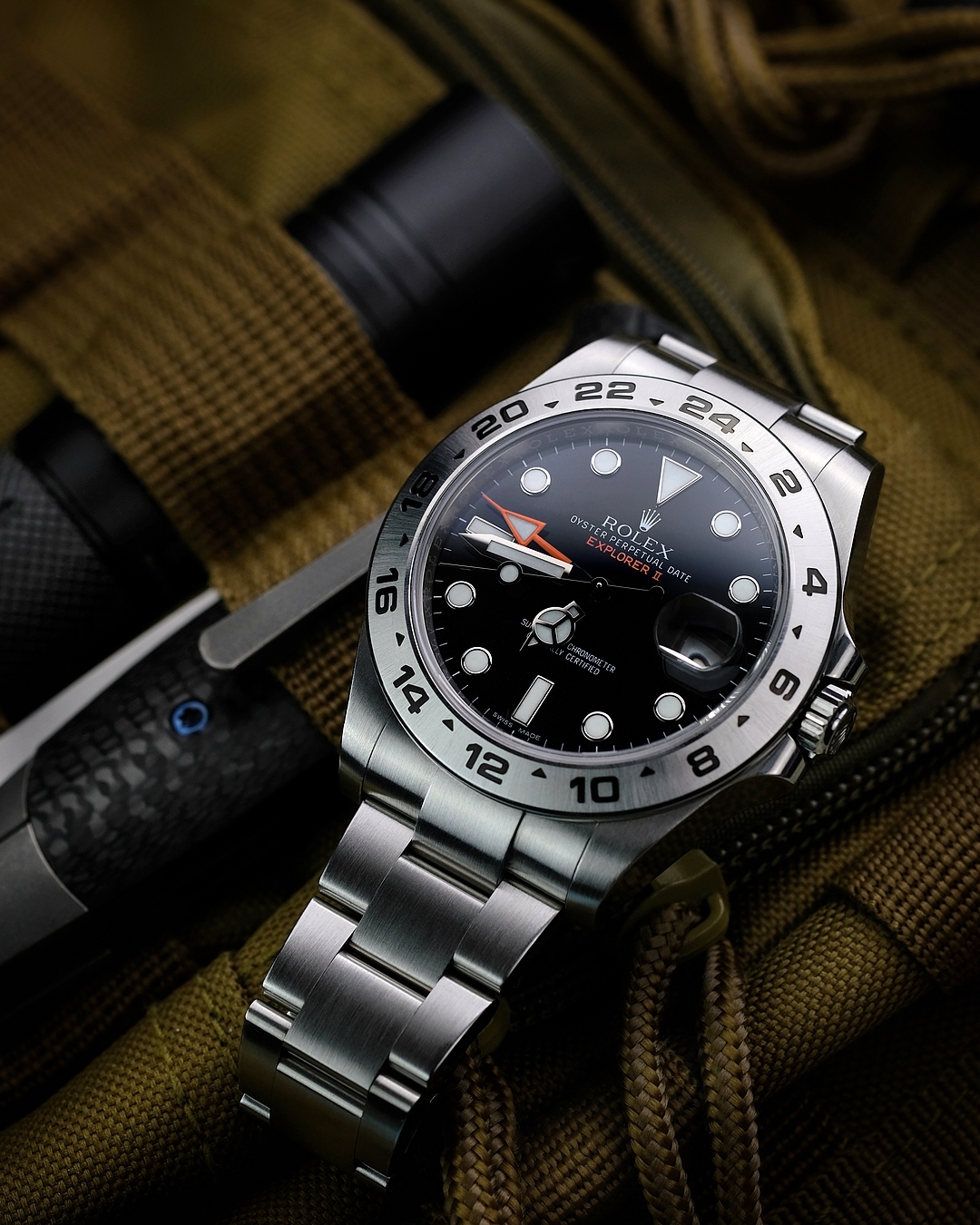 This is where the Explorer II really starts to flex its tool watch traits. The quintessential Oyster case is hewn from Oystersteel (904L steel). This steel is tougher than finding one of these watches at RRP. By contrast, most of the cases of most watches on the market are made with 316L steel. It's a fine metal, and more than up to the task of serving as a good, reliable material for most timepieces. Compared to 904L, it may as well be clad iron. Oystersteel is a very, very impressive alloy, not only because of its high resistance to corrosion but also because of its presentation – whether it be polished or brushed, this metal is like no other, including its liquid-metal wrist feel. The comfort levels are unparalleled in steel.
In the case of the Explorer II, both the top of the lugs, as well as the fixed steel bezel, is brushed, which bolsters the watch's rugged bravado. The flanks of the case and lugs, however, are polished to a gorgeous mirror finish, which provides a nice contrast and does heighten the overall feeling of quality. Dimensionally, as mentioned, the Explorer II measures in at 42mm across, which for some is simply too big. But, because the case is relatively slim at 12mm thick, it does wear smaller than you may think. In fact, the Explorer II is a full millimetre slimmer than a Submariner Ref.116610 … and you can tell. Unlike the Subby, though, the Explorer II is only waterproof to 100 metres. But wading through jungle streams is still on the table; it has a screw-down caseback and screw-down crown with Twinlock double waterproofness system. It can take more than just a splash or two.
The bezel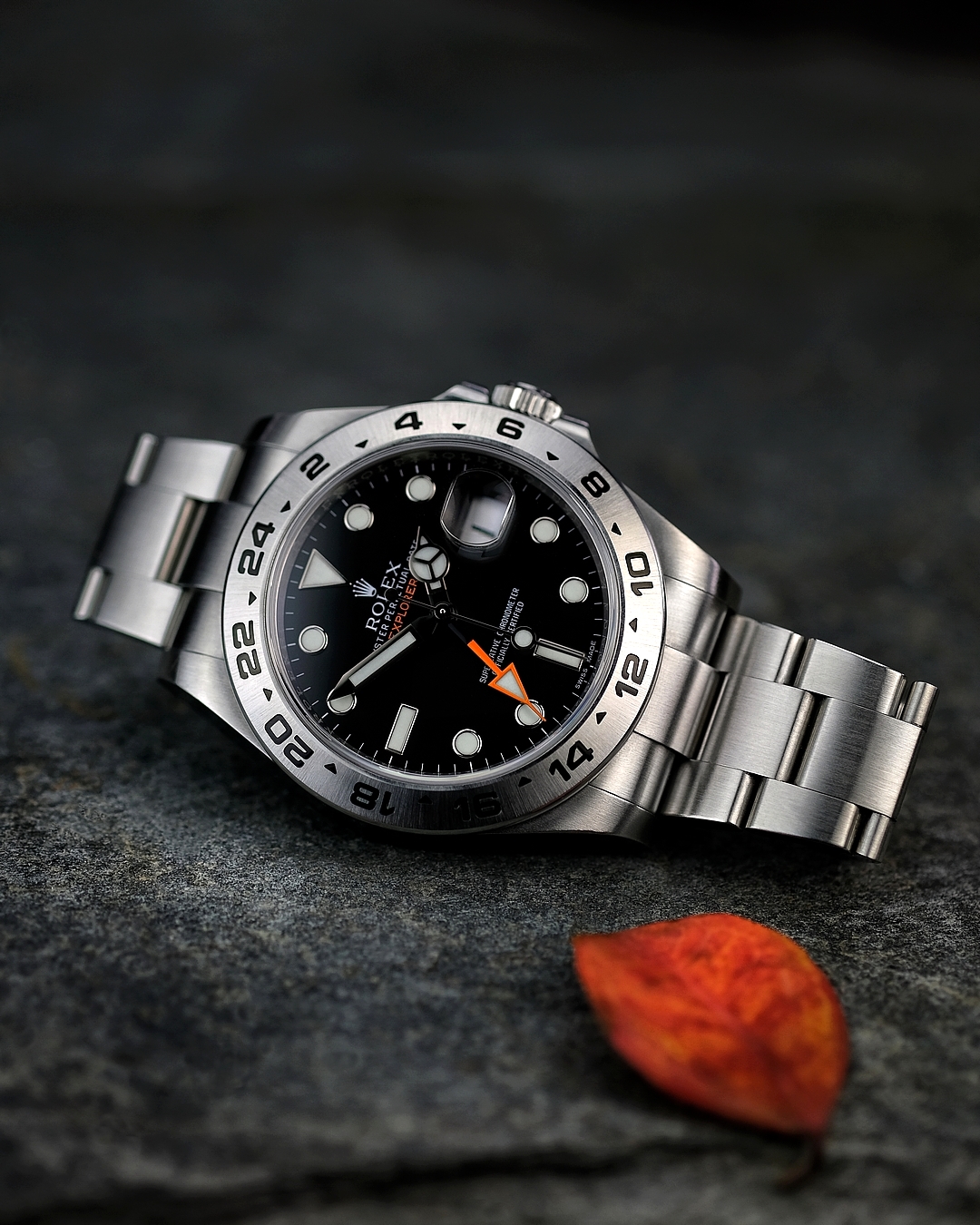 An archetypical feature dating back all the way to the first Explorer II is the fixed steel bezel with 24-hour graduations. Working in conjunction with the orange 24-hour hand, the bezel allows wearers to ascertain a second time zone at a glance, and with minimal mental computations required. I like to utilise it as an indication of home time when travelling, freeing up the regular hour hand to adjust to local time. The bezel itself is handsome looking, and the fine radial brushing really does show off Rolex's almost peerless metal work and attention to detail.
The movement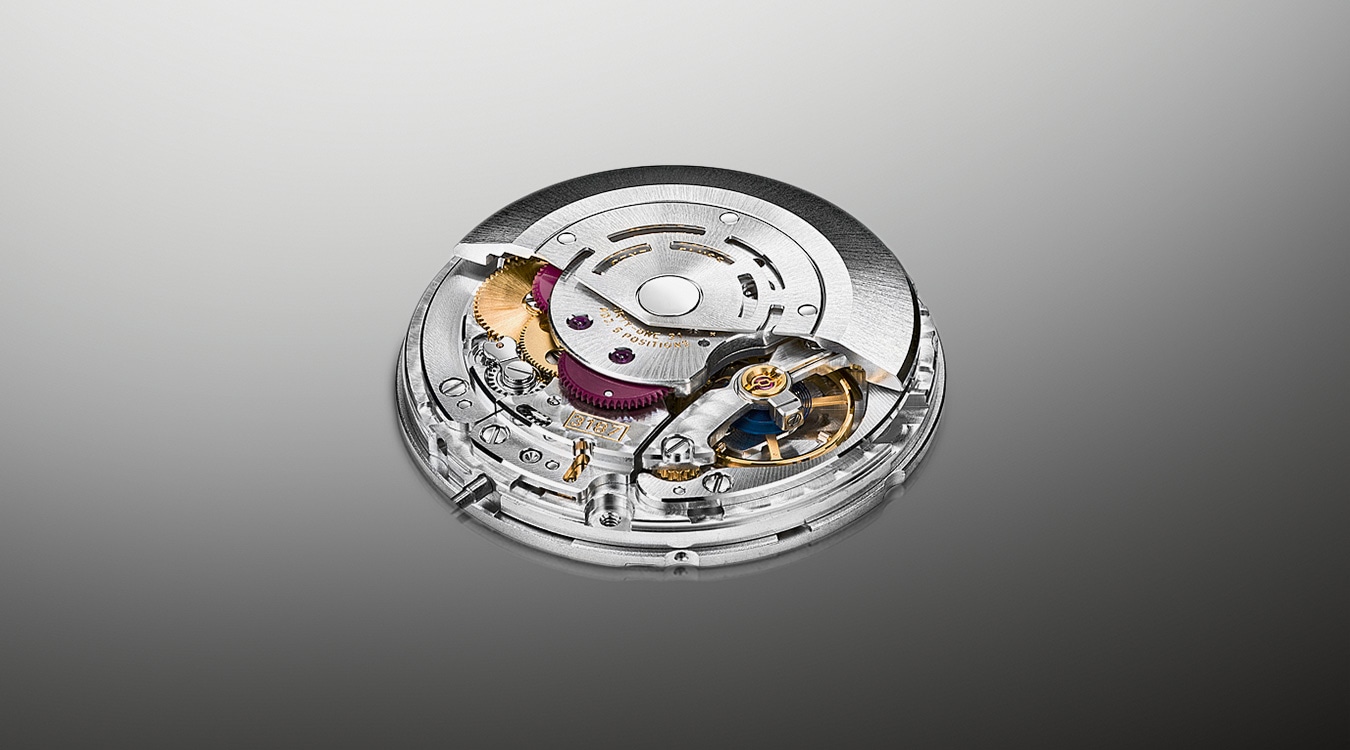 When it was released at Baselworld way back in 2011, the Explorer II Ref.216570 was the first watch from Rolex to utilise their then new Calibre 3187. It was an exciting and innovative movement, and to this day, it still offers a hell of a lot in terms of technicality, benefiting from a Parachrom hairspring, Paraflex shock absorbers, Breguet overcoil and superlative chronometer certification. That last point is a doozy, whichever way you want to look at it – a mechanical movement with an accuracy rating of +/- 2 seconds a day is mightily impressive. In my week-and-a-half of wearing the Explorer II, it easily stayed within those accuracy parameters, which is quite the feat.
I was also particularly fond of the independent "rapid setting" hour hand. I'm sure it would come in very handy indeed, especially if you were travelling a lot. The hacking seconds function was also very welcome. All Rolex watches come with a 5-year warranty these days, and when I was selling them, Rolex advised us that, while shorter intervals are recommended, thanks to the development and utilisation of new lubricants in the movements, service intervals could be anywhere from 7-10 years apart. Now that's very handy – the last thing you want to be thinking about while traversing an arctic glacier or perilous mountain ravine is, "Jeez, I hope my watch doesn't need a service soon." The only real criticism I can make about the 3187 is the power reserve – 48 hours falls short of many modern calibres in this day and age, especially considering that Rolex's own Calibre 3285, which is found in the watchmaker's GMT-Master II lineup, offers 70 hours of power reserve.
The bracelet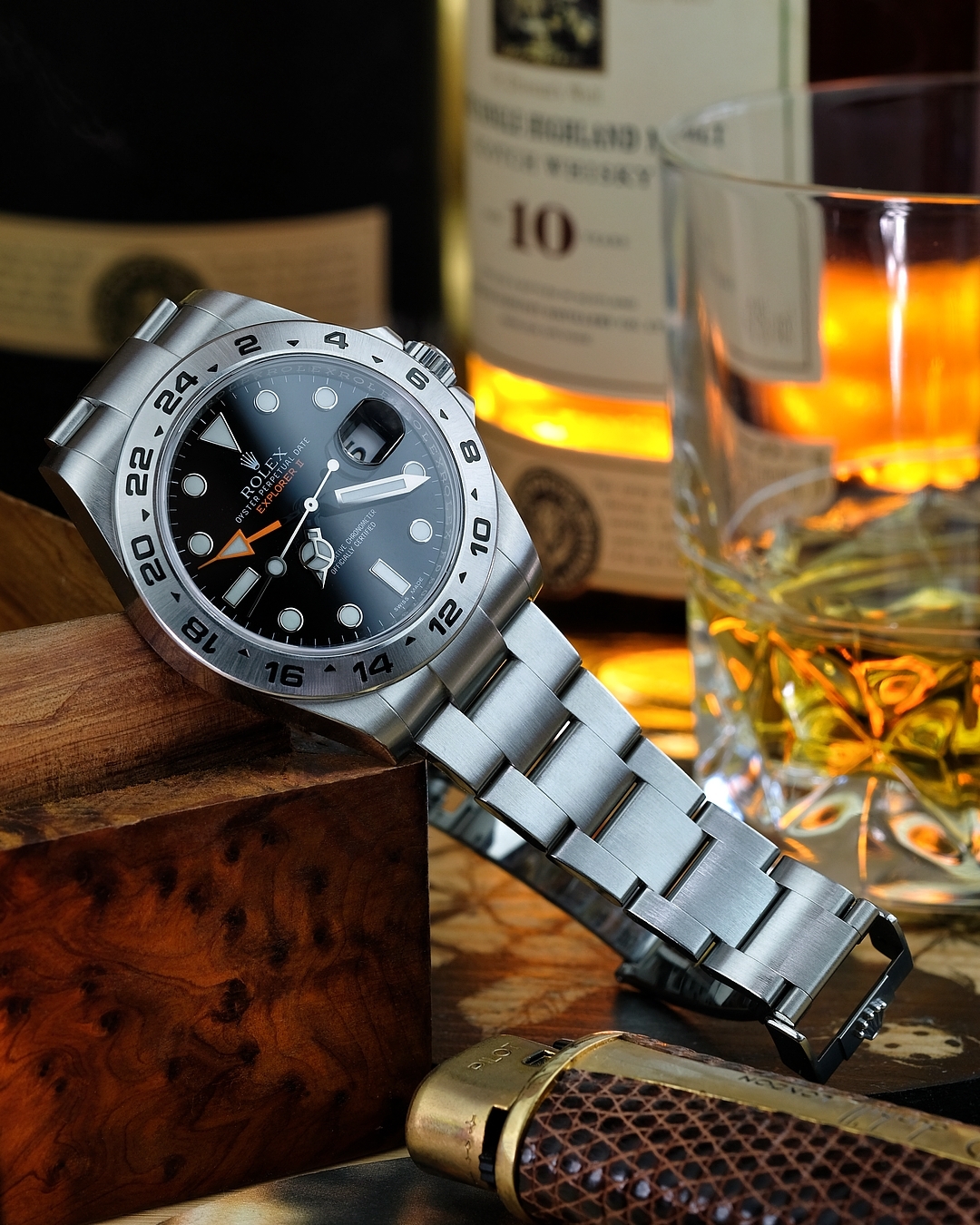 Perhaps the most ubiquitous and iconic bracelet design of all time, Rolex's Oyster Bracelet is a tri-linked piece of engineering and design brilliance. I cannot praise it highly enough, it's the best in the game. Period. And the way Oystersteel feels on the wrist … it hits different. I challenge anyone to name a bracelet that feels better fastened to your wrist. The Explorer II's Oyster bracelet is finished with vertical brushing on both its front and back, while the flanks are highly polished to a mirror finish that complements the side of the case and lugs. Interacting with the gorgeous bracelet is also a complete and utter joy, thanks to it being paired with Rolex's Oysterlock deployant clasp with Easylink extension, which allows wearers to micro adjust the bracelet up to 5mm. Every single other watchmaker in existence should pay attention to Rolex's bracelets – they are the absolute benchmark in the business. End of discussion.
On the wrist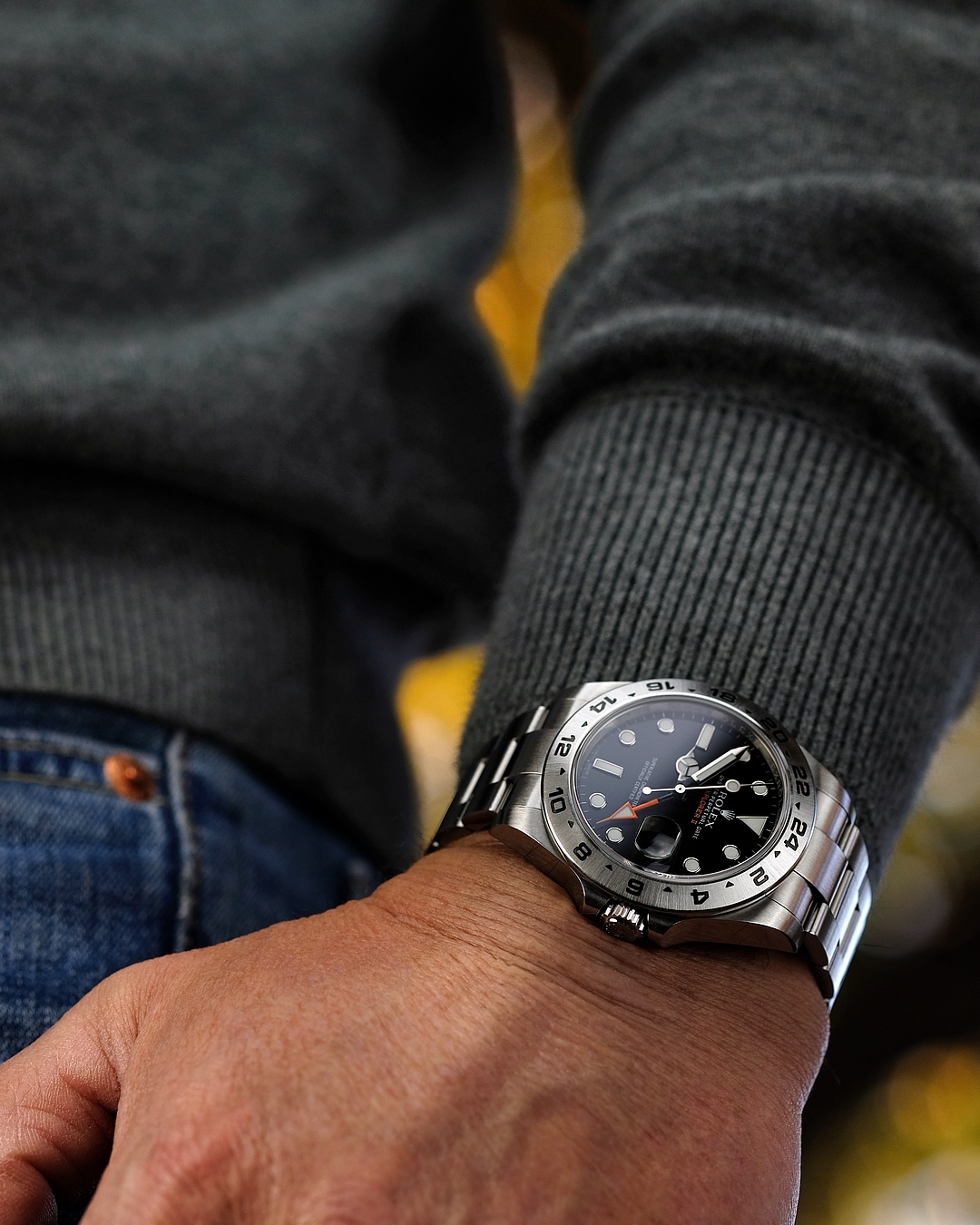 This is going to sound very corny, but I found myself actually encouraged to explore while wearing the Explorer II. I wanted to go on hikes more, check out state forests and just generally get off the beaten track. It paired well with pretty much everything I wore, and it's one of those watches that just feels versatile, wieldy and rock solid. Like I alluded to earlier, some people wish this watch was 40mm rather than 42mm and, to be honest, I think I agree – it's just a touch too big for my regular tastes in watches. But it's not a deal breaker, and if I was ever lucky enough to own one of these watches, I think I'd very quickly get over the extra few millimetres.
The verdict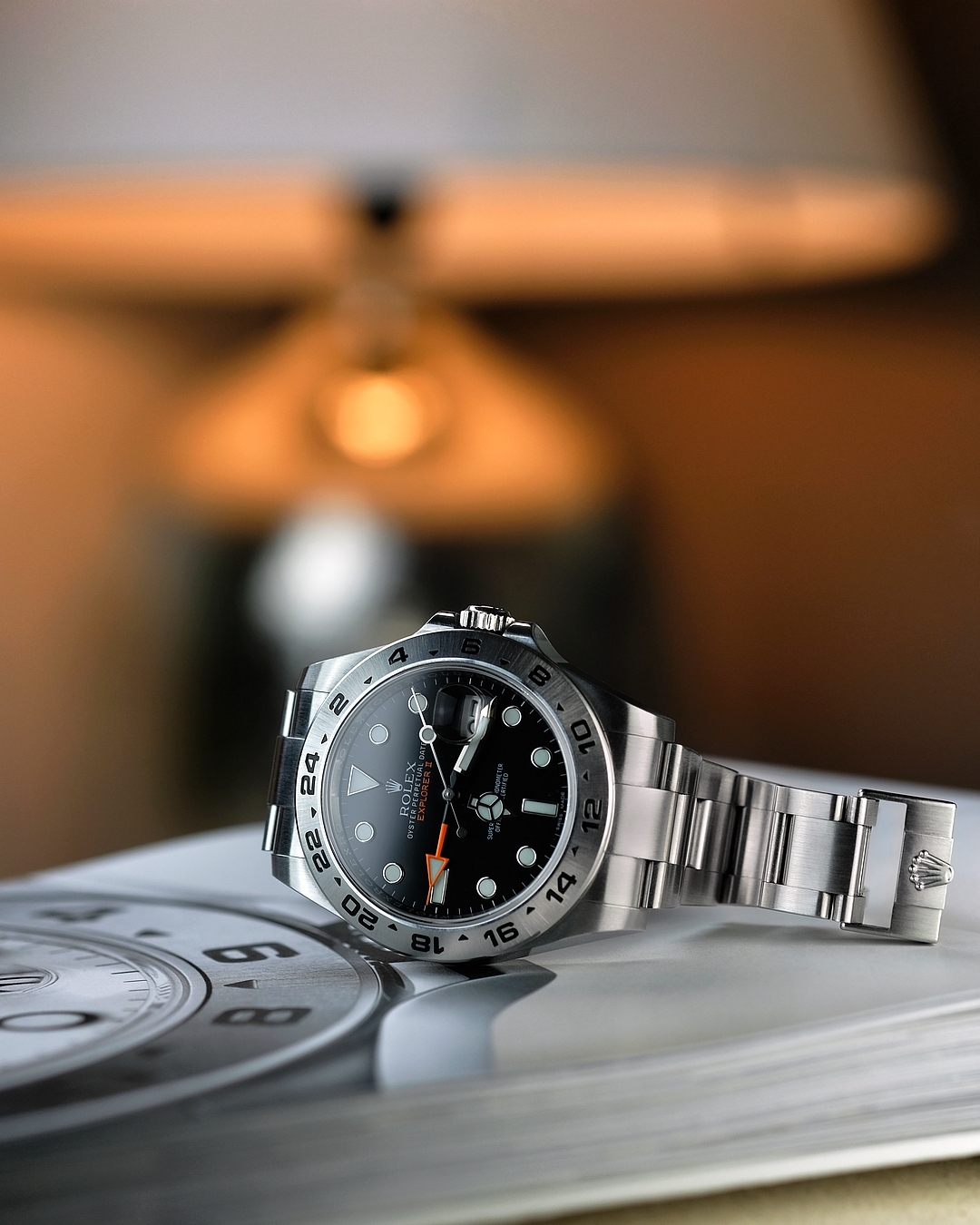 I was surprised just how much I enjoyed wearing the Explorer II. If nothing else, it served to remind me why these Rolex steel Professional models are so desired – they truly are like nothing else out there. Now that may sound like a cop out to some, and to the haters I would say: if you don't believe me, you probably haven't worn a modern sports Rolex. The Explorer II isn't perfect, and it wouldn't be my first choice if I could have my pick from the Professional collection. But, regardless of preference, this is a singular and characterful timepiece, and it certainly doesn't deserve the lukewarm reception it sometimes gets. And I guarantee you that, regardless of how good its replacement may be, we'll miss this watch when it's gone.
Who's it for?
Explorers, adventurers or just anyone who wants a supremely robust timepiece with a second time zone complication.
What would we change?
The size – if this watch was 40mm, it would probably be my favourite Professional model on sale today. Please, Rolex, make the Explorer II smaller again!
Rolex Explorer II Ref.216570 Australian pricing:
The Rolex Explorer II Ref.216570 is $11,700 AUD
Specifications
Case Material
Stainless Steel
Movement
Rolex Calibre 3187
Availability
Available now