What it's like to wear a crown on your wrist – 24 months with a Rolex Datejust
Time+Tide
Editor's note: Bruce has written a few great Rolex reviews for us – but this one is a bit special. It takes place not over a few days or weeks, but years. It's one of our favourite T+T stories, and definitely deserves a re-read. So, settle in for our long-term Rolex Datejust review … 
One fateful day after deciding it was finally time to get a Rolex Submariner, I walked into my local Rolex boutique and proceeded to try on the "wrong" watch. The only reason I even agreed to try on the Datejust was because I'd convinced myself it was the right thing to do. I would try on a few models, then do what most 30-something reasonably successful men do, and buy a black dial Submariner. The Datejust was supposed to feel like a watch my father should wear, correct?
I bought the watch on the spot
The model I tried was a reference 116200, 36mm in stainless steel with a smooth bezel. It had a white dial with Roman numerals, including IIII for the number "4", which I thought odd at the time, only later discovering the magical balance of the clockmaker's four. The theme of discovery that showed me the depth and versatility of the Datejust model has continued for the past two years, and I'm thrilled to be allowed to share my observations on the design and my experiences with this timeless timepiece.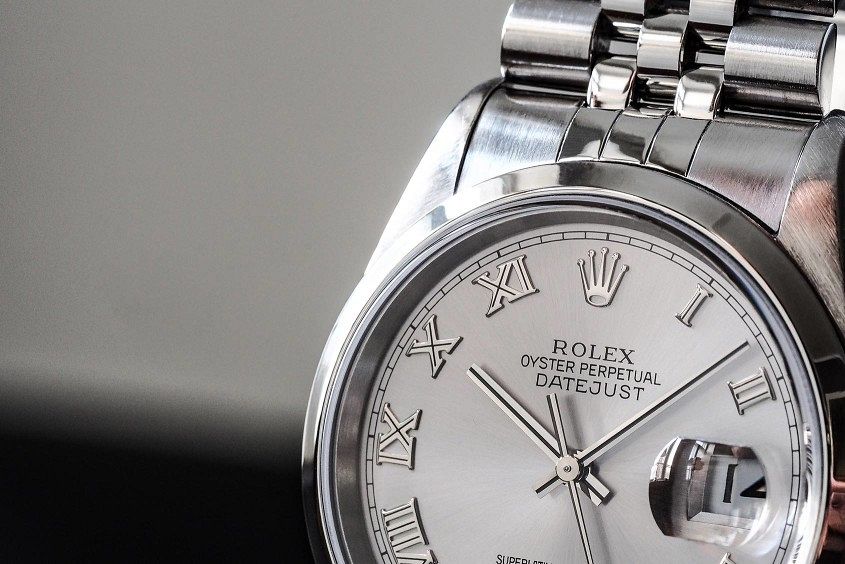 It is small
There, I said it. The 36mm Datejust is technically a midsize model; however, in today's world of large and complex men's watches, the Datejust literally doesn't measure up. I have a 40mm Rolex GMT-Master II in my regular rotation, which some would also consider small next to the pie-platter fashion watches available. Herein lies the Rolex difference. To say the Datejust punches well above its weight would be as accurate as its COSC certification. When handled, the watch feels substantial and solid. It wears proudly on the wrist due to the thickness of the Oyster case and raised crystal. Even the Cyclops date magnifier lends to the vertical power of the Datejust. When combined with either the sporty Oyster or classic Jubilee bracelets, the watch exudes its own confidence and pedigree. It simply doesn't need to be any larger than 36mm.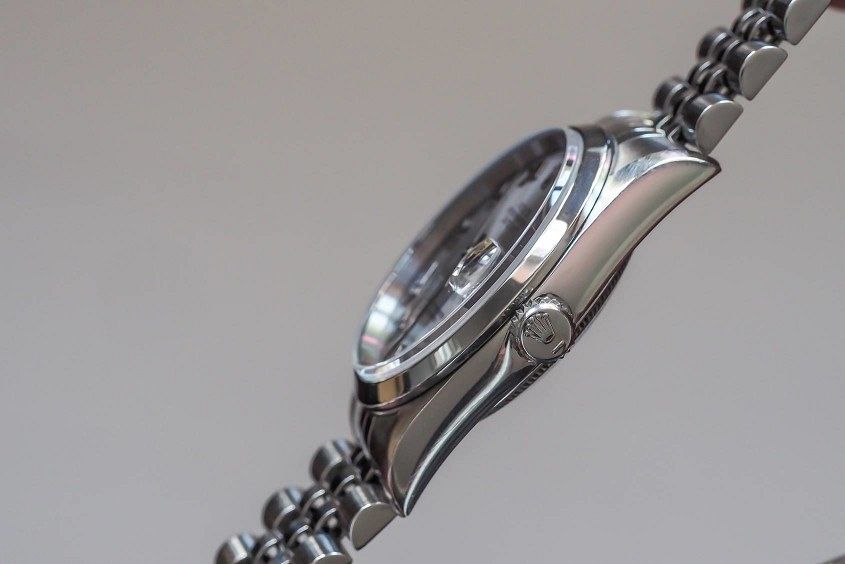 It is useful
Not in the iPhone sense of the word, but in that it produces and presents the information it was designed to, in an elegant and unwavering manner. Functionality includes reading the time, and at a quick glance, today's date. The workhorse Rolex 3135 calibre movement ensures dead-on accuracy even after I've left it on the bedside table all night. The folding clasp on the bracelet clicks shut with authority and ensures the Datejust stays fastened to my wrist no matter what the day brings. If I haven't worn it for a few days, winding and setting the date and time is a breeze with the quickset date feature. Perhaps there's an app that does all these things, but it will never be as beautiful.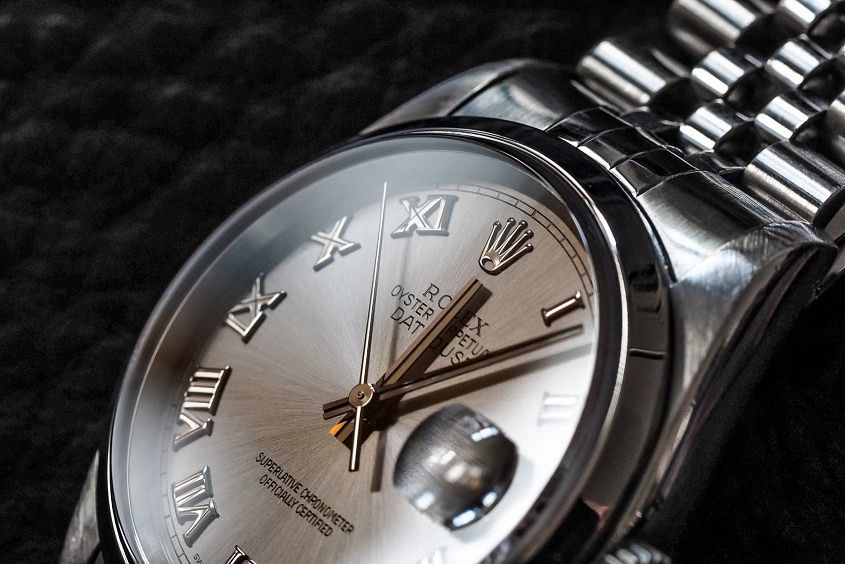 It is durable
I'm going to confess something here that stays between us, OK? I have dropped this watch. I have smacked it into a concrete wall. I have been to an amazing waterslide park and swam while wearing it. I have even played baseball with my son while wearing it. As my daily wear-and-tear watch, the polished links on the bracelet have now developed hairline scratches which really bother me. But viewed from more than 25cm or so, the watch looks pristine and brand new. I'm really impressed with how the sapphire crystal fends off minor collisions, too. So far, there are no marks or scratches obscuring the dial at all.
It is versatile
Now, I have to be careful here as "versatile" is perhaps the most overused word in watch reviews. To clarify, I use 'versatility' to mean that the watch fits all occasions, settings and styles. If I want to be subtle, I can pair it with a button-down shirt that conceals the Datejust neatly under my cuff (take that, oversize watch monsters!). When going to a backyard barbecue in jeans and a T-shirt, it acquits itself nicely and since mine is monochromatic it goes with any and all wardrobe colour choices. To me, the smooth bezel and Oyster bracelet relay sporty conservativeness while the Roman numerals and size ensure the watch is comfortable during dressier events or in the workplace. Were it my only timepiece, I might never take it off at all.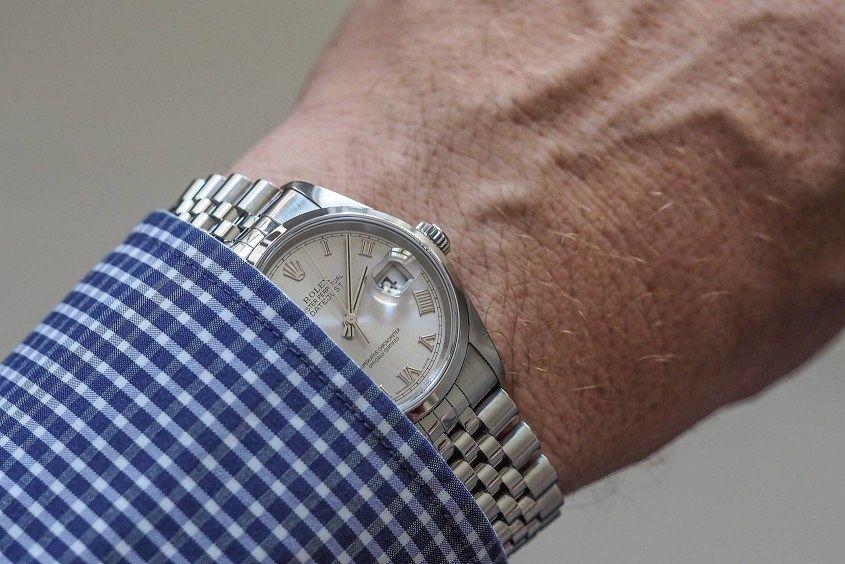 It is a conversation starter
As anyone with a fine watch knows, nothing is more satisfying than someone asking a question about your watch. We all know that 99 per cent of people don't really care about your wrist candy, but when it does happen, the Datejust carries staunch credibility among those in the know. With near endless model history and numerous bezel/dial/bracelet combinations, there's always something to talk about. There's also usually a good story behind the purchase. I find when I have a client sitting across from me who turns out to be an enthusiast, striking up a watch conversation turns us into instant comrades. Sometimes I like to think of my Datejust as the key to a secret society.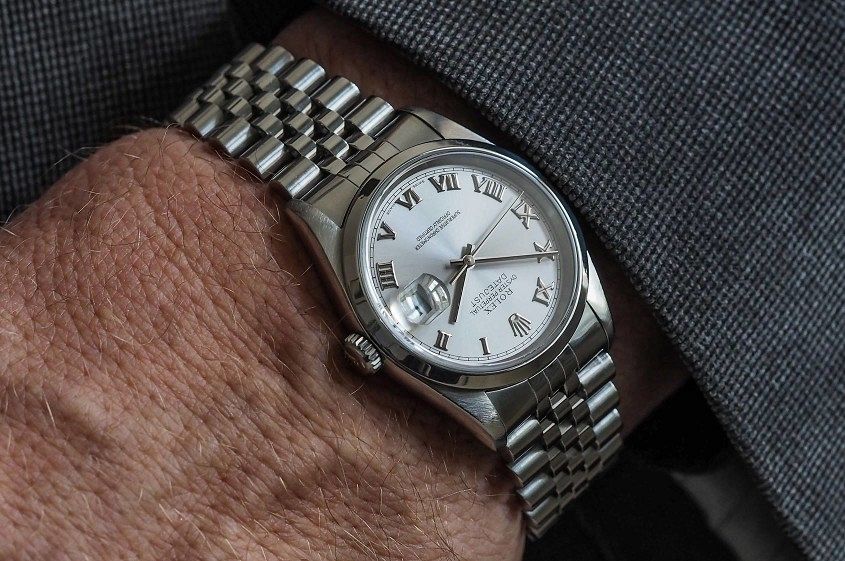 It does have issues
Humans can find fault with everything and even though this watch has been honed and refined since 1945, there are still a few drawbacks. The polished links and case are indeed a double-edged sword in that they look amazing when clean and new but gather scratches at an alarming rate. To polish or not to polish? That is a question for another day, however the Datejust will have you asking that every day. It's still young enough for me not to worry about this for a few years yet, but servicing will eventually set me back several hundred dollars each time. A Rolex will be a lifelong companion and, like a fine automobile, it will ask you for maintenance and upkeep.
In summary
When I look at all the goods I've bought over my lifetime, including clothing, electronics, cars, furniture, books and jewellery, I struggle to recall any purchase as satisfying in the long term as this Rolex Datejust. As an example, I enjoy my iPad and when I get a new one I'm excited and proud to set it up just the way I like it. Within a couple of months, however, it becomes just another device to me and I start thinking about obtaining the next version. I was extremely excited the day I acquired the Datejust and never once during my ownership period have I wished it was anything else. Even though I hope to add more watches to my collection, I also look forward to putting this watch on in five, 10 and even 20 years, where it will bear witness to future adventures and achievements. It also promises to remain a desirable item for my son to have one day when he can appreciate a good timepiece.
Rolex Datejust Reference 116200 Australian pricing
The Rolex Datejust Reference 116200 in steel on an oyster bracelet has a retail price of $8400
Images by Harri Kivinen.