Spending some quality time with the Rolex 116710 BLNR Batman
Time+Tide
Editor's note: Our resident Canadian correspondent Justin is a man of some fairly intense and deeply held passions — at least when it comes to watches. His proclivities for bold straps and quirky indies are immediately apparent if you take even a quick glance at his Instagram. His love for the already iconic (and already discontinued) Rolex 116710 BLNR Batman is a little less top-line, but it's there — all you need to do is scratch the surface. And that's just what Justin did last year when he had a prolonged date with the watch …
You all know the feeling. You spend months or even years dreaming about them, they become the background screen on your phone, tablet and laptop. You sit at your desk at work, and lay awake in bed at night skimming the internet for every possible trace of them. You're infatuated, obsessed even, with even the remote possibility that they may one day become a part of your life. You may have never even felt their soft touch brush against your skin, but inherently you know … One day, someday, they will be yours.
That's right, the watch crush is real. We've all had them, and they always beg the same question: Will the crush live up to the hype? Will all the lust and wonder and infatuation come to fruition, or will it all come crashing down in one of those moments of realisation that sometimes is better left unfulfilled?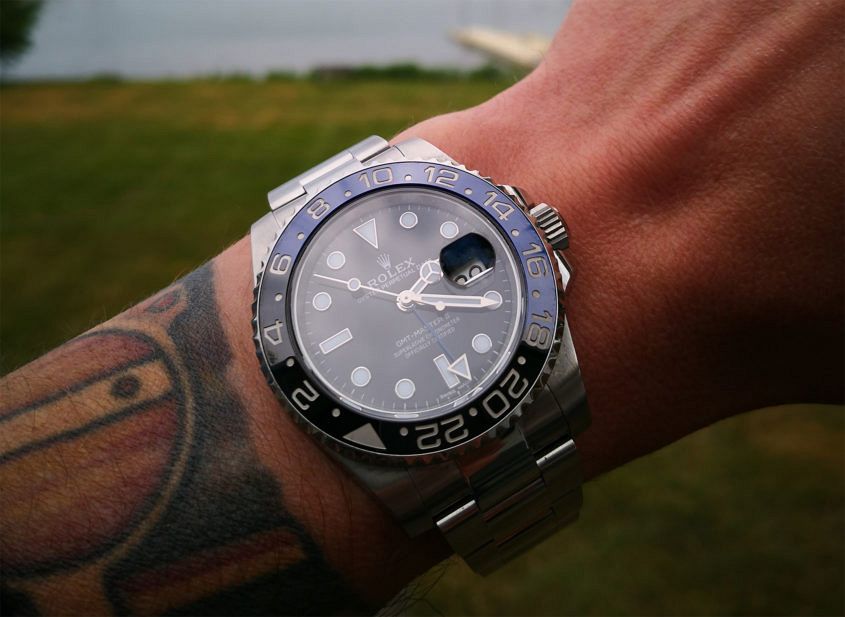 This is exactly the situation I faced. The Rolex GMT-Master II BLNR — known in our circles as the "Rolex Batman" — was just that crush for me since the first time I saw it. Anyone who knows me knows that I'm much more independent brand focused, and there's seldom anything from the house of Rolex that ever really tickles my fancy. While I've always appreciated what they do, and have a huge amount of respect for the brand at a personal level, there was just never anything in the catalogue that sang to me until Batman raised his handsome mug. On one hand, an elegant execution of a classic model. On the other, boasting just that right bit of unique personality and colour that spoke my language. I wanted Batman in my life, and after years of being on the market, a unique opportunity came my way.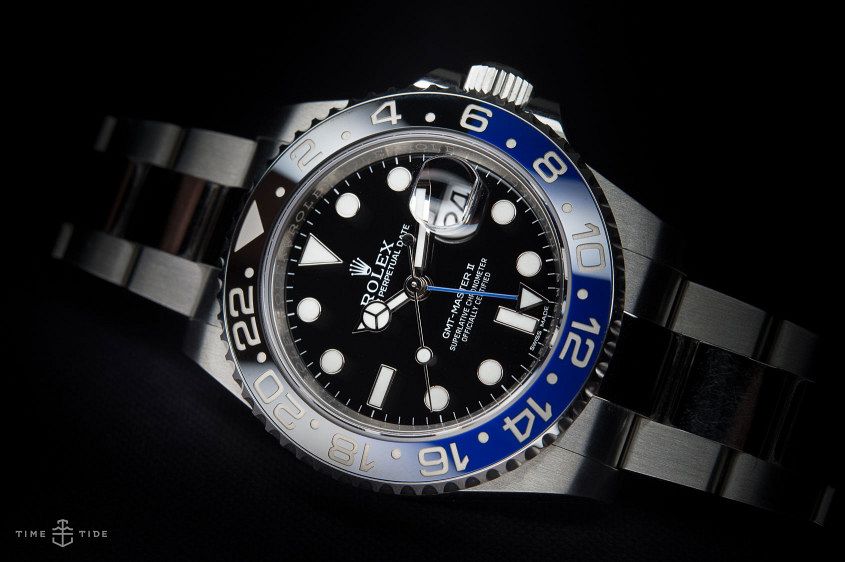 Unlike other brands, Rolex doesn't really ever do "review units"; however, after spending a decent amount of time taking on contract content work with pre-owned dealer Bob's Watches, I managed to talk my way into getting an extended visit from the Dark Knight. Rather than getting to marry my watch crush straight out of the gates, I'd get to take the handsome brooding beast on a string of dates in every possible context: on the road, out for summer patio cocktails, into business meetings, and even for a weekend camping. The question was simple, but the answer might not be. Would the experience bring me to bond with Batman to the point of uttering "til death do us part"?
On the wrist
Before even getting into the specifics of Batman's charm, anyone who's ever owned a modern GMT-Master II (or Submariner for that matter) can attest to the fit and wearing comfort of this 40mm Rolex case and Oyster bracelet. Unless you're a 300-pound behemoth of a man, or a dainty figure that's barely 100 pounds when wet, the 40mm case, stubby lugs, and tapered Oyster bracelet fit like a glove. My wrist being roughly six and ¾ inches in diameter, the mighty Batman takes up a good amount of wrist real estate without hitting levels of "statement watch" in terms of physicality.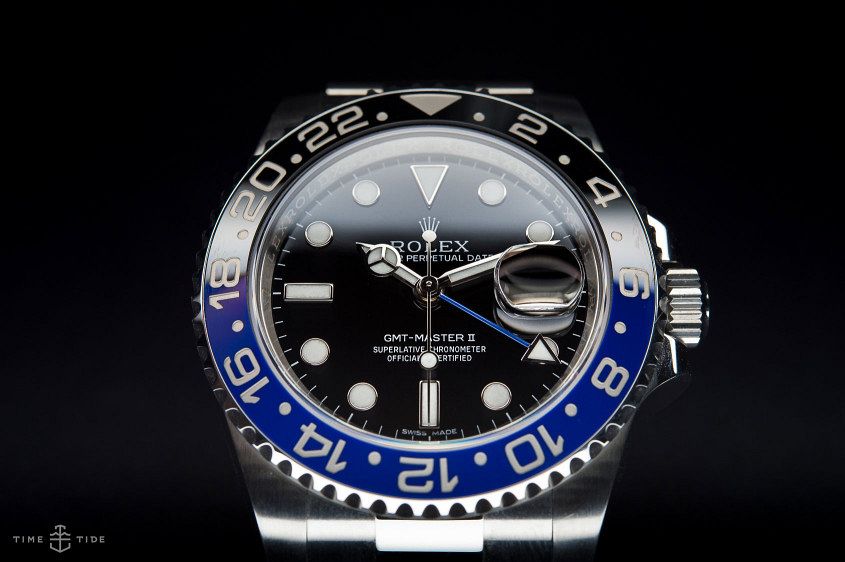 When it comes to any watch on a bracelet, proper fitting can instantly be a make-or-break factor. In the last year and a half I've become particularly fussy in this category, due primarily to a wrist injury and surgery that left me bionic. In the case of the Batman (and other Rolex offerings), the half-link length microadjustment in the clasp is just what the doctor ordered. Sized to a snug length, the GMT-Master II sits on the wrist in proper goldilocks form, whereas on those hot, humid, sweaty adventure days, popping open the expansion gives it just the right amount of breathing room. In loose form, I quickly learned to appreciate the design of its crown guards as well. Having things like a Tudor Black Bay in my regular rotation, I'm all too familiar with the feeling of a crown digging into the back of my hand when wearing a watch a little too loose. Shy of going to a left-sided crown, there's really no way to escape this entirely, however the Batman does a very good job of it.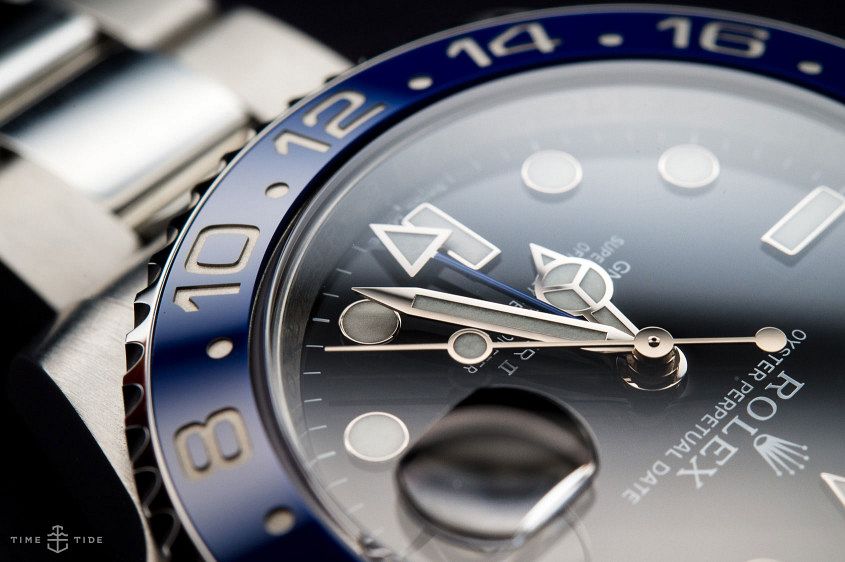 GMTs in general have long been a favourite of mine on every end of the watch industry spectrum, especially being based on the East Coast of North America and working with teams in Australia, Geneva and Los Angeles, among others. The complication did play a small role in landing Batman as my new love interest, and after putting the fella to work I quickly learned to appreciate Rolex's approach to it. Most conventional ETA-based GMTs use the one direction of the first crown position to move the 24-hour hand (and the other direction to set the date, if applicable). Batman, on the other hand, has a different trick up his sleeve. Position 1 allows the wearer to move the hour hand (local time) independently, both forwards and backwards, as well as acting as a relatively easy quick-set for the date. The most conventional way to use this as a traveller would be to set the GMT hand to home time, and when on the road, you'd simply roll the hours ahead or backwards as needed. Given my stationary connection to other time zones, home time remained standard hours and minutes, whereas "office time" in LA is set on the 24-hour hand, and a quick turn of the bezel lets me know whether or not Felix and crew have rolled out of bed as I'm working away in Toronto.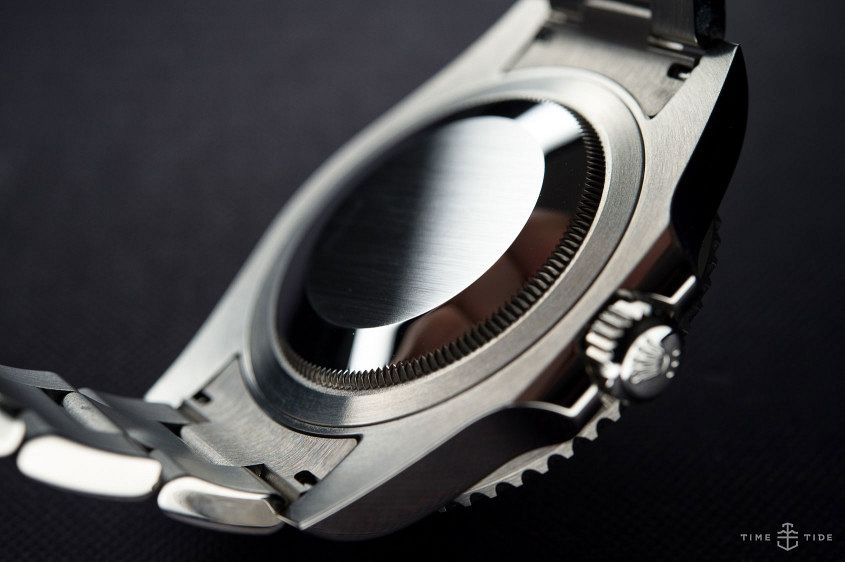 Speaking of Batman's bezel, the hype is indeed real. That glossy blue/black combo you see in Rolex imagery (and all over the 'gram) is even better in person. Now, I'm the same guy that moaned about the colour choice of the Pepsi GMT bezel in Cerachrom ceramic, but the royal blue and black combo on this watch is just plain perfect. The other lesson quickly learned here is that not all ceramic bezels are created equal. If we were having this conversation a year or two ago, I'd possibly quip about the lack of luminous material on Batman's bezel, but having lived with ceramic lumed bezels a reasonable amount recently it's no longer a feature I'm dying for. To ensure longevity of a lumed bezel you're looking at a smooth ceramic surface, and in terms of day-to-day legibility it doesn't always do you any favours. When laying in bed at night, and glancing at the time in the dark, what time it is anywhere else is not even remotely relevant. On the other hand, being able to read the etched 24h scale on the Batman from an angle in the glaring sun is immensely helpful. Also at a functional level, being able to easily and thoughtfully click the bezel back and forth in solid one-hour increments is also an enjoyable and rewarding feeling that can vary a fair bit from one GMT to the next.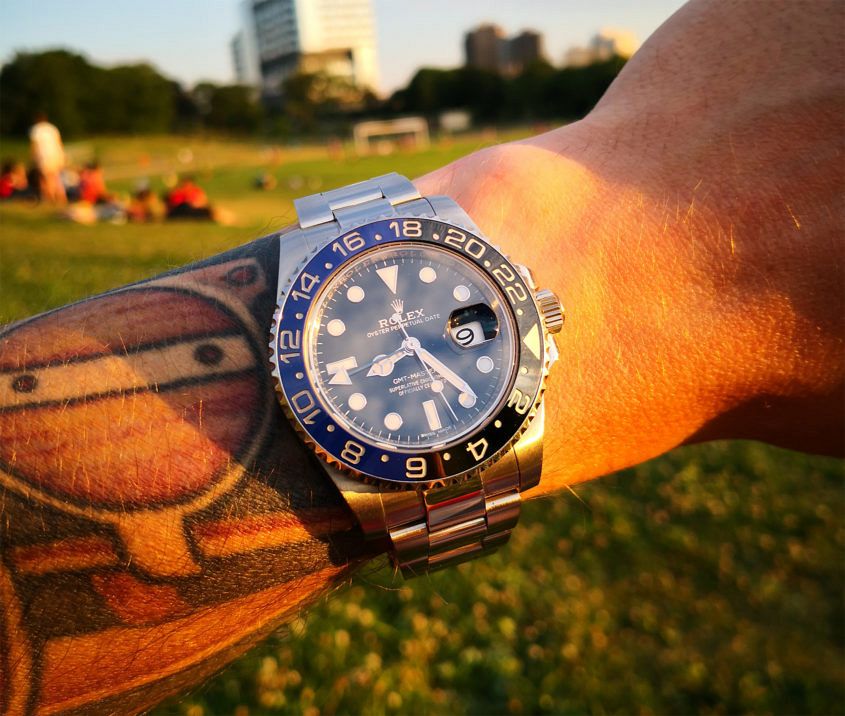 As the days and weeks passed, finding a real legitimate gripe with my new love interest continued to prove challenging. I will say that the ultra-high polished 904L steel used by Rolex is a fair bit more prone to scratching than I would like, though generally speaking I don't keep much polished metal in my rotation to begin with for just that reason. With Batman being meant to serve duty as a daily-wear/tool watch, it's certainly something liveable, but also something to keep in mind. Beyond that, I'm not a fan of Rolex's need to etch its name all away around the rehaut of the piece. Yes, I know it's a Rolex, and I appreciate a lot that went into it and what differentiates it as a Rolex. I refuse to ever buy/own/wear logo-patterned things from Louis Vuitton or Gucci primarily on principle, and I don't need that kind of over-branding in a wristwatch, thank you very much. That said, is it a deal-breaker? Not even close.
The Verdict
Yes, you're seeing this coming from miles away, but the Rolex GMT-Master II Batman more than lives up to the hype. Batman is still on my wrist as I am writing this, and he's had me swiping a hard right ever since walking through the door. With its scarce availability and pre-owned premium, putting a ring on it isn't quite on the cards just yet, but you can well bet that I'm ready to say "I Do" as soon as I can swing it.