Robert Downey Jr's watch collection – something borrowed, something fake (maybe?) and something fantastic
Nick Gould
If you haven't seen Avengers: Endgame, don't worry, we're not going to spoil it for you. What has become clear over the sprawling Marvel Comic Universe arc is that one cast member has rocked serious wrist game throughout the entire series, whether in the films or on the red carpet — Robert Downey Jr (RDJ), who played Tony Stark aka Iron Man. He's also not afraid to play fast and loose with his collection — treating them casually or even (shock horror) wearing a perhaps not 100 per cent real watch. For more on that, check out our story on his 2016 GQ video showing off his "epic watch collection". But that was then, this is now. Here are three pieces we've seen from Robert Downey Jr's watch collection recently.
Robert Downey Jr wears an Omega Speedmaster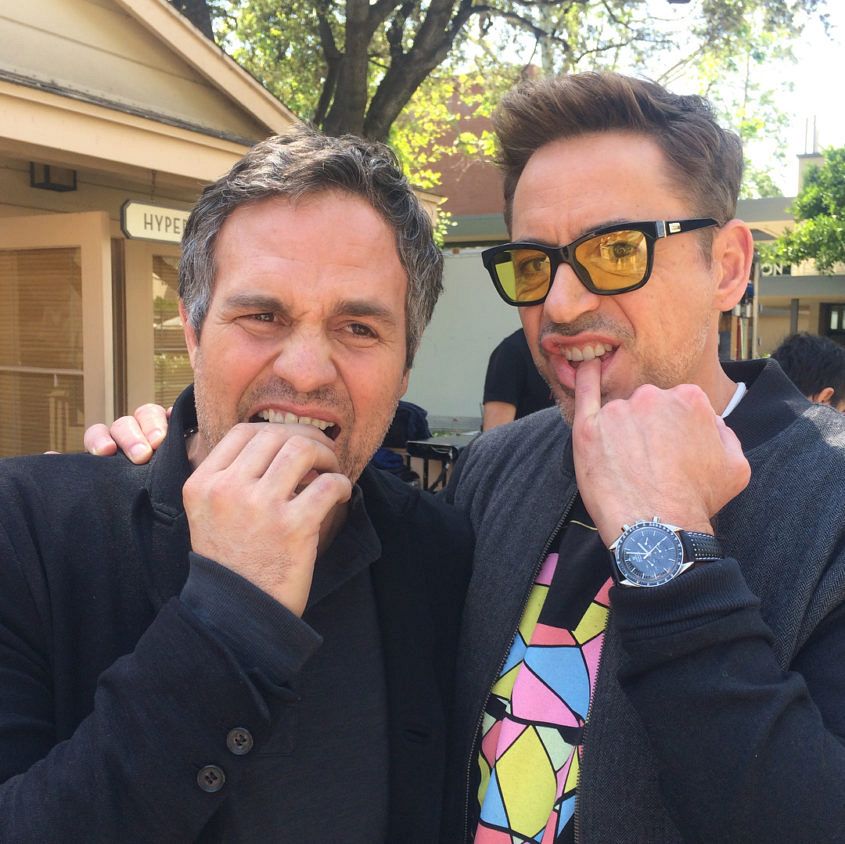 One watch from that video that got a bit of attention was the Omega Speedmaster in RDJ's collection. On his Instagram account, RDJ posted a photo of himself on the set of Avengers: Age of Ultron back in 2015 wearing the Speedmaster, but nothing looked out of place. In the GQ video they showed the watch up close and it revealed a dodgy dial, with completely wrong printing for the word Speedmaster, meaning it could be a fugazi timepiece or just a very poor refinished dial.
Robert Downey Jr wears a Devon Tread
For Avengers: Infinity War, RDJ borrowed a watch from Devon Works, the Tread 1, which tells the time using a series of mechanically driven belts powered by a battery. Yes, it's battery operated but still an uber cool-looking watch that suits the character of Tony Stark. During filming, he posted a photo and you see it gracing his wrist. In the film it makes a fleeting appearance.
Robert Downey Jr wears a Greubel Forsey GMT Tourbillon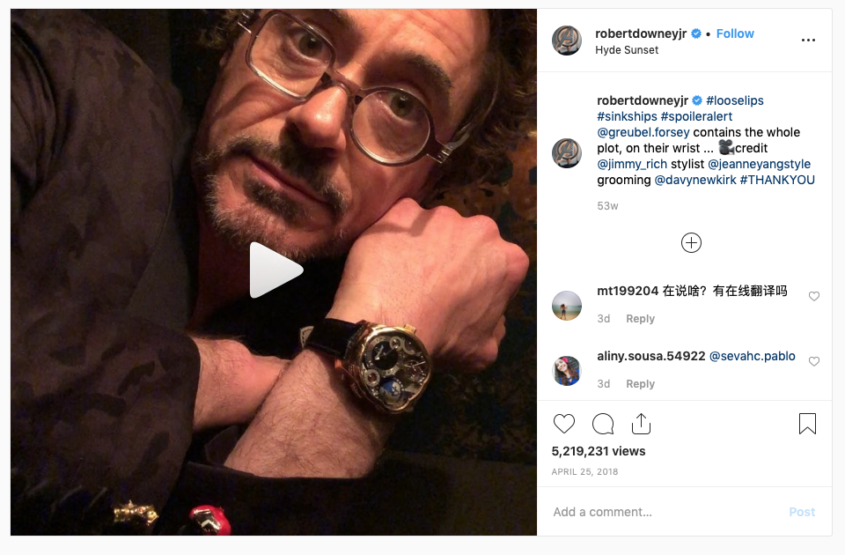 RDJ usually saves the uber fantastic watches for his appearances during press tours and on the red carpet. Most of the watches are loaned to him, but I'm certain he does keep an eye on the brands he likes and personally requests them through his stylist. Choosing just one fantastic watch to feature is a bit tricky as I like them all, but I will go with the Greubel Forsey GMT Tourbillon he wore to the premiere of Avengers: Infinity War, considering the film was about saving the universe and the watch happened to have a globe in it.