Rich Flex: Drake or 21 Savage – who has the better watch collection?
Zach Blass
21, can you do sum' for me? Can you hit a lil' rich flex for me? On Drake and 21 Savage's recently dropped collaborative album Her Loss, the track Rich Flex kicks things off and since its release it has overtaken Tik Tok and other social media.
While others have been quick to make memes jesting at Drake being too "zesty" on the song, my first reaction was that it was time for a Celebrity Watch Deathmatch between the pair. I mean, Drake is literally asking for a "rich flex" from 21 Savage in the song. And the duo definitely have a ton of watches to flex.
The one caveat here is that I cannot stress how many watches they have, so I had to leave some out to keep the head-to-head as apples-to-apples as possible. With that in mind, let the Battle Royale begin!
Battle of the Nautilus
21 Savage – Buss down Patek Philippe Nautilus ref. 5711 gifted by then girlfriend Amber Rose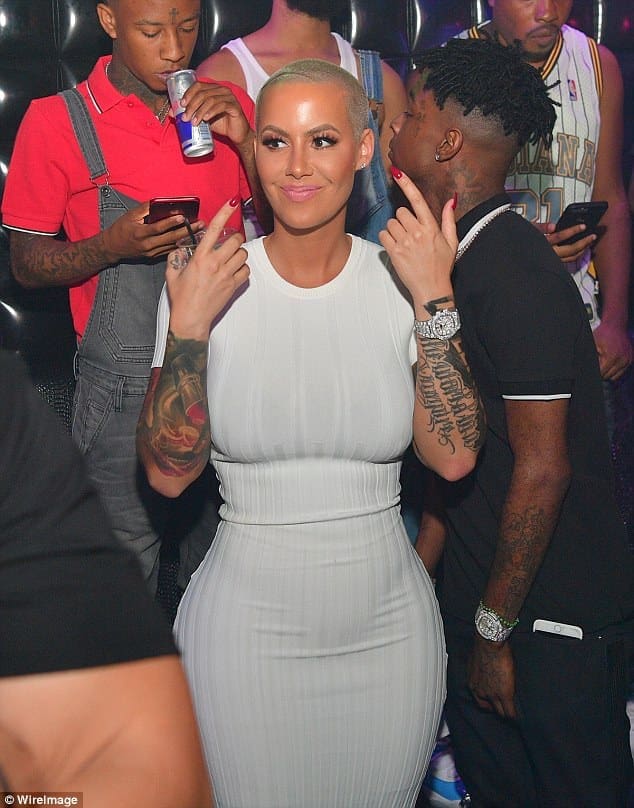 Back in 2017, 21 Savage, and his then girlfriend Amber Rose, celebrated their relationship by purchasing each other a matching set of bussed down Patek Philippe Nautilus watches. It made news on various tabloids and news outlets after she shared the watches on social media exclaiming: "We like to spoil each other."
Amazingly, in 2017, the Daily Mail alleges the watches each cost $55K, which seems like an absolute steal compared to the prices the Nautilus has achieved now five years later.
21 Savage – Patek Philippe Nautilus ref. 5724G-001
He has also been spotted wearing a factory diamond-set Nautilus, the reference 5724G-001, in the Show Me Love (Remix) music video with Alicia Keys. It has a white gold case adorned with diamonds on the bezel and integrating link for the leather strap. On its dial, which displays the power reserve, calendar date, moonphase, and running seconds, there are also diamonds in place of applied hour indices.
Drake – Patek Philippe Nautilus Annual Calendar Ref. 5726 customized by Virgil Abloh
I typically prefer watches left in their factory configuration, but when Drake first flexed his Patek Philippe Nautilus Annual Calendar Ref.5726, customized by legendary American fashion designer Virgil Abloh, it caught the attention of watch aficionados around the world. Whether it draws disgust or admiration from you depends entirely on your outlook on watch design and factory purity. With its blackened case, and bezel, dial, and bracelet covered with emeralds, the Patek Philippe branding is literally no longer in view. The modified watch goes completely against what Patek is willing to make themselves. This of course led to the raging debate of sick modification? Or absolute blasphemy?
Verdict: While 21 Savage has quantity, to have a Virgil Abloh customized Nautilus is, unfortunately after his passing, even more of a flex than before. Sure, I could never pull it off. But, it is probably my favorite aftermarket customized Nautilus I have ever seen. Winner – Drake.
Battle of the Rolex (round 1)
21 Savage – Rolex Sky-Dweller ref. 326934
Probably the most normal watch in this entire matchup, 21 Savage has been seen wearing a Rolex Sky-Dweller ref. 326934. And, like Jack Harlow, he has opted to leave the watch untouched in its factory configuration. Sure he could have blinged it out like Megan The Stallion, but instead he has shown restraint. The Rolex Sky-Dweller is the most complicated Rolex in the current catalogue, and, upon its initial release, it was only third to the GMT Master II "Pepsi" and ceramic-bezeled Daytona in popularity.
Drake – Rolex Day-Date ref. 228398TBR
Drake is clearly no stranger to aftermarket customization. But, his common go-to Rolex Day-Date ref. 228398TBR is tastefully iced-out by Rolex at the factory. Rolex elected to only add diamonds to the bezel and indices of the champagne dial. Considering Drake also goes by the nickname "Champagne Papi", it makes sense one of his daily wearers is a Day-Date with a champagne dial.
Verdict: The Sky-Dweller is Rolex's most complicated watch in their current catalogue. Plus, in the blue dial variant it is far more versatile and less of a "pick me" Rolex than Drake's Day-Date. It does not need diamonds to grab more attention. Also, from a travel perspective, with both artists having tours the Sky-Dweller is far more useful as a daily wearer. Winner – 21 Savage.
Battle of the Richard Mille's
21 Savage – RM 11-03
21 Savage can be routinely spotted wearing his Richard Mille RM 11-03 McLaren, an automatic flyback chronograph that likely speaks to his taste in high-end cars as well as watches. It seems a Richard Mille is a rite of passage in the hip-hop world, an accessory milestone that conveys one has made it in the industry. There is not really much to say here.
Drake – Richard Mille RM 69 Erotic Tourbillon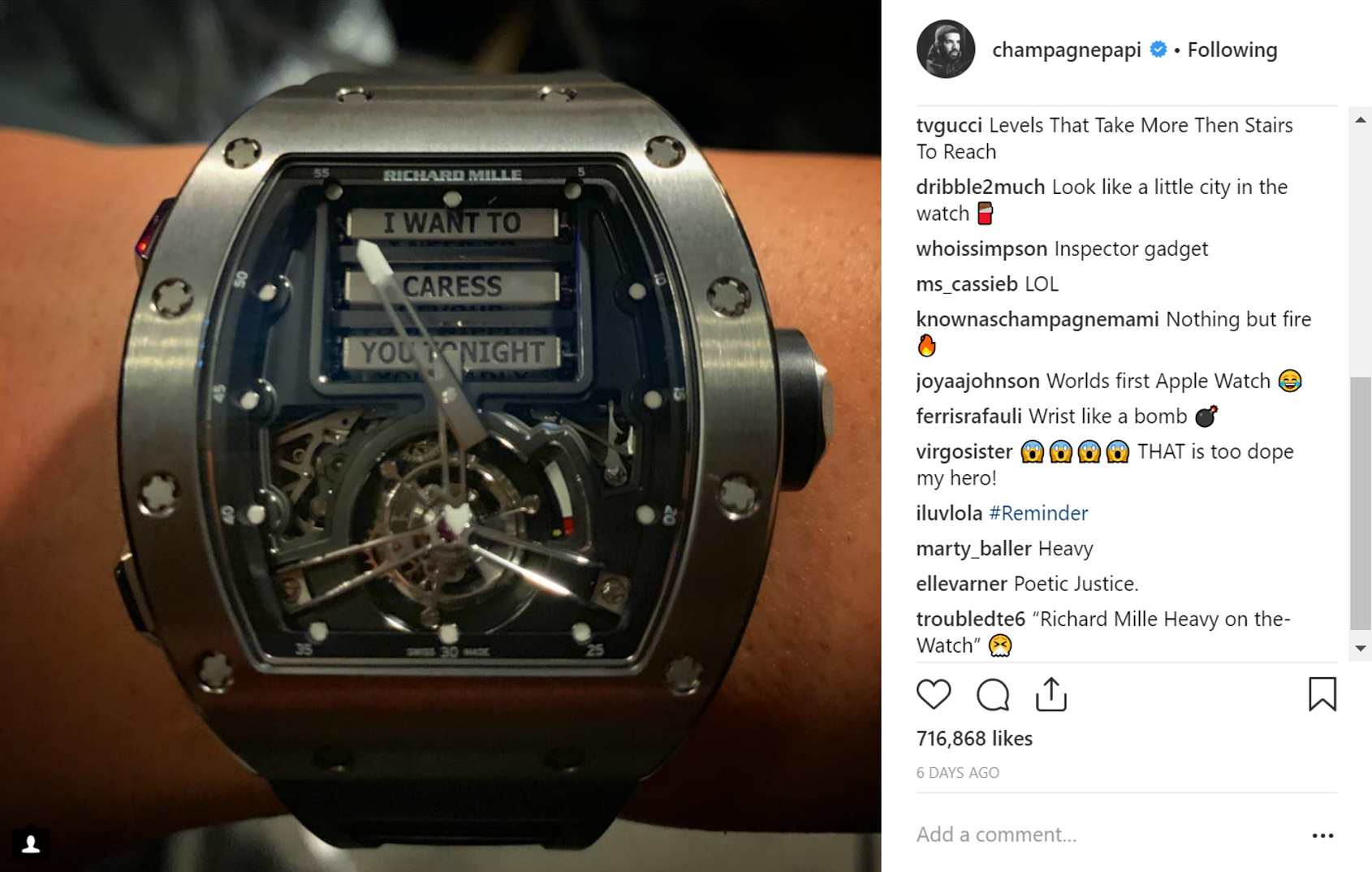 Drake's Richard Mille RM 69 Erotic Tourbillon, on the other hand, is an absolute conversation starter. An 18+ one at that. Not only does it boast a tourbillon, but it also features what Richard Mille calls the "Oracle" complication. This mechanism that sees the rotation of three grade 5 titanium engraved tablets, which each displaying a word that, no matter the combination of the three, expresses sexual innuendo. It is a novel expression of an erotic watch, foregoing the visual of two people doing the deed for some dirty talk instead.
Verdict: The RM 69, with its brilliantly chosen reference number and textual erotic complication, is actually one of my favourite Richard Mille watches they have made. For that reason, Winner – Drake.
Battle of the Rolex (round bling)
21 Savage – Rolex Daytona ref. 116578SACO
We have seen many celebrities gravitate towards "Rainbow" Daytona watches – John Mayer, Mark Wahlberg, Steve Harvey, Ellen DeGeneres, and plenty more. But 21 Savage switches things up ever so slightly with the yellow gold Daytona ref. 116578SACO. It notably features a mother of pearl dial, and a bezel set with orange-colored sapphires. It is a rather "zesty" choice of Daytona, but if anyone has the swagger to pull it off it is 21 Savage.
21 Savage – Rolex Daytona "Eye of the Tiger" ref. 116588TBR
The Rolex Daytona "Eye of the Tiger" ref. 116588TBR requires an equal amount of swagger to pull of, the Daytona watch, also in yellow gold, featuring a bold expression of diamonds that leads to a "Eye of the Tiger" motif on the dial. As far as watches with diamonds go, this must be among one of the most comfortable thanks to its rubber Oysterflex bracelet commonly misconstrued as a strap. The outer rubber elastomer material actually has flexible metal inside of it. And, with the rubber cushions on the underside that depress and stretch out as the wrist contracts and expands, it always maintains a perfect fit once properly sized.
Drake – Rolex Pearlmaster 39 ref. 86348SABLV
21 Savage has, by far, the safer Rolex bling. Drake, on the other hand, likes to be different. Very few male celebrities, if any, have been spotted wearing a Rolex Pearlmaster. This variant of the Datejust immediately stands out due to its bracelet, clearly distinguishable from the more common Oyster, Jubilee, and Presidential bracelets. Drake's Pearlmaster ref. 86348SABLV also immediately stands out with its diamond covered dial and gradient gemstone bezel.
Drake – Rolex Day-Date x Chrome Hearts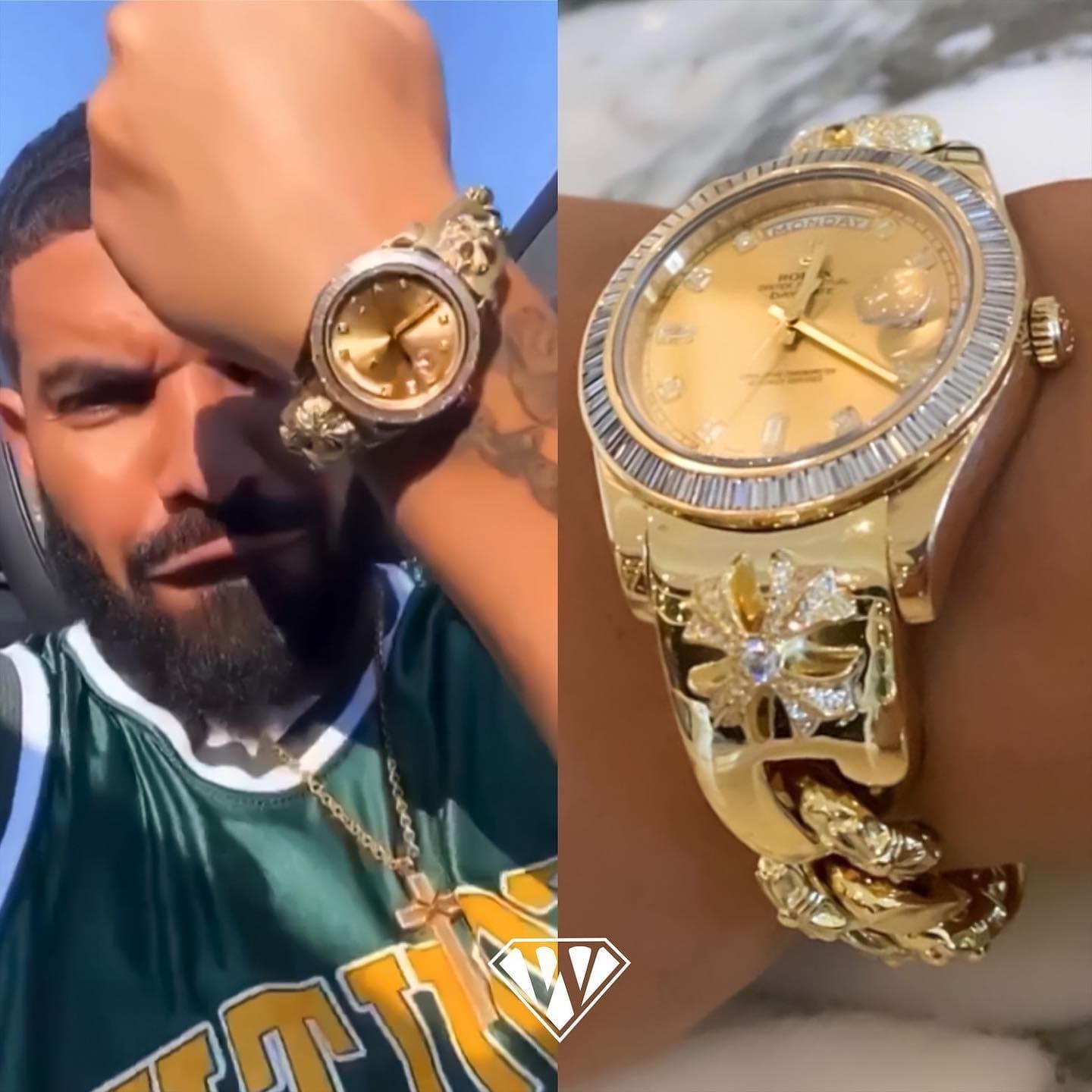 As if things could not get stranger, or as if one Day-Date was not enough, Drake has been seen wearing a yellow gold diamond bezel Rolex Day Date he customized – having it affixed to a Chrome Hearts bracelet. As I have said before, is it particularly my cup of tea? Not really. It breaks the golden rule of never customising a Rolex watch, especially given the diminishing value that comes when you tamper with the original condition. But as far as customizing a watch goes, I have to give him points for originality – even if I prefer to keep my own watches in their original configurations.
Verdict: This is not based on which watches I actually like more, in fact I clearly like his far less. But, with the ubiquity of Rolex, especially in the hip-hop world, I feel we have to reward different. 21 Savage, perhaps, played it too safe with two Daytonas. While 21 definitely takes home the win in the eyes of secondary market dealers, I have to give Drake credit for taking risks and going down the road less traveled with a Chrome Hearts Rolex and a Pearlmaster. Winner – Drake.
And the winner is… 3-1 Drake!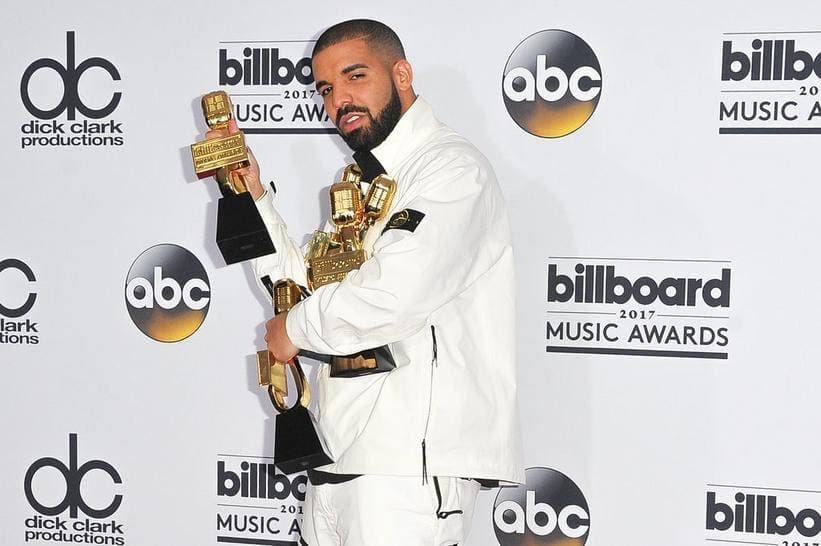 By all accounts it probably should have ended as a 2-2 tie, and they definitely each have more watches than what I evaluated above. But, because I prioritized creativity and risk-taking in the Rolex bling round, Drake was able to sneak away with the win.