Revolution and The Rake magazines have rallied together to put on a charity auction to support those impacted by Covid-19. Called the 'Revolution x The Rake Covid-19 Solidarity Auction', this online event is now live and there are plenty of interesting and noteworthy watches to bid on. The auction will feature several one-off piece-unique timepieces, as well as prototypes that have never before been seen.
Speaking about the initiative, Revolution and The Rake founder, Wei Koh, said, "Those of us who are lucky enough to live in a first world country are starting to see [Covid-19] restrictions lifted and our economies coming back online. But we are just starting to see the effects of the pandemic in countries that are less fortunate, that did not have the same level of medical support and infrastructure that we have. So, we wanted to raise funds for these countries that are most urgently affected.
"I also wanted to point out that hosting a charity auction to raise money for a cause is not an original idea. Luc Pettavino has been hosting Only Watch for many years to benefit research into Muscular Dystrophy. And early this year a great example was set by Andrew McUtchen and Time+Tide, who demonstrated that an online watch magazine could galvanise the industry around an urgent cause."
Congratulations to Wei and to all the generous donors – ranging from Chopard on behalf of actor Ryan Reynolds to individual collectors, who were moved enough by the mission to contribute personal watches. These are five that stood out as being particularly interesting. Please note that given the fast-moving nature of the bidding, these current bid figures are going to be quickly outdated! Check in to the lots to see their up-to-date asking price.
Any watch prototype is already a very, very cool thing … but this one's positively sub-zero. Why? Well, Hollywood A-Lister Ryan Reynolds wore this very watch, which has been generously donated by Chopard, in the blockbuster action thriller 6 Underground. With a price estimate of around $12,100 AUD, we can't think of many better watches to bid on – it's a great timepiece in its own right, and it's been immortalised on the silver screen by the guy who plays Deadpool. Perfect.
Current bid: $6000USD
"Molon Labe" in ancient Greek means come and get 'em, and that's exactly what we want to do every time we see photos of Hublot's gorgeous offering for this charity auction. Blending a steel and bronze construction that presents a truly unique aesthetic among Hublot's current collections, this watch offers wrist presence, squared. Bidders beware, though, you're going to have some stiff competition: Mr Koh is eyeing this timepiece off for himself, as he missed out on buying one of the limited edition Aerofusion Chronograph "Molon Labe" watches, of which only 25 were made, because the example he had reserved was sold from under him. Hell hath no fury like a scorned watch enthusiast.
Current bid: $10,100USD
We're on record as saying that we are already big fans of the 02T – anything equipped with a tourbillon and chronograph complication that retails for less than $30,000 AUD is A-OK in our books. But this one-of-a-kind variant, specially made by TAG Heuer for this auction, is perhaps the best iteration we've seen to date, with the iconic watchmaker's red and green logo being flipped upside down on the dial to represent a home, which was inspired by the #stayhome campaign that promoted self-isolation during the Corona pandemic. We're almost 100 per cent positive TAG Heuer will never, ever create another watch with an "inverted" logo on its dial, which means that this could perhaps be the most collectible TAG in recent memory. Massive levels of want!
Current bid: $8938USD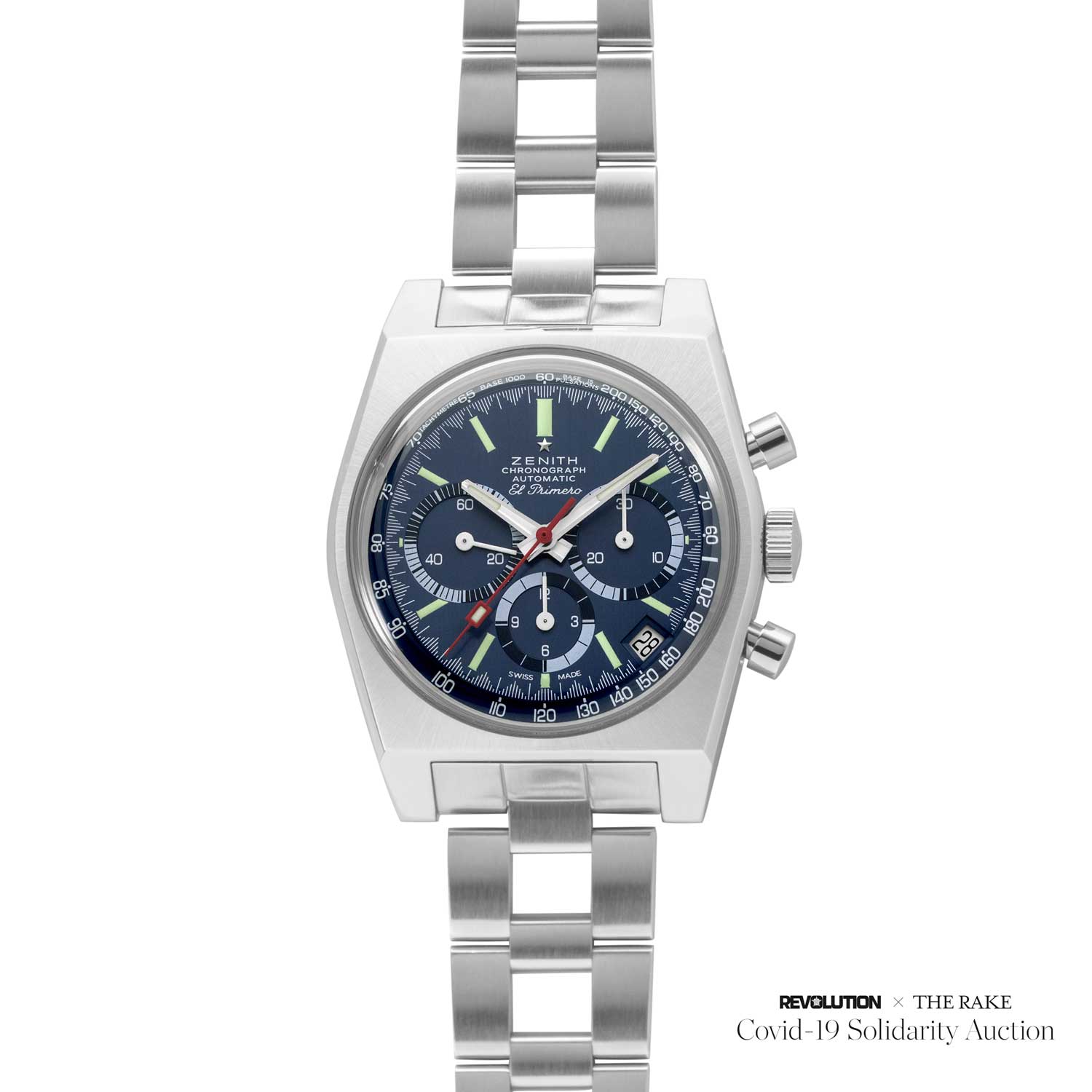 You read right: not only is this a Zenith Revival Cover Girl you can actually buy, but it's also the gosh darn factory prototype. What a flex. We love the A3818 "Cover Girl". It was such an inspired creation by both Zenith and Revo, and we were not surprised at all when it completely sold out . The fact that this is the prototype of the reprised icon is beyond awesome, and the lucky buyer of this pin up will have scored themselves not only a killer timepiece, but a piece of horological history.
Current bid: $8000USD
OK, we're being a bit biased here … we donated this watch. However, you've got to admit that this DOXA SUB 300 Carbon Aqua Lung is just plain sexy. Fully carbon-cased watches are rarer than unicorn farts, but DOXA's novel twist on one of the most iconic and historic dive watches on the planet just oozes inimitable bad-assery. DOXA is making only 300 of these amphibious lightweights, and you'd be silly not to chuck a bid on.
Current bid: $3700USD