We all have those knick-knacks lying around that get forgotten. Dried-up sharpies, matchboxes, and screwdrivers are the common offenders in my household, however there had always been one outlier. A small, unassuming wristwatch had been sitting in an antique drawer for at least 20 years.
Freshly into my 20s, I landed a job that meant I couldn't have my phone on me for the length of the shift, and there was hardly a clock in sight. I had the very new issue of a watch being a necessity, so I went and found the cheapest watch I could get. After two weeks, what had cost $10 became worthless when the hour, minute and seconds hands all snapped off. Suddenly, I remembered the stopped watch in the drawer.
To my surprise, when I rummaged it out of the mess of cables and foreign coins, I actually recognised the brand. An Omega Seamaster. Although I knew little about it, I knew it was special. I asked my dad if he remembered any details, and he said my great-grandfather had bought it. That's about it.
Being a DIY-oriented person, I launched myself into research in an attempt to fix it. I quickly realised it was beyond my skillset, but I didn't stop learning. There was a difference between battery-powered quartz and spring-loaded mechanicals it turned out, and even between those there could be hand-wound movements and automatic movements. Complications, mainsprings, balance wheels, escapements … all these new concepts fascinated me as the romance of a mechanical movement took hold. I was resolute to have this thing repaired.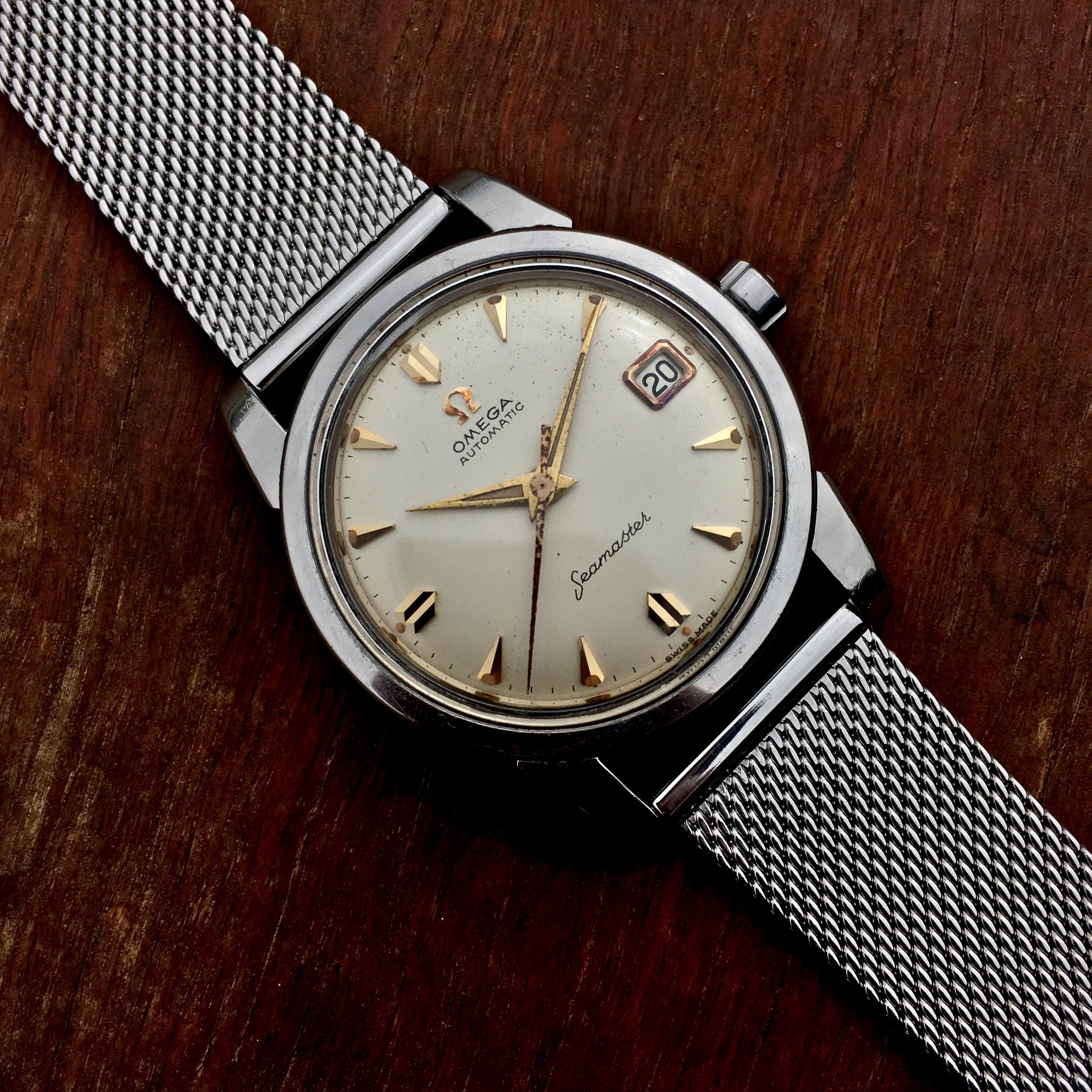 The watchmaker was impressed when I brought it out, expressing the dial was in beautiful condition for its 60+ years of age. Sadly, after some days of analysis, I was informed that the winding stem was heavily corroded, the rubber gasket had perished, and the fragile crystal had practically exploded upon removal. Deeper inside, there were several jewels that had become unseated and needed adjusting, and the mainspring needed replacing. All of these parts had to come from Switzerland, and they weren't exactly cheap. I was all too happy to go ahead, having now investigated the calibre 503 automatic movement, with its unusual beat rate of 19,800 vibrations per minute, hiding within my great-grandfather's watch.
After two agonising months of impatience, I finally had the heirloom ticking away on my wrist. The crusty and scratched crystal was gone, with brand new domed acrylic revealing the subtle patina that had crept onto the 18k gilt indices and once-luminous dauphine hands. At 34mm in diameter, the vintage Seamaster is a lot smaller than most men would be used to, however the fat lugs and new mesh bracelet give it plenty of bold purchase on the wrist. Though the case has a noticeable bubble profile, the 12mm thickness has no issues sliding underneath a cuff. Dated at 1958, there are no modern conveniences such as hacking seconds or a quick-set date, but it does have hand-winding. I would be lying if I didn't admit that I love the ritual of winding the hands around and around to get the art-deco date correct after a few days unworn. Its power reserve is still strong at around 48 hours, and it keeps some of the best time of any of the watches I now own, gaining an average of four seconds per day.
What kickstarted my passion for horology is now one of my most prized possessions, and will surely make its way down to future generations.