RECOMMENDED READING: Rolex spotting at the Australian Open from Federer to Tsonga
Zach Blass
Tonight is the men's final of the Australian Open. While this tournament is primarily a great opportunity for fans worldwide to enjoy some great tennis, it is also a good time for watch lovers to spot some fabulous timepieces on the wrists of their favorite players. Rolex is a longstanding sponsor for various tennis tournaments, with many players on the circuit official and unofficial ambassadors of their robust creations. You may not see them on the court during play, but they always make an appearance upon victory – especially when raising the trophy in celebration. Rolex will not be the only brand you see sported on wrists at the open, but it is definitely a heavy favourite for watch spotting. What is really interesting to see is not just which players are wearing watches from the crown, but the diverse range of references they actually select to wear. Thanks to this article from Bob's Watches, we have not only a full encyclopedia of Rolex worn by the players at the Open over the years, but also an outlet to purchase them.
Roger Federer – Rolex Datejust, GMT Master II, Sky-Dweller, Daytona, and more…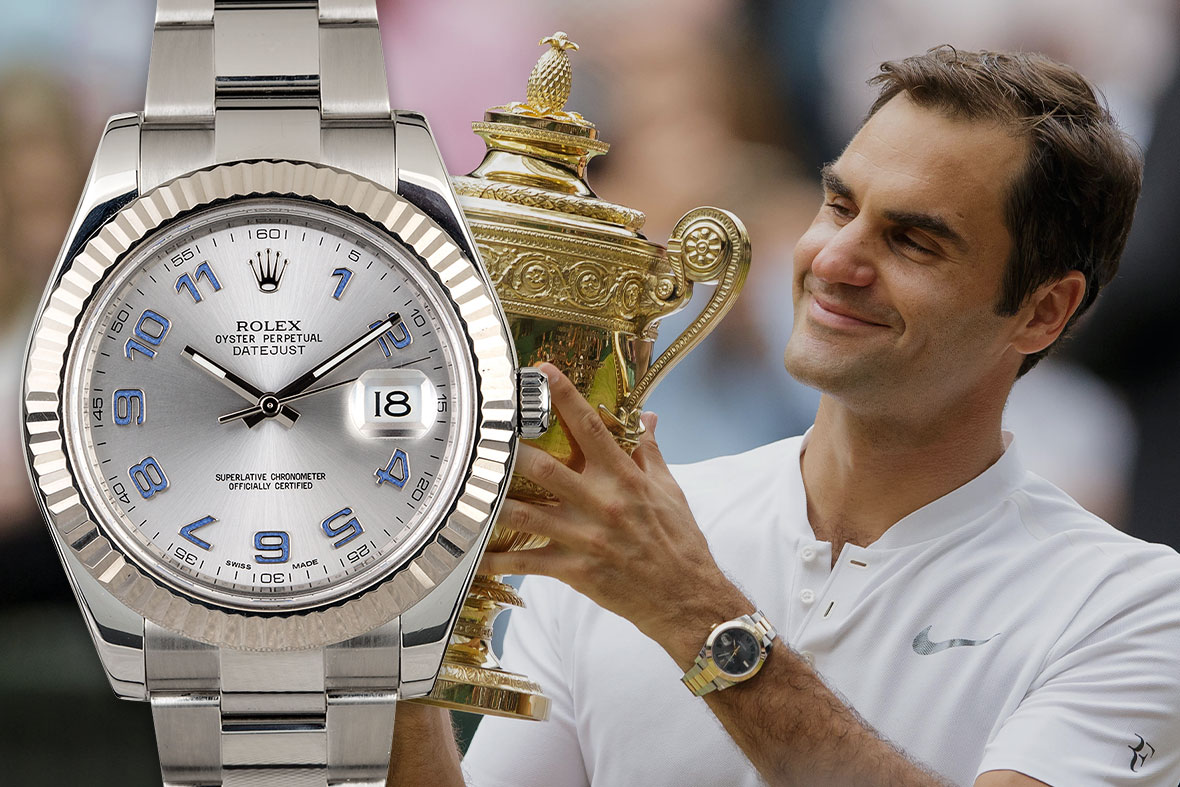 It should come as no surprise that arguably the greatest player to ever garce the game has access to virtually any Rolex watch that tickles his fancy. A well known Rolex ambassador and Swiss citizen, Federer has been spotted wearing a wide variety of different Rolex models, in various metals, including Sky-Dwellers, Day-Dates, Daytonas and GMT-Master IIs, among others. One of the watches most associated with Roger Federer, however, is the 41mm Rolex Datejust II ref. 116334 fitted with a distinct rhodium-colored dial featuring blue Arabic numerals. As someone who has such great access to the catalogue for his collection, it is nice to see that he not only wears the greatest hits from the brands, but also the deep cuts.
Garbiñe Muguruza – Rolex Datejust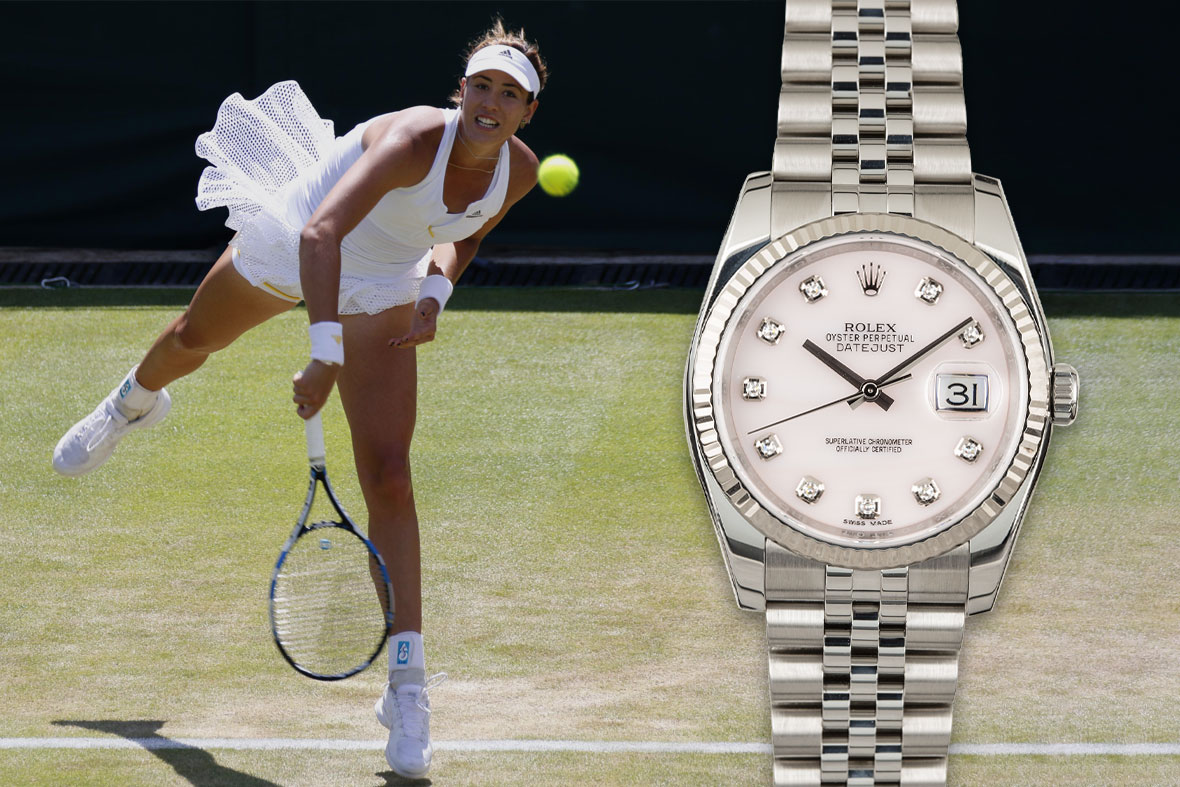 Watches can become a great memento to mark milestones in your life and Garbiñe Muguruza certainly has a lot to celebrate. After reaching the fourth round at the Australian Open, beating her childhood hero Serena Williams for the first time (as well as breaking into the top 20), she decided to buy herself a Rolex to mark the occasion. Throughout the tour, Garbiñe Muguruza's has repeatedly been spotted wearing a 36mm Rolex Datejust in stainless steel and 18k white gold with a stunning diamond-set dial and the brand's iconic Jubilee bracelet.  Muguruza's is that much more special with her name and the year 2014 engraved into the caseback to serve as a precious reminder of her triumphs.
Dominic Thiem – Rolex Daytona, Datejust, and Yachtmaster 42
Like Roger Federer, Austrian-born tennis pro Dominic Thiem is another Rolex ambassador who has found great success in the ATP tour. He has been spotted wearing a number of different Rolex watches, including both a stainless steel Datejust 41 with a blue dial and a Yacht-Master 42 with an Oysterflex bracelet in 18k white gold, which was the watch that he was wearing when he lifted the trophy after winning his first Grand Slam title at the 2020 US Open. Among all these incredible references, it would seem that Thiem's favorite Rolex watch is his stainless steel Rolex Daytona ref. 116500LN fitted with a black dial and matching black Cerachrom bezel.
Stéfanos Tsitsipás – Rolex Daytona & Submariner
Stefanos Tsitsipas is the youngest player to be ranked in the top 10, but his youth does not make him immune to the charms of classic Rolex references. Like other ambassadors of the brand, his wrist has sported a wide spectrum of references within the catalogue. Fitting for a top-tier athlete, his taste in watches seems to skew towards Rolex's professional models, with the player spotted off the court with either a stainless steel Submariner or Daytona. He does enjoy precious metal watches as well, regularly seen wearing a 18k white gold Rolex Daytona ref. 116519LN, which features a black ceramic bezel and a matching black Oysterflex bracelet.
Angelique Kerber – Rolex Datejust, Daytona, and more
Angelique Kerber has been spotted wearing a number of different Rolex watches throughout the years, including a couple of different Datejust references and a stainless steel Daytona with a white dial and ceramic bezel. However, Angelique Kerber's go-to Rolex is the one she actually bought for herself back in 2011 – a classic 36mm Datejust in stainless steel and 18k white gold, fitted with a diamond-set mother of pearl dial and a 3-link Oyster bracelet.
Karen Khachanov – Rolex GMT-Master II
Karen Khachanov's has been repeatedly spotted sporting his Rolex GMT-Master II ref. 126711CHNR "Root Beer", which features a distinct bi-colour Cerachrom bezel made from black and brown ceramic with rose gold numerals. With its two-tone finish of stainless steel and 18k Everose gold (Rolex's proprietary rose gold alloy), the GMT-Master II 126711CHNR is the type of watch that can easily be worn everywhere from the beach to a formal dinner and never look out of place. Elegant yet inherently sporty, the Rolex GMT-Master II's ability to simultaneously track multiple time zones makes it the perfect timepiece for a professional athlete that is always traveling to the next international tournament location.
Juan Martín Del Potro – Rolex Datejust & Sky-Dweller
Juan Martín del Potro's has also exhibited a love for Rolex watches. The Argentinian tennis pro and brand ambassador has been spotted wearing a number of different Rolex watches over the years including the stainless steel Sky-Dweller and a variety of different Datejust models. A favourite of his seems to be the 41mm Rolex Datejust in stainless-steel and 18k yellow gold, fitted with a matching Oyster bracelet and the brand's signature "Wimbledon" dial – a fitting choice due to its subtle connection with the sport
Jo-Wilfried Tsonga – Rolex Milgauss, Datejust, and Daytona.
Tsonga has been spotted wearing a variety of Rolex Datejust watches over the years in addition to the ultra-desirable stainless steel and ceramic Daytona ref. 116500LN. One reference Tsonga notably wore after winning the Canadian Open (formerly known as the Rogers Cup) while raising the trophy in victory was the Rolex Milgauss ref. 116400GV. It stands out from other Rolex watches with its green-tinted sapphire crystal, the only watch in the brand's entire history to feature a coloured crystal over the dial.
Read the whole article here at Bob's Watches and if you're after one of the featured watches check out their well-priced selection from this trusted vendor of all things Rolex.
This story is part of a partnership with Bob's Watches. However, the opinions expressed in this article are our own in accordance with our Editorial Policy.