The best way to describe 2020 is that it was a black hole. Obviously there were far more serious casualties and situations, but the watch community sorely missed being able to get together and share our love for watches. Fortunately, the rising social media platform Clubhouse filled the void, but as we like to say in the hobby: there is nothing like getting together in the metal. But things are looking up here in the USA and, as a result, we have been able to finally engage with each other once again in person and not on Zoom or Skype, or any of the other video platforms that we are all sick to death of. That is why grins, laughs, drinks and, of course, watches were abundant last night's event at a rooftop bar in Times Square, NYC where the master of materials, Rado, hosted the first in-person watch gathering (in NYC) since the pandemic.
Organised by Robert Velasquez (a.k.a SpanishRob), Fiorella Rosales (Rado PR & Events Specialist), and Juan Lopez Davies (President of Rado USA & Caribbean), the Rado team allowed all of us to get in real close with a host of Captain Cook references in bronze, stainless steel, and their highly robust high-tech ceramic.
The watches were an absolute pleasure to handle, and the glass ceiling and overcast lighting of the sky, while making it challenging at times to photograph, was the perfect environment to fully understand the dynamic tones of the dials and case materials.
The evening's horological guests were a tangible reminder, especially with summer weeks away here in the USA, that it may be the perfect time to add a Rado Captain Cook to our collections. Rado Captain Cook pricing is very competitive in the divers category, ranging between $2,000 – $3,800 USD (depending on the case/bracelet material and number of bundled straps), and offer a ton of value internally and externally. When comparing to a diver such as the Tudor Black Bay, the Captain Cook line of divers leverage an ETA movement with a longer 80 hours of power reserve and bezels made of ceramic – all while costing less (aside from one configuration).
As you can see there are many colours and materials to explore, and while the cases hover around 42-43mm they wear quite compact for their diameters. Whether on rubber, fabric, or various styles of bracelets each of the Rado Captain Cook divers are very comfortable on the wrist.
One really neat thing we were able to interact with wasn't even a watch, but a plaque that held samples of ceramic and stainless steel with a stylus. The interactive demonstration effectively allowed us all to better understand just how scratch-resistant Rado ceramic is. In the video above, you can hear me egging Ricardo on to try and scratch both materials. The stainless steel, of course, began to look like an ice-skating rink in dire need of a zamboni, but the ceramic remained pristine throughout the evening – a testament to the robust nature of the material and Rado's manipulation of it.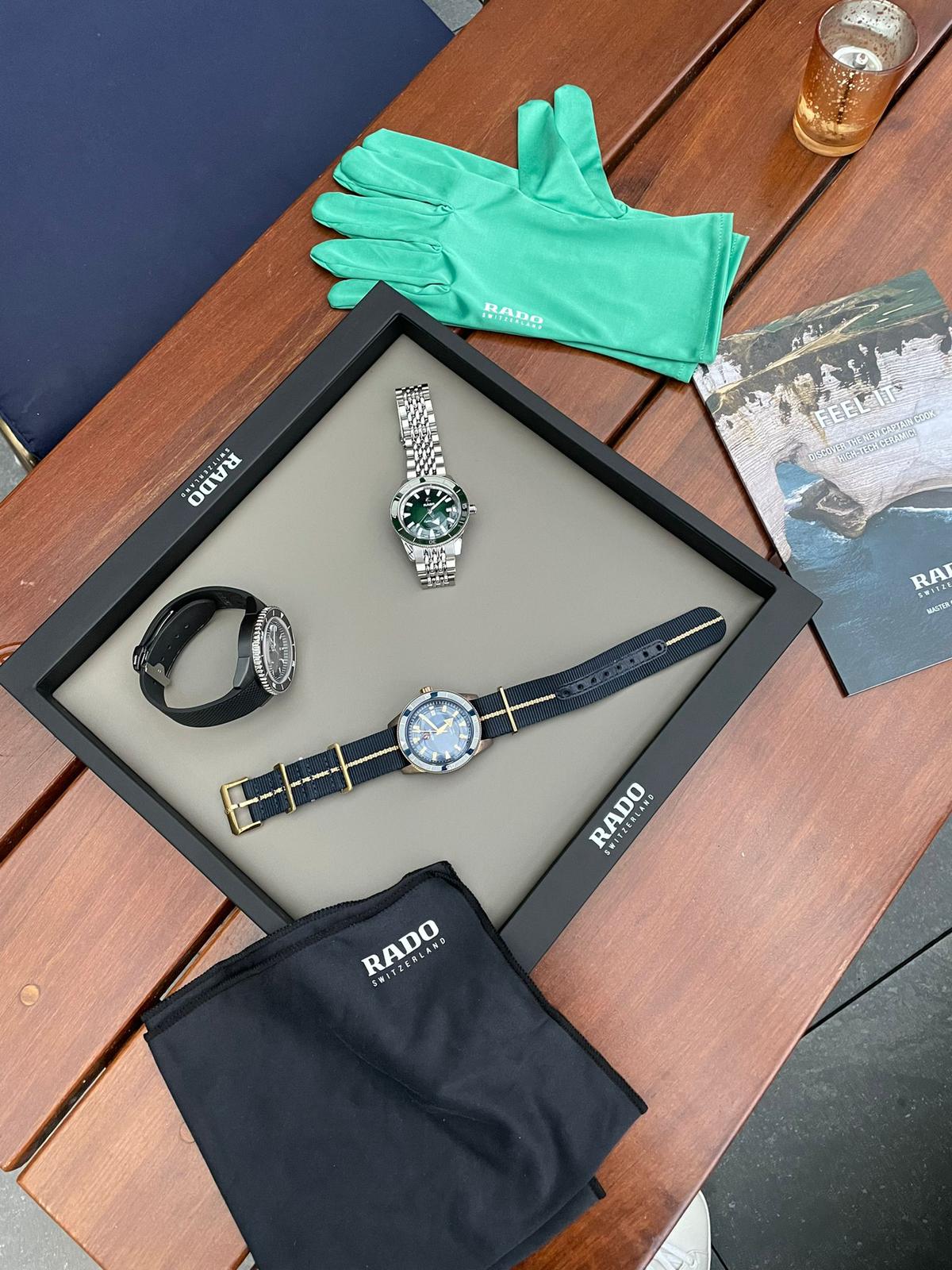 I can only hope other regions and cities have the opportunity to resume #watchfam gatherings soon, because personally I really missed these intimate events where our obsession with watches is unabashedly encouraged. While I definitely reunited with familiar faces, it was also incredible how many people I met for the first time in-person that I have been speaking with on Clubhouse. Many of us were finally meeting the faces behind the voices, and though it was the first time we actually met, it was like chatting with old friends.
In short, it was a great evening, with great people, and especially great watches and hopefully this is the first of many meet-ups in the coming months and year. A huge thank you to the Rado team and Robert Velasquez for putting this event together.
To explore more in-depth coverage of the Rado watches from the Time+Tide team, click here.