Place your bets! Which Rolex Oyster Perpetual 2020 dial colour will sell for the highest price at the Hong Kong Watch Auction later today?
Luke Benedictus
This year's Melbourne Cup is over, but now there's an exciting new race, with the runners and riders taking horological form. That's because this Sunday, Phillips is hosting the Hong Kong Watch Auction: XI. There's a drool-worthy collection of pieces up for grabs, including watches from Patek Philippe, A. Lange & Söhne and many more. But there are also some eyebrow-raising inclusions with lots 813-817 dedicated to Rolex's new range of Oyster Perpetuals in a veritable sorbet rainbow of colours.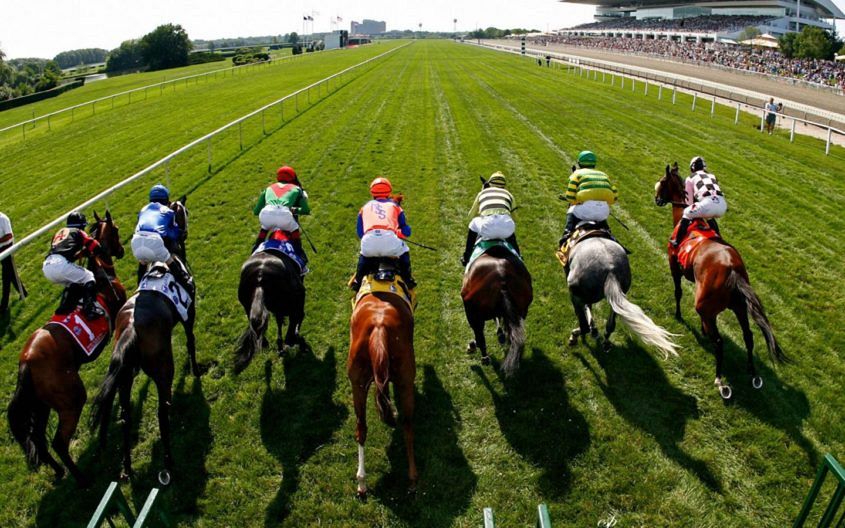 These lots stand out, not because of the eye-popping colours, but because of the fact that these stainless-steel pieces are all brand new. Rolex only revealed the collection on September 1. Yet Phillips have already deemed these OPs – which aren't even limited – to be sufficiently valuable to be worthy of auction. We'll get onto the broader implications of this for the watch world later.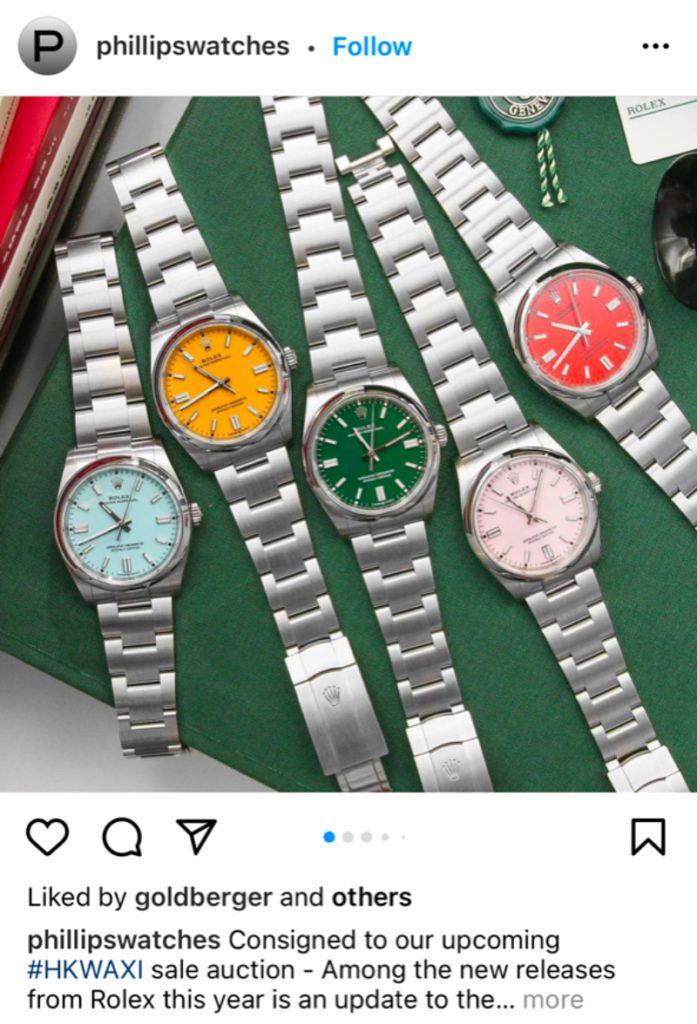 There's no doubt the bright lacquered dials of this rejigged collection have met with predictably massive demand. The vivid hues felt like a welcome dose of feel-good energy and playful fun – sorely needed after what's been, let's face it, a pretty grim year. But which colour will prove to be the most popular? Phillips' decision to auction off these pieces may be controversial, but as potential buyers place their bids, it will offer a fascinating insight into which specific colour has the highest market value. Putting on our tipster hat, here are Time+Tide's predictions as to how things might play out on the day.

Dial: Green
Odds: 4-1
Green is, of course, Rolex's signature colour and this is a particularly delectable hue that lies somewhere between forest and racing green. That it's the most accessible of the five dial shades could also count in its favour, although it's arguably the least impactful overall.
Verdict: Hot to trot

Dial: Turquoise blue
Odds: 2-1
Blue dial watches are always popular, but this turquoise variation glows with a spearmint freshness that's enlivened by the lustre of the steel. As inviting as a swimming pool on a baking hot day, this is a head-turning colour but not so outré as to be off-putting.
Verdict: Firm favourite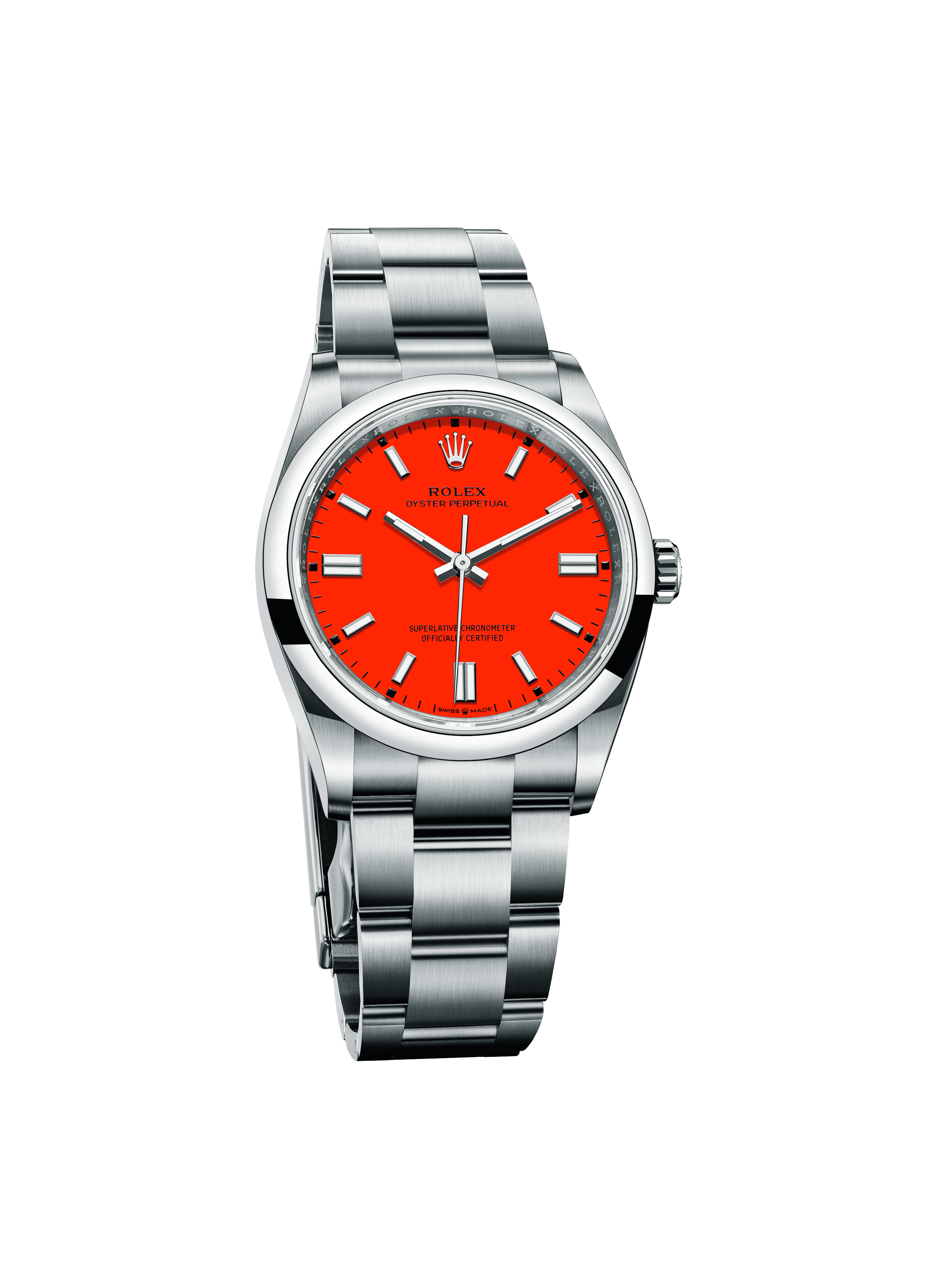 Dial: Coral red
Odds: 5-1
Probably the most daring colour of the lot, delivering the look-at-me radiance of orange deepened with a judicious twist of red. The steel case really sets this one ablaze and the more you look at it, the more interesting it gets.
Verdict: Dark horse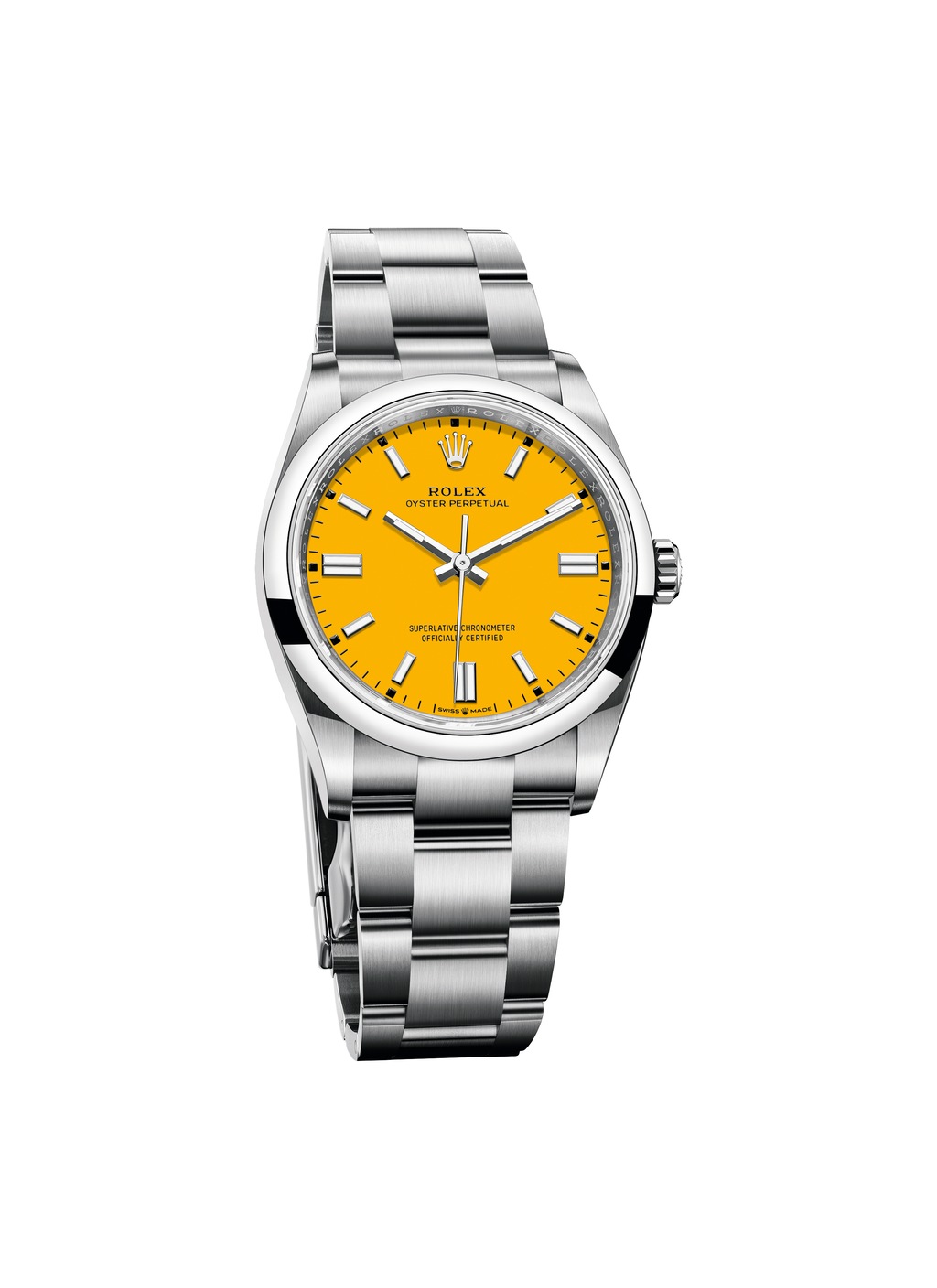 Dial: Yellow
Odds: 6-1
Rolex has form with yellow dials as seen, for example, with the Stella dials of the '70s. This canary yellow OP delivers cheery wrist-presence, but will the plethora of similarly coloured dials on the market dent its appeal?
Verdict: Outside chance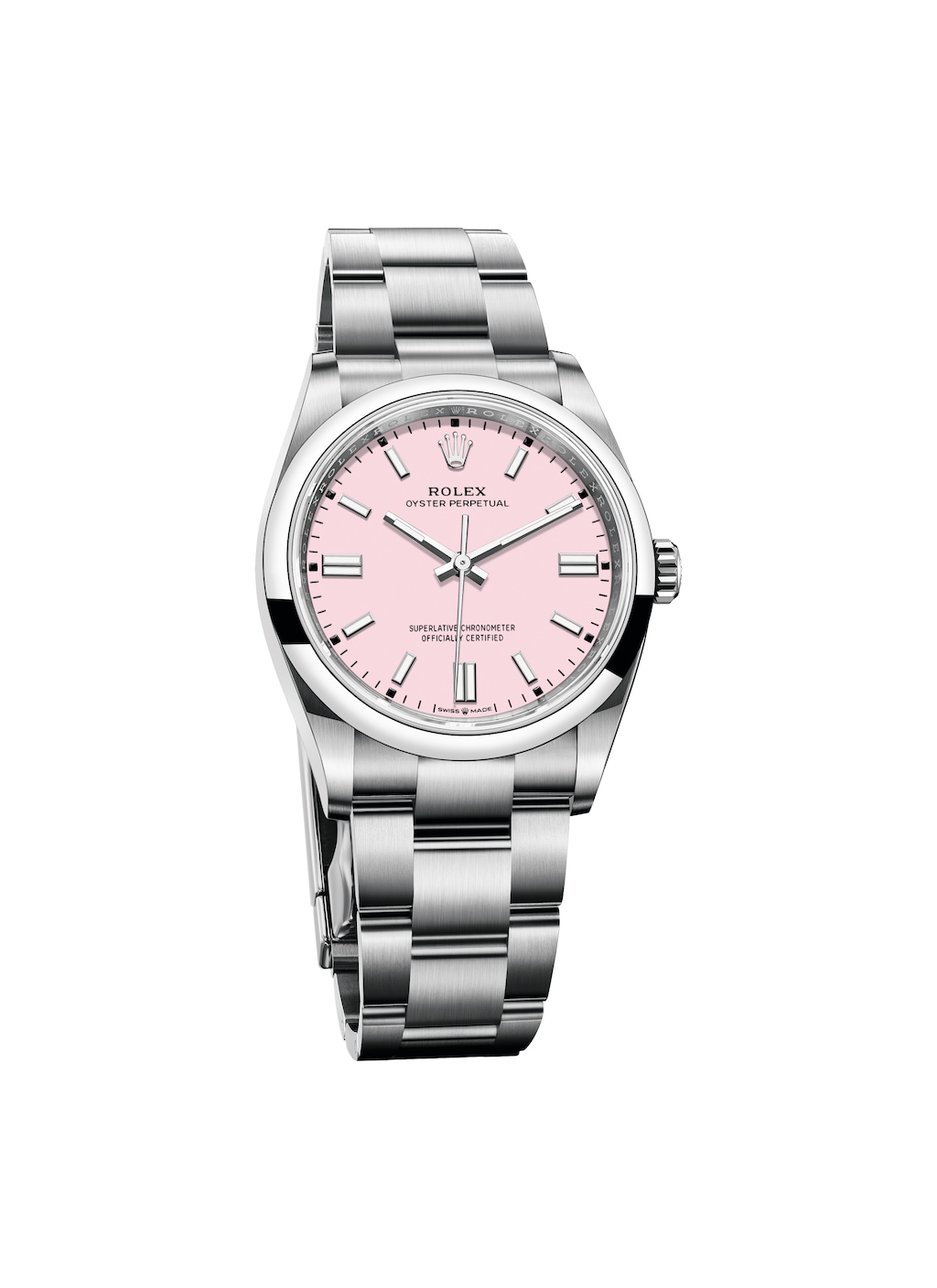 Dial: Candy pink
Odds: 3-1
This could be where the smart money goes. Extremely distinctive, this feels like the most fashion-forward choice and would sync nicely with a range of colours, from navy to olive green and chocolate brown.
Verdict: Strong contender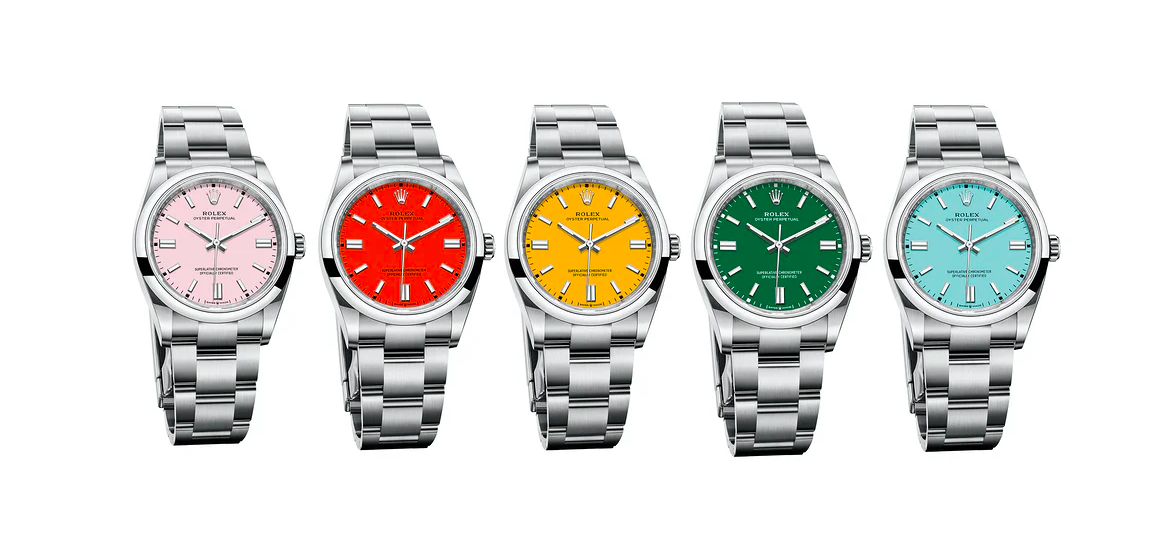 Admittedly, that we're even speculating about any of this represents the madness of the current situation. Auction houses, after all, specialise in trading the most rare and valuable goods that cannot be bought through standard retail channels. In listing this Oyster Perpetual family, Phillips are flatly acknowledging that brand-new, stainless-steel Rolex watches are now similarly unattainable.
So how did we get to this situation, where sourcing a steel Rolex at the recommended retail price can increasingly feel like mission impossible? That's the question we delve into at length in the new issue of NOW, the Time+Tide magazine that's out next Friday. To buy a Collector's Pack with Issue 1 and 2, or to buy Issue 2 individually, hit here. We've canvassed the opinions of some of the world's leading watch experts and luxury strategists to find out what's really behind the Rolex shortage and whether it's a deliberate tactic by the brand.