This year, Piaget has focused on the two strengths that most clearly define the Maison: on one hand, ultra-thin men's watches (taken to their most technically demanding extreme) and on the other, boldly designed and extravagantly gem-set women's watches.
Altiplano Ultimate Concept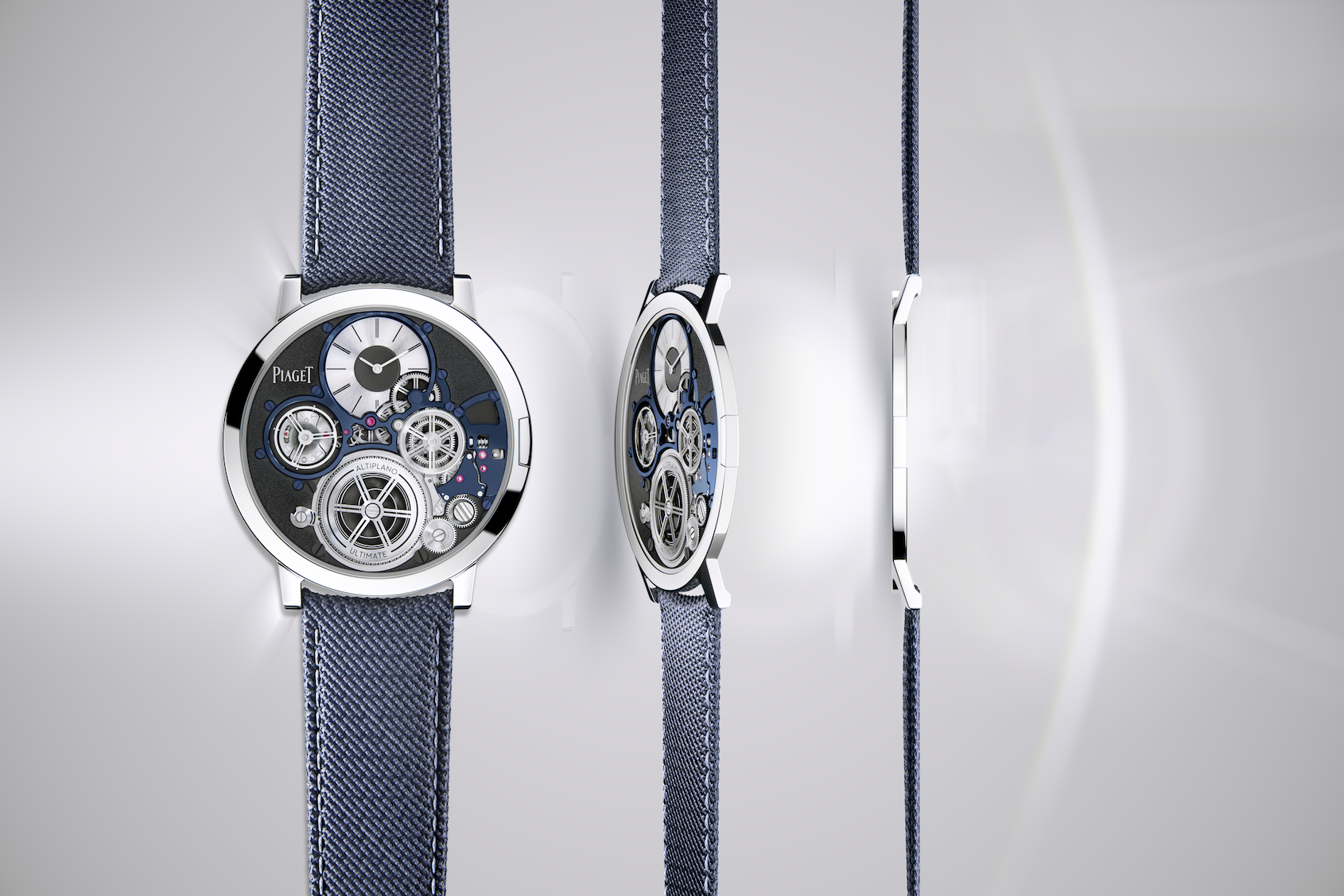 Nobody could reasonably dispute that this insanely thin new watch is quite mind-blowing. But to properly understand it, a bit of context is needed. Its genesis dates back to 2014, when Piaget introduced the Altiplano 900P. At an unfeasibly skinny 3.65mm, it was the thinnest hand-wound watch ever made and it redefined our assumptions about the limits of ultra-thin watchmaking. The stroke of genius had been to reject the traditional binary notion of case plus movement, and instead to use the caseback as the baseplate.
However, Piaget was already a serial record-breaker in ultra-thin watchmaking. In 1960, three years after launching the hand-wound Calibre 9P (at 2mm, it was one of the world's slimmest movements), the 2.3mm thick Calibre 12P set a new record as the thinnest self-winding movement. Since the millennium, other records have followed: thinnest tourbillon, thinnest minute repeater, thinnest skeletonised movements – and more.
Then, at SIHH 2018, Piaget introduced us to the Altiplano Ultimate Automatic 910P. At just 4.3mm thick, it set a new mark as the world's thinnest mechanical self-winding watch (a record now held by Bulgari). Just as we were getting our heads around the awesomeness of that piece and the presentation was drawing to a close (we thought), Piaget pulled another rabbit out of the hat – the Altiplano Ultimate Concept. It was one of those "Oh, come on – you can't be serious" moments. Two. Millimetres. Thick. The thickness of two credit cards stacked together. The entire watch, not just the movement. It made the 910P look almost chubby in comparison. Even as I held it in my own hands, it beggared belief.
However, it's one thing to develop a non-commercial Concept watch, and quite another to turn that concept piece into serial production model. Two years of tweaking and testing later, that's exactly what Piaget has done (while keeping 'Concept' as part of the model's name).
The specs are mind-boggling. Here are a few: the sapphire crystal is 0.2mm thick, compared with 1mm for a standard watch; among the 167 movement components, some wheels are just 0.12mm thick (compared with 0.2mm in a 'normal' slim movement); and some areas of the case are also only 0.12mm thick. No precious metal is rigid and robust enough for watchmaking at such minuscule dimensions, so Piaget has used a cobalt-based alloy that is 2.3 times stronger than gold – and a whole lot lighter. The entire watch weighs less than 22 grams.
The distinctive aesthetic is a direct result of the inverted movement construction derived from the Calibre 900P. It means that the workings are all on display: there's nowhere to hide in a watch that comes as close to being two-dimensional as any timepiece could be – and, anyway, who wouldn't want to see that magic in motion?
Piaget has made no compromises with the decoration – the classic haute horlogerie touches abound, with chamfered and polished bridges (bridges barely as thick as a business-card!), sunburst and satin-brushed finishes, and a PVD treatment on the baseplate/inside-caseback/main watch face – yup, that one disc of metal serves all three purposes.
And here's the kicker: the colours and finishes you see in the images are merely a sample or a suggestion of what you could have if you're in the market for this watch. You can customise the colour of the bridge and dial, the finish of the hands and main plate and choose straps in alligator, textile or rubber in various colours. The range of options allows thousands of variations – meaning that yours could well be unique. Which is just a bit better than a Limited Edition, I'd say.
It's not hype to say that Piaget has achieved something breathtaking with this watch. To push the point home, that historic Calibre 9P is 2mm thick, with Altiplano Ultimate Concept, the entire watch is the same thickness. But it's not just about breaking the record for thinness, it's pushing the boundaries of micromechanics – even pushing the known limits of physics. And, in the process, creating something that looks beautiful. We all know that records are made to be broken – but it's hard to imagine how this one will be.
Limelight
While we're on the subject of looking beautiful, Piaget has taken the Limelight Gala collection to the next level with two Limelight Gala Precious models that feature a new style of gem-setting on the asymmetrical lugs that extend from each side of the case onto the bracelet.
Since I spend another part of my life writing about jewellery, I'm quite excited about this (the technical, design and craft aspects of a new type of setting). What it means for everyone else is that the gemstones glitter more than ever because the setting maximises the light that shines through them from every angle. (It's called serti descendu, which translates literally as 'descended setting' [Huh?] and means that the stones are effectively raised above the metal that holds them in place.)
And these are really decent-sized stones. Which you'd expect from an historic watchmaker that started creating standalone jewellery collections way back at the beginning of the 1960s. (Many of the jewellery mavens I meet in that other part of my life don't even know that Piaget's roots lie in serious watchmaking – but that's another story.)
Back to the watches. If white diamonds are your jam, there's a gorgeous pink gold Limelight Gala Precious model – the dial in white mother-of-pearl dial, the lugs set with brilliant-cut diamonds (57 of them, for a total of just under five carats), and a rich burgundy alligator strap for contrast.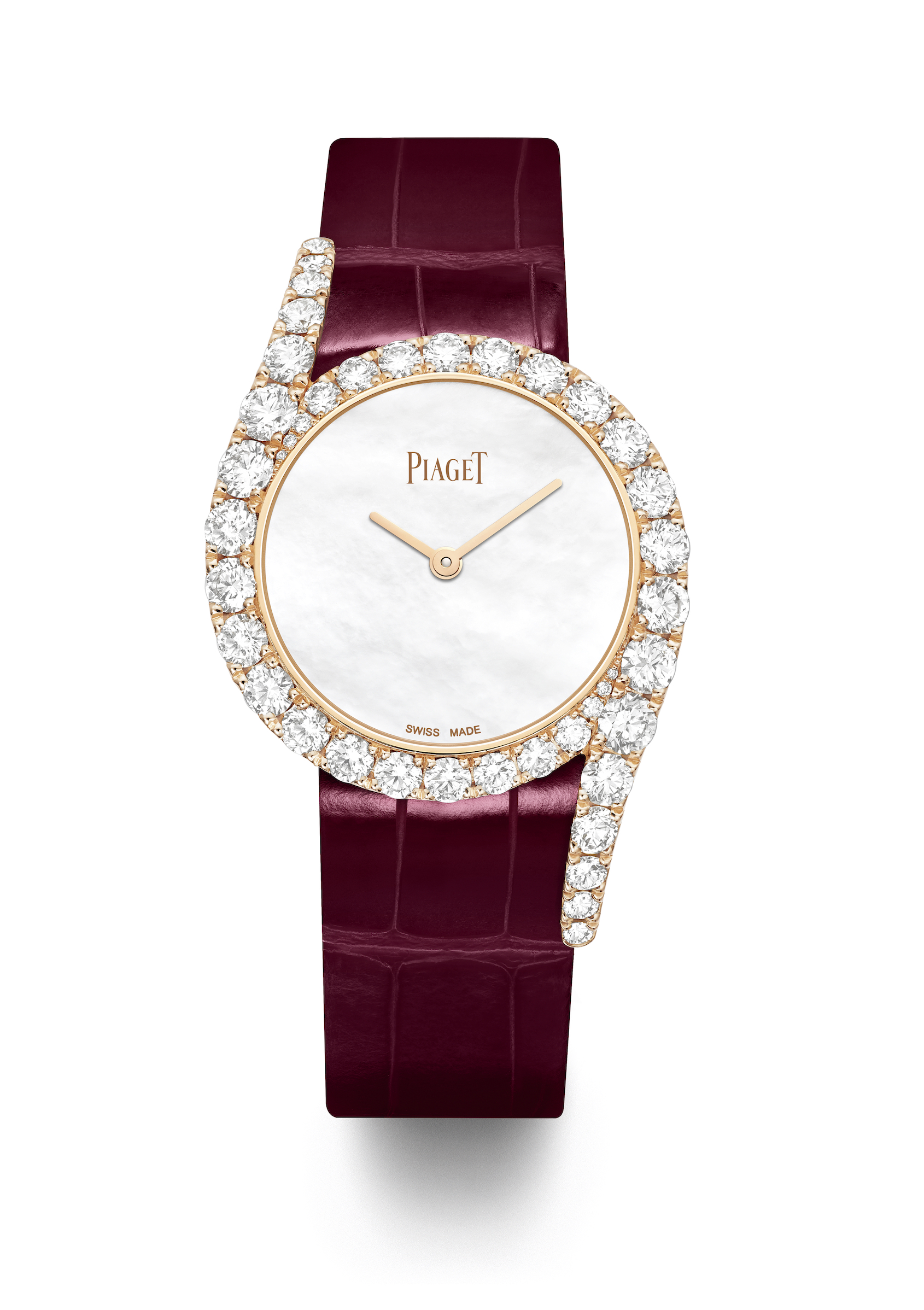 Then we come to the showstopper: Limelight Gala Precious Sapphire Gradient. Those extended lugs are set with blue sapphires graduated in colour and size, to merge into white diamonds. The dial is white gold, hand-engraved then enamelled in blue. The bracelet is white gold; it's formed of highly flexible links then the entire assembly is engraved so that it looks like hand-woven raw silk. This is modern jewellery design (and craft) of a very high order – and yet it is a direct descendant of a 1964 'Gala' watch. (There's another story to tell, about why Piaget's women's watches of the 1960s and '70s have become so prized by collectors.)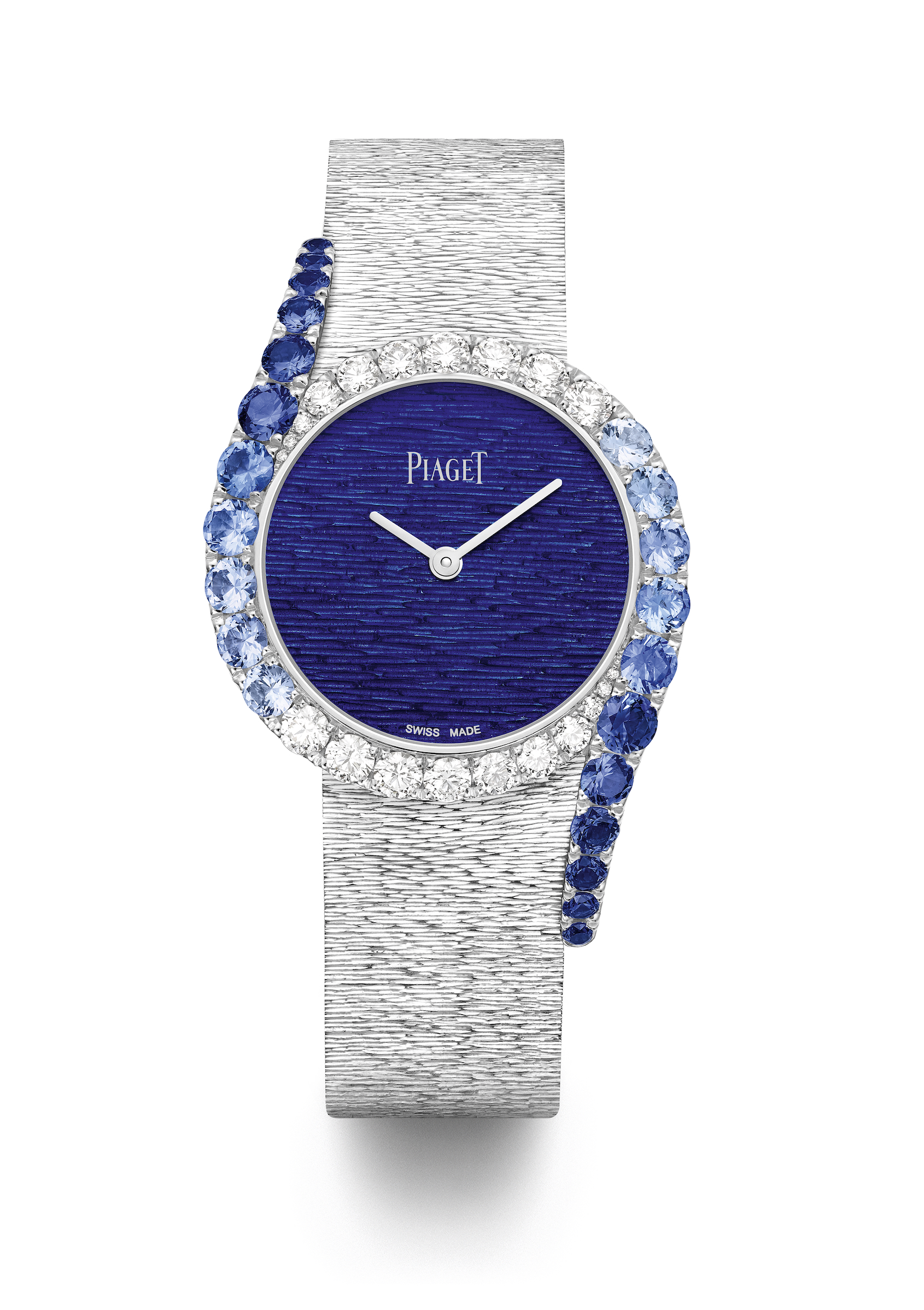 Less rarefied but very lovely are three models with white diamond lugs (large or smaller diamonds; larger or smaller case) and blue aventurine dials that are complemented by sapphire-blue alligator straps.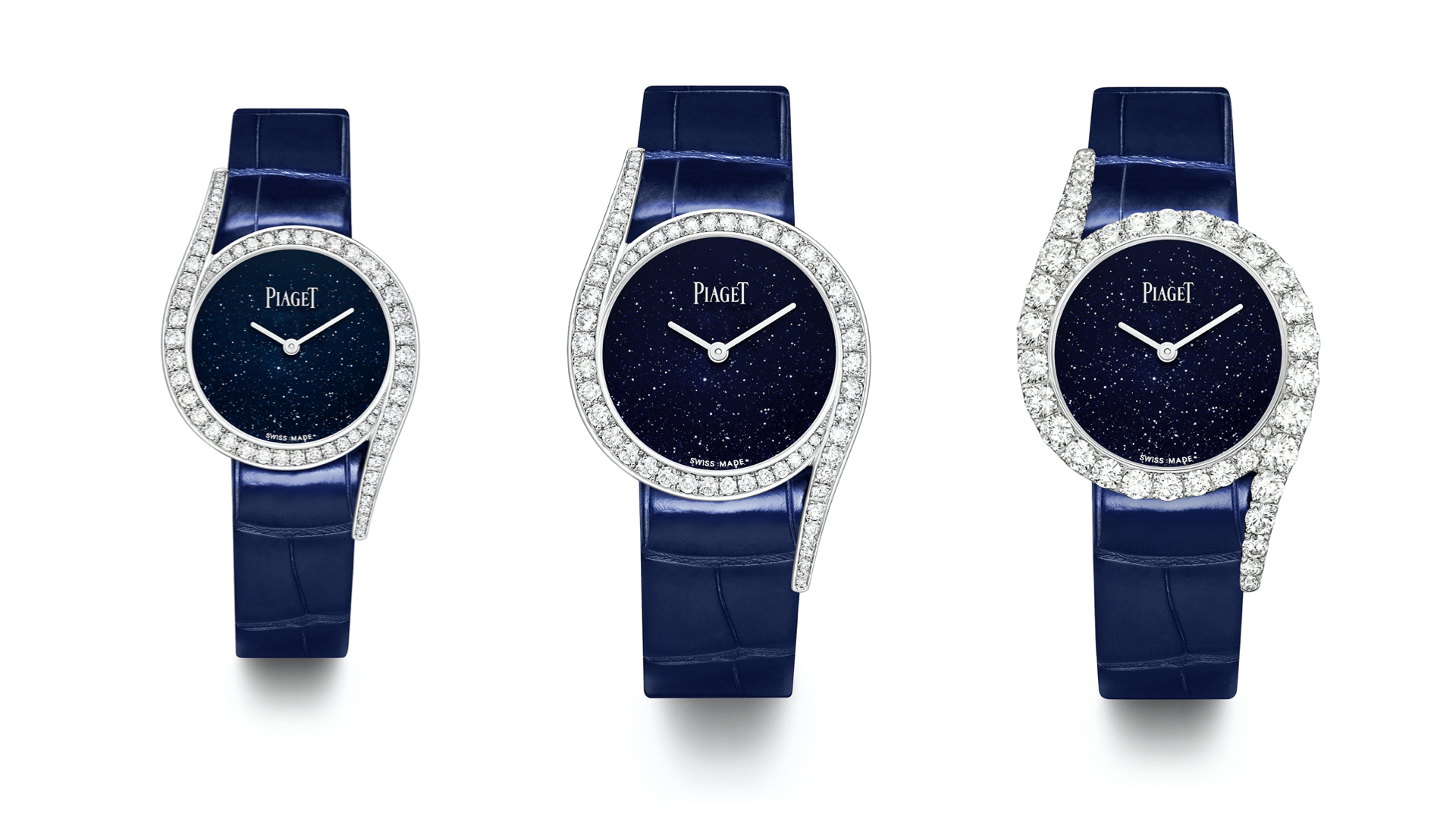 Piaget has also teased us with workshop drawings of some new High Jewellery Limelight Gala models with oval cases (channelling a 1974 design), complemented by marquise-cut stones. With Diamonds. Or with diamonds and sapphires. Or a crazy-beautiful rainbow piece that combines blue, yellow and orange sapphires with rubies and an Australian black opal dial.